Permaculture Jobs, Sustainable Living and Endless Travel
How Vagabonders' Dreams Can Become Reality
The boat border crossing between Nicaragua and Costa Rica. After an overnight ferry on Lake Nicaragua, we enjoyed the sunrise while waiting for the immigration office to open. (Photo courtesy of Emma Gallagher.)
One of the ways the world has really been opening up over the past decade is through farm-stay work exchanges. With the growing interest in healthier lifestyles and home food production, as well as an increase in international living, it's no wonder that progressive-minded people have invested in properties abroad with the intention of getting off the grid, attempting self-sustainability, and living gloriously green. In turn, such green-minded progressives have come to seek the help of able-bodied travelers willing to work for room and board in a natural setting. Cheap labor, free accommodation: It's a win-win situation for everyone and, more importantly, a beautiful thing for the planet.
In the days of old (and even still), enthusiastic long-term travelers and adventurers could spend a few weeks doing seasonal work on big farms, picking fruit or vegetables to earn menial but valued wages. It was hard, sometimes monotonous labor but a means by which to earn your keep somewhere and see a bit of the world to boot. Seasonal jobs, however, tended to be more commonly available in affluent countries of regions such as Europe, Australasia, North America, and often required special work-travel visas. (Unfortunately, citizens from certain countries aren't eligible for many such jobs, as governments often do not reciprocate working relationships with other countries.)
To deal with this difficult issue and simplify matters, online volunteering organizations such as WWOOF have grown in recent years, and thrifty travelers have found new ways to stay on the move long-term without draining their savings, but also without having to obtain work visas. Likewise, clued-up property owners have figured out how to find and keep enthusiastic workers without breaking their bank accounts or becoming businesses. After 18 months exploring the world through farm-stay arrangements, I'm going to tell you how I've done it, and how the experience has been far better than expected.
Where to Begin? Where to End?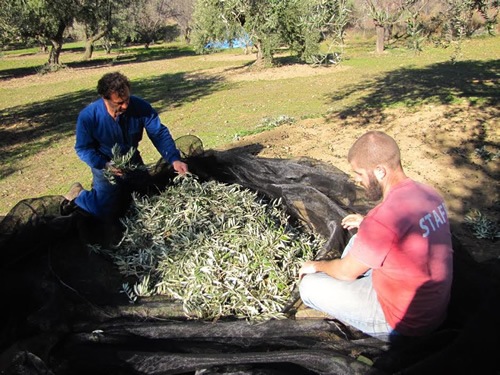 Harvesting olives just outside of Grenada was amongst our experiences in Andalusia, Spain, a region with absolutely stunning vistas and, among other edibles, a cornucopia of olives, almonds, citrus, and figs. The olive harvest is in December/January. (Photo courtesy of Emma Gallagher.)
My wife Emma and I have been living abroad for about 10 years, mostly as English teachers. Towards the middle of 2013, we decided we wanted a change of pace. We were yearning for a good, long backpacking trip, but having earned a Guatemalan salary for the last few months we were largely lacking the funds to do so. Both interested in the slow food movement, and hoping to grow our own vegetables at some point in the future, we decided to take our chances, volunteer our way around Central and South America, and learn about organic gardening. We set off in October.
We had no schedule, other than visiting Emma's family at some point early the next summer. We had no real itinerary, other than a desire to make it all the way to Patagonia. We had the backup plan that, if we were to run out of money, would land us teaching jobs wherever we found ourselves. It turned out none of those things happened. In fact, the whole experience became a wonderful series of twists and turns that eventually led, two years ago, to sitting in a caravan on a mountain in Andalusia, Spain, before flying back to Guatemala.
In other words, there are many places to begin—just about every country on the map. More often than not, with the exception of places with very harsh winters, the time of year really doesn't matter. Farms and gardens are the same the world over in that they always have something that needs doing. Likewise, the globe is full of people chasing sustainable lifestyles, renewable energy sources, and ecologically adept systems. As for where it all ends, we've found that it's more a matter of where we want to stop. It could have just as easily been in Andalusia, where we've been offered half a dozen or more long-term living arrangements.
The first step is simply getting a farm or site to take you on, and one can be found just about anywhere you want to be. Join a work exchange site—WWOOF, HelpX, or WorkAway—and start sending out requests. We mapped out our whole trip, moving farm to farm, as we ventured country to country. You can do so like an itinerary, but I'd suggest setting up the next destination while still at your current location. It allows for easier lingering and more improvisation.
Knowing Little to Nothing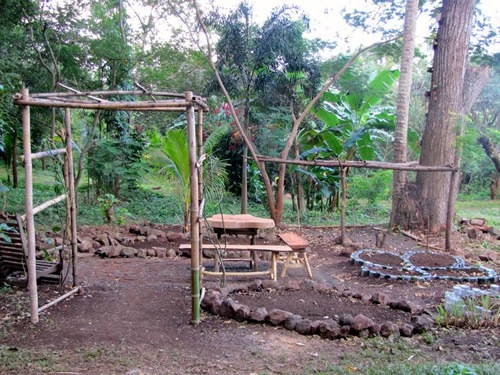 Totoco Farm on Ometepe Island in Nicaragua. The first garden Emma and I designed. The owner wanted to catch and utilize filtered gray water, so we came up with this growing space and even built the table and benches out of found wood.
Funnily, one of the biggest concerns of most would-be adventurers, whether volunteering on farms or teaching English abroad, is that they are lacking in some essential quality required to do the necessary work. In reality, you don't usually need to speak the local language to teach English in Korea (or anywhere). Likewise, you don't generally need to know much (or possibly anything) about farming, gardening, or building in order to volunteer on farms. What hosts are really after, as the WWOOF (Willing Workers on Organic Farms) acronym conceals, are willing workers. The skills necessary are not so hard to learn.
What's more, the more knowledge a volunteer picks up, the more useful they become. Emma and I knew very little starting out. I'd helped a friend harvest avocados a few times and volunteered regularly, basically weeding, at an organic farm near where we lived  the previous year. We both played with planting a few things here and there, never too seriously. We knew how to swing a hammer and take measurements. Mostly, though, we liked to work outside, weren't afraid to try, and wanted to learn.
And, learn we did. In a mere matter of weeks, especially with hands-on experience, a person can pick up all sorts of specialized information. Soon, we knew, as if by second nature, the kind of sun exposure preferred by certain plants, how to harvest tropical plant leaves for our daily salad. We knew the ins and outs of making different types of composts depending upon the end result desired: a compost water heater for a shower, a hot pile, a cool pile, or a no-turn pile. We learned how to make different types of garden beds, build with cob, and create garden guilds. We quickly became wise far beyond our years.
Get ahead of the game by doing a little learning before you go, there are amazing free resources online, including Permaculture News (for which I now write), and YouTube!, where a simple "permaculture" keyword search will lead you to all sorts of lectures, clips, and even courses.
Earning More than Your Keep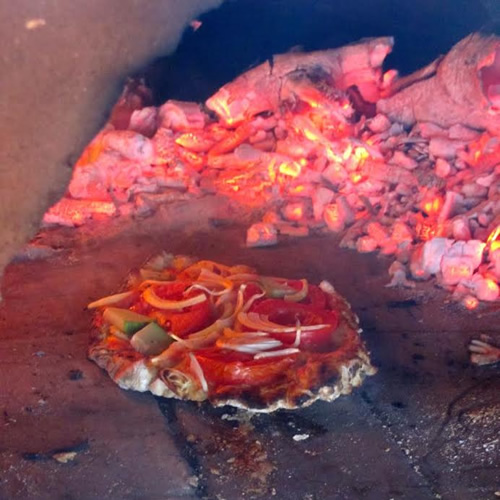 During our travels it was all the rage to build huge earthen pizza ovens. We first became familiar with the trend in Nicaragua, built our first oven in Panama, helped to make one functional in Colombia, and built a second in Spain. Nothing says living it up like a pizza party.
What quickly became apparent is that, while hosts don't necessarily require volunteers to come in with skills, they do hugely value folks that have them. Because we were on a long trip, the knowledge we were collecting became a real attribute at each new location. Much of the time, volunteers come and go, offering little more than a week or month of unskilled labor. Such volunteers learn the ropes then go home, and farmers move on to a new crop of helpers, spending much of their time tending to their volunteers as opposed to the land.
Almost immediately, at our first farm, Emma and I realized we had two things really working in our favor: We had an open schedule, and we'd actually devoted ourselves to acquiring knowledge about growing food and living in a sustainable way. The open schedule meant hosts spotted the opportunity to have long-term workers, providing stability and significant advancement to their projects. As a result, our thirst for information often soon equated to knowing more about what we were doing than even the people for whom we were volunteering (many are beginners).
It took us about two weeks to start getting job offers. Hosts would add on perks, wave fees, and even offer small salaries. Unwittingly (at least at first), we garnered special treatment like better housing, personal projects, and the freedom to be creative if we'd hang around. In turn, what started out as a tentative means of traveling long-term became quite reliable. To date, we've been offered jobs at more properties than we've actually volunteered, and we've never outwardly pursued a position at any of them!
One thing that helps us tremendously is that we've learned to take advantage of odd jobs that we find along the way. We've managed to find paid work with our gardening skills, but we also have other small streams of revenue from short-term or part-time jobs such as freelance writing, teaching, and selling artisanal crafts.
Permaculture and Sustainable Living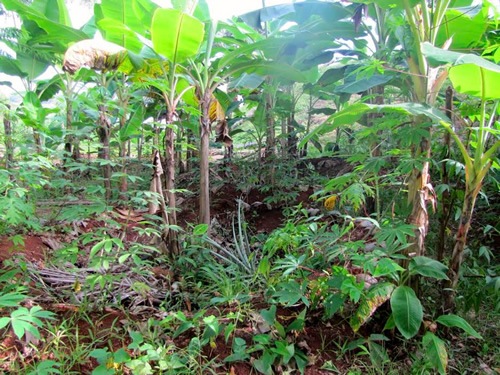 The idea of permaculture is that it is "permanent agriculture," without need for constant tilling, weeding, and replanting. Thus, food forests of perennial plants are a major part of most permaculture sites. Here is part of one we started in Panama. When all was said and done, the site was yielding over 70 different types of edible plants.
During the course of our trip, permaculture became a major influence on how we live, how we travel, and how we see our future. Amongst the planters and pioneers we stayed with, the practice of permaculture seemed a perennial byword. Everybody wanted to be doing it, even if not everyone fully understood what that meant. Was it using raised beds? Was it aquaponics? Was it companion planting? Catching rainwater? Everyone seemed to be attaching the term to something different but there was no agreement about a firm definition.
The interest and excitement, even if confused, was most definitely contagious, so Emma and I were soon spending our free time reading textbooks, scrolling through websites, and watching documentaries about permaculture. We discovered that permaculture was even more than all of the things we'd seen people practicing to date. It was more. It was a variable concept basically open to incorporating any system that improved things for the planet, fed and sheltered people in a sustainable manner, and promoted equal opportunity sharing over elitist hoarding. For us, it was a rather eye-opening discovery that we'd become permaculturalists without even knowing it.
Once we became enamored with the concept, we soon had the ability to discuss it aptly. We could explain to people how the garden beds we'd chosen to install worked, why they would be well suited for a climate, and how to maintain them with low energy output and even less financial cost. We understood how to think about water catchment systems, from the simple use of gray water to storing rain for greener daily household consumption. Without pause, we uttered specialized terminology—hugelkultur, swale, sheet mulching—and somehow this garnered a certain amount of respect and appreciation from our hosts and their friends.
Soon, wherever we went, it seemed they wanted us to stay. Within a month or two of volunteering with people, they saw what could happen and believed in what we could do. In essence, traveling around as "volunteers" became a sustainable means by which we could continue our adventures, living and eating for free on the lands that we tended (the typical volunteer arrangement), often earning enough money from our newfound knowledge to pay for the next step of the journey. For us, traveling this way became sustainable as we could do it indefinitely without ever draining our bank account. In fact, we could actually improve financial matters.
Two of our personal favorite sources for permacultural inspiration are Geoff Lawton, star student turned colleague of Bill Mollison, one of the two originators of the practice, and a couple called Val and Eli, who have a remarkable site in Florida and fun YouTube! tours.
From Point A to Somewhere Different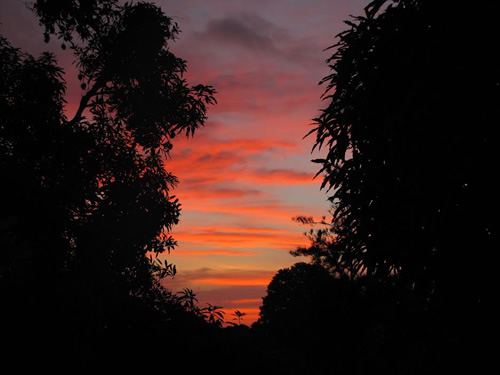 One of the great perks of the site we ran in Panama were stunning views, sunsets, and sunrises over Lake Gatun, formed during the construction of the Panama Canal. We took up the offer to live in a small lakeside house, "the Bahia," with a patio stretching out over the lake for nearly seven months.
For us, this all happened rather quickly. Point A was Guatemala, and by Nicaragua, our adventure was playing with new twists and timelines. We stayed a month longer than planned and could've easily stayed longer than that. Originally, we were pushing for that final goal of reaching Patagonia. By Panama, our plans dissolved into something unrecognizable, greater than our original goals. We had wanted the freedom to pursue whatever came along. We'd just never imagined how many options we would have.
In Panama, we ended up flipping the script entirely, running a site for two property owners who just wanted to be a bit more eco-friendly, loved the idea of breathing energy into their vacation home, and needed someone to look after the place (and dogs) while they enjoyed retirement. We became HelpX and WorkAway hosts, utilizing volunteers to help us develop the site, and in doing so, we learned that this type of adventuring isn't at all unique. Within a couple of weeks of posting for volunteers, we had more interested parties than we could accommodate, with even more reservations made by keen helpers covering the following three months.
Many people are traveling in the way described above these days. They are spending summer breaks farm hopping across continents. They are taking gap years to explore sustainable lifestyles. They are interning on farms, padding resumes with interesting experiences, and stumbling upon odd jobs they'd never considered before. They are taking permaculture courses in remote locations. They are looking for a land of their own. For those open to them, the opportunities are nearly as vast and varied as the world in which they are setting out to explore. And, anyone can do it.
Three tips for starting a trip ahead of the game:
Clear the schedule. Allow yourself the chance to while away the hours, days, weeks and months for as long as you choose. For us, this also presented hosts with the prospect to have us stay for longer, even before we realized it could provide this advantage.
Learn what you can about gardening, rudimentary sustainable energy systems, and ecological construction. Pick up some know-how online or via volunteering before you set off. Being instantly useful immediately endears you to hosts and elevates you from volunteer to employable.
Have a plan for basic funding beyond using savings. I write. Emma sells crafts that she makes. We are both qualified EFL teachers (our easily attained, ever-available backup plan). You don't need to earn a lot of money, but having some does make a massive difference.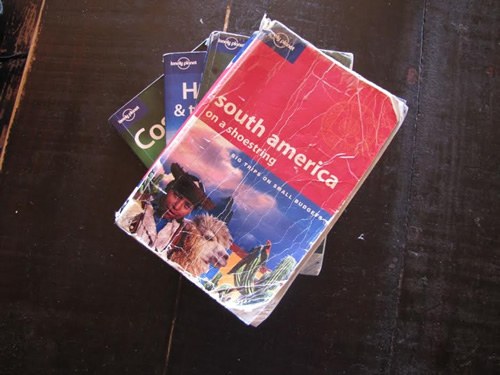 Most certainly, this adventure has completely weaned us off of guidebooks for our purposes. By the time we arrived in Spain in January, we had no idea regarding the particulars of where we would go or what we might see. We'd learned that the connections we made on farms were a far better, dependable, and more intimate source of knowledge for what we could do.
Our Trip Timeline
November-December 2013: On Ometepe Island in Nicaragua, after about a week of showing initiative, using very basic knowledge to build, garden, and speak Spanish, the owner asked us to stay longer. Needing to return to Europe, he asked us to stay and watch the farm and its adjoining hotel for him for a few weeks. So, we lived in his cool eco-house, gardening, and hanging out with farm volunteers, local employees, and guests of the lodge.


Christmas Week 2013: Costa Rica is more expensive than other spots in Central America, so we decided to make a short visit of it. We worked for a week on a small farm, a couple of acres, owned by a couple in their early twenties. It was pleasant enough, and we learned a bit about foraging. In the afternoon, we'd walk to the beach a cool off in the Caribbean, and we were happy to press on when the week was up.


January-February 2014: We ended up at a retired Canadian couple's summer home. They had decided they wanted to grow organic vegetables, but neither one knew much about how to do so. Emma and I used what we'd learned along the way to help them get started. They loved the farming we taught them and asked if we would stay for six months, build up a volunteer program, and develop the property. We did, with the stipulation that we could travel two months in South America before starting


February-March 2014: A farm-stay near Bogota turned out to be a massive turning point. We'd been hearing about permaculture on our travels, but La Juanita Finch Verde was practicing it. There was a variable and extensive design being put into place. Our knowledge of garden systems grew exponentially during our month there. We actually couldn't wait to get back to Panama and play with these new concepts.


April 2014: We worked with an NGO, doing farming, reforestation, and eco-tourism development in the cloud forests of Ecuador. For a small fee, paid directly to our hosts, we were offered to stay with a local family, make a garden, plant some trees, work on a bird-spotting trail through the jungle, make jewelry from local seeds, and allowed to experience rural life in Las Tolas, Ecuador.


April 2014-October 2014: We spent six months back in Panama, earning a small cash stipend to explore gardening options, create food forests, build innovative garden beds, and start a communal garden. We hosted a steady stream of volunteers from around the world (about seven countries in all) and ate daily from what we were growing. We had the option to stay on but felt it was time to continue our adventure.


October 2014-December 2014: A family emergency back in England, Emma' s home country, put a quick halt to continuing our journey through South America, so within one day of returning to Colombia, we were booking a flight to Manchester. We remained in England for three months. On the positive side of things, we left without heavy hearts. While there, we did discover several permaculture sites.


January 2015-March 2015: Not quite ready to head back to Latin America, we hung out in Spain for three months. We helped to harvest olives. We cleaned up a permaculture site, having been massively pruned after being abandoned for four years. We supped up an eco-property, introducing all sorts of sustainable agricultural know-how we'd picked up. We also built a cob pizza oven (our second).


March 31, 2015: We are flying back to Guatemala, a place we've decided is now "home," and we are hoping to find a piece of land of our own. We have plans to build a cob house, run the site off of completely renewable energy sources, and grow as much of our own foods as possible. We hope to welcome volunteers to help us with these projects. We also hope to work with local schools while piloting some community garden projects.