A Guide to Street Food in Thailand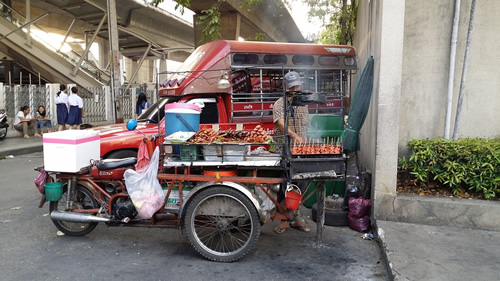 A food cart on the street in Thailand.
The morning after I arrived in Bangkok, I left the apartment where I was staying, wandered down a small street until it intersected and ended at a major street, and was met with the cacophony and aromas of street carts packing the sidewalks on either side. On the 5-block walk from there to the sky train that would take me downtown, I sampled pork balls on a stick (luke chin ping), chicken satay on a stick, pork-filled dumplings (siu mai), and an herb-seasoned omelet. In all, I spent about sixty baht—about two dollars.
Street food is more the norm than the exception in most parts of Asia, where the weather often permits locals to be outside year-round, and where the convenience of kitchens equipped with refrigerators or modern stoves is not the reality for many homes. Even in that context, however, Bangkok is an extraordinary place to sample street food—or any food for that matter.
The gamut of eating venues include the following types of  restaurants:
Those have been around for generations and cater to the royal family and country's elite.
Chic 5-star bistros serving the fashionable.
High-end tourist  and the business traveler restaurants.
Every fast-food chain recognizable to the North American.
Modest, family-run places that serve the kind of delicious, if limited, repertoire that attracts a loyal clientele. 
However, at the end of the day, it is the street food  that helps make this city stand out from other culinary Mecca's worldwide. The food carts simply seem to be everywhere. The places where they are most prolific and most varied are predictably located where there is the heaviest foot traffic, such as:
Siam Square, Ramkhamhaeng, and Ta Phra Jan (on the Chaopraya River) because they are university areas.
Victory Monument, Sukhumvit, Ari-Saphan Kwai because they are business areas. 
Around the stops for the sky train (BTS) due to the number of commuters.
Chatuchak Weekend Market, the largest weekend market in the world. 
Chinatown.
By contrast, in Thailand's second largest city, Chiang Mai to the north, street food could only be bought at Warowat Market, just outside the old city, and at the Night Bazaar near the Mae Ping River. I also found street food around markets in other smaller cities and towns of Thailand, such as Chiang Rai and Phuket.
I learned  immediately in Bangkok that street carts were a great way for someone like me—who does not speak Thai—to eat what Thais were eating because I could simply point at something cooking on a grill or stored in a display case. When I wanted a more elaborate dish prepared to order, I would wander among a cart's clientele until I saw a dish that looked interesting and then point it out to the cart's owner. Eventually, though, I did make the necessary effort to learn the names of some of the more popular street foods and interacted more with the vendors.
Common examples of street food include:
Pad kra pra (minced pork seasoned with Thai basil and bird chilies, served with a fried egg on top and rice on the side)
Moo ping (grilled marinated pork on a stick)
Gai tod (deep fried chicken)
Gai yan (grilled chicken)
Som tam (papaya salad)
Hoy tord  (shell fish, usually mussels,  deep fried in a batter)
Khao ka moo (stewed pork leg with steamed rice)
Khao man gai (steamed or fried chicken with fragrant steamed rice)
Sai Krawk E-San (spicy, Northeastern-influenced sausage on a stick)
A street cart in Bankgok.
There are regional differences in the street food—though detailing them would be outside the scope of this article—marked primarily by other ethnic groups' influence on the cuisine: Chinese influence dominates among these, followed by the Indian and Muslim population. Nevertheless, it bears mentioning that in Chiang Mai, the country's second largest city after Bangkok, the following dishes are omnipresent:
Sai ua (a pork sausage considered a delicacy across the country)
Nahm prik ong (a spicy ground pork and tomato side dish)
Nahm prik noom (a green chili sauce used as a dip for deep-fried pork rinds)
For the truly adventurous eater: deep-fried bamboo worms.
Despite Bangkok's modernity, traditional, fresh markets—prevalent throughout the country—are much more prevalent here than supermarkets. Such markets generally have no refrigeration, so meat and seafood are sold from beds of chipped ice—mostly to restaurants and other food vendors. Fresh market food is also bought by wealthier households that do have the luxury of modern kitchens, and, more often than not, the luxury of  household cooks. These markets are a fascinating way to get a grasp on the range of ingredients that go into Thai food, many of which are not available or not easily available in North America, such as berry-sized eggplants. 
As someone who considered herself a connoisseur of Thai food before I went to Thailand, I was humbled by how limited my exposure to it North America had left me. Candidly, there were fewer peanuts, a lot less coconut milk, and much less in the way of noodles than I had expected. Even if  the Chinatowns of our larger cities in Northern America—including New York, San Francisco, and Toronto—offer us access to the basics that go into Thai food—such as galangal, shallots, shrimp paste, bird chilies, Thai basil, and lemon grass—we simply do not have readily available the varieties of seafood and vegetables that I saw in a typical Thai fresh market.
Nowhere is the false Western preconception of Thai food more apparent than in what we consider the signature Thai dish in North America: pad thai. It does not come with peanuts in Thailand. Nor is it dominated by noodles. The protein is regional: seafood by the coast, including Bangkok, and meat inland. The noodles are minimal and there is always egg (unless one voices a preference to not have it included). An egg can be scrambled into the dish, or it can be fried and served on the side. An egg can be served, in what became my personal favorite, as an omelet into which the pad thai is wrapped.
Some other interesting and enjoyable facts I learned about Thai food, in general:
Every dish, ideally, has a balance of four taste sensations: salty, sour, sweet, and spicy. Fish sauce is used ubiquitously for saltiness. Vinegar or prik (vinegar with chopped bird chilies marinating in it) is used for sourness. White sugar is typically used for sweetness. A smoky cayenne powder or other hot ingredients are used for spiciness. 
The only food for which chopsticks are used are noodle soups, which are of Chinese influence. Most other dishes are served on a bed of rice and may be eaten with forks and spoons without being gauche. Knives are not used, however. Of course, many items from street carts can be eaten without utensils, often because they are on a stick or are in small enough portions, such as dumplings—usually pierced with a stick. Thais rarely touch food with their hands.
Roti (also known as Thai pancakes) are of Indian influence, and are found more commonly in the south of the county, where the Muslim population is greater than in the center or the north of Thailand. Unlike the flat bread found in India, or the savory dish in the Caribbean, roti here is eaten as a dessert. The pancake has the consistency of a crepe and is wrapped around ingredients such as chocolate or fruit-based jams.
A few rules of thumb when eating from street carts:
When selecting a street cart—it is wise to practice this anywhere in the world—go to the most popular ones. You may have to wait a little longer, but the food is probably tastier than it is at ones with little traffic, and, because of the high turnover, the food is likely fresher and, therefore less likely to cause an upset stomach or worse. 
While almost none of the vendors in Thailand speak English, most know the English names for meats; if you avoid pork or beef, for example, you should be able to make that clear.
Fruits and ready-to-eat vegetables should be peeled before being eaten.
Drinking water should be either filtered or bottled. Fruit juices sold in sealed plastic containers are safe to drink, as would be the soft drinks sold in cans or sealed bottles. 
Finally, while street carts are an inexpensive and adventurous way to enjoy this delightful cuisine, the food they serve are not good bets for certain travelers.
Fussy eaters: Even though the portions are often small enough to not fill you up, it takes a lot of sampling of dishes you may dislike to find the ones you do like and the vendors whose preparations of those dishes you prefer. 
Calorie counters: Many foods are deep fried, pan fried, or liberally brushed with oil while being grilled. Vegetables are a rare find in street-cart food, and those not dressed with oil even rarer. Carts serving noodle soups would be your best bet. 
Those with weak stomachs: Given the amounts of grease, given that some of the oils used might be old, and given the sometimes less-than-ideal sanitary conditions, if your stomach is timid, you should be, as well.
Vegetarians: There is no dairy and there are no beans in Thai cuisine. While dishes made with eggs or tofu can be found, there is no guarantee that the pan used to fry those eggs, typically into omelets, or the grill used to cook the tofu had not just been used to cook pork, which abounds in the street food here, or chicken, beef, shrimp, or fish. 
Vegans: Even the safest-looking tofu noodle soup may be cooked in a meat-based broth. However, the Kin Jay (translation: Eat Vegan) festival in October is an unusually ideal time for vegans and vegetarians to enjoy street food in Thailand. Associated with the Chinese Guan Yin Buddhist festival that celebrates compassion, this festival is best enjoyed where Chinese populations proliferate in Thailand: Chinatown in Bangkok and the town of Phuket in the south. Throughout the country, however, street vendors honoring the festival with signal this by posting yellow banners on their carts. The festival is completely vegan with no dairy and no eggs present, and even includes the exclusion of strong tasting ingredients, like chilies, garlic, and shallots, which are associated with sexual desire.
Janice Goveas works primarily in fiction and playwriting, but she has also worked in journalism and travel writing. A collection of her plays, Margaret in Search of Herself and Other Plays, was published in 2008. Her short fiction has been published in The New Quarterly, Pitkin in Progress and Icarus Ascending and in the third volume of the anthology, Her Mother's Ashes. She has an MFA in Creative Writing from Goddard College in Vermont and an MA in Spanish Literature from Syracuse University. She currently lives in Toronto, Canada, but has also lived in the United States, Colombia, Bahrain, and Spain, and has traveled widely through the Americas and Asia.