Travel Around Beautiful Lake Atitlán, Guatemala
A Guide to the Many Responsible Travel, Spanish Study and Volunteer Options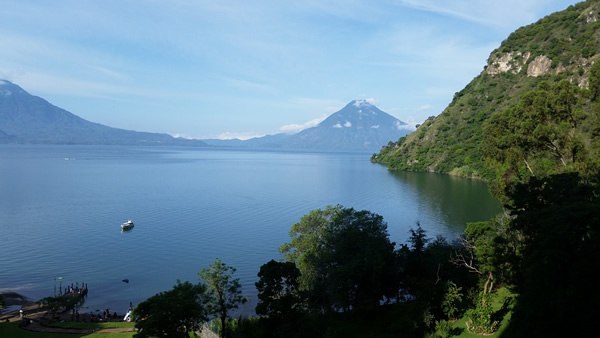 A view of Lake Atitlán.
With three volcanoes rising out of its emerald surface, and more visible on the horizon, Lake Atitlán is Central America's deepest lake, and considered by many to be the most beautiful lake in the world. Aldous Huxley famously wrote that, "Lake Como, it seems to me, touches on the limit of permissibly picturesque, but Atitlán is Como with additional embellishments of several immense volcanoes. It really is too much of a good thing."
Lake Atitlán is located in the Guatemalan highlands about four hours by car from Guatemala City. More than 70 percent of Guatemalans in rural areas, such as Lake Atitlán, live below the poverty line. Budget accommodations can be found for US$3-4 per night, meals in restaurants for as little as US$2 (as well as cocktails), and Spanish lessons for as little as US$5/hour—which makes the Lake an inexpensive and picturesque destination rich in opportunities for socially conscious travelers who want to contribute to truly needy communities. There are numerous villages around the lake, ranging from the kitschy tourist trap Panajachel, to nearly untouched Maya villages like San Juan. Together, the villages offer numerous opportunities to volunteer, experience Maya culture, and study Spanish (as well as local Maya dialects).
The villages on the lake are startlingly different from each other, ranging from San Marcos, famous for its yoga and mediation retreats, to San Pedro, notorious for parties that carry on to all hours with huge large numbers of dreadlocked fire spinners and bongo drummers acting unusually abnormal, to Santa Cruz, home to ATI Divers, the only scuba diving operation on the lake. Each offers various opportunities for travelers to contribute to the community and Guatemala as a whole.
Panajachel: Responsible Tourism Options
Panajachel (referred to locally as "Pana") has a population of 11,000 people. The wealthiest and most touristy city on the lake, Panajachel is home to the headquarters of the largest volunteer organizations on the lake. It is the most comfortable of the cities around the lake with loads of touristy restaurants, bars, travel agencies, and other services.
Fair trade weaving co-operatives have become increasingly popular in Central America in recent years because they are an effective way to help impoverished women earn an income in the home while continuing to raise their family and preserving their traditional weaving methods. One of most prominent of these organizations on Lake Atitlán is Panajachel's Maya Traditions. Maya Traditions employs more than one hundred Maya women around Lake Atitlán. Maya Traditions is always looking for volunteers to help out around the office, and specifically needs volunteers with experience in fashion, graphic, and web design to help create and market new products. They also need volunteers to write grant proposals. Maya Traditions offers accommodations to long-term volunteers. For more information, or to inquire about volunteer opportunities, visit Maya Traditions' website.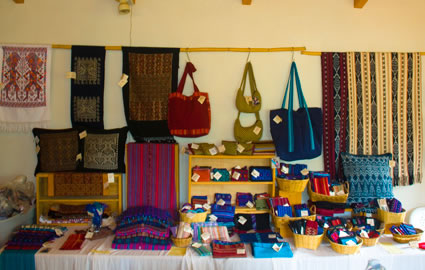 The product line of Maya Traditions, Panajachel. Photo by Matt Gibson.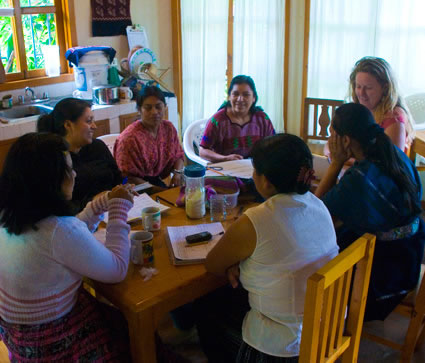 An afternoon meeting at Maya Traditions, Panajachel. Photo by Matt Gibson.
For those who enjoy working with children, LIFE School is another Panajachel non-profit in need of volunteers. LIFE School offers free and financially assisted education to Maya children from Kindergarten through ninth grade. LIFE School is looking for teachers (no experience necessary), people that are handy with computers, and volunteers to write grant proposals. LIFE School usually asks short-term volunteers (less than one month) seeking work experience for a donation of $100 per week of volunteering, as this is used to pay for the education of local children. Long-term (one month or longer) volunteers are generally not asked to contribute financially.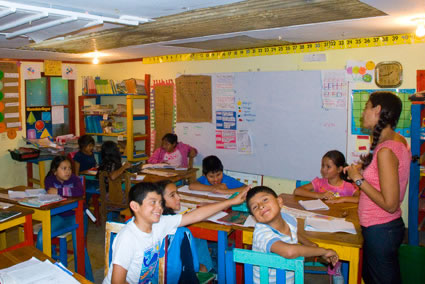 An afternoon meeting at Maya Traditions, Panajachel. Photo by Matt Gibson.
The above organizations are just two of the numerous non-profits operating in Panajachel. If neither of these seems appropriate for you, a few inquiries around town will quickly help you to find an organization that is.
San Marcos
San Marcos La Laguna is a small community with a unique architecture. The city is divided in half by a main road running East/West. The North side of the road is where the Maya village resides, which is similar to many other Maya Villages. On the South side of the road, extending from the road to the lake lays the tourist area, an almost entirely separate village composed of hotels, restaurants, herbal healers, yoga, meditation retreats, and other New Age phenomena. This area of San Marcos is navigable only by narrow walking paths, most of which are unpaved. Life in San Marcos is quiet, peaceful, and centered around finding your own center. This is certainly the best option for the spiritual traveler.
San Marcos is home to La Cambalacha, an arts school founded by a Guatemala native. La Cambalacha has about 50 full-time students but, through various outreach projects, reaches about 300 children per year. They teach circus, dance, theater, the visual arts, human rights, children's rights, history, and grant writing.
La Cambalacha is funded entirely by donations and volunteers. La Cambalacha asks volunteers to donate a small amount of money for volunteering ($75/week or $300/month). This includes a bed in La Cambalacha's shared housing and all meals except for lunch on weekends (about 60% of the money goes towards your room and board, the rest helping to fund the school). For the sake of the children, La Cambalacha asks that volunteers stay a minimum of three weeks, but urges them to stay longer.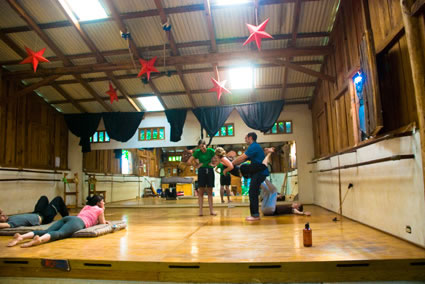 Volunteers rehearse for one of La Cambalacha's monthly performances in San Marcos la Laguna. Photo by Matt Gibson.
In addition to offering opportunities to teach, volunteers can also contribute by working in their permaculture garden or helping to build and add on to their ever-expanding campus.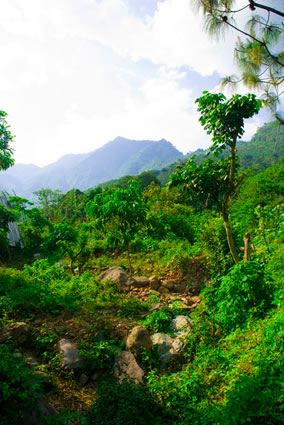 The permaculture garden at La Cambalacha in San Marcos la Laguna. Photo by Matt Gibson.
San Pedro
Although San Pedro is smaller in than Panajachel, and has significantly fewer bars, it has gained a reputation as the unofficial party capital of the lake with impromptu guitar and bongo drum jam sessions in the streets keeping the party going long after the bars close. This is partly due to the fact that many travelers choose to stop in San Pedro to take advantage of the extra–cheap (even by Guatemalan standards) accommodations, Spanish Schools, and food.
The local Guatemala Spanish School runs Trek For Kids a small trekking company that takes people to little known destinations and uses the proceeds to fund the education of local children.
San Juan
Those in search of a more authentic Maya experience will love San Juan. Just a twenty minute walk down the road from San Pedro, San Juan, with just a handful of hotels and tourists, offers seclusion from the crowds of travelers and the aggressive sales tactics of locals that accompany them. It is just a short walk or pickup truck ride from the Western amenities that we all occasionally crave. Unfortunately San Juan's lack of outsiders also means fewer volunteer opportunities. One worthwhile organization worth checking out, though, is Centro Maya Xe'Kiyaqasiiwaan, a school for disabled Guatemalan children.
Beyond Volunteering: Other Ways to Help Out
Other than volunteering there are two other ways that travelers on Lake Atitlán can indirectly contribute to the communities by doing the following:
Patronizing businesses that benefit the Maya people around the lake.
Contributing to the cultural understanding and preservation of the dying Maya culture by learning more about it.
Benevolent Businesses
The villages around Lake Atitlán are rife with businesses claiming to donate money to local charities. The truth of these claims varies widely, and must be judged on an individual basis. Generally speaking, though, every village seems to offer Coffee Tours led by local guides that are meant to educate foreigners about Guatemala's largest export and the conditions under which coffee beans are produced. Many guiding companies are locally owned with the guiding fee mostly going to pay the wage of the local guide. San Pedro's Trek for Kids is one San Pedro guiding service that uses all proceeds to fund the education of local children that this author can vouch for. Shopping in markets and eating in locally owned restaurants are good ways to support the local economies.
Traditional textiles from Maya Traditions based in Panajachel. Photo by Matt Gibson.
Visiting the many small museums around the Lake is a good way to donate money to the preservation of Maya culture, while educating yourself, and spending a pleasant afternoon inside.
Learning Spanish is also a very good way to increase your ability to interact with locals and learn about their culture, while supporting the community in which the school is located, and making your own trip easier and more fulfilling. Although many of the large Spanish schools are not owned by people from the community (often the owners are from Guatemala city), they all employ local teachers who would otherwise have difficulty finding such employment. Most of the smaller schools, in addition to employing locals, are locally owned. Many Spanish schools also claim to donate proceeds to local charities, but again, the validity of these claims varies. In addition, most schools offer homestays that are of great benefit to both you and the host family. Homestays, while saving you money, offer the families a much needed source of extra income, and give both you and the family the opportunity to learn about each others' cultures.
Although staying with a local family can be daunting at first, Guatemalans are warm people eager to open their homes, and you will quickly come to feel like one of the family. Living with a local family is the surest way to connect with the local community, learn about Maya culture, save money, improve your Spanish, and enrich yourself while enjoying the surroundings on the most beautiful lake in the world.