Saving the Galapagos Islands
Man vs. Man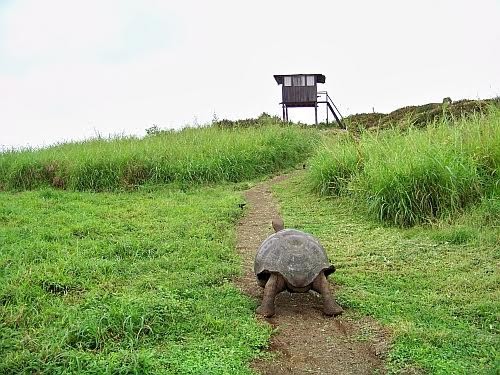 Giant tortoise makes its way up a path in the Galapagos.
Lying 600 miles off the coast of Ecuador, situated right on the equator in the Pacific, is one of the world's strangest archipelagos. Groups of birds, reptiles, and mammals somehow made their way from the mainland of South America to these new (in geological terms) volcanic islands, where they evolved over time with traits that are unique to this location. Above and below the water, what seems like an inhospitable landscape to the naked eye is actually teeming with life, thanks to a convergence of currents underwater and a temperate year-round climate on land.
You don't have to search very hard to find journalists criticizing what's going on the Galapagos Islands of Ecuador though. There are too many visitors, too many residents, too much garbage to haul off, not enough water, too much fishing in the area's waters, and on and on it goes.
All these criticisms have an element of truth to them. This is, in most respects, the best-preserved natural habitat in the world, but it's a fragile system. Obviously, the wildlife of the Galapagos would be better off if man disappeared from the equation completely. It would be nice if the creatures Darwin studied could dial back the clock to a time before the 16th century, when nobody knew they were there. Since then, man has had a presence on the islands, with a few visiting sailing ships in the early days doing far more damage than hundreds of thousands of tourists are doing now. There was nobody watching when pirates and cargo crews routinely filled up a whole ship's hold with stacked giant tortoises to use as meat on their journeys, or when early settlers brought in domestic animals ill suited to the delicate balance already in place.
During ten days exploring the islands, however, I saw many reasons to be hopeful. Sure, there's pressure from tourism and an estimated 30,000 residents in the populated towns—many of those residents moving here originally to serve all those tourists. At the same time, the tour companies and a whole host of dedicated organizations are working very hard to protect the environment and wildlife. These groups are deeply involved in coastal clean up, recycling of solid waste, and educating the local population in environmentally friendly practices. Various other foundations have dozens of projects in motion to keep the Galapagos clean, to allow its wildlife to flourish without interference, and to keep the impact of tourism as low as possible.
Alternative Energy and Waste Management
A lot of what's getting better in the Galapagos is hidden from view. Many tourists are walking on one solution without knowing it: glass is recycled locally and made a part of paving stones, rather than being shipped all the way back to the mainland. Much of the organic waste is collected separately and goes to large composting operations. Many of the ships plying the waters around the islands have a desalinization system on board that use biodegradable soaps and shampoos.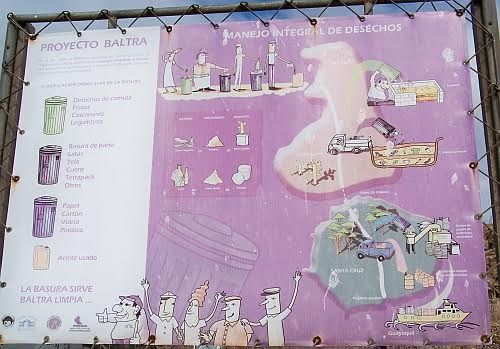 Waste management plans for the Galapagos.
A series of initiatives are in motion to reduce impact on both the residents and the visitors. I saw multiple single-building solar operations on my visit, and the island of Floreana has an array of solar installations powering most of the grid. A wind power project on San Cristobal Island supplies a substantial and increasing percentage of that island's energy needs depending on wind speed. Based upon the success on San Cristobal island, a new wind project is scheduled to go live on the more populated island of Santa Cruz. The main airport on Baltra now benefits from solar panels and a state-of-the-art energy-efficient design.
Toyota has worked with the Ecoventura tour group to outfit four ships with hybrid power systems utilizing wind and solar. Toyota has also worked for years with the World Wildlife Fund on concrete steps for the Galapagos, first providing Baltra Island with one of the safest and most modern fuel depots in the world and building an oil-recycling center. There are rumors that the company will be offering heavy incentives in the future for permanent island residents to trade their current vehicle for a hybrid car.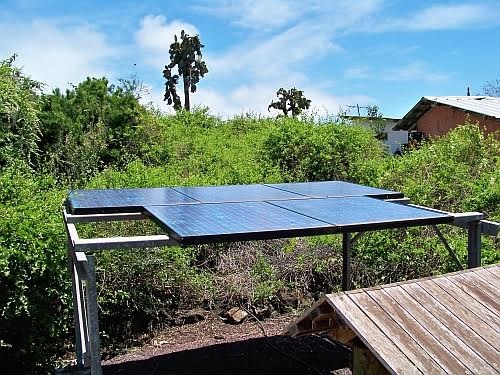 Solar panels are springing up in the Galapagos.
About those Tourists…
The number of annual visitors to the Galapagos had doubled between 1995 and 2005 to 121,410. That represented an increase of 67% in just five years. By 2016, the number of official visitors had climbed to more than 218,000 according to the Galapagos National Directorate. Almost nobody connected even remotely to conservation and sustainability on the islands is happy with that explosion, but, of course, more tourists mean lots more money for the government, for the tour companies, and for the well connected. So there's the normal battle going on between saving what brings the people here and keeping the money flowing to the right pockets.
Concerned organizations usually try a few different things when attempting to put a lid on the number of visitors to an overtaxed site or attraction: 1) charge more to create a disincentive, 2) restrict the numbers to a daily limit, or 3) close the attraction completely periodically. The organizations responsible for the Inca Trail and Machu Picchu in Peru have tried all three of these to some degree (see Saving Machu Picchu), but they have found the usual problems in trying to hold back tourists from their Golden Goose main draw.
A trip to the Galapagos Islands is already expensive though—for many people a "once in a lifetime experience" that requires a few grand in savings. The national park fees alone are $100 before you even get on your ship, and a flight out to the islands and back from Quito start at $300-$380+. In an ironic twist, a brief recession accomplished more than any conscious visitor reduction plan could.
"That's definitely a good thing," says my guide back in Quito when I bring up these figures. This sentiment is shared by many other people involved in tourism in Ecuador. The islands' business loss is the islands' conservation gain. It's not that simple though of course: the money from tourists is what funds many of the conservation and native species reintroduction efforts. So a sustainable number that hits the right balance is the ideal.
For those who do visit, their impact is kept low by decree. Visitors don't come to the Galapagos and explore the islands as they please, hiking around independently. Everything is done in tightly controlled groups. The Galapagos national park comprises 97 percent of the islands' land mass. On that 97 percent that is protected, tourists are only allowed on .001% of it, walking on clearly marked trails in groups of 16 or less and disembarking from small boats only on designated landing spots. Those who visit on larger ships get even less access, and the big "floating hotel" cruise ships are banned altogether. All the rest of the land is for animals only unless you are a scientist who has been granted special permission (and gone through quarantine), or you are a Darwin Center worker involved in something like turtle repopulation or invasive species eradication.
Plan for the eradication of destructive invasive species in the Galapagos.
Many Galapagos watchers are hopeful after what has transpired the past couple of years. The current government is doing a better job of enforcing its own rules and is passing more laws to keep destructive elements and overpopulation at bay. Many say UNESCO's 2007 move of putting the Galapagos on its "World Heritage in Danger" list was a good wake-up call that has led to stronger political will and cooperation such that recently some progress has been achieved.
The Judas Goat
If you really want to know how serious these Ecuadorians are about returning these islands to their natural state, I've got a story for you.
Once upon a time, some hardy souls came to the Galapagos and decided to make these barren scraggly islands their homes. They planted crops, rigged up gutters and cisterns to capture the rainwater, and found ways to feed themselves by fishing and hunting. Unfortunately, they tried to make that a bit easier by bringing in foreign flora and fauna, such as foreign grasses for livestock and goats for milk and meat. There was nothing to keep the goats in check on these islands, but plenty for the goats to eat since they eat pretty much anything. The problem was that the goats were eating the plants other creatures depended on to live.
So the Galapagos National Park and the Charles Darwin Research Station jointly hatched a plan. They hired some ace snipers, budgeted for some helicopters, and started wiping out the goats. These men were not trigger-happy gun enthusiasts, but rather trained marksmen who could drop a goat using minimal ammo—the bullets were even biodegradable. In phase two, these hunters crossed the landscape with trained dogs—who were sterilized before they went to work.
You can never get every single goat by conventional hunting, however, so a secret weapon was employed. A "Judas goat" with a tracking device was placed back on the island, painted in bright colors to be spotted easily, and pumped up with hormones to lure other goats out from their hiding places. Once the other goats appeared to socialize, it was "bang bang," and then so long. In the tradition of great spy movies though, the message was meant to self-destruct. If Judas or one of the hunting dogs went into hiding himself, he could be shocked to death by remote control.
After several years of effort, an estimated 100,000 goats were eliminated. Santiago and Islabela islands emerged goat-free in 2006 and have stayed that way. In an epilogue to the story, some plant species thought to be gone forever have returned. Seeds germinated and were now able to flourish, some of them formerly in the stomachs of goats that had decomposed.
Other efforts have eliminated pigeons from San Cristobal Island, donkeys from Santiago Island, and fire ants from Marchena Island. Sorry kids, but next up are the cats.
Ongoing efforts are targeting invasive plants as well, including blackberry bushes. You will never be served fresh blackberries or guava fruit on the islands or on your ship: nothing with seeds is allowed to be imported.
Even the most optimistic conservationists think there is plenty more to do, but there are plenty of success stories to celebrate. With the right leadership from the stakeholders and a continued willingness by tourists to keep their impact as low as possible, the future can be bright for one of the world's most unique ecosystems.
Tim Leffel is author of several books, including A Better Life for Half the Price: How to prosper on less money in the cheapest places to live. See more on his Cheapest Destinations Blog.