Budget Travel in South America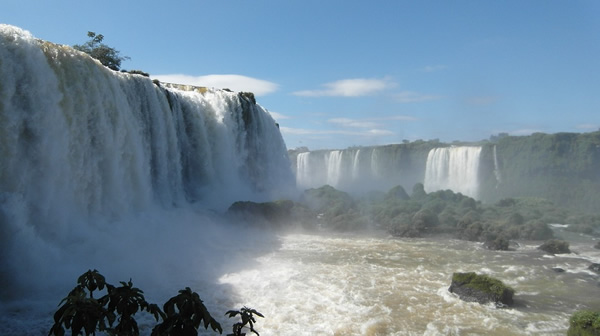 Visit the Iguazu Falls from the Argentinian side.
South America has a lot to offer budget travelers, but it takes some planning and prioritizing to keep from breaking the bank. Just as Mexico's costs are far lower than in the neighboring U.S. and Hungary's are far lower than those in Austria, regional differences in South America can be dramatic. Urban Brazil, Chile, the Galapagos, and celebrity-filled beach areas of Uruguay can be surprisingly expensive. On the other hand, stretches of Peru, Bolivia, and mainland Ecuador are some of the least expensive places on the planet for backpackers.
Long-term travelers find enough variety in South America to keep them occupied for months or years, both in the population and the geography. There are the Andean people descended from the Incas, the Spanish and Portuguese descendants of the conquerors, Brazilians whose ancestors came from Africa, and those who have made their life in the jungles along the Amazon. Throw in immigrants from around the world who have been coming for centuries and it's an interesting mix.
From the sea plains and steamy jungles the elevation proceeds all the way up the scale to Aconcagua, the highest mountain outside of Asia at 6,962 meters (22,841 feet). In between there are vineyards, Inca ruins in the mountains, Spanish colonial towns, pulsing cities, deserts, beaches, and otherworldly Patagonia.
Travelers will use bits of three main languages if traversing South America, though dozens of others are in play in the Andes and deep in the jungles. Spanish will get you by from Venezuela down to Tierra del Fuego, except for that 800-pound gorilla in the middle called Brazil. The largest and most populated country on the continent speaks Portuguese. English is widely understood in tourist areas, especially in Argentina, Colombia, and Chile.
In terms of budget planning, there are three general levels of expense in the region, but the picture is not always clear since currency fluctuations can make previous assumptions go out of date. Brazil, for example, has become one of the more expensive countries for Americas because their currency is not tied to the dollar and it when it bounces up because of strong growth, the cities of Brazil become more expensive than New York City. Tack on the hefty visa fee and it is out of the budget range of many backpackers. Chile, already the most expensive sliver of land, has also experienced a currency rise against the dollar and French Guiana uses the euro. Colombia's government continually buys dollars to try to keep their currency from appreciating, but it isn't working very well and many costs in the country are on par with those in the U.S.
The best bets for backpackers remain Ecuador, Bolivia, and Peru, though more rural areas of nearly any country besides Brazil or Chile can be a great value. Paraguay is also quite cheap, but most travelers don't find much reason to stick around. In these areas, costs generally average $20-$40 a day as a backpacker. As always, the actual cost depends on whether you're sharing a room with someone, how much comfort you require, and how much you are moving around. Ecuador is small and bus trips are not long, but in Argentina it can take 20 hours of travel to get from one city to another—and that's in the express bus! Don't forget to factor in attractions and adventures. It would be a shame to come all this way and skip Machu Picchu or avoid river rafting trips because of a $45 tab.
The top-tier destinations in terms of cost are Chile, Easter Island, the Galapagos, French Guiana, the cities and beach resorts of Brazil, Cartagena in Colombia, and coastal Uruguay in high season. Argentina has gotten continually more expensive each year for backpackers as high inflation, import restrictions, and a high visa costs have had a big impact on visitors' budgets. Currency restrictions and financial mismanagement are leading many to predict another monetary crisis. If that happens, things could change overnight. Expect costs to average out to $40 to $80 a day per person in the cheapest areas ($60 to $90 for a couple) unless you're really careful about budgeting or are living like a local. Add a bit more for Argentina and Colombia, a lot more for Brazil and Chile. In any country, big capital cities will cost more than outlying rural areas and popular beach resorts will command a premium in season. A jungle tour requires a premium no matter where you take it—and in a place like Guyana that's the main reason to visit.
Coming from the U.S. or Canada, there is no jet lag to worry about, so you can hit the ground running after arrival. Flight prices are generally on par with those to Europe or less, but with frequent sales throughout the year, few fuel surcharges, and a low threshold for frequent flyer flights. Coming from Europe, it can be difficult, however, as many flights to South America first must pass through the U.S.
Accommodations in South America
Budget accommodations are plentiful throughout South America, though the quality and selection will vary greatly from place to place. In tourist magnets such as Cusco, Peru or Baños, Ecuador, there is a huge variety of lodging in all prices ranges. In the small dusty towns off the beaten track, travelers take what they can get. A private double room with a shared bath can be as little as $4 in some parts of Bolivia and Ecuador, but something of the same quality can be $25 in Lima, Santiago, or Buenos Aires—if you can find one that's not full. In San Pedro de Atacama, Chile, you'll spend as much as you would in Europe. As in Central America, spending another $5 or $10 a night is often enough to move up to a vastly superior room with maid service, a private bath, and a shared courtyard or garden in a restored colonial treasure. Rooms at the middle level are often the best value. Memorable rooms in small hotels owned by locals are frequently $30 to $75 a night throughout South America.
Most package deals that include accommodation are centered around a theme (wine country, skiing, Patagonia exploration, the Galapagos) or are tours hitting one or two cities. There are very few of the all-inclusive, sit-on-the-beach affairs you find further north. Most of the beach packages that exist are marketed to locals during the school holiday summer period of January and February. These can be a great value if you can surf the local websites in Spanish or work with a travel agent in that country.
Food & Drink in South America
The cuisine of South America varies greatly because of geography, latitude, and culture. Empenadas, tamales, and other dishes made with corn stretch over a long region, but so do ceviche and steak. The countries that have a long coastline naturally serve a lot of fish, while Argentina is also the undisputed king of beef. For lunch you can usually find some variation of the "meal of the day" anywhere. You sit down at a simple restaurant or market stall, figure out what's on offer, and get a hearty meal somewhere between $1 (rural Ecuador) and $8 (urban Chile). In general you'll get a serving of meat or seafood, rice or potatoes, a small bowl of soup or other vegetables, and maybe a slice of bread or tortillas.
Beyond the simple restaurants and market stalls, high cuisine in South America is as high as many other parts of the world, especially in Buenos Aires, Lima, Santiago, and Montevideo. Locals are quite demanding in these cities, so it is not just the tourists creating a demand for finer food. Naturally the wine regions of Chile and Argentina are also centers of gastronomy.
With the climate ranging from tropical to arctic, it's hard to generalize about fruit and vegetables in South America. It is best to pay attention to what's abundant and in season and base your diet around those staples to keep costs down. Ecuador offers the best bounty: tropical fruit from the coast, berries and apples from the highlands. In most towns, bakeries offer some substantial breakfast options and snack stands on sidewalks and in markets are good spots for filling up on the cheap. In a lot of areas there are juice stands, with fresh-squeezed versions of whatever is available in the local markets at that time of year. Brazil, Colombia, Peru, and Ecuador all produce a substantial amount of coffee, but most of the quality beans get exported. In some countries, a quality cup requires a visit to a gringo-owned coffee shop or a coffee farm. It's a different story in the southern part of the continent though, where a European-style café culture is abundant.
The wine is excellent in Argentina and Chile, decent in Uruguay and Peru, and wildly inconsistent elsewhere. Every country has its own array of beers. Many are boring pale lagers, but surprisingly good dark beers turn up here and there, especially in Chile and Argentina. Pisco (a type of unaged grape brandy) is a staple of bars and homes in Chile and Peru. All of this is a great bargain throughout, but the really hard-up turn to homemade hooch sold by the side of the road, from a mild corn beer called chicha to a type of high-alcohol moonshine that can be lethal.
There are major cultural differences in South America when it comes to bars. Some are solely a male affair and a place to drink until you can't walk. At the opposite end of the spectrum, discos in Buenos Aires don't get hopping until 2:00 a.m. and are major pickup scenes, gay or straight. Outside of obvious tourist zones, scope out the situation in advance to avoid sticky situations. Overall though, it's pleasantly easy to find a cold beer or glass of wine almost anywhere for a reasonable price.
Transportation in South America
Internal flight prices can be a steal or an onerous burden depending on local competition and the government's attitude toward foreigners. In Argentina and Peru, for example, foreigners are forced to pay more on the state-owned airline and competition is slim. To make matters worse, you have to travel back through Buenos Aires to go anywhere—and pay for each leg of the trip. Flight prices in Chile are on par with those in the U.S. As a result, travelers on a budget are forced to take very long overnight buses to get from place to place. Rates are a bit better in Peru and Brazil, though still high enough to make a serious dent in your budget. Ecuador, Bolivia, and Colombia have reasonable budget flight prices except for the route to the Galapagos Islands. For now, there is little of the cut-rate airfare competition you see in Europe and Asia apart from a few routes in Brazil. Your best bet is to find the website of the particular airport you're flying out of to see which airlines go there or use a local travel agent to uncover options you weren't aware of.
Train service is an endangered species, but the situation is improving in Ecuador: the government is pouring a lot of money into restoring the rail line between Guayaquil and Quito. Another great exception for travelers is Peru. There are several classes of service on scenic lines running between Machu Picchu and the Sacred Valley, Cusco, and Puno—on Lake Titicaca bordering Bolivia. You can travel to many Chilean areas south of Santiago on excellent, well-maintained trains that will make you forget you are in Latin America. Argentina is making an effort to revive its passenger train system, with an eventual bullet train promised between Buenos Aires, Rosario and Córdoba. A slow train runs that route now, and to Mar del Plata. The old Patagonian Express is now down to bits and pieces in different parts, leaving it more for entertainment than transportation. There are a few scattered train lines in Bolivia, Brazil, and Uruguay.
If you travel through South America, you will undoubtedly spend time on a bus. Buses range from overnight coaches with bunks to old school buses turned into crowded "chicken buses." The latter will stop for anyone or anything, but they cost next to nothing. You definitely get what you pay for, so opt for a better class when it's available and the budget will allow.
Taxis are inexpensive except where lots of tourists on a short vacation congregate, like beach resort zones. Otherwise you will seldom pay more than a few dollars for a ride across town. You can often hire a car and driver for the day for the same or less than renting a car on your own, especially if you don't need one who doubles as an English-speaking guide. To rent a car, expect to pay as much or more as you would for a car in Europe, Canada, or the U.S.
Resources for Travel in South America
In terms of guidebooks, they all have their ups and downs and it's hard to recommend one specific series for all countries of South America. Also, many of the guidebook publishers now offer information primarily on their websites. Lonely Planet's South America is the obvious choice if transversing the continent. The Rough Guides's South America section offers excellent background and cultural information.
Many independent tourism-related websites for a region are nothing more than hotel and agency listing services and it's tough to find quality travel information on places like Paraguay and Suriname on the web; you're better off sticking to books. The following are all useful, country-specific sites for trip planning:
Perú is the official tourism site and has plenty of resources.
Visit Brasil is the official tourism site and also offers plenty of resources.
Welcome Argentina is a slick site covering adventure activities, wine, and tango.
ProColumbia is the official tourism site and provides good overviews.
Trekking Chile is a good resource for outdoor adventures in Chile.
There are very few budget airlines in this region, but try Skyscanner to see if any new ones have popped up.
Numbeo.com is a crowdsourced database that provides fairly accurate cost comparisons to help you determine your travel budget.
Want to figure out what kinds of shots or meds you might need? Go here for more up-to-date info:
TIM LEFFEL is the author of The World's Cheapest Destinations, a Better Life at Half the Price, and editor of Perceptive Travel.