How to Travel by Train Through Australia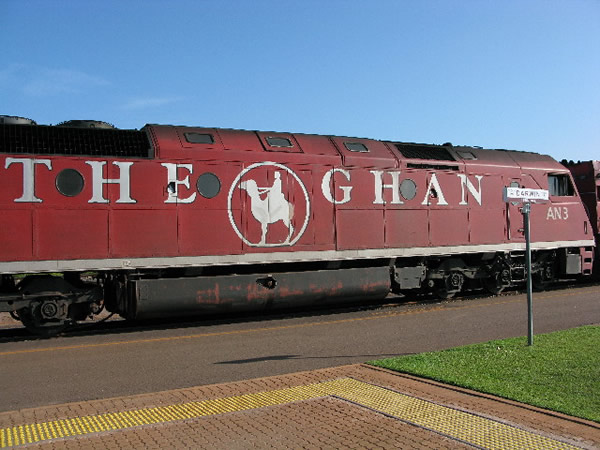 The Ghan: A 3-day ride from Darwin to Adelaide.
Taking the train through Australia is an idyllic way to experience the vast countryside, watch the changing (and at times the monotony of unchanging) scenery, while enjoying views of the flora and fauna that reside only in this bizarre country of extremes. Fortunately, there are options for people of many backgrounds and budgets who make use of Australia's rail system to experience these world-class multi-day rail journeys.
Going All-Out
I started off my own Australian rail adventures with a 3-day journey from Darwin to Adelaide on The Ghan. Anticipating boredom, I brought books, music, and my laptop to while away the hours.
But surprisingly the three days flew by, between the daily "whistle stops" for a few hours at locations of interest, speaking to other passengers while eating the delicious meals in the dining car, gazing out the window at the mesmerizing scenery, and making new friends over drinks in the lounge car. As a result, I did not manage to read one page of my book, nor did I accomplish much of my lengthy "task list" of work items designed to heed boredom.
So I decided to up the ante.
My next Australian train trip involved 11,000 kms of rail travel in 11 days; from Melbourne to Sydney, then across to Perth (where I would take a 24 hour break), then right back to Sydney, and finally back to Melbourne. It was borne of a fierce love of rail travel, the possession of an unlimited rail pass, and a somewhat masochistic experiment to see if it is possible to become bored on a train.
Instead of finding boredom, I ended up writing a 20,000 word 6-part series about the journey. I loved every minute of it!
Train Options to Suit Every Budget
Although bus travel is marginally cheaper than train travel, it is also less comfortable and scenic in Australia — especially on long jaunts across the desolate Outback. Thankfully, there are options for riding Australia's rails to suit most budgets, from basic to high-class luxury.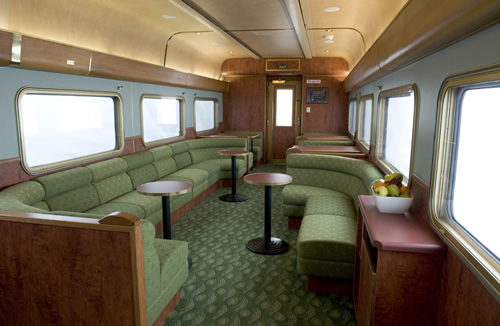 Getting Red Lounge access is worthwhile if you are in a seat.
Rail Passes
For the budget traveler who wants to cover a lot of territory in Australia, rail passes are ideal. One price gives you access to a variety of trains over time periods ranging from three to six months. Booking a seat for each leg of the trip is as simple as calling the reservations desk and quoting your pass number.
These rail passes grant you access to a roomy economy seat for all journeys, including overnight ones. The seats are surprisingly comfortable, with lots of leg room and the capability of up to a 40% recline. Most people who choose this option will do it for one night, getting off at a "whistle stop" (for example in Alice Springs on the Darwin to Adelaide route) to spend a couple of nights before catching the next train onwards.
Train Upgrades — Sleepers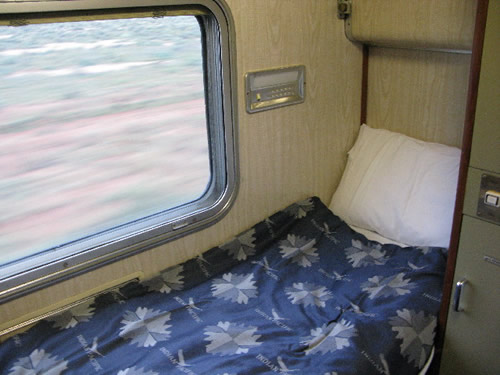 Enjoy a cozy Australian train sleeper.
If you are taking a multi-day trip without opting to get off the train, sleeping in a seat can get uncomfortable. In this case, you can purchase an on-board upgrade to a sleeper cabin (subject to availability) for less than you would pay to reserve it in advance (about $150 per night). The basic "red" sleeper is a private (or twin) room with a wash basin and shared shower/toilet facilities. It is clean, roomy (all things being relative; you are on a train after all), and a lovely way to wake up — with the Australian Outback cruising by outside the window as you recline in horizontal comfort.
If you have an even higher budget and a taste for luxury, you can upgrade to a "gold" sleeper which features an ensuite toilet and shower, access to the gold lounge car, and gourmet 3-course meals in the dining car. It is the epitome of luxury rail travel — and you get what you pay for.
Train Upgrades — Lounge Access
If you would prefer to stick to a seat for your trip on the Indian Pacific or The Ghan, it is worthwhile to upgrade to the "Red Lounge" (which people in "red sleeper" class have automatic access to.) It starts at $10 per day, $15 for two days, and $25 for three days), and offers a comfortable spot to relax during the day, plug in your electronics, and enjoy free tea or coffee and afternoon snacks. A few cups of coffee alone covers the cost, and it is a great environment in which to socialize and meet other travelers.
Other Australian Train Journeys
I stuck mostly to Great Southern Rail's main iconic train trips, being The Ghan (Darwin to Adelaide), the Indian Pacific (Sydney to Perth), and the Overland (Adelaide to Melbourne). But Australia has a number of other rail journeys, including the Tilt Train in Queensland, and a relatively extensive network connecting most cities and territories.
For More Information
Train Travel
A leading resource for planning train travel in any country is The Man from Seat 61: Train Travel in Australia. The site features intricate accounts of prices, schedules, routes, and what to expect from train trips around the world, including Australia.
Australian Iconic Rail Trips
See a variety of classic trips on the Great Southern Rail site.
Australian Rail Pass Details
Australian rail passes start from $200 and increase depending upon your preferred train routes. You can find rail passes for various routes on the train routes in Australia.
Trip Accounts
And for involved personal accounts of various Australian train trips, check out Nora's experience on The Ghan and the Indian Pacific.
Nora Dunn is The Professional Hobo; an international freelance writer and full-time traveler since 2007. Train travel is her favorite mode of transportation, and she has ridden the rails in over 24 countries. Nora has written an ebook (below) about her train travel experience, full of inside tips.