How to Plan Campervan and Motorhome Trips in Australia
A Classic Way to Travel Across a Vast and Diverse Continent
The road behind seen from a campervan with everything from deserted beaches to kangaroos lying ahead in the diverse and vast country.
Exploring Australia with a campervan is a classic road trip. Many areas of this vast country are remote enough that to really enjoy the quiet splendor of the Australian landscape you need to be relatively self-sufficient. And Australian campervan holidays are not only a popular option for those visiting from overseas, but native Australians are also renowned for loving the campervan and caravan circuit.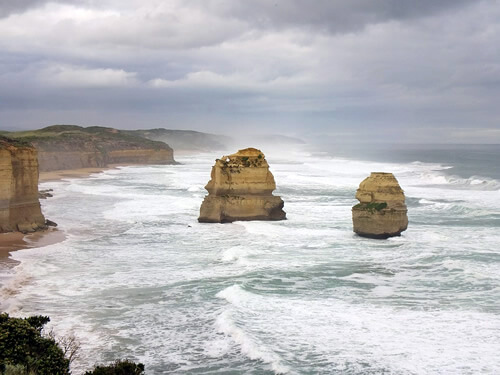 Twelve apostles, Australia just one of many places to travel. Photo by Canari.
However without proper planning, traveling in a campervan can be more expensive than you might think. When an offer came to "see a slab of Australia for free" by virtue of winning a free six week campervan rental, I was over the moon. Although I had never traveled extensively in a campervan before, I figured it would be a fabulous and inexpensive trip. Sadly though, those six weeks were among the most costly of all my full-time budget travel thus far.
But it doesn't have to be that way. During my 6-week adventure, I learned a lot about how to plan an itinerary, keep the cost of an Aussie campervan holiday low, and how to budget for it next time around.
Here is a guide to planning and budgeting for your own Australian campervan adventure.
Planning Your Campervan Route and Itinerary
Before you even choose your wheels, it is best to plan what you want to see in Australia. It is a huge country, with varying climate and road conditions. Some stretches of road (for example through the Outback or across the Nullarbor desert) involve huge expanses where there is absolutely nothing—no petrol stations, no food, no services, no power, no mobile reception, and no water. Some campervan rental companies will not allow you to travel on these roads at all, and even if you are allowed, you must be well prepared.
Be wise about how long you plan your Australian road trip to be as well. Unlike Europe—where you can drive for a few hours and end up in a different country—in Australia you can drive for days between cities. It is best to allow more time than you expect you will need, so you are not under the gun to get to the finish line.
In the massive country of Australia you can drive for days between cities.
Climate in Australia
An important part of choosing your route is to understand Australia's climate. Being in the southern hemisphere, summer is from December-February and winter is from June-August. However, although some states may have snow in winter months, winter is not necessarily cold everywhere; the temperatures in the north are warm to hot year-round, and summer in the south can still experience temperatures in excess of 50 degrees Celsius.
The ideal time to travel in Australia tends to be the spring and autumn seasons for their all-around moderate conditions. This helps you avoid Australia's climatic extremes; summer in the north can see impassable flooded roads and fierce tropical storms, while winter in the south can be cold enough for snow to fall (which means chilly camping conditions).
Just to confuse things further, Melbourne is known for being a city of "four seasons in a day"—quite literally. So it is best to research the climate along your desired route in order to be properly prepared.
The Australian Bureau of Meteorology is a great resource for researching Australia's climate.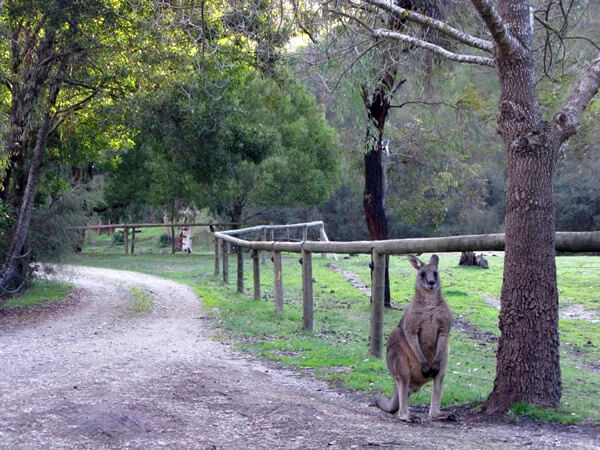 Flora and fauna change seasonally, and the occasional kangaroo will greet you.
Choosing Your Wheels
Campervans are typically utility-sized vans that are outfitted with the basic essentials for you to be self-sufficient: beds, sinks, crockery, cooking facilities, and a fridge. Depending on the size of the vehicle, you may also find toilet and shower facilities, but these are often reserved for larger motor homes. Alternately you can choose to go with an even smaller vehicle than a campervan (such as a station wagon, minivan, pop-top, or 4x4), and supplement it with traditional camping gear.
Your choice of vehicle will be dependent on how many people there are in your party, where you want to go, your budget, and the level of comfort you require.
To Rent or To Buy?
Many campervan and other car rental companies offer an option for you to buy or purchase the vehicle. If you buy it, a buy-back guarantee often comes with the price, so you may be assured that you are not stuck with a vehicle you can't sell at the end of your trip. The buy-back amount varies, but is often around 50% of your purchase price. More often than not, you will fetch a better price by selling privately, but the buy-back guarantee can provide peace of mind in case you are in a bad location to sell or run out of time.
The general guideline for the cost-effectiveness of renting versus buying is as follows:
Less than eight weeks: It is almost always best to rent, no matter what vehicle you choose.
More than eight weeks: It is more cost-effective to purchase a car, minivan, or pop-top vehicle.
More than 16 weeks: It is more cost-effective to purchase a campervan or small motor home.
Tips for Renting a Campervan in Australia
Book well in advance, as this form of travel is popular and vans are reserved well in advance.
Be prepared to drive standard; most campervans have manual transmission.
You drive on the left-hand side of the road in Australia.
You usually have to be at least 21 years old to rent a campervan.
Although it is common to pick up and drop off your vehicle in different locations, check with your rental company to ensure they have a drop off location at your desired final stop and confirm if there are any extra fees to do this.
Weekends are slow in Australia; don't expect the rental company to be open for pick ups or drop offs; call in advance to check.
Insurance charges vary from company to company; some have mandatory charges while others do not.
Advise the rental company regarding your desired itinerary. There are a number of roads that rental companies will not allow you to travel on, including unpaved or remote roads. At other times of year, some roads are impassable or require a special vehicle with a snorkel. The rental company should fit you with a vehicle that is appropriate for your planned route and time of year.
Equipment and conveniences included with the campervan vary. Make sure you have everything you want. Be prepared to supplement along the way with creature comforts like extra blankets for the cold climes, or a coffee pot for your morning cup.
There are stretches of road in Australia so remote that rusted out broken-down cars are simply abandoned at the side of the road, eerily making you wonder what happened to the owner. Make sure your vehicle is solid (especially if you buy it), so yours doesn't become one of the rusty statistics.
Places to Rent or Purchase Campervans in Australia
Camping with a Campervan
The expense of camping surprised me. I figured that with a campervan, I had free accommodation at my fingertips. But you cannot camp inside city limits, or at the side of the road, and sometimes even rest areas are off-limits for overnight stays. So unless you do some "renegade camping" (in which you should be prepared for a knock on the window at 3 a.m. by a police officer telling you to move along—or worse yet waking up to a ticket), you will often have to pay to park your wheels for the night.
Luckily due to the widespread popularity of campervan and motorhome holidays in Australia, caravan parks are everywhere. Powered campervan sites will cost you up to $40/night, and un-powered sites can cost up to $25/night. (See below for some tips on powered versus un-powered travel).
Caravan parks and campgrounds are a fabulous way to meet other travelers. Caravan parks give you access to showers, laundry, cooking facilities (sometimes cooking in the van can be cramped), and a variety of amenities that vary from park to park. Campgrounds also vary dramatically in amenities depending on the location.
By contrast, after a few nights of saving money and "renegade camping," I was terribly lonely. Shy of going to a café or pub (and spending money, which is counterproductive), there is no way to meet people if you camp alone. This, combined with the hassle of finding toilet facilities in the middle of the night and the stress of being asked to move or awaking to a ticket, makes renegade camping pretty unattractive, even if it is free.
The good news is that with some research and networking with fellow travelers, you can find your share of free—or inexpensive—camping spots. To find the good stuff, you often have to buy a book, but a books will pay for itself in the long run. Camps and Caravan Parks offers a series of books profiling camps and caravan parks.
Powered Versus Un-powered Campervans
Your campervan will likely have a function to provide electrical power to a fridge, lights, and some outlets so you can enjoy your creature comforts. This power source is usually recharged when you drive over 80km/hour or so for a few hours. But if you wish to stay in one place for a few days, if you are driving smaller distances or through the city, you may end up eventually losing power if you don't plug the van into a power source.
After staying in the driveway of a new friend of mine for a few days, I lost all supplemental power in the campervan. Most of the food in the fridge spoiled, I could not run the water, and I was unable to charge my computer. Traveling after that time became an exercise in ensuring that at least every third night I paid for a powered site.
Powered sites come at a premium at caravan parks, costing an extra $2-15 per night. So when you don't need the power or have a full battery from highway driving, you can avoid the charge by choosing an un-powered site.
The Cost of Fuel
The farther you get from the city, the more you will pay for fuel. I paid anything from $0.98/liter to over $1.50/liter in a 6-week period and current petrol prices in Australia have recently increased but can easily be found online. Of course, with your entire home on wheels, you can expect to pay considerably more for fuel than you would to drive just a car.
Expedition Australia has a terrific tool for calculating the cost of fuel for your campervan trip, including a widget that calculates your cost based on your estimated kilometers and vehicle type. The site also offers a spreadsheet download to calculate the cost of driving around the vast country.
Australia is best seen from the road, which explains the popularity of Aussie road trips among both travelers and locals. And with proper planning and budgeting, your own campervan holiday in Australia can be incredibly fulfilling without emptying your wallet.