The Beckoning of Mount Lycabettus: Sacred Sentinel of Athens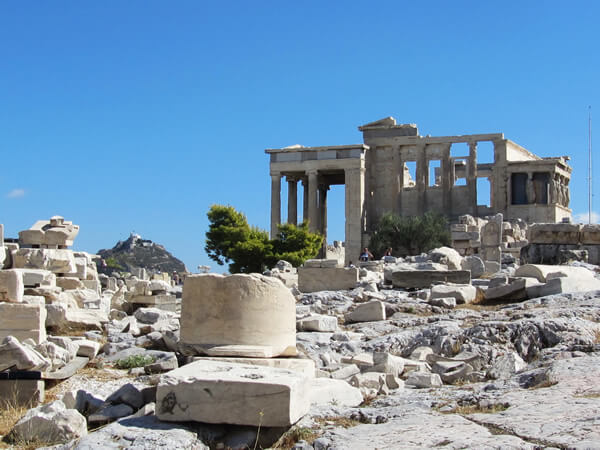 The Acropolis, with its many well-preserved temples sitting on a hill above Athens, is a powerful iconic image and attraction, but there is so much more to the city in these times.
An inordinate number of abandoned dogs welcomed me at the foot of the Acropolis. Although these magnificent architectural ruins are perhaps the most recognized in the West, I had never been this close. With fewer visitors and sunshine it was a singular archaeological experience to feel the energy accumulated over time; a mixture of diverse philosophies and political turmoil.
However, I was also being tantalized by another hill across the dense city. Pyramidal, variegated green, topped with a shimmering tiny white chapel I learned that this was Mount Lycabettus, the highest of seven hills in Athens. It was sprouting out of modern Athens which from above, resembled an eggshell-colored carpet of tightly-woven buildings. Lycabettus followed me invitingly no matter where I went but it remained only in my imagination before we actually met.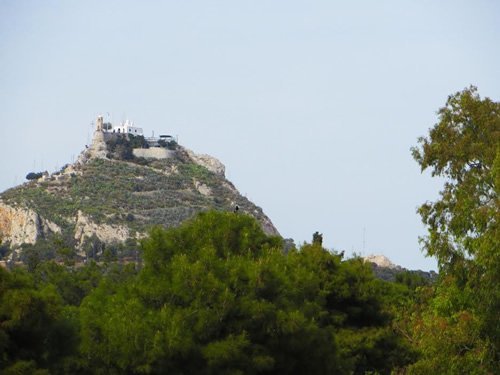 Mount Lycabettus seen from Hadrian Gate.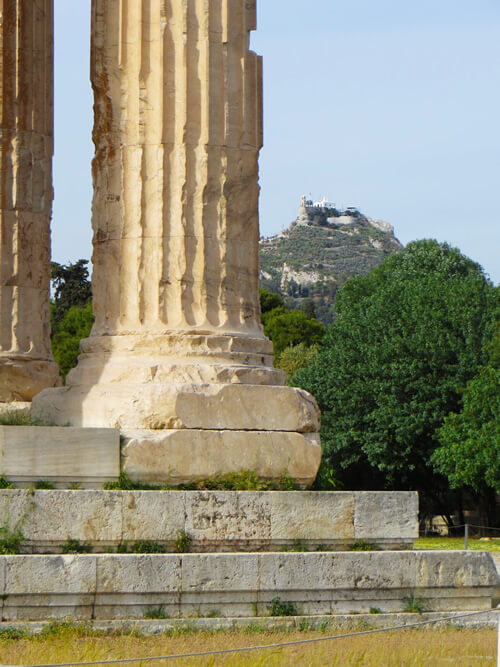 Temple of the Olympian Zeus with Mount Lycabettus in the background.
While attending a conference on a later Athenian trip, my accommodations were in the embassy-filled Kolonaki neighborhood at the southern foot of Lycabettus with chic restaurants and haut de gamme boutiques. This trendy neighborhood's carefree mood seemed strikingly inappropriate considering the impact of the economic crisis on most residents encountered on the other side of the Boulevard Leoforos Vasilissis Sofias which separates Kolonaki from the rest of Athens. Nevertheless, I did not have sufficient time to intermingle here nor to go to the top of Lycabettus even though we had slept together every night.
Two years later I volunteered to assist with a humanitarian photography exhibition at the Athens Benaki Museum concerning migrant children passing through Greece escaping war-torn countries to the east. On a volunteer's budget I found an inexpensive apartment nearby. Unbeknownst to me, it was located at the western foot of my still undiscovered Lycabettus. This slope's base is the graffiti-rich and charmingly unkempt but hospitable Neapoli neighborhood; a startlingly contrast to up-scale Kolonaki. While staying deep within the intimate Athenian everyday world I met my old friend, Apostolos, who talked of his current life in debt-ridden, isolated Greece where they were hosting over 60,000 trapped migrants trying to leave for Northern Europe.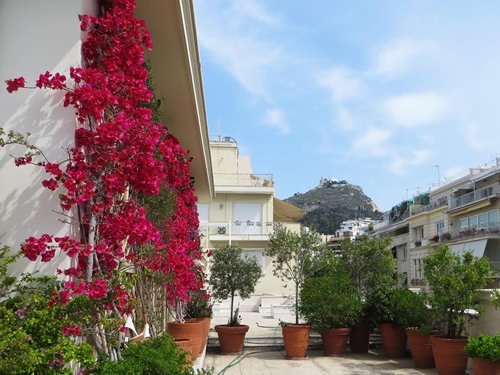 Mount Lycabettus seen from the Kolonaki Benaki Museum.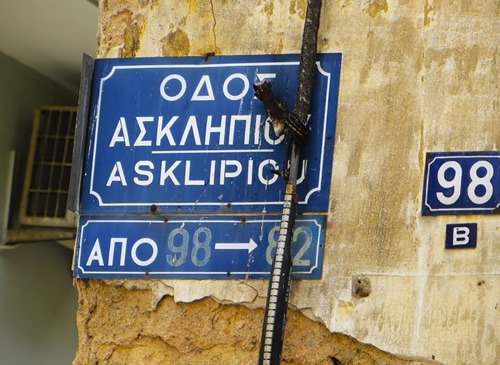 Asklipiou shopping street in Neapoli. Only a few shops remain open.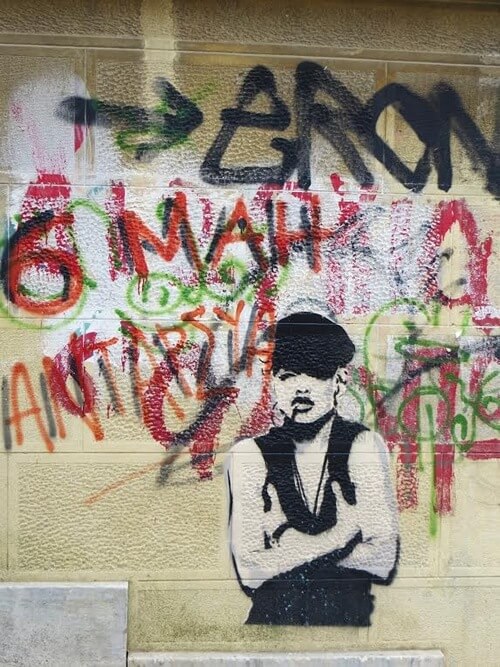 Graffiti in the Neapoli and other areas of Athens is a common sight.
A taxi owner, Apostolos had lost some of his joie de vivre along with the dearth of tourists visiting politically disrupted Athens. His wife had not received her monthly salary again. His 7-year old son was growing exponentially out of his clothes. During this sobering conversation we hiked up the steps and the pine-scented trails of my obsession, Mount Lycabettus. Passing through flowering agave, wild shrubs and stunted trees, we arrived on top next to the sparkling white 19th century St. George Chapel.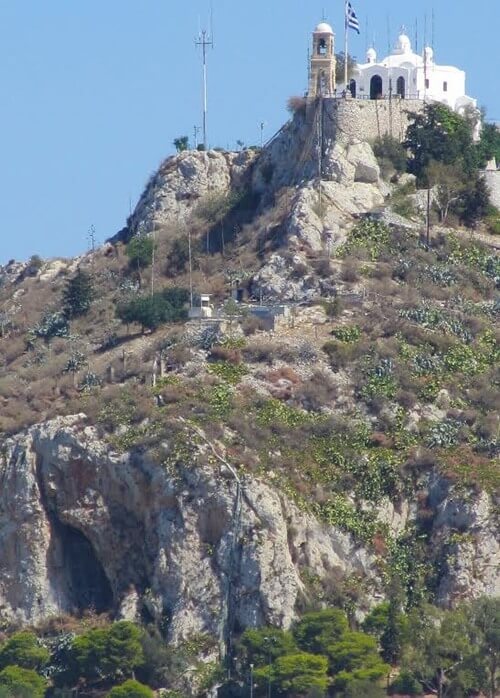 St. George Chapel on Mount Lycabettus.
There was a curious almost otherworldly silence over the metropolis separating us from the turbulent streets of Athens where Apostolos drove daily. We too were silent. It was dusk. The Mediterranean light performed over the ancient birthplace of democracy. Caressing softly, then flaming fiercely, the sun disappeared behind mountains near Piraeus Port still busy debarking terrified migrants via Turkey.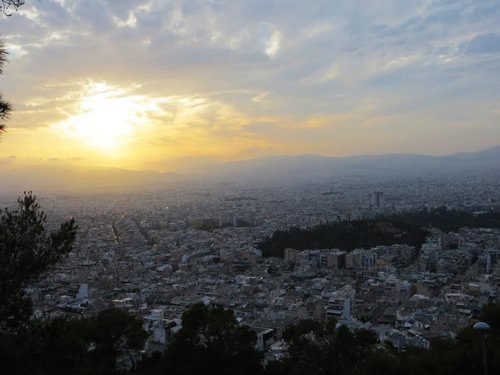 Egaleo Mountains northwest, with Athens below Mount Lycabettus.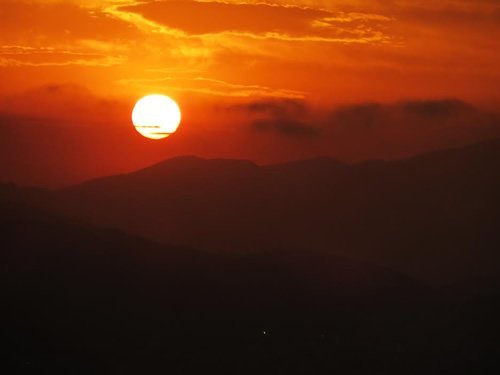 Egaleo Mountains northwest at sunset as seen from the top of Mount Lycabettus.
The afterglow on the pink cotton candy clouds seemed to cuddle the troubled souls in the city below.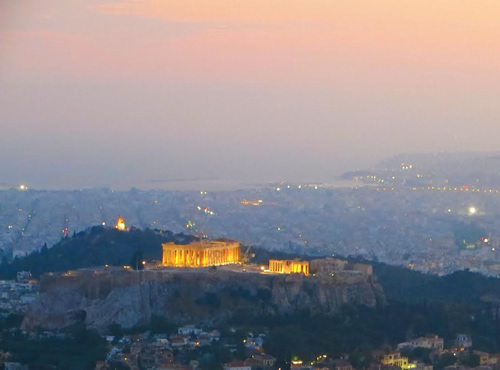 Afterglow over Athens seen from Mount Lycabettus.