Solo Travel Abroad: Myths and Realities
Article and photos by Lies Ouwerkerk
Senior Contributing Editor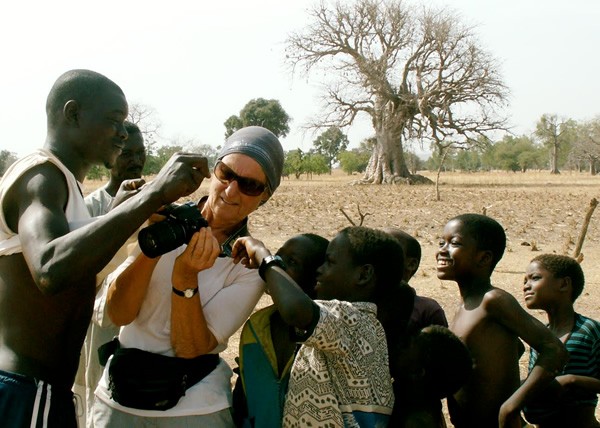 Taking photos while you travel, with permission, and showing the results to locals—here in Mali—is often a great way to share the experience.
As if my sometimes off-limits travel destinations are not frowned upon enough already, my preference for solo travel seems even more reason to doubt my sanity. "You must often feel lonely" friends and colleagues use to say in pity, "don't you hate to eat alone all the time?" The truth is that when I travel on my own, I am hardly ever alone. The times I end up in the company of like-minded adventurers, friendly locals, curious innkeepers, or fellow passengers far outweigh those I spend in my hotel room reading, writing, or listening to music. And that is actually just what I feel like doing at times, especially after a long day of traveling, sightseeing, conversing, or taking photographs!
Joys And Pitfalls Of Venturing Alone
When you travel solo, you can follow your own schedule, travel when, how, and where you feel like going, engage in some self-indulgences without having to justify them, stop to take pictures every time you see something you want to shoot, eat and drink when, where and what you feel like, mix and mingle with whomever you choose, and call it an early night when you are tired—without feeling a bad sport.
Traveling alone also opens you up to connect more with locals and immerse yourself in the culture of the places you visit, rather than focus on other travelers and group dynamics. Ask for directions, and you will soon discover how easily locals strike up a conversation with you when they learn you travel on your own. In western China, it led to invitations to homes celebrating the end of Ramadan, in eastern Turkey I instantly became the "guest of honor" in a high-profile wedding, and in Iran I was invited to a family dinner to discover that women leave their hijabs and manteaux right at their doorsteps and wear T-shirts and jeans just like us. Yet another benefit: you pick up much faster on a foreign language when you have nobody else to fall back on!
Granted, a trouble shared is a trouble halved, and crossing a mountain range is always easier with someone who has been over it before. So let us not glorify solo travel indiscriminately, because there will be no rescue from a tour leader when you are in dire straits, and you will have to come up with quick solutions yourself when things do not work out the way you had planned. And that can happen in a heartbeat! What to do when you miss a flight connection or your luggage does not arrive? Whom to vent to when a snowstorm or hurricane causes your flight to be canceled altogether? Who takes care of your luggage when you have to visit an airport bathroom? How do you know if it is safe to step into a taxi upon arriving at a foreign destination? How to find your way in the complicated mazes of streets of an unknown town or city? Is it safe to walk there alone? And what to do when you are scammed, harassed, or have lost your passport?
Flexibility, resourcefulness, intuition, positive thinking, and caution definitely come in handy when traveling solo. Once heading south in wintertime, I got stranded in -30 Celsius Toronto without a coat; I was detained at Syria, Yemen, and US customs because my documents did not seem in order; and I broke a tooth in a remote Mexican hamlet by biting on a coffee bean hidden in a chile con carne. Those events were no fun at the time, but in the end I had definitely stories to tell. And regarding the bathroom dilemma: each trip I become wiser and lighter, so now I have no difficulty anymore to wheel my luggage into even the smallest cubicle. No need for luxury items or too many sets of clothes, as in most countries I visit it's best to dress down for safety reasons, and there is always a laundry service in even the most outlandish corner of the globe.
Planning Ahead
Researching a destination and planning ahead is key. I usually book a hotel in advance for at least the first night in any new place I travel to, and I request a pick-up from the airport (in most cases an assigned taxi driver is then waiting in the arrival hall holding a sign with my name on it), or ask for detailed instructions on how to get safely to the hotel. In cities like Amsterdam, Rome or Hong Kong, you reach downtown much faster by express train, but when you arrive in for instance Bamako, Bangkok, La Paz or Damascus, you may want to secure yourself of safe transportation right away.
Even when everything is planned to a T, things can go awfully wrong, though. Take that time I signed up for volunteer work in Senegal via a very professionally looking website, only to discover once I arrived in Dakar, that it was a total scam. I did lose my money, but by involving the police, I saw the swindler at least be led away in handcuffs. I also learned one very important lesson: always cross-reference what you are getting into — including hotels — because most likely there is already plenty of useful feedback on the web.
Finding Your Way
Finding your way in a foreign city or figuring out how to travel from one town to another may also seem like a daunting task at times. Most often, I stay in small family-run hotels, B&B's, pensions, or home stays, where it is easier to get tips from hosts or meet with other independent, often well-informed travelers.
On my first day in Rio de Janeiro, a German woman sitting at my hostel's breakfast table expressed a desire to watch a pre-carnival rehearsal of Rio's samba schools. That was right up my alley, so we tackled the metro system together and fought our way into the huge, crowded Sambódromo, something we both would not have felt comfortable doing on our own. When I wanted to explore Brazil's interior and consulted my innkeeper about the rather complicated public transport options, she suggested I hook up with a Parisian couple with similar plans. The three of us shared the cost of a taxi, and spent several days touring together. To this day, we are still in touch!
Local Customs
Lodging in small hotels makes it also easier to get a feel for the local culture. During a month-long stay in a family-run pension on Bali, I was introduced to the rituals of daily offerings and ceremonies such as weddings, tooth filing, and funerals. Members of the small staff invited me into their modest homes to get acquainted with their families and way of life, and arranged for friends with taxis or motorbikes to tour around the island for a reasonable price.
In Reykjavik, the owner of my B&B took me under his wings after I sprained an ankle, driving me from place to place, all the while updating me about daily life in his neck of the woods. A home stay in a former Indian palace provided me with valuable insight into the customs of a Hindu family, and during a home stay in southern Mexico, I was introduced to so many friends of my hostess, that I had dinner invitations for nearly every night of the week and learned a lot about the local culture and kitchen.
I do also eat on my own, of course. As a female traveler trying to avoid walking in the streets alone at night, I take my main meals at lunchtime in rather informal places or self-service restaurants, and have a snack and some fruits by the time dark sets in. Solo time at night is used to read, update my travelogue, plan my next days, edit my pictures, send emails, or scribble postcards to family and friends.
Going It "Alone Together"
Not every destination or activity lends itself to solo travel. Occasionally I do join small groups, preferably through local agencies, such as for my treks through Patagonia and Bhutan, my road trips through Yemen and Myanmar, and my cooking classes on Bali and in Italy. Or I meet up with friends who like to visit the same region and we go "solo together." For logistical reasons, I traveled the Silk Road from Syria to China with a small expedition of 14 people. But even then, we were totally free to go solo in places we stayed overnight. The year after, I traveled through West Africa "alone together" with my roommate from the Silk Road trip.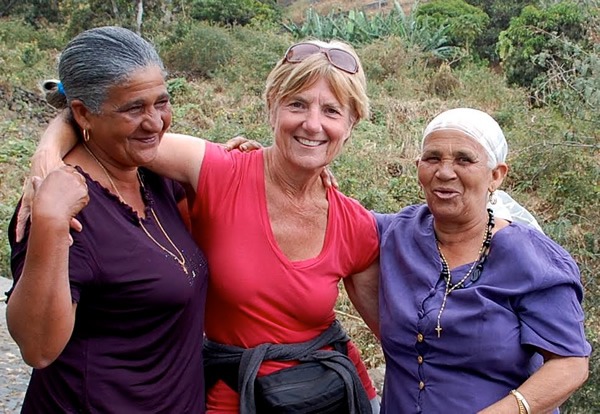 Author with hospitable locals in Fogo, Cape Verde Islands.
In destinations where group travel hardly exists or is far too expensive (too many middle men trying to get a piece of the pie!), I may also research for a reliable local guide. Although that is not a cheap solution either, it may offer great advantages in other ways, as guides can bridge the language gap and have terrific inside information. It has led to fascinating encounters with remote tribes in Ethiopia, with a king and his entourage in Burkina Faso, and with nomads and camel drivers in the vast desert of Mauritania. Moreover, being the only traveler, I had a say in the itinerary and there were ample opportunities to hear the guide out on anything I wanted to know about the country. And what honor, to receive an invitation to next year's wedding ceremony of my former Ethiopian guide!
Taking Classes And Volunteering
I regularly take language and cooking classes, combined with home stays, as they offer great opportunities for immersing into a local culture. I have studied Italian, Spanish, French, and Portuguese that way, making big strides in mastering those languages, gaining a better understanding of local customs and cuisines, and feeling much more comfortable traveling solo through the respective countries afterwards.
Volunteering has also been highly rewarding and insightful. While in Yemen, I taught in a school for disadvantaged girls, learning an awful lot about the position of women in Yemeni society during our English conversation classes. In Tanzania, I volunteered with children and experienced first hand the nature of the needs of communities ravaged by AIDS, poverty, and alcoholism. And in Spain I stayed at Pueblo Ingles, helping Spaniards to improve their English conversation skills — a true crash course for English speaking volunteers on Spain, Spaniards, and anything Spanish as well!
Do you have a true desire to "go local," but is there some resistance to move beyond the well-trodden path on your own?
Chances are that once you have tasted the thrill of the unexpected and the magical and humbling encounters that often ensue when traveling alone, you will become so empowered and fascinated that you will not be able to stop the impulse ever again. Life is too short after all!
Lies Ouwerkerk is originally from Amsterdam, The Netherlands, and currently lives in Montreal, Canada. Previously a columnist for The Sherbrooke Record, she is presently a freelance writer and photographer for various travel magazines.
Related Topics

Independent Travel
Adventure Travel
Why I Travel: The Impact of Exploring the World
Adventure Travel: Solo or in a Small Group?
Solo Travel in Japan