Guide to Overseas Travel Insurance
Why You Likely Need Coverage and What Types You May Need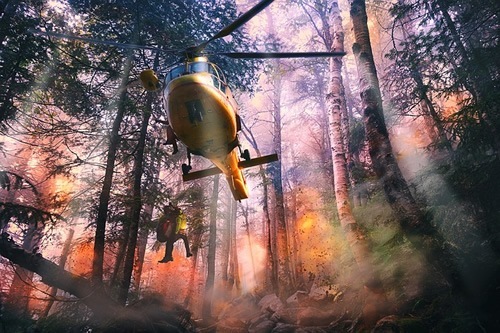 Airlifts overseas are expensive in case of those rare mishaps.
"I wonder how much this is going to cost," I muse silently as I sit in the spacious hospital room in northern Thailand. I have called this room "home" for seven days now, while my boyfriend endures and eventually recovers from a bout of crippling Dengue Fever.
While my boyfriend flirts with a near-comatose state over the course of the week, I befriend the nine attending nurses, one doctor, administrative staff, and two translators, all of whom are invaluable and offer attentive service during our stay. Out of pocket expenses have racked up already in the name of initial hospital out-patient visits, canceling non-refundable train tickets, extending our expiring tourist visas, and so on. I can only imagine what the hospital bill will be when we are released.
And although I am concerned about the cost of this vacation debacle, I am not worried about losing my shirt; we have travel insurance.
Incidentally, this is not the first time we have seen the inside of a hospital room since we started traveling years ago. In Hawaii, my boyfriend's crushed toe found us in the emergency room, a little worse for wear. As Canadians with government-subsidized health coverage, a trip to the hospital doesn't even bring on a financial sweat at home; the charges are few if any. But a hospital visit in the United States where health care is very big business is an entirely different matter, and we prayed that our travel insurance company would see fit to pick up the tab.
Three-quarters of an hour and a $900 bill later, we were anticlimactically released with nothing more painkillers and instructions to keep the foot elevated. It seems that big business also means big profits. Luckily for us, we didn't have to pay for it; our travel insurance policy did.
Making the Decision to Have Insurance…or Not
Many travelers, especially those on the road for long periods of time or with limited funds, choose not to travel with medical insurance. Instead, they decide to roll the dice and take the gamble that nothing will happen. And in many cases that is exactly what happens: nothing. Even if medical assistance is required, it often costs less in other countries. In some cases, a simple trip to the pharmacist will result in a free consultation and an inexpensive diagnosis and prescription on the spot. Pharmacists in many countries are often very proactive and knowledgeable, able to help with what ails you without directing you to a doctor pro forma. All the while, the travel insurance premiums sit in the traveler's pocket and are enjoyed in other ways, or used to subsidize any necessary trips to the pharmacy.
But when disaster strikes—and it can indeed strike, as I have been witness to more than once—those travel insurance premiums may seem tiny in comparison to the medical bills you could be faced with.
Making the decision to apply for travel insurance should extend beyond the simple analysis of general health and predisposition towards illness. Anything can happen at any time, and what you should analyze is your ability—financially and otherwise—to cope with that event on the road.
Here are some key questions to ask yourself when evaluating your travel insurance needs:
Do I have the financial resources to pay for an unexpected and extensive hospital visit?
Do I have family members or friends who can bail me out, fly me home, or visit me in a time of medical need while I am traveling?
Do I have family members at home who are ill or ailing, such that I may need to return home for an untimely death?
How will financial stress or worry affect my ability to recover if I am ill and uninsured while abroad?
Am I traveling to a country where health care is expensive, and a health crisis may force me into financial duress?
Am I traveling to a country where access to good health care is difficult? Or in remote areas where I may need to be airlifted out (at great expense) if there is a problem?
Am I getting on in age, such that an illness or injury may take a greater toll on me?
While traveling, will I be participating in any activities that may increase my chance of getting hurt?
You know better than anybody else possibly can whether the answers to the above questions should lead you to apply for travel insurance or not. However as a full-time traveler since 2007, and with claims experience, my solid recommendation to any traveler is to indeed incorporate travel insurance into the budget.
Different Types of Insurance Coverage
Not only are no two policies the same (so read the fine print, really read it carefully), but within each policy you will discover many different kinds of coverage and options to choose from. The three main kinds of travel insurance include:
1) Trip Cancellation

If you need to cancel your trip or cut it short due to a personal or family medical emergency, trip cancellation insurance will reimburse you (in full or in part) for the non-refundable portions of travel expenses spent. It is often only available prior to or at the time of booking your flights, and once they are booked you may be unable to apply. This type of travel insurance is rife with stipulations and conditions depending on when and how you purchase it, but if you are planning an expensive long-haul flight, it may be worth your while.

2) Baggage Loss/Theft

With this type of travel insurance, you will be reimbursed for all or part of the value of your travel belongings if they are lost, stolen, or damaged. The method of valuating your possessions varies, as does the level of reimbursement depending on how or where it was lost. You will be expected to provide proof of ownership, including original purchase receipts or photos as part of the claims process. You won't immediately get a check for lost baggage, and will likely have to spend some money out of pocket to even function while enduring the claims process. Unless you are traveling with some really expensive items, this form of insurance is often more hassle than it is worth. You may also already have this coverage and not know it; we will address that shortly.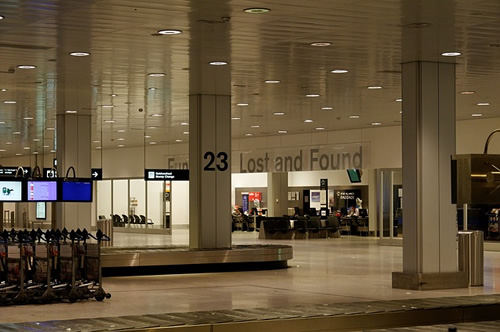 Don't forget travel insurance for lost luggage.
3) Emergency/Accidental Medical

As the most common (and arguably most practical) form of travel insurance, this should be your choice if you are only to choose one kind. You are reimbursed or covered directly for medical (and related) expenses incurred during your trip, and in some insurance plans for long-term travelers you are even covered for an entire year. The circumstances surrounding your falling ill or becoming injured are important, as your policy may or may not cover your participation in certain sports, and almost certainly won't touch you if your medical condition was an issue prior to your trip departure. Also in many cases, claims will be rejected if you are in a country in political turmoil or if your injury can be related to acts of war or terror. Be sure to read very carefully the fine print for this type of insurance.

Editor's note: In this period of unrest and unspeakable actions in what were previously always seen as very safe destinations, many will feel safer knowing that they are covered by the necessary insurance. We do not claim that you should always take out such insurance, as the odds of certain acts of extremism remain minimal compared to the risks in most home countries, but many prefer peace of mind or have family that may need reassurance. Just make sure you are not overpaying, know how to contact your insurer, use common sense in your travels, and have plans to notify relatives about your location and safety should there occur any conceivable unexpected events.
Making Insurance Claims
In the descriptions above, you may already have detected a number of loopholes which allow the insurance company to get out of paying your claim; from visiting war-torn regions to the impossible task of providing receipts for your belongings to a potential loose connection between your illness and a pre-existing condition, it often seems that insurance companies are dedicated to not helping you out. And admittedly, personal experience with filing claims twice now has been responsible for more than a few gray hairs. But difficulty in extracting money from an insurance company is not reason enough to throw your hands up and either not file a claim or not apply for insurance to begin with.
In the cases of both our claims, we were reimbursed for a large chunk of our expenses. The Hawaiian hospital bills were paid directly by the insurance company, but we first had to fill out reams of insurance paperwork and received a few nasty letters with overdue bills from the hospital. We were disappointed at how long it took the insurance company to cover the costs, but in the end, they did. Of the $900 in expenses, we were on the hook for $72—for the painkillers.
In Thailand, the claims process was even more involved. The hospital bill for the week-long stay was paid by the insurance company directly and relatively easily (thankfully, as it was the most expensive part of our claim). The out of pocket expenses were also eventually covered, but due to the sheer number and complexity of the receipts, it was like pulling teeth. One arm of the insurance company rarely seemed to communicate with the other, and repeated requests came through to file papers and forms that were already sent. Finally upon escalation of the problem to upper management, the claim was processed. Corrections still had to be made due to administrative oversights, but I do not necessarily fault the examiners: it would have been a tough claim to process.
Claims Advice
You may wonder why on earth I would continue to recommend travel insurance if having the claims reimbursed was so painstaking. But the upshot is that indeed the claims were eventually processed, and hundreds upon hundreds of dollars were saved by having the insurance. Our claims were relatively innocuous in nature; a crushed toe and temporarily debilitating illness were tough to endure but ultimately not as serious as they could have been. But having extensive surgery, requiring remote airlifts, or any number of unimaginable tragedies are real possibilities—and expensive ones at that.
So how do you make claim-time easier on yourself? Here are some tips:
Carry the claims phone number for your travel insurance company, along with the policy number with you at all times. Leave the same information with a family member at home so they can advocate on your behalf if you are incapacitated.
As soon as the illness or injury befalls, call the insurance company–even before being admitted to the hospital if possible. Sometimes you won't be covered if you do not, as impractical as it may seem.
Keep a written log of absolutely every communication with the insurance company for posterity, and possibly as ammunition if you experience trouble later on.
Keep copies of everything you mail in. They will require original documents, but sometimes things are lost in the mail and you may need to resend them. This way you can also reference the same documents in front of you if you need to talk to somebody at the insurance company about your claim.
You May Already Have Overseas Insurance Coverage
By booking your plane ticket with your credit card, you may already have baggage loss/theft coverage, as well as trip cancellation insurance without even knowing it. You may also have a health insurance plan at home that covers you overseas, even if you are on a sabbatical. Here are some forms of insurance you just may unwittingly have:
Credit Card: Auto rental insurance, baggage loss/theft, trip cancellation, some accidental medical.
Health Insurance: the level of potential coverage you may have run the full gambit.
Life Insurance: If you die in another country, expenses to ship your body home may be covered. You may also receive money if you are simply injured too
Rental/Homeowner's Insurance: Many aspects of baggage loss/theft insurance may be addressed with your homeowner's policy
In all cases, phone your existing insurers and inquire about the level and availability of coverage. You may be able to save yourself the expense of getting a separate policy.
Final Note
As I alluded to earlier, no two policies are the same, even if they are from the same travel insurance company. As tedious a task as it may seem at times—the best companies are going out of their way to be more transparent and customer service oriented—do read the fine print thoroughly; it may be the difference between walking away from the hospital with money in your pocket, or not.
For More Information on Travel Insurance of All Kinds
Applying for travel insurance through the internet is a common, acceptable, and easy way to find and get coverage. Here are some resources for the sake of comparison, and there are many others:
Travel Guard: Travel Medical & Medical Evacuation Insurance — MedEvac Plan offers insurance and emergency medical assistance with durations of up to a year for those who travel long-term. The policy covers aspects of your health care that typical travel insurance does not. Single and annual trip plans cover either specific durations of up to 90 days for a trip or durations of up to 365 days for hard-core travelers.
Insure My Trip is a great resource for comparing different insurance companies worldwide based on your trip itinerary and needs.
World Nomads is an Australian company with affiliates worldwide. The conscientious company appeals to long-term and adventurous travelers. You can apply from abroad once your trip has already started and extend your policy while still traveling. They offer a website with an excellent interface allowing easy access to many different policies.