Street Foods on Foot and at a Home in Istanbul
A Tour of Traditional Culinary Treats
Spice market in Istanbul.
"Tell me what you eat, and I'll tell you what you are," wrote gastronome Brillat-Savarin in 1825 in his "Physiology of Taste." As a lover of anything food, and eager to learn about people and their customs, that quote immediately popped up in my mind when I got "stranded" in the Turkish capital for three days, on my way from Tajikistan to Georgia. So as soon as I had secured a place for the night, I signed up online for three different walking food tours with "Istanbul on Food," a company that boasts the sampling of a large variety of traditional Turkish foods while exploring the backstreets of several vibrant neighborhoods on foot, in small groups of maximum six participants.
Taksim Square, situated in the modern center of Istanbul's European part, and easily accessible by metro or bus, was the starting point for the "Twilight at Taksim" tour on my first night. I met with Turkish guide Korhan and a group of four jolly British businessmen at the iconic confectioner Hafiz Mustafa, the oldest pastry shop in Istanbul, founded in 1864. It was difficult to resist their dazzling assortment of sweets, but we were warned to keep enough space for the many more foods to come, including some similar heavenly desserts.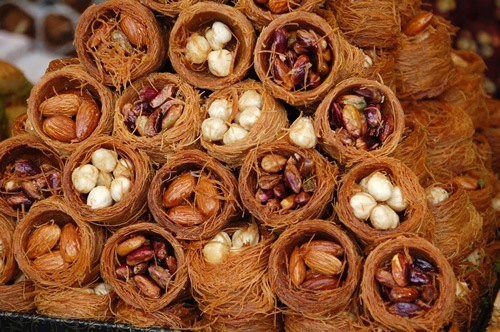 Sweets at Hafiz Mustafa.
Meat
To begin, we tried various meats at street food stalls, traditional restaurants, and little eateries only locals seem to know about. For instance, the meshur islak hamburger, a very moist beef hamburger coated in hot tomato sauce, and the most popular street food in Istanbul. You can also find the tantuni, a flat bread wrap originally from Mersin in Southern Turkey, filled with cooked, and then stir-fried, spiced ground beef, and served with onions, pickled hot pepper, a squeeze of lemon, and herbs.
We indulged in delicious kebapi varieties, including the dönerkebap (deboned, compressed lamb and beef meat, roasted on a vertical spit, shaved in very thin slices with a long knife, and served with hot pepper and tomato sauce). We sampled the Iskender kebap (a dönerkebap of lower fat content, and named after Iskender Efendi who invented the vertical cooking kebab). We devoured the cag kebap (slices of marinated lamb and tail fat roasted on a rotating horizontal spit, and originating from Erzurum in Eastern Turkey), and the skewer kebab from cuts of lamb and chicken, grilled over flames.
A street vendor making cag kebap.
And last but not least, we ate köfte, meatballs made of fried minced lamb meat, coated in bulgur wheat, and shaped in croquette-style (içli köfte). The "raw" variety is made without meat, simply made of bulgur wheat, tomato, onion, hot pepper, and parsley, served in a lettuce cup (çig köfte).
Kofte with meat (delicious in croquette-style without as well).
Drinks
The accompanying drink for all these dishes would invariably be ayran, a salty yoghurt-water mixture, served in copper cups with a huge layer of foam on top.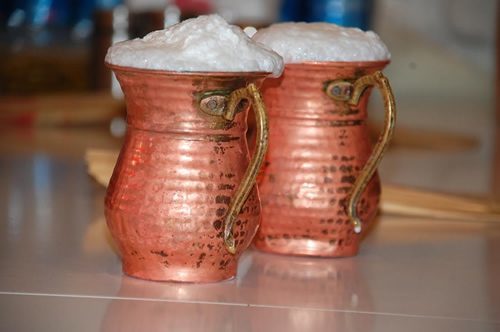 Ayran.
While crossing a section of Istanbul's Red Light District and being surprised by a sudden downpour of rain and hail (luckily, vendors with cheap plastic umbrellas popped up at the drop of a hat), we took shelter inside one of the many watering holes lining the backstreets of the Nevizade district, where Korhan taught us how to drink raki.
Raki is the unofficial national alcoholic (45%) drink of Turkey, made of twice-distilled grapes and aniseed, often diluted with chilled water, preferably accompanied by meze (appetizers) such as the accompanying feta cheese and melon. Raki is served in narrow drink glasses (kadeh). Following Turkish tradition, we clinked the bottoms of our glasses to bring a toast.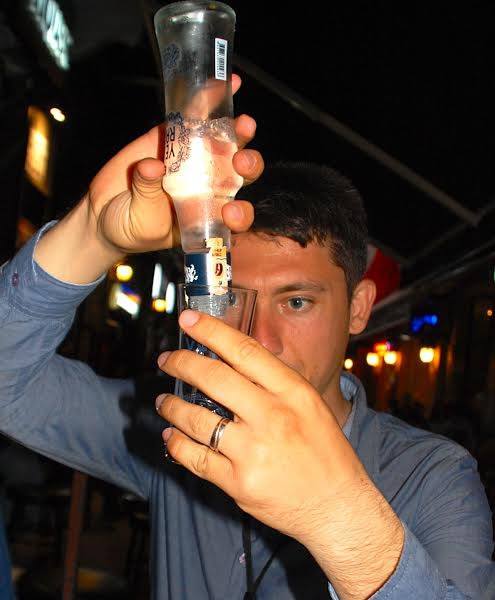 Korhan dilutes super strong raki with water.
Tripe
A must-do in Istanbul is eating in a traditional paçacilar, a tripe restaurant where you can taste the classic iskembe soup 24 hours a day. It is made of grilled lamb tripe and served with garlic-lemon sauce. Although the soup was initially introduced to Turkey by residents from Greek and Armenian descent, iskembe is today known as late night partygoers' and early morning prayers' food in Turkey.
I knew what the soup consisted of, and although the looks of it were not really tantalizing, I did give it an honest try. Alas... not for me!
Desserts
Turkey is world-famous for its desserts, and we tried many. More than once, we savored different varieties of absolutely delicious, flaky, buttery, fresh baklava, the most well known of all Turkish desserts, made of many layers of filo dough. The colorful varieties of lokum (Turkish Delight)—once the most important gift for special occasions during the Ottoman Empire such as births, weddings, and coming of age ceremonies—could also be found in practically every pastry shop, together with halqom, cookies stuffed with lokum. The cream of the crop were the kunafe, a cheese pastry soaked in sweet syrup and topped with pistachio nuts, and sütlaç, a baked rice pudding, made from fresh whole milk, topped with dried nuts, apricot, figs, banana, and jam or honey, and served in a clay ramekin.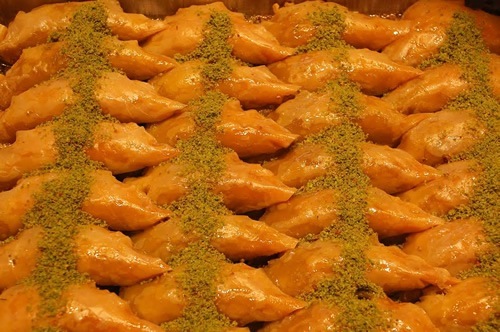 Baklava.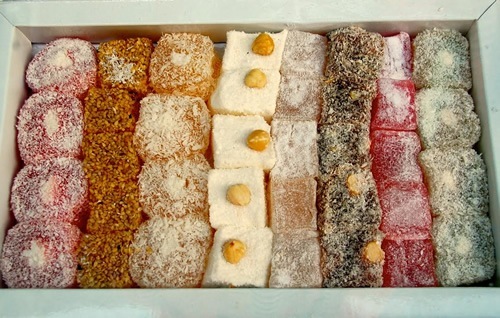 Turkish Delight is sweet.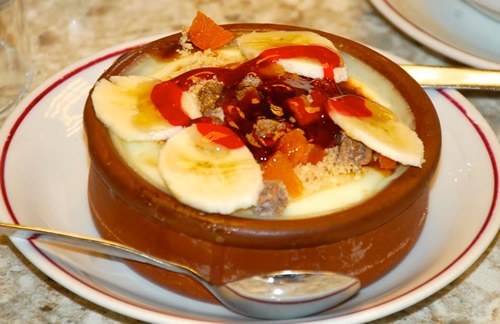 Sütlac.
Traditional Turkish Breakfast
Needless to say, I refrained the next morning from any breakfast until meeting Korhan and the other participants (a family with three teenage daughters) for the day tour, "Taste of Two Continents," which started at the big spice bazaar in the Eminönü quarter on the European side of Istanbul.
At the over 350-year-old bazaar, also called "Egyptian Bazaar" (spices coming from South East Asia and India would arrive here via Egypt), amid strings of dried peppers and eggplants, beauty products, aphrodisiacs, and colorful spices heaped in mini-volcanoes, Korhan sought all the ingredients necessary for a traditional Turkish breakfast. Among them were tulum (goat cheese ripened in a goatskin casing for about 6 months); pastirma (dried meat, very thinly sliced), eggs, peppers, olives, tomatoes; kaymak (clotted buffalo cream); and a bag of simit (similar to bagels, coated with sesame seeds and grape molasses, Turkey's most popular snack food, and usually sold by street vendors).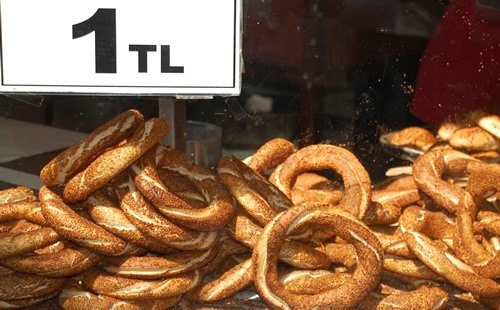 Simit.
Turkish Tea
Seated on the terrace of a little teahouse and facing the New Mosque Yeni Cami with its 66 domes and semi-domes in pyramidal formation, we prepared our own breakfast while Korhan explained to us the important role tea plays in daily life throughout Turkey.
Yeni Kapi Mosque.
Not only is Turkey world's fifth largest tea producer (cultivated in the Eastern Black Sea region), but it is also the largest tea per capita consumer in the world. Turks love it, and drink many cups a day!
Turkish tea is brewed in a double teapot or samovar. Water is boiled in the lower pot and poured over the tealeaves in the upper pot. Then the strong brew is served in a small, tulip-shaped glass on a saucer with some sugar cubes (no milk!), and diluted with hot water for the right deep-red color and perfect taste.
Turkish tea.
Gastronomy at the Anatolian Side of Istanbul
After breakfast, the tour continued across the Bosporus on the Anatolian side via a ferry ride. There were magnificent views of the old city center of European Istanbul. We arrived in the bustling district of Kadiköy, an Anatolian port situated on the northern shore of the Sea of Marmara. The half hour crossing was certainly worth the visit, as Kadiköy has a wonderful street food market with fresh fish, fruits, and vegetables, and hosts tantalizing candy and pastry shops, excellent lokantas (simple restaurants), as well as superb delicatessens and pickle stores.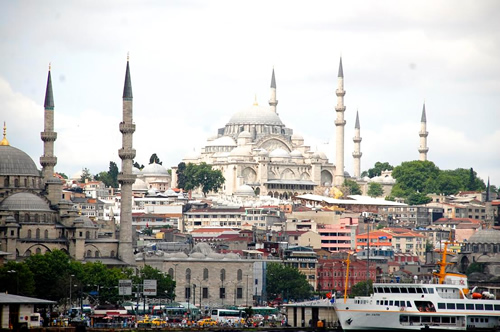 On a ferry to Kadiköy.
We sampled candies of sweetened walnut, olives, and eggplant at Café Erol, the oldest candy shop in Istanbul (1807). We sipped their famous gelinçik serbet, a sherbet prepared from red poppy petals. We had a lunch platter of various cold and hot meze at Çiya Sofrasi, which included lamb meatballs in cherry sauce, stuffed dried eggplant, and bulgur-stuffed tomatoes. We ate the traditional kellepaça at Kinyon, a delicious soup of boiled cow feet, with an optional addition of arugula and garlic sauce. Korhan tried, in vain, to interest me in tripe again, this time in the form of kokoretsi (rolls of sheep intestines), roasted on a wood fire, and served in a bun, seasoned with oregano, red pepper, lemon, and oil.
The feast was topped off at the end of the day by a dondurma (Turkish ice cream) platter at Mado, the best ice cream parlor in all of Turkey. There, next to a cup of hot salep (a drink made from wild orchid tubers, rosewater, and hot milk), they served sliced ice cream of a gum-like dense consistency (made of milk, sugar, mastic, and salep), which one eats with fork and knife.
Culinary Backstreets Around the Grand Bazaar
Although there were some food overlaps with the previous tours, such as baklava and kebabs, the third tour "Flavors of the Old City," which took place in the backstreets of the old town between the spice market and the Grand Bazaar, still offered surprises.
In the company of yet another family of five, I tasted savory baklavas with feta cheese, spinach, parsley, and ground meat at Süllüoglu's, where they soften the filo sheets in boiling water before layering them. In a small lokanta, we tried spicy lentil soup, Turkey's favorite entrée, and chickpea pilav with chicken, Istanbul's well-known street food. At delicatessen shop Namli Gurme, we ate dolma, grape leaves stuffed with pepper, onion, tomatoes, and pine nuts. We had katmer, an ancient pastry from Anatolia filled with pistachios and clotted cream, at a sidewalk café. At Higipolu's, a long-time Turkish Delight shop, we were taught how the sugary lokum had been prepared for centuries.
Sample treats at a delicatessen.
Turkish Coffee
Coffee has always been an integral part of the hospitality and friendship culture in Turkey. We sat down at one of the low tables and stools one can see everywhere in the country, to enjoy some freshly brewed coffee together. Roasted and ground coffee beans were cooked with water and sugar in a cezve, a tiny coffee pot made from copper or brass, over a very low heat. After the foam that started to form was removed, the coffee mixture was heated to boiling point and then served in some very small cups from which we sipped slowly on one side only.
A typical coffee stall in Istanbul.
Once the coffee had been finished, fortune telling (fal) followed according to a centuries-old ritual: the cup had to be quickly turned counterclockwise at chest level, with the saucer on top. Then the cup was turned upside down onto the saucer, and once cooled off, Korhan interpreted with much drama and "knowledge" the shapes that had been formed, both on our saucers and in our cups.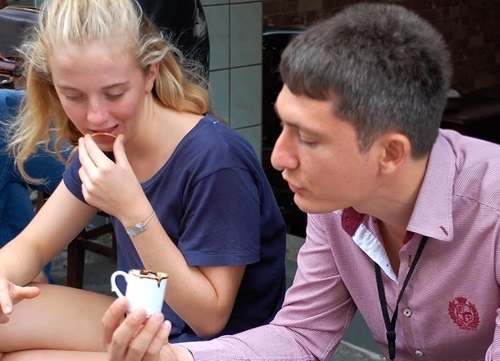 Korhan's coffee reading.
Lunch at a Local Home
The absolute highlight of this tour was undoubtedly the lunch at the private home of a local Turkish woman named Muhlise. Not only were we blown away by her hospitality and the perfect lunch she served us (mercimek çorbasi, a lentil soup with vegetables, and pilav with karniyarik, a dish of stuffed eggplant with a mixture of ground meat, onion, tomatoes, peppers, and parsley), but she also treated us to some beautiful Turkish love songs. The meal was a most worthy closure to a highly enjoyable culinary journey, which I would never have experienced on my own.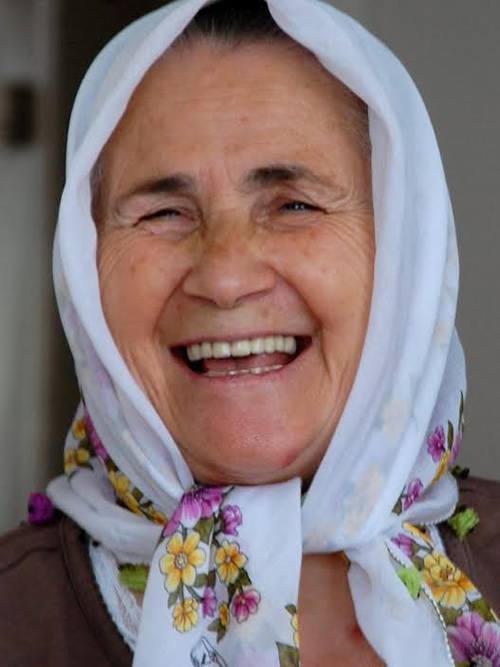 Hostess Muhlise in Istanbul.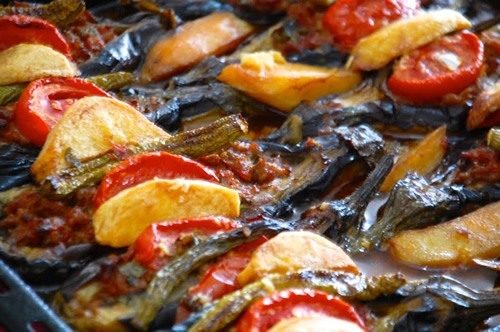 Hostess Muhlise's karniyarik.
Contact Istanbul on Food for more details about the tours. The fee is US$100 for a day tour of 6-7 hours.
Lies Ouwerkerk is originally from Amsterdam, The Netherlands, and currently lives in Montreal, Canada. Previously a columnist for The Sherbrooke Record, she is presently a freelance writer and photographer for various travel magazines.