Culinary Traditions of Cyprus
Article and photos by Lies Ouwerkerk
Senior Contributing Editor
Published 10/6/2016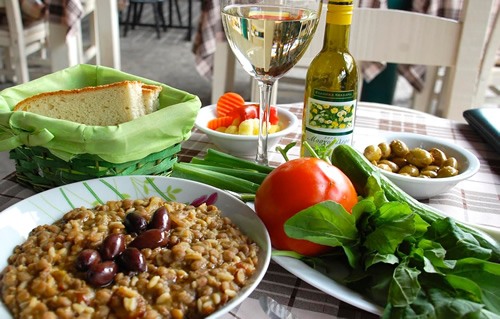 Fakes moutjentra: a delicious rice, lentils, and caramelized onions dish, simmered in vegetable broth. A specialty from Cyprus.
When exchanging the Canadian winter for warmer temperatures in the Middle East, I spent the tail end of my trip in sun-drenched Cyprus, the third largest island in the Mediterranean Sea after Sicily and Sardinia. During spring, the legendary birthplace of Greek goddess Aphrodite bursts into a palette of dazzling colors: from white almond, red cherry, yellow mimosa, purple Judas, to multi-colored bougainvillea bushes and heavy-loaded citrus trees.
The island does not only boast a magnificent landscape of valleys, mountains, forests, cliffs and beaches as well as Greek temples, Byzantine monasteries, and picturesque, vine-shaded mountain villages, but it also offers great wines and a delectable traditional cuisine rooted in a fascinating yet turbulent history.
Monastery built by the Venetians.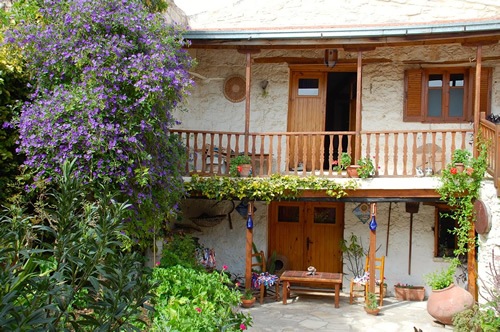 Old village house with some typical color accents of Cyprus.
Greek and Turkish Cypriots
Throughout the centuries, the country's identity has been shaped by a host of different cultures. Greek, Roman, Phoenician, Persian, Egyptian, Frankish, Venetian, Ottoman, and British invaders, keen to dominate the island because of its strategic location at the crossroads of Europe, Asia, and Africa, all left behind their traces on the island. But it was primarily Mycenaean civilization that permanently established the island's Greek roots about 3,500 years ago.
The Ottoman conquest in 1571 brought about a considerable influx of Turkish settlers from Anatolia, introducing yet another cultural element. Although Turkish and Greek Cypriots have always had their religious and linguistic differences, the two communities managed for centuries to live together in relative harmony, dispersed over the entire island.
With the invasion of the Turkish army in 1974, as a response to a military coup backed by Athens, more than 200,000 Greek Cypriots fled to the South, and 45,000 Turkish Cypriots to the North with only the clothes on their backs. Abandoned houses all over the island are still silent testimonies of this tragic course of events. To date, the Greek-Turkish divide remains a sensitive and contentious point of discussion for Greek and Turkish Cypriots alike.
For more than four decades, the country has now been divided into two entities: the Republic of Cyprus (Southern Cyprus) and the self-declared Turkish Republic of Northern Cyprus, only recognized by Turkey. Crossing the "Green Line," a buffer zone between the two parts controlled by the United Nations, which cuts not only through the middle of the entire country but also through the very center of the capital Nicosia, has only become possible again since 2003.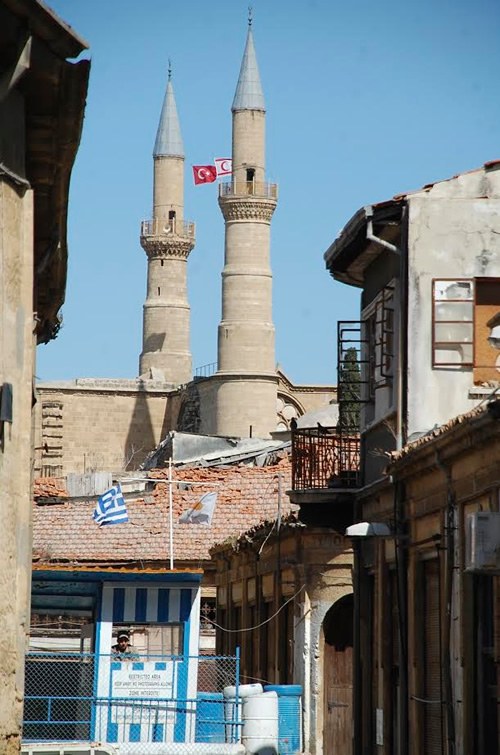 The Green Line, seen from southern Nicosia.
Culinary Similarities
In spite of the political division, the Greek and Turkish kitchens often intertwine.
I could enjoy strong Turkish coffee with its creamy frothy top (called "Cypriot coffee") along the lively, palm tree-lined seaside promenade of Lacarna in the South, and moussaka, a Greek eggplant and ground beef dish, in the picturesque harbor of Kyrenia in the North, once predominantly inhabited by Greek Cypriots, and now a major tourist spot in Turkish Cyprus. The keftedes (meatballs) I ate at a Greek restaurant in southern Nicosia looked and tasted very similar to the koftas I once had in Istanbul. The meze (small appetizers), koupepia (cigar-shaped stuffed grape leaves), and loukoumi (Turkish delight) I feasted on in Limassol in the South could have easily passed for the meze, dolma, and lokum I ate in Guzelyurt in the North. Many Turkish and Greek Cypriots I met would admit it would be hard for them to live without their famous goat and sheep milk cheese, called halloumi in the South and hellim in the North.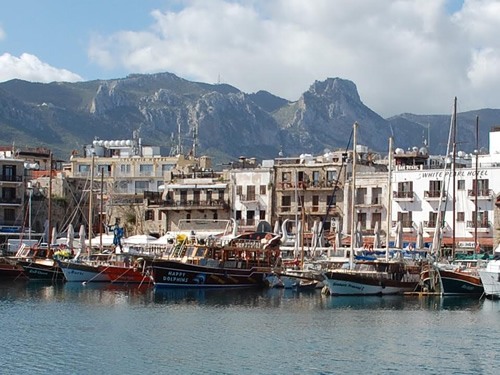 Port of Kyrenia (Turkish: Girne).
Yummy Cyprus
By sheer coincidence, I crossed paths with charismatic Greek Cypriot Marina Savvides, co-founder of Yummy Cyprus, a unique company that passionately promotes Cypriot home cooking and traditions. Since 2012, they offer slow food cooking classes, manage a website with compelling facts and nostalgic stories about old recipes and nearly forgotten traditions, and organize demonstrations by local experts on how to prepare Cypriot fare in the ways their grandmothers were accustomed.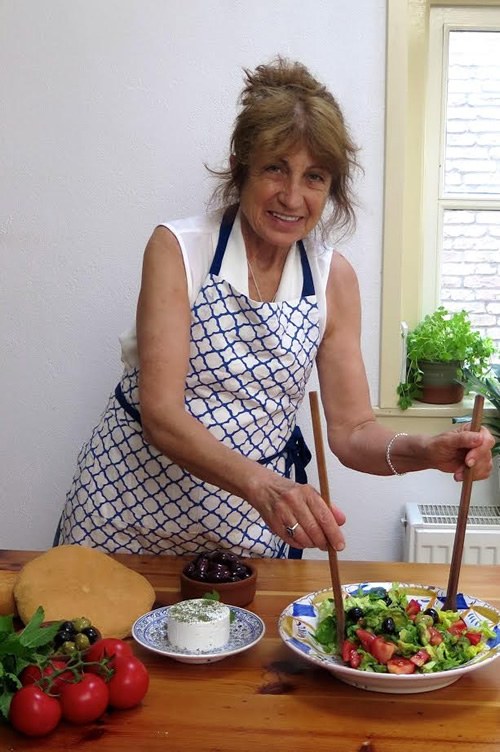 Marina Savvides, co-founder of "Yummy Cyprus."
As luck would have it, Greek Orthodox Easter celebrations, steeped in traditions, rituals, and traditional foods coincided with my stay in Cyprus. Marina extended an invitation to me for a day of food preparations among neighbors and friends, followed by a lavish Easter dinner in her cozy home and garden in Ayia Tekla. "Sharing our food and traditions is deeply ingrained in our Cypriot culture. Hospitality must be in our genes," she joked.
So I got the opportunity to witness the preparation of halloumi (a firm, brined cheese), flaounes (cheese-filled pastries including raisins, ground mahlepi, mint, and sesame seeds), and kleftiko (a lamb dish, slow-cooked in a sealed clay oven made from mud and hay, together with onions, potatoes, tomatoes, and herbs). There were also traditional breads like eliopita (olive bread), tahinopita (tahini & sesame bread), the well-known spinach pie spanakopita, and the braided sweet Easter bread tsoureki.
Traditional Cypriot breads.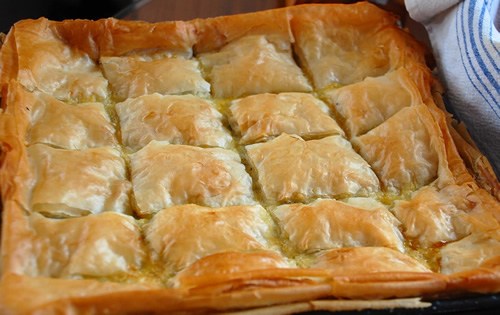 Spanakopita.
According to Greek Orthodox Easter tradition, we cracked red-died eggs, not only as a fun game called tsougrisma (tapping one's egg against another person's egg; the player without cracks is the winner, and will enjoy good luck in the year to come), but also because the red eggs are considered a symbol for the resurrection of Christ from the tomb, and thus for new life.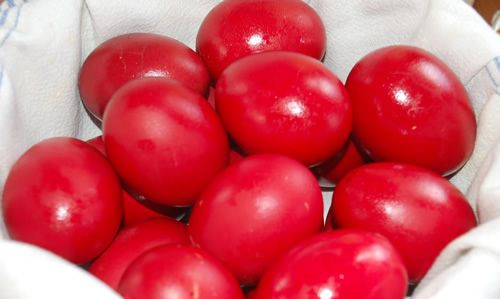 Red-died Easter eggs.
Making Halloumi from Scratch
For the occasion, halloumi cheese was prepared by a local Greek Cypriot woman, named Dimitra, who had learned the art of cheese making when growing up in a shepherd family living from their goats and sheep. The cheese was sold at the yearly local fair. If sales were good, Dimitra recounted, it would mean that her mother would pass by the market later and buy clothes and shoes for her and her siblings.
While Dimitra was treating us to her fascinating, nostalgic stories of yesteryear, she kept stirring fresh milk in a big pot on the stovetop. Once the milk was lukewarm, she added rennet, a complex of enzymes originating from the stomach of baby mammals and used to both thicken and separate the milk into curds and whey.
After the mixture had been covered for a while, until it "set," Dimitra divided the firm cheese curd into portions by hand and placed each of them in a wicker basket to squeeze out the liquid, while at the same time securing its firmness and round form. After boiling the halloumi in the whey until they floated, the cheese balls were rolled in sea salt and mint for extra taste, traditionally also functioning as preservatives.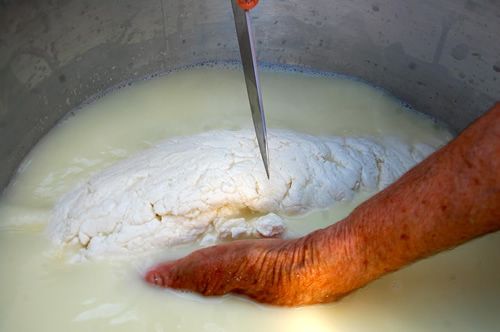 Halloumi curds after the milk has thickened.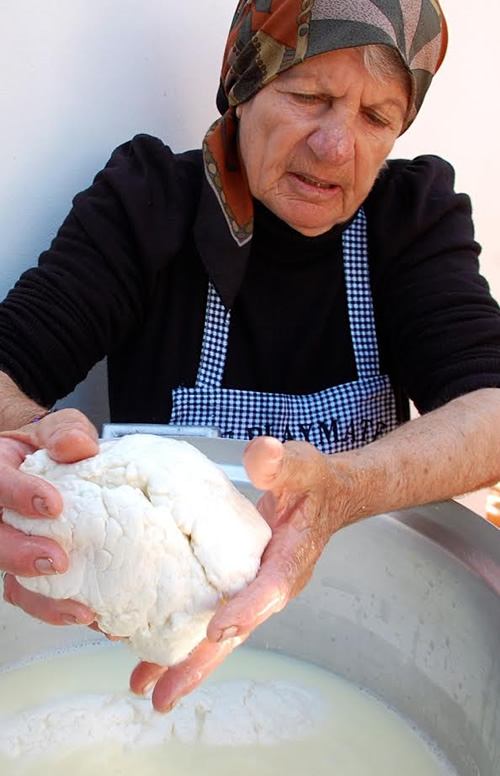 Kneading halloumi portions by hand.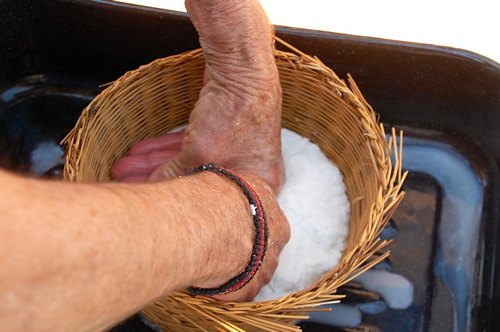 Squeezing liquid out of the halloumi.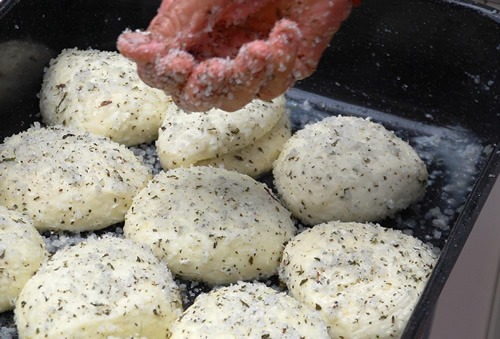 Adding salt and mint to the halloumi.
Halloumi can be eaten fresh, fried, grilled, or kept for later use as a more hardened cheese by stacking it away in earthenware jars submerged in whey.
In fact, nothing went to waste, as from the remaining milk Dimitra made another kind of cheese, called anari, a low-fat soft cheese resembling ricotta, and often enjoyed together with fruits, honey or marmalade.
Nature's Treasures
In the days following the festive Easter celebrations, Marina gladly shared anecdotes and knowledge about natural ingredients her grandmother used in her kitchen, which may be found in the wild all over Cyprus.
In her garden, she pointed to a big carob or locust tree which produces edible pods that have many nutritional and health benefits. The carob tree has been cultivated in Cyprus for nearly 2,000 years, and was once one of the island's greatest exports. The pods are often used in bakery goods as a thickener, as a substitute for cocoa powder, chocolate, or coffee, or are made into syrup. In ancient times, the carob pod was also used as the unit for weighing gemstones (Latin name of the tree: "ceratonia siliqua" > carat).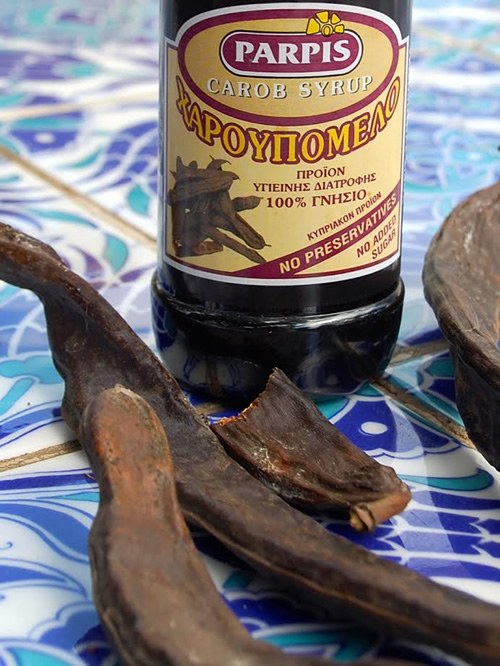 Carob beans.
Not far from Marina's house near the sea, we found kritamo or rock samphire, between the salt-sprayed cliffs along the beach. It is a healthy green that enhances the taste of salads, breads, pickles, and sauces.
Kritamo.
Then there was the kafkarouthes, suddenly popping up in the fields after a rain shower. The small cactus is largely unknown to most people except shepherds and in appearance is similar to the artichoke. The hearts are cooked and often used in omelets.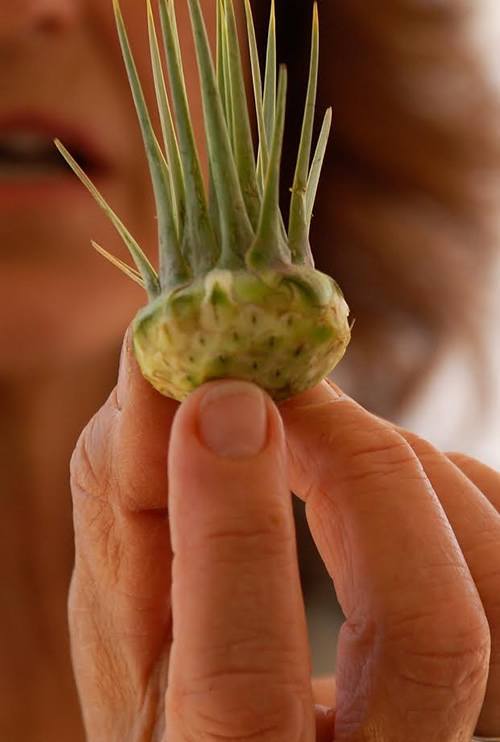 Kafkarouthes.
We also spotted fragrant wild fennel in fields and along roadsides, both the giant fennel and its smaller varieties. Marina explained that when you cut the giant fennel open, you will find a dried pith inside that has the ability to burn slowly and stay alight for a long time, making it possible to carry fire from one place to another. This is how the giant fennel found its way into Greek mythology: Prometheus stole fire from the Gods and hid it in the hollow center of the fennel to make his way from Mount Olympus to mankind.
Wild fennel, called maratho, is used in many traditional dishes and has given its name to "marathon races" in the following way: the battle of Marathon, one of the most victorious battles in Greek history, took place in a field covered by wild fennel, and a messenger carrying the good news ran from there to Athens as fast as his feet could carry him.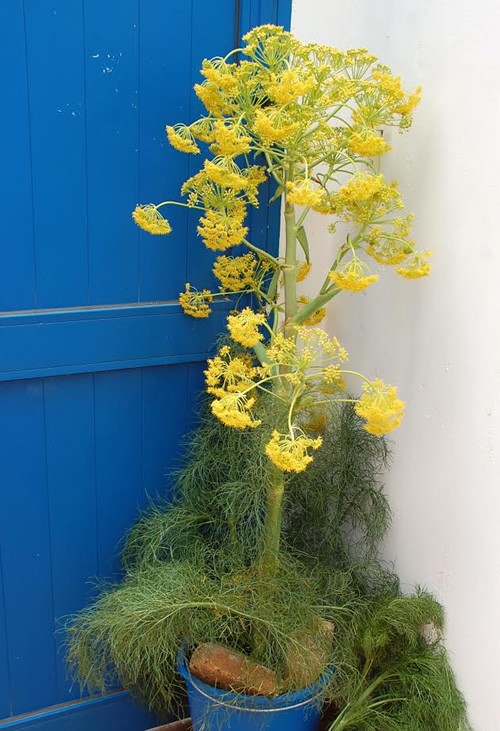 Giant fennel.
Cypriot Wines and Sweets
What would a traditional Cypriot meal be without the accompaniment of a glass of Cypriot wine? Viticulture has been part of Cyprus' history for over 4,000 years, and there are vineyards and wineries galore on the slopes of the Troodos Mountains. The geographic and climatic conditions of this area favor the cultivation of various indigenous grape varieties such as the Mavro and Maratheftiko for red wines, and Xynisteri and Spourtiko for white ones.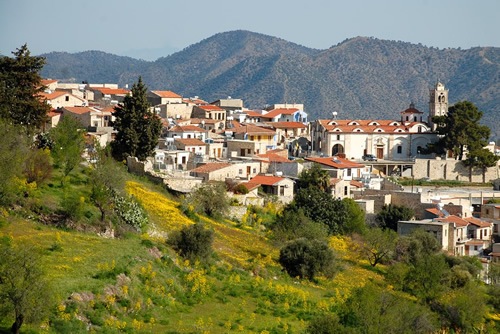 One of the many villages along the wine routes.
Commanderia and Zivania are the two most famous alcoholic beverages Cyprus has been known for over the centuries. The Commanderia, a deep amber-colored sweet dessert wine made from sun-dried Mavro and Xynisteri grapes, takes its name from "Grande Commanderie of the Knights of St. John." They were stationed in Cyprus at the time of the Crusaders and exported the local wine to royal and religious courts all over Europe.
Wine tasting at a vineyard.
The fiery Zivania, a colorless spirit that is 45% alcohol, is a favorite drink for many Cypriots.
Served ice-cold, I drank it accompanied by local meze, among which the famous cured meat of the Pitsilia region was the absolute winner. Zivania also went well with "spoon sweets" — fruit, walnut, and even rose petal preserves, drenched in honey-sweet syrup, and served in a small spoon.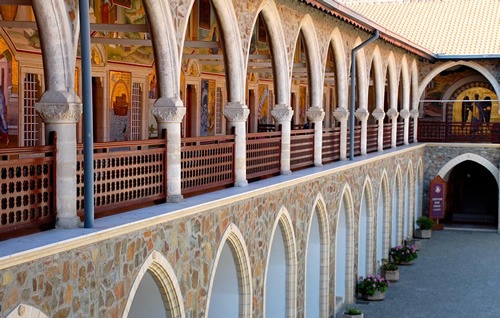 Kykkos monastery in the Troodos Mountains, where wine and zivania have been produced for centuries.
Other highlights included the shoushoukos, threaded nuts dipped repeatedly in grape jelly, and the galaktoboureka, deep filled custard pies, wrapped in filo pastry. Both deserts are flavored with wild rose water, another traditional product of this wine region that over time became an essential ingredient in many recipes.
Lies Ouwerkerk is originally from Amsterdam, The Netherlands, and currently lives in Montreal, Canada. Previously a columnist for The Sherbrooke Record, she is presently a freelance writer and photographer for various travel magazines.