A Culinary Tour of Berlin's Most Vibrant and Diverse Neighborhoods
Sampling Eclectic Foods by Bike and on Foot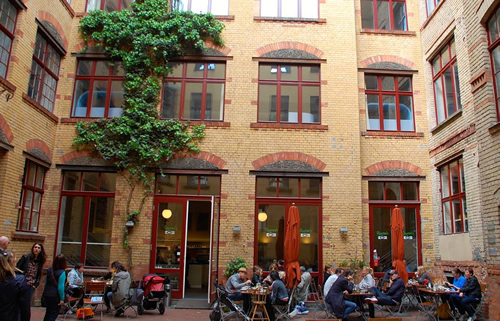 A restaurant in a restored courtyard in Mitte, a neighborhood in Berlin full of diverse places to eat foods from many regions of the world.
Berlin, a city of about 3.5 million inhabitants, is not only Germany's capital, but also a multicultural epicenter of arts and culture, boasting a large amount of theaters, universities, museums, galleries, libraries, cinemas, and other cultural venues.
Especially since the fall of the Berlin Wall in 1989, the city became a magnet for many young artists, musicians, and hipsters from all over the world, settling into poor and cheap working class neighborhoods as squatters and renters. With Berlin becoming more and more a melting pot of different cultures, the interest in certain types of food also underwent a radical change. While Germany's staples such as Schnitzel, Sauerbraten, and Apfelkuche still dominated the culinary scene in Berlin a few decades ago, thanks to the foreign influx, increasing tourism, some innovative restaurateurs, and a growing start-up scene, Berlin foodies have quickly caught up with the rest of the world.
With only a couple of days to spend in Berlin, I opt for exploring the city's most vibrant and diverse neighborhoods by bike and on foot, while simultaneously checking out the kitchens. I sign up for a bicycle tour to see many of Berlin's architectural highlights—with a lunch stop at a traditional Biergarten; a dinner at the home of a designated Berliner host; and two walking food tours, each with a different company and in a different district. Beyond these organized tours, I also squeeze in visits to food markets and specialty shops.
City Bike Tour
To find my bearings, I kick off my stay in Berlin with the All-in-One City Bike Tour of "Fat Tire Bike Tours," which starts at the TV tower on Alexander Platz. A highly knowledgeable guide leads our group of 16 cyclists from all over the world along many of Berlin's must-see places such as the Reichstag (parliament building), Museum Island, the recently finished Holocaust Memorial, Checkpoint Charlie, the Brandenburg Gate, Hitler's bunker, and the last remaining sections of the Berlin Wall and watchtowers.
Two-thirds into the trip, we stop for lunch at the traditional Biergarten Schleusenkrug, located at the edge of the Zoo, to drink a pint of German draft beer and devour a generous piece of grilled Bratwurst, seated at huge communal tables beneath a canopy of lush foliage.
"Fat Tire Bike Tours" also organizes an evening food tour by bike through the Prenzlauer Berg district, for a progressive 3-course sit-down meal at three different stops. Bike rental is included in all their tours.
Wine & Dine at a Berliner Host
Enjoying local hospitality in Berlin is now at your fingertips, thanks to a new start-up called "Open Doors Berlin." Ulrike Dettman, the brain behind the idea, pairs me up with host Christine, a wine blogger living on the 5h floor (no elevator) of a typical former East Berlin building, in walking distance from my AirBnB in Prenzlauer Berg.
Christine and I hit it off right away, discover many common interests, and have lively conversations over a delicious dinner that far exceeds my expectations.
Although "Open Doors Berlin" promises a 3-course homemade meal, Christine conjures up a mouth-watering 5-course supper, including excellent wines. I am greeted with an appetizer of thin dough with onions, pepper, and Ziegenkäse (goat cheese), followed by Bärlauch (wild garlic) risotto, lemon cornish hen with mushrooms, a dessert of rhubarb with a müesli-butter mix and ice cream, and finally a caramelized cheese with pistacho nuts, topped off with coffee and grappa. A wonderful opportunity to dine in a real Berlin home, meet with interesting hosts, hear stories about life in the capital, and get lots of useful tips for the rest of your stay!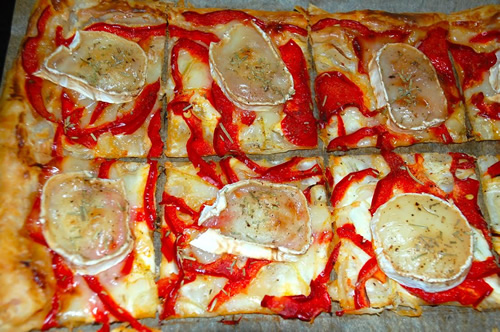 Appetizer, a tarte with goat cheese on top, is just the beginning of a very generous 5-course homemade meal at the home of an "Open Door" with a native Berlin host.
Friedrichshain
For a walking food tour through the former East Berlin district of Friedrichshain, the guide of company "Eat the World" is meeting our group of six, mainly German participants from other cities, at a meeting point just off the Ubahn (metro) station on the monumental Karl-Marx-Allee (formerly Stalin Allee, East Berlin's flagship, where not only annual parades showcasing the power and glory of the communist government took place, but also the workers' uprising against that government in 1953).
The guide is originally from Australia, married a German, and has lived in Friedrichshain for over 20 years. All of which explains her thorough knowledge of the history and development of this area from a typical working class neighborhood into a largely gentrified quarter with cafés, bistros, bars, flea markets, and specialty shops lining the streets around Simon Dachstrasse, known as the "Party Mile".
For three hours, we are guided along the most important historic and architectural sights, from the Frankfurter Tor, via the residential streets where squatters took over after the reunion of East and West, to Boxhagener Platz with its lively flea market. And along the way, the guide introduces us to at least seven different, carefully selected culinary specialties which we eat on the go while she tells her informative stories, or savor sitting down in an Austrian café, a Polish bistro, a German snackbar, a French café, and a truffle shop. Quality and variety are excellent, and the amount of food is more than enough to replace a full lunch. "Eat the World" also conducts walking food tours in the districts of Charlottenburg, Kreuzberg, Schöneberg, and Prenzlauer Berg.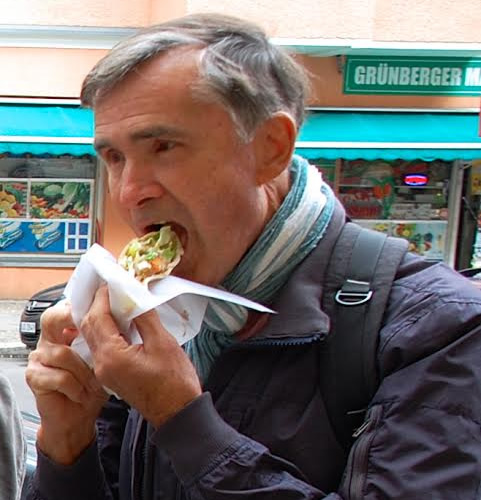 Sampling street food in Friedrichshain.
Kreuzberg
From Friedrichshain, I cross the Spree River, via the Oberbaumbrücken Bridge with its striking towers, into the Kreuzberg district. This is an area known for its street art, graffiti, and wall paintings (for instance the open air East Side Gallery, the largest section of the former Berlin wall, since 1990 serving as an international memorial for freedom with over 100 paintings by artists from all over the world). The neighborhood boasts factories that have been reopened as artists' workshops and galleries, and the State Museum for Modern Art, Photography, and Architecture.
The artsy atmosphere of Kreuzberg can also be felt at the Türkisches Markt am Maybachufer (Turkish Market), along half a mile of the Landwehrkanal at the border of Kreuzberg and Neuköln, where locals meet Berlin's large Turkish immigrant community each Tuesday and Friday between 11:00 a.m. and 6:30 p.m. to buy their fruits, vegetables, meats, breads, olives, sweets, and Turkish food specialties like köfte and kebap. A plethora of other articles such as woolen socks, colorful fabrics, T-shirts, purses, shoes, flowers, and plants are also on offer. Impromptu live concerts add extra liveliness to all the sounds, smells, and colors of this true Oriental Bazaar. In order to get rid of their fresh produce the same day, vendors lower the already bargain prices even more by late afternoon.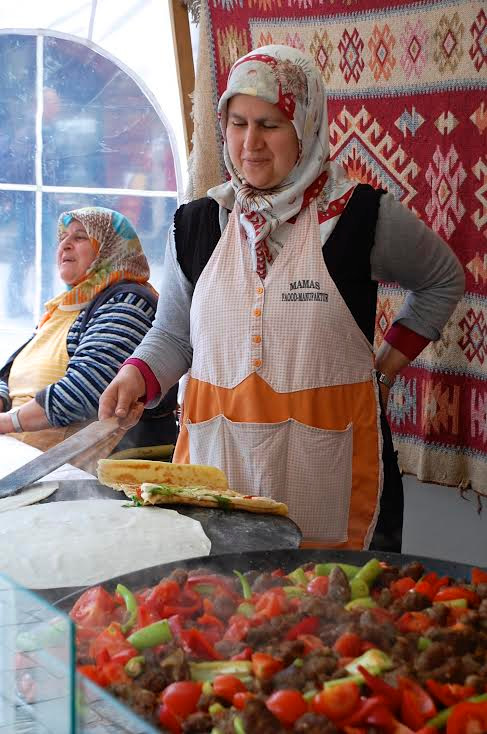 Women cooking at Türkenmarkt in Neukölln/Kreuzberg.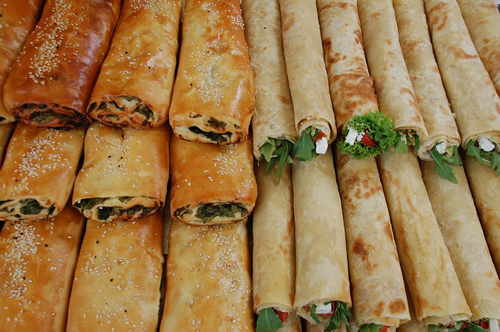 Türkenmarkt (Turkish Market) in Neukölln/Kreuzberg, Berlin.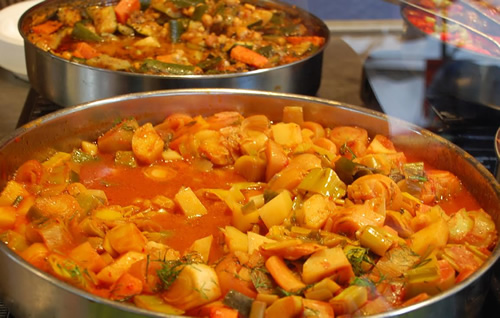 Stews cooking at Türkenmarkt in Neukölln/Kreuzberg.
On Fridays and Saturdays, as well as on Thursday "street food" nights, there is another worthwhile market in Kreuzberg: Markthalle Neun (9). At this bio-market, you can buy meat from farms that practice ethical husbandry, and seafood from sustainable fisheries. The old market building also houses a meat and fish smoke house, a small in-house brewery, a cafeteria with a view of the cooks at work, and a transparent bakery. On Thursday nights, foodie fun is at its peak when stalls offer a kaleidoscope of street foods and drinks, turning the market into a cozy and informal gathering place. I spot pulled pork sandwiches, original Taiwanese buns, Chilean empanadas, Hungarian goulash rolls, sesame and green tea ice cream, gin fizz, a large variety of wines, and German draft beer.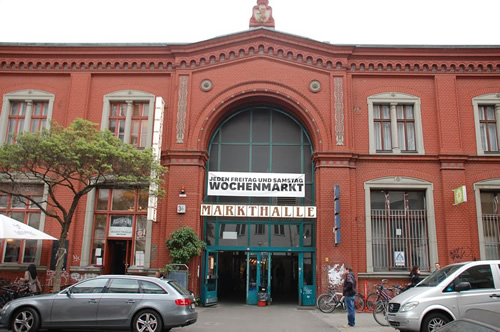 Markthalle 9 in Kreuzberg, where some days almost any type of food and drink in the world seems available.
Mitte
The 3.5 hours walking tour with Bastian Schwihal, founder of "Berlin Food Tours," through the central Mitte district, with its old cobble stoned streets, stately homes, courtyards, chic shops, street art, and galleries, is another hit. With lots of energy, wit, and knowledge, he guides our group of nine through the backstreets of Berlin's historic core towards his favorite food places, where we indulge in a great variety of snacks, both on the go and seated. Included are: köfte durum (grilled beef wrapped in flat bread) at a Turkish food stall, finger-licking pastries at bakery Hofpisterei, macaroons at Albrechts patisserie, cheese cake at Barcomi's, the famous Magnolia dessert at Factory Girl, balsamic truffles at Schneider's, Feldkiekenwurst at an inner court market, the best pastrami in town at "Von Einfachen das Gute," and currywurst from a hole in the wall.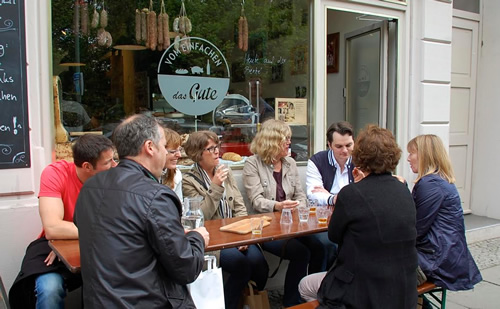 Sampling a platter of regional cheeses and cold cuts at "Vom einfachen das Gute."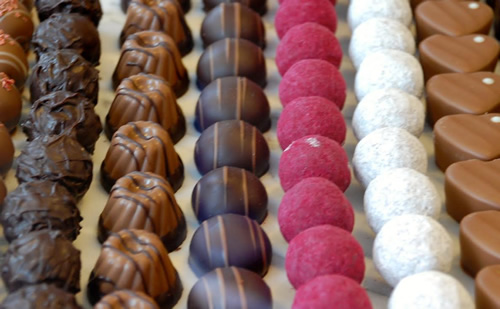 Schneider's "Schokoladen und Torten."
The tour starts at "Vom Fass"—an oil, wine, and spirits shop, selling straight from the barrel—and ends in a typical German Biergarten.
"Berlin Food Tours" also offers other tours with a single focus on beer and currywurst, coffee and cake, breweries, whiskey, chocolate, and absinthe.
Prenzlauer Berg
On my last day in Berlin, I decide to explore and eat my way through my own Berliner neighborhood, the trendy and upscale district of Prenzlauer Berg.
At Café Anna Blume, a renowned café-cum-flower shop, I join local bohemians in the large covered outdoor area where heaters and blankets keep us warm on this chilly and rainy day. I order their specials served on an impressive 3-tiered breakfast stand: cheeses, cold meats, sun-dried tomatoes, olives, fresh breads, fruits, and jams. A feast for the eye and the palate.
Wandering along Prenzlauer Berg's many designer boutiques, art galleries, restaurants, cafes, and specialty shops (don't forget the highly original Polish art poster shop "Pigasus" on Danzigerstrasse!) in the pretty tree-lined streets around Kollwitz Platz, I finally end up at the Kochhaus, dubbed as the "walkable cookbook." Merchandise here is not arranged according to food, but to recipes, which means you can restrict your shopping to just the ingredients and the quantities their easy-to-make recipes require. An ideal concept for small households, those with little storage room, and travelers with access to a little kitchen.
I touch down for lunch at Café November, a classical German restaurant with a cozy, low-key atmosphere, where I am warmly greeted in spite of my heavily dripping umbrella. Their smiles and heavenly homemade soup easily make up for the lack of cooperation from the weather gods, and their panna cotta with Himbeermus is a worthy closure to the dazzling array of foods I have been savoring in this hip and happening city.
Lies Ouwerkerk is originally from Amsterdam, The Netherlands, and currently lives in Montreal, Canada. Previously a columnist for The Sherbrooke Record, she is presently a freelance writer and photographer for various travel magazines.