Andy Steves' Europe: City-Hopping on a Budget
Review by Linda Lappin and an interview with Andy Steves
Whether you are heading off to Europe for a semester abroad, a summer backpacking tour, or maybe even a gap year, there's a slim little book you might want to take along, tucked into your carry-on or uploaded to your e-reader: Andy Steves' Europe: City-Hopping on a Budget. The author, Andy Steves, a young travel entrepreneur, founder of the student tour company Weekend Student Adventures, is the son of travel guru Rick Steves whose low cost, off-the-beaten-track tours changed the face of cultural travel for an entire generation of Americans. Andy aspires to do the same for Generation Z.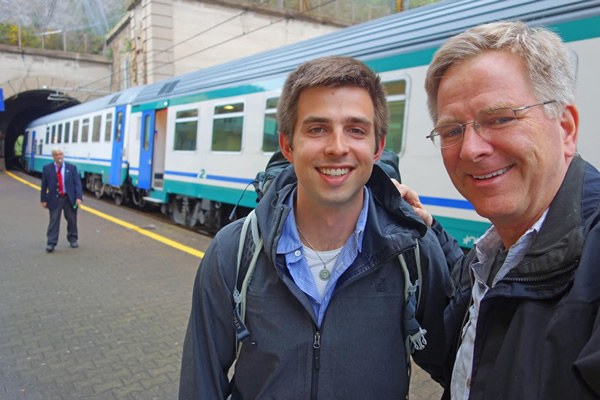 Andy with his father Rick. Photo @WSA.
Andy's book aims to jolt you out of your "American bubble," into the mindset of the 13 European cities covered, with advice on what, where, and how so that you can make the most of your trip, save money, find your way around, and most importantly, fit in, and feel like a local. 
This slender, information-packed Baedeker gives you the basics allowing you to satisfy your vital needs and cultural cravings, with updated entries on inexpensive accommodations and cheap eats, transportation, festivals, nightlife, cultural trends, along with detailed maps and suggested apps to keep you in the know. Bathhouse etiquette in Budapest, LGBT friendly spots in Paris and Berlin, tips on ordering Italian coffee or Czech beer, pub crawling in Edinburgh, are just some of the topics addressed in this fun-to-read guide that has much to offer travelers of all ages, even those of us who are over 21.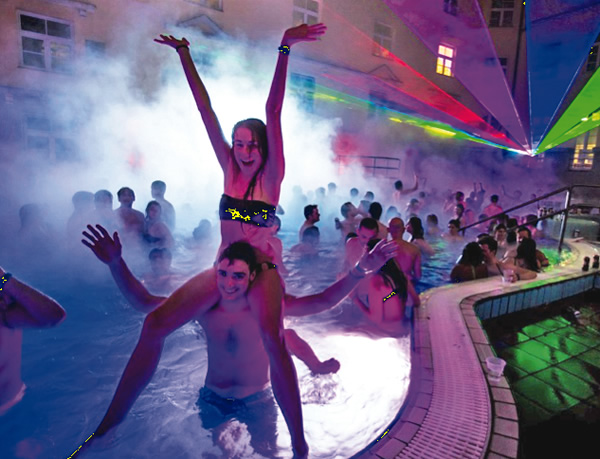 Scene from a magic bath party in Budapest. Photo @WSA.
We're here today with Andy to talk about his new book and his tour company.
Linda: First, complimenti for your career. As a travel writer, I admire the concept of your book and  appreciate the effort you put into creating it. As a long-time resident of Rome and frequent visitor to several of the cities you profile, I think you did a good job in catching the essence of those places while giving the basic info travelers need—though I do wish you had included two of my favorites: Athens and Helsinki.
Andy:  I know! There are a number of secondary cities that I wanted to cover, and I'm currently strategizing on next steps forward. The next book will definitely be a second edition of the same, making sure it's as accurate, thorough and concise as possible. But perhaps we'll do a book next on great cities for the experienced European traveler. For now, we had to focus on the "cliché" destinations that everyone has to see at least once.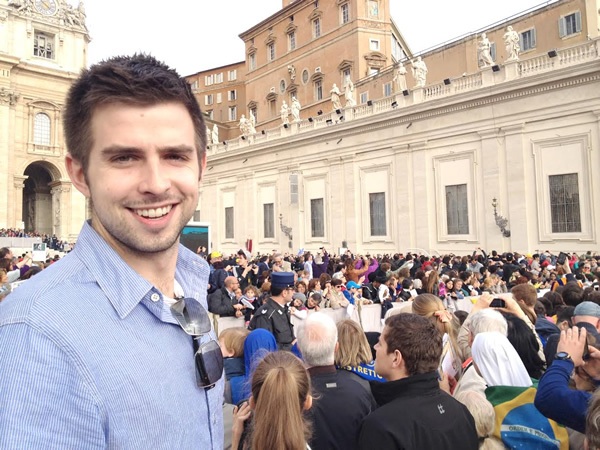 Andy at the bustling Vatican. Photo @WSA.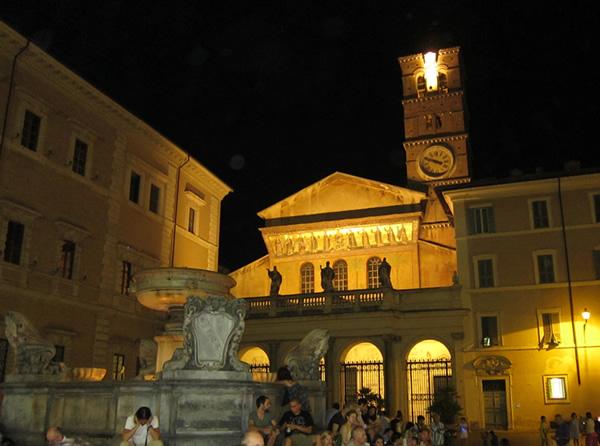 Trastevere is a neighborhood in Rome where the young converge, day and especially night, at piazzas, cafes, pizzerias, gelaterias, and in front of remarkable gilded Basilicas such as Santa Maria di Trastevere.
Linda: To your own mind, how is City-Hopping on a Budget  different from other guides?
Andy: I wanted to meet today's budget traveler within their limitations, specifically on budget, time and attention span. For the first two, people in the 18-35 y/o set are working or in school, and are doing the best with whatever budget they have to work with. I wanted to offer a guidebook designed for them, layering on tips on how to use modern technology to maximize time and money while abroad. Page count was also something I was concerned with—there are a ton of excellent guidebooks out there, but I often find them to be information overload for the first-time traveler who would prefer a handful of restaurant and nightlife recommendations over the 30+ recommendations you may find in single-city guidebooks. I think we hit the mark on this first edition.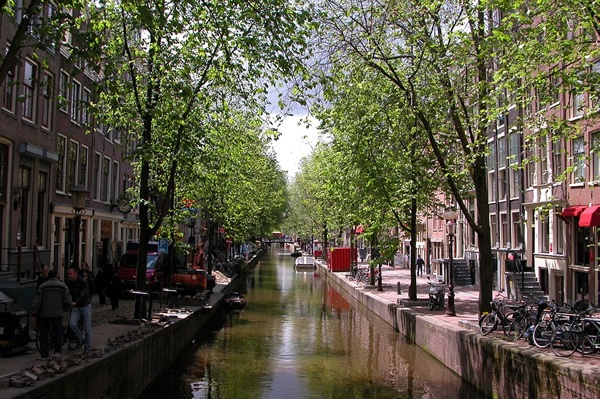 A small canal in Amsterdam is one of many parts of the city worth checking out.
Linda: Can you describe to me the ideal reader for your book and client of your tour company?
Andy: I'll start with my tour company—I came up with the concept for WSA Europe when I studied abroad in Rome in '08. My friends tagged along with me in groups of 5-30 no matter where I went because they knew they'd have a great, affordable time with me. That's when the need and opportunity for a tour company for students abroad struck me. So it was designed with the American student abroad in Europe in mind, but now with experience, a set of 13 passionate local guides, and now that we offer weeklong itineraries and more, we're evolving beyond the "Weekend" and "Student" part of the WSA brand to appeal to all budget travelers in Europe.
For my book, I wanted to write a series of city chapters that would offer the tips that I or friends my age would want to know. I'm 29, and people in my generation +/- ten years or so, really appreciate specific tips and insights, yet they really appreciate the independence of going through an itinerary and connecting the dots at their own pace, creating their own adventure along the way.
It has to be said, however, that my tour company and book are definitely not exclusive to any age—you just have to bring the right attitude, be willing to travel low to the ground, embrace vivid cultural experiences and go along with the flow. I've found that to be the best way to create travel memories you'll never forget.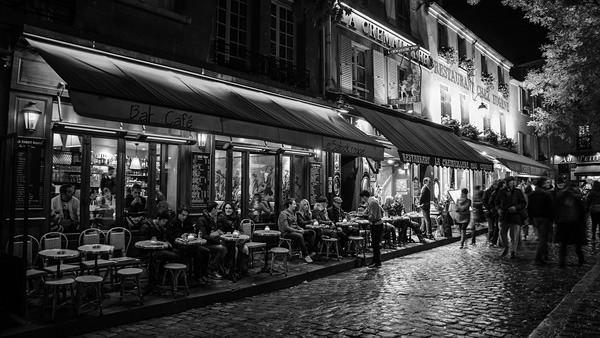 Even with all the sights to see, a night out hanging out at the cafes on the many side-streets of Paris is often a highlight.
Linda: Since the days of the Grand Tour, a trip to the continent has been a rite of passage for young Brits and Americans. What is Generation Z looking for in Europe today?
Andy: I would say the same still exists for budget travelers today, except for a few important differences: first off is the importance of social media. There's definitely a bit of bragging that plays into a lot of the facebook/instagram/snapchat posts I see these days i.e. selfies in front of the Eiffel Tower, or over the shoulder shots looking out across the Amalfi Coast. There's nothing wrong with them in their own right, I just really hope and encourage travelers to not let their screen get in the way of really interacting with the culture they're there to experience. There are upsides to this technology as well—travelers can now make flight and accommodation bookings on the fly, apps like Uber and Airbnb have mainstreamed the sharing economy, and that's really made hopping into a stranger's car or staying in a local's house that much more safe and accessible.
The second primary difference is that budget travelers today are zipping from city to city via budget airlines rather than utilizing eurail passes. The value of the Eurail pass has fallen quite a lot recently, and flying can open up cities that you wouldn't have been able to reach otherwise, from Edinburgh to Palermo and Lisbon to Krakow.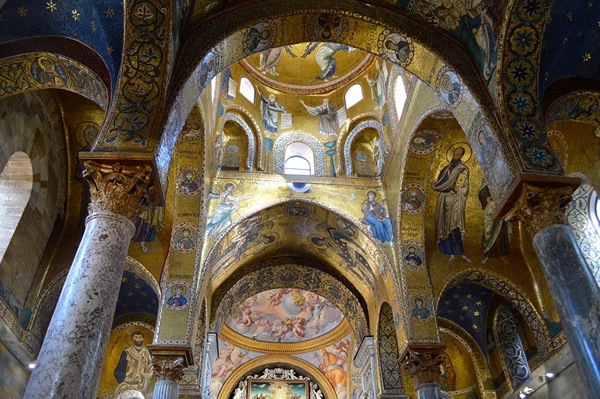 The mosaics at the Martorana church in Palermo are too spectacular to miss if you visit the magical city in Sicily.
Linda: What is the first thing you do when you arrive in a city that you have never visited before?
Andy: I find a nice cafe, pick up a good map and spend a morning consolidating all my different sources of information into a list. I mark these sights, restaurants and neighborhoods that I don't want to miss in a map, and I try to order them all in a way that makes sense to be as efficient as possible.
The next thing I do is usually hop on a free (tip-based) walking tour to get oriented and pick up some fun facts about the city. I'll be that geek at the front of the group, walking closely to the guide to continue picking his/her brain with follow-up questions. I'll often offer to take them for a beer or coffee afterward as well—for a 5 euro pint, you get another hour of travel consultation, and they're usually happy for the refreshment!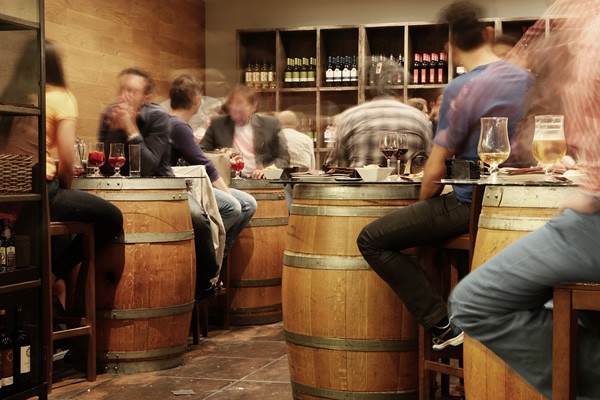 You can have a beer or some wine with the locals, in this case in Madrid.
Linda: Can you tell me three things without which you never travel?
Andy: Bring enough socks—it's crucial as smelly socks = smelly shoes, which just cramp your style for the remainder of your trip. I always have my smartphone with me, and these days I pick up a local SIM card with data so I can stay connected throughout my trip. And recently, I've started traveling with my Bose Mini Soundlink II, a Bluetooth speaker that can fill up a room with excellent-quality sound. I listen to a lot of podcasts, so I can pack, work or shower with that in the background.
Linda: Which travel writers and bloggers do you read regularly?
Andy: I follow my dad of course—the content that he and his team produces is extremely high quality, engaging, interesting and useful. Nomadic Matt is another travel pro who has a ton of free, quality content on his website with a travel hacker slant.
Linda: Are you interested in branching out into more "literary" travel writing?
Andy: Right now, I'm focused on building my company, hiring the right people, and taking WSA and the Andy Steves travel brand to the next level. I've got plenty of ideas bouncing around in my head, but for now, I need to stay focused on one thing at a time. There's just not enough time in the day.
Linda: In the intro, you spell out your travel philosophy: embrace the unexpected, sort out the logistics, and don't be afraid to ask locals for suggestions. But when in a totally foreign environment and on shaky terms with the local language––it is easy to get tongue-tied. A recent op-ed in the Huffpost listed the ability to talk to strangers as a major life skill every young person should have—suggesting that many young Americans are lacking in this skill even at home in their own language. Aside from asking questions, what other advice do you have to help students abroad break out of their American bubble? And why should they try?
Andy: This is so important, to break out of your American bubble throughout your travels. If all you're doing is going from an American campus to Starbucks in each city you visit, you should really be asking yourself about the point of your travels.
I've found that paying attention to current events political or otherwise in the destinations that I'll be traveling through really gives you an edge to strike up a conversation. Ask Brits what they think about the Brexit. What do Italian millennials think about the cost of living and their job prospects in their home country? What are the key sports teams to support in the city your visiting? If you know just a little trivia like this, it's so much easier to strike up a conversation. The classic "Where are you from?" question often leads to a dead end, so try to do better!
I've found that pursuing your interests or hobbies while traveling often puts you at the right time and place for amazing events. For me, I love to watch professional cycling, so to catch a stage of the Giro or the Tour puts me by default in the company of people who share that same interest. I always encourage students to google the heck out of whatever they enjoy and to do the same.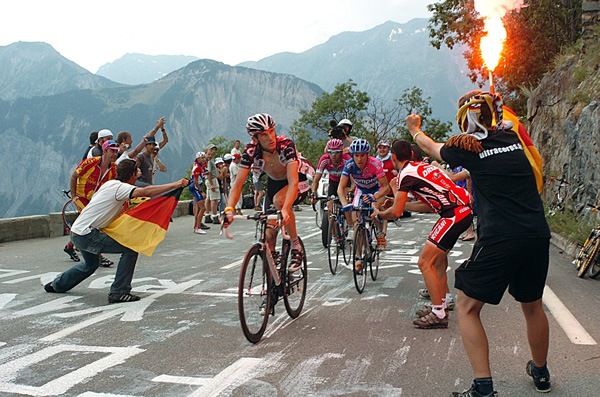 Check out the Tour de France for a unique experience if you get the chance.
Linda: There's some wonderful photography of places and great photos of students in your book. Actually, there is a preponderance of women students in the photos. I wonder if that was accidental or intentional, seeing as though the International Institute of Education estimates that 65% of students enrolling in US study abroad programs are women, and more and more women of all ages are traveling alone.
This topic could go in various directions, including a very important one briefly mentioned in your book, and that is staying safe in Europe, for women (but also men). The recent murders of a young American expat in Florence and of an American student in Rome, just hours after his arrival, have sadly followed other crimes against American students occurring in the "movida" environment involving drugs, alcohol, and occasionally sexual abuse. Although thousands of Americans safely enjoy the vibrant nightlife of Rome and other great European cities every evening, bad things occasionally can happen when signals get crossed, and a newcomer finds him or herself with the wrong people in a bad situation.  Pointers on "How to act, dress, and behave like a local" can be lifesaving. It is important for students abroad to be aware of cultural norms. Simply looking someone in the eyes might be misread in some cultures as a sign of romantic interest, when none is intended. What suggestions for staying safe do you have for young Americans abroad?
Andy: Lots of important stuff to speak to here. First, you're right; there are a lot of ladies in our photos. The reason for that is several fold: more female students study abroad than guys (roughly 2/3 to 1/3, like you say). It's my theory that guys don't want to miss football or basketball season back home. Young ladies tend to appreciate the value of a tour more than young guys—guys, whether it's true or not, think they can show up in a city and figure it out on their own. Young women and their families appreciate the safety in numbers, and the fact our guides are locals in each of the cities they visit. Young women are also more organized and plan further out in advance than their male counterparts. All of that contributes to having more ladies on our trips, and that shows in our pictures :)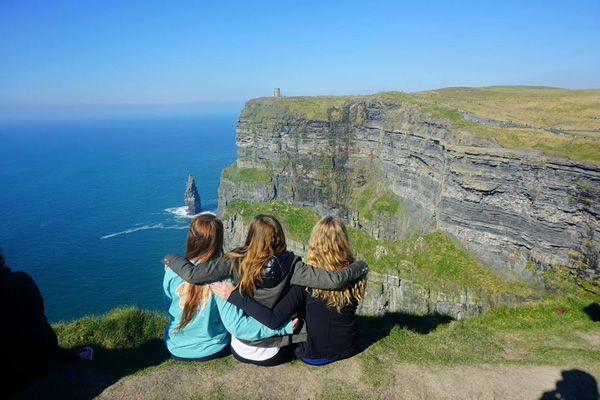 View from the cliffs in Ireland. Photo @WSA.
Next, it's extremely important to respect the local rule of law, customs and culture like you say. Many young Americans may come abroad with a sense of bravado, thinking that the laws in a foreign country may not apply to them. Add to that the younger drinking age, and alcohol only complicates the matter. Europeans do not drink to get drunk, and they've only heard about keg stands and beer pong from American movies. Conversely, they're raised with a glass of wine at dinner from a much early age, which instills in them a much more moderate approach to drinking. Until you spend quite a while in Europe and in each city to learn and understand the local culture when it comes to partying and drinking, I would always encourage moderation and sticking with your friends throughout the night.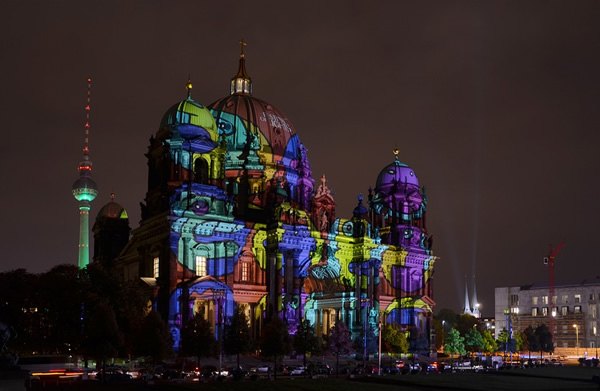 Enjoy a unique light show in Berlin, where monuments serve as a canvas.
Linda: The big T. As your book was going to press, there was a rash of terrorist attacks in Europe and other major tourist destinations. As you wisely point out in your introduction, chances are slim of being caught up directly in such an event. Also, risk perception is very subjective. However, when emergencies happen in the general vicinity, communications and transportation can be disrupted for hours. Have you ever been caught up in a national emergency while traveling? What advice do you give to young travelers about handling emergency situations?
Andy: I travel internationally eight months a year and my plans have only ever been disrupted by inclement weather. We did have a group in Paris during the tragic attacks last year. Our local guide spent the Saturday with the group in the hostel, just taking it easy and playing it safe. It is important to recognize that safety is different than fear. I always feel it to be so ironic when Americans ask me if Europe is safe when 30,000+ Americans die each year from gun violence, when Europe's gun deaths number in the 100's. It's just like when people get nervous about flying, but don't think twice about getting behind the wheel of a car when we all know flying is infinitely safer. Pay attention to the State Department and travel advisories, and be generally vigilant, and at the same time, enjoy your trip!
Linda: Thanks for the useful advice!
Linda Lappin, Rome-based novelist and travel writer is the author of The Soul of Place – A Creative Writing Workbook: Ideas and Exercises for Conjuring the Genius Loci (Travelers Tales, 2015).