Educational Travel, Tours, and Learning Vacations in Latin America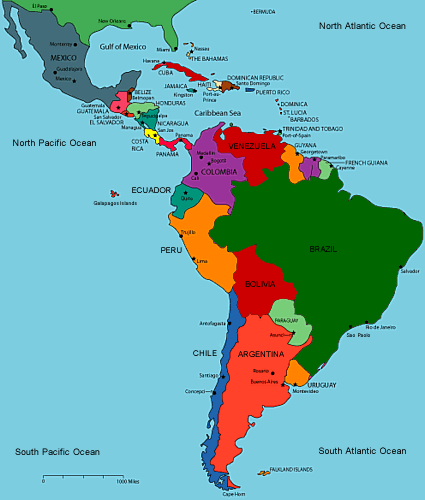 Articles on Cultural Travel in Latin America
Volunteering and Educational Travel in Belize
Joshua Berman provides an overview of the many voluntourism and research options in beautiful Belize.
Art Study in Mexico
Kelly Nicholls on the myriad of options available to those who wish to study art, even work and live as an artist, in the beautiful city of San Miguel de Allende, Mexico.
Art Workshops in Guatemala
John Brandon describes his experience at a travel writing workshop with the Art Workshops in Guatemala school in Antigua, Guatemala.
Mente Argentina
Photography Program
Mente Argentina's photography program aims both at beginners and those who wish to broaden their knowledge to become more experienced photographers.
The Basic Course of Mente Argentina's Photography School combines the teaching of techniques based on analogical and digital technologies, always focusing on creativity and motivation so that students can eventually produce images with their own personal style. The regular Photography program lasts 1 month and classes are delivered 4 times a week. The intensive Photography program lasts 2 weeks and both individual and group classes are available.
Cooking Program
The cookery school of Mente Argentina has been offering courses in Latin-American regional cuisine for more than 30 years.
The professors have a vast experience in teaching not traditional but gourmet cuisine. Therefore, you will be taught a new cuisine concept.
The school will provide you with the freshest and best ingredients as well as with all the necessary resources for the classes. At the end of each class you will be able to taste the dishes, together with a good glass of wine.
The classes can be delivered both in Spanish and English and can not be attended by more than 6 students. This is to keep a quiet and fun environment.
Wine Program
Mente Argentina has designed a program which will allow you to enter the complex and spectacular world of wine and discover the secrets of the legendary Argentine Malbec.
The objective of the program is to introduce you into the wine world so that you put into practice in your work environment all the knowledge and skills acquired, and, as a wine lover, enjoy good wines with friends whenever you feel like.
The program includes a theoretical-practice course about introduction to wine. Besides, you will have the chance to taste more than 50 exclusive Argentine and Regional Wines.
Some of the topics included in the syllabus are the following: visual and sensory analysis of wine, intensity of colors, vocabulary of tasters, wine production and combinations between wine and food. The intensive program lasts 2 weeks and takes place only in the City of Buenos Aires. The regular program lasts 1 month and includes a wine trip to the province of Mendoza where you will visit the
most important wine cellars while putting your tasting knowledge into practice and at the same time tasting the best wines of the country.
Tango Program
Buenos Aires is known for being the world capital of Tango; it has several renowned institutions: The regular Tango program lasts 1 month. The intensive Tango program lasts 2 weeks.
Mente Argentina offers you a unique experience through a weekly schedule composed of: 3 group classes, 1 individual class, 1 milonga evening outing (tango night club).
The courses start every week, have a flexible schedule and adapt to participants´ availability. This will allow you to have some free time to travel, meet people, visit the country and learn a new culture which will certainly amaze you.
Affordable Spanish Programs: CRLA Costa Rican Language Academy. Costa Rican owned and operated language school offers first-rate Spanish instruction in a warm and friendly environment. Teachers with university degrees. Small groups or private classes. Volunteer opportunities. Included free in the programs are airport transportation, coffee and natural refreshments, Internet, excursions, Latin dance, Costa Rican cooking, and conversation classes to provide students with complete cultural immersion.
COSI (Costa Rica Spanish Institute). COSI offers high quality instruction with a very professional and organized staff. We provide the unique possibility of taking Spanish classes in San Jose and at Manuel Antonio National Park (beach and rainforest).
Rancho Leona
Explore, Experience, Learn in Costa Rica
Learn Spanish, volunteer and study Costa Rican culture at a beautiful relaxed lodge setting on the Sarapiqui river.
Contact: feslick@sbcglobal.net, www.rancholeona.com
Academia Latinoamericana
Proud to be the friendliest Spanish school you have ever known. Family owned and operated. The program offers language study at 9 levels, for complete beginners through advanced. Experienced staff, native Ecuadorians. Carefully selected host families within walking distance of school. Exclusive "Cloud Forest and Galapagos" extension program, volunteer program. U.S. college credit available.
Centers for Interamerican Studies
University students and professional adults are offered the opportunity to gain valuable language and work experience related to their field of study through CEDEI's Internship Program. Participants spend time working as volunteers for a community-based organization in and around the city of Cuenca, Ecuador. The Intersession program is designed to provide teachers of Spanish and other interested adults with an opportunity to study the language and experience the culture of Latin America. The program includes formal classroom instruction, the opportunity to live with and learn from an Ecuadorian family, and visits to sites of cultural, geographical and historical interest.
Contact: info@cedei.org, www.international.cedei.org
Art Workshops in Guatemala
Offers approximately 15 courses each year. All courses are ten days in length, with four hours per day of formal class time. Courses are scheduled from late February to early November, but the majority occur during the late February-early April time period, ideal weather months sunny, warm (70 degrees F) days and clear, cool (50 degrees F) nights. Offerings include photography, drawing and painting, beading, paper and fiber arts, creative writing, and Mayan culture. Classes are limited to ten participants. Instructors are successful, well-established professionals in their fields. The mission is to provide a unique, insider's glimpse into Guatemalan life.
Contact: Liza Fourre; info@artguat.org; www.artguat.org
Intensive Spanish in Yucatan. Centro de Idiomas del Sureste, A.C. (CIS), founded in 1974, offers 3-5 hours per day of intensive conversational Spanish classes with native-speaking, university-trained professors. Maximum 6 students per group, average 3. Program includes beginner courses to very advanced with related field trips and recommended optional homestay. Also special classes in business, legal, medical vocabulary, or Mayan studies.
South America
Youth International
Multi-Country Adventure in South America
With Youth International, you will travel through 3 countries: Bolivia, Peru, and Ecuador, over the course of 3 months. Using local transportation, you will travel in a small group of students aged 18 to 25, led by 2 experienced leaders. With Youth International, the world is your classroom. You learn about the rainforest by doing volunteer work in the Amazon Basin. You learn about the unique wildlife of the Galapagos Islands first-hand on a sailing safari. You practice Spanish in homestays.
Contact: Youth International, 2319 Woodbury Lane, Evergreen, CO, 80439 USA; tel. 1-720-270-3323; info@youthinternational;org, www.youthinternational.org.