Live the Dream: Buying a Home in Spain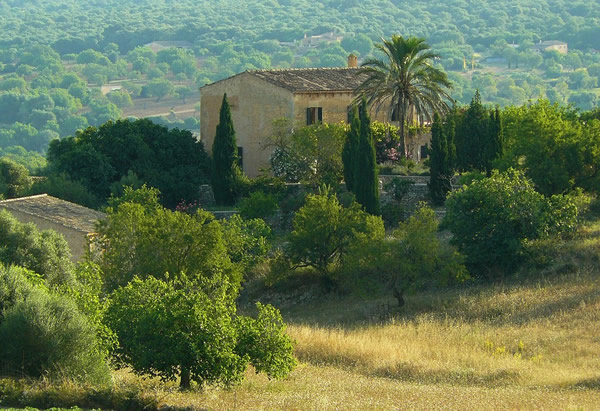 A country house in southern Spain.
Adios!
We set out from Portsmouth docks in search of a new home and life in Spain or maybe Portugal, such was the disillusionment with our homeland. Over 50 is over the hill in the U. K. and worthwhile employment is practically non-existent, so it was a case of getting all bitter and twisted or doing something about it. So we did something about it.
Headin' South
We arrived in Bilbao in a force 9 gale and pressed on through some pretty but sodden countryside and soon realized how diverse and stunningly beautiful Spain can be even in the rain. An overnight stop in an alpine like town called Avila and we headed south – to the sun we hoped.
Our first two weeks were spent in an urban center called Camposol near the town of Mazarron, which lies in the province of Murcia. The Bay of Mazarron is close to, but worlds apart from, the famous and ugly La Manga, playground of the rich and famous. Mazarron has two parts, one inland and the other on the coast. The coastal Puerto Mazarron is a holiday resort for the Spanish and has a beautiful disposition with clear seas and nice beaches surrounded by mountains. For ten months of the year the resort is virtually deserted and very peaceful. Getting to this region involves a tedious journey over a mountain range but that isolation keeps the tour companies away.
Camposol is a huge urban center in a valley surrounded by mountains. Currently there are about 4,000, mainly Brits, here with a high percentage being residential. During these first two weeks we visited a variety of properties from cave houses to prefabricated modular homes. Since our last visit here a year ago prices have rocketed almost beyond our budget.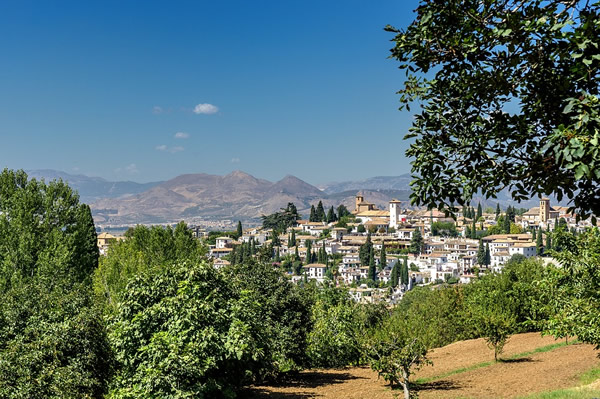 A type village in the south of Spain.
Granada and Beyond
Time to go on our travels, first up an area north of Murcia "Vale de Ricotte," sounded lovely but it wasn't. However, all this was compensated for by the guy who showed us around; he was a real character and quite the most politically incorrect guy I have ever met. Political correctness is virtually non-existent in Spain; you can pretty much insult who you like without incurring a law suit. Houses here rated a big fat zero for us but our guide got a ten for entertainment value.
After two weeks house hunting we gave ourselves a break and went to Granada in the province of Andalusia. The scenery around Granada is stunning and lies close to the permanently snow capped Sierra Nevada mountains. Skis in the morning and beach balls in the afternoon is Granada's slogan. Driving around the city totally lost and stuck in a traffic jam, there was a knock at the window. It was a guy on a scooter wearing some sort of uniform. I slowly opened the window, expecting trouble. "Buenos dias senor," he says," You are looking for somewhere yes?" Turns out that he was from the tourist board and kept his eye out for lost souls like ourselves. He told us the hostel we were looking for was closed but he new somewhere else and asked us to follow him. We eventually came across this small hotel whereupon he made sure we were satisfied with it, wished us a pleasant stay, hopped on his Vespa and was gone. How's that for service.
We had a good time in Granada, watched a couple of bullocks and about 30 sweaty bodies pull a magnificent looking shrine on wheels up to the cathedral only to see it topple over on the church steps. Lots of shouting and gestures before they put it up again. By this time the bullocks had done what comes naturally and everybody began to slip all over the place much to the amusement of us onlookers. Then it was midnight, on came the salsa band and the whole square came alive with a gyrating mass of wannabe Ricky Martins, except the shrine pushers who were given a wide berth and left to dance on their own. Spaniards eat late, around 10 p.m. and party till the small hours. It's a country for night owls so different from the lifestyle of Northern Europeans and probably many Americans too.
Next on our list was a place called Iznajar which lies some 40 minutes or so inland from Granada and such is the contrasting Spanish scenery that we went from rugged mountainous terrain to deep lush green hills and rolling valleys. We eventually came to a white village on a steep hill surrounded by a huge lake. This place does not seem to get a mention in any guidebooks and is completely untouched by tourism. Long may it remain so. The only English here are real estate people - well who else - and property was quite reasonable which is to be expected. With every beer you get a welcoming smile and a plate of tapas, an Andalusian tradition, but you need cloven hooves to get around the streets as they are all hills. Sadly this was an impractical place to live for us but we will return one day.
The Coast of Light
And so on to Arcos de la Frontera heading towards the Costa de la Luz region−an interesting town frequented in the main by day tourists and left to the locals at night. It is built on a cliff top with sheer drops on either side and has a significant history full of medieval skulduggery. Our ancient hostel was patronized by the rich and famous in centuries gone by, the gentle sound of horse and cart is now being replaced by messrs. Yamaha and Suzuki all night. Some interesting property options here but it didn't quite hit the spot.
The Costa de la Luz region itself runs from the Portuguese border to Gibraltar and in this region is one of our favorite places, Vejer de la Frontera. Vejer is not far from Gibraltar and is a picturesque white village built on a hilltop not unlike Monte Carlo in many respects. It has lovely countryside views on one side and looks over Cape Trafalgar, the famous sea battle site, on the other.
We spent three days checking out the Costa de la Luz area and stayed in a pleasant and inexpensive hostel right in Vejer itself. Property prices were once again pretty high and whilst Vejer had an air of Monte Carlo about it, at night it resembled a Monte Carlo style race track as well.
Next, on up to Seville, the home of flamenco and bullfighting. The most beautiful city in Spain, unmissable but been there, done that and at 39 ° c (102 ° f ) in mid-May moved swiftly on down to the Portuguese border and Ayamonte. We liked Ayamonte; it is a nice unspoiled border town with plenty of character. Our real estate guy showed us some interesting property overlooking the river and suspension bridge to Portugal and we were impressed even though it would have really stretched the budget . Also saw some less interesting property in a place called Isla Canela which was completely devoid of any character whatsoever−nice beach though.
The Portuguese Algarve
We had a timeshare here for over 15 years and we know the Algarve like the back of our hands. It has the most beautiful beaches in Europe and it's literally a home from home. We headed for a town some 10 -15 miles from the coast called Silves and actually found some property in our price range. Lovely old farmhouses with plenty of land but so much work was required we had to reject them. The Algarve is different from crazy, laid back Spain−almost gentile by comparison. Everybody speaks English, even the movies are in English. Beautiful beaches, good climate, peaceful, lovely people who eat and go to bed at reasonable hours. What more could we want? Some fun in our senior lives that's what. Spain got the vote.
Ronda
On our way back we visited Ronda, a sort of European grand canyon ( well a small one but very impressive). We stayed in some rundown old hacienda ran by a lovely, eccentric English Lady who really regarded us as a sort of kindred spirit and asked if we would consider running the place in the winter whilst she visited family in the U.S. My wife was sorely tempted; I was sorely not.
Decision time
Both Ronda and the Granada region offer some affordable property in lovely locations but our research has shown that the weather in winter can be as cold and gray as the U. K.−so no thanks. We returned to Mazarron via the Costa del Sol coast road. Hit any coastal town in this region and you won't find the Spanish language written anywhere and that's not for us. Likewise Almeria is very desert-like and also not for us.
We traveled over 2,000 miles keeping away from tourist areas, saw some lovely places and met some interesting characters of all nations who had put their old life behind them. We ended up where we started, back in Mazarron, and this is where we decided to settle as this region is still relatively unspoiled despite the Spanish obsession with construction.
Life in Spain
Our new home is in Camposol and we decided to live here because it suits our personal circumstances but urban living is certainly not for everyone. We are now full Spanish residents familiar with antiquated Spanish bureaucracy and banking. Spain is a relatively new democracy but the legacy of Franco still exists. Mucia was the last region to fall to Franco and the people here were denied any form of social /educational services throughout his dictatorship. Consequently most of the older folk cannot read or write and scrape a living off the land.
Land is under constant siege from developers but constructing on rural land is very strictly controlled. However, unscrupulous developers have built and sold property to purchasers who then find that their property is illegal and subject to demolition. Sadly this has happened and another reason why urban living is worth considering.
Unless you are a tradesman or a musician work is not easy to come by, and without a reasonable command of the language, jobs are hard to find. Standards of workmanship and service leave a lot to be desired and complaining about it is often pointless as the Spanish don't see a problem.
Wow! So what about the good things. Well apart from the sunshine and lovely rugged scenery it's the lifestyle that caps it all. Forget the "service driven" society of the States and the U. K. Here cash is king, credit cards are unpopular and everything stops for fiestas. There is a public holiday, or two, every month, some of which are called "red days." If you're caught working (hammering, drilling, sawing, etc.) it's a €3000 fine. It's a society that values and respects its older generation and Spaniards work to live, not the other way round. Stress and heart attacks are low and fiestas are paramount. Walk down any high street in provincial Spain between the hours of 2-5 p.m. siesta time, summer and winter, and it is a ghost town−one custom we just cannot get used to.
In Spain you must go for integration, not isolation. Research thoroughly, learn the language, even a little will open many doors and then live the dream.
For More Info
How to Buy Spanish Property and Move to Spain by Nick Snelling.
Allan Ashton spent many years as a techical author/editor in such industries as office automation, stage lighting and telecoms and have been fortunate enough to have travelled extensively. At one time or other Allan has been responsible for user manuals, publicity releases, travelogues, newsletters and web editing. He has also have written some articles for U.K. music magazines.
Since 2004 Allan and his wife have semi-retired to Spain where Allan now freelances for local publications, helps out with the communal newsletter and also plays drums in a local band. Allan says: "You're never to old to rock n roll."