Biography of Clay Hubbs, Ph.D.
Founding Editor and Publisher, Transitions Abroad Publishing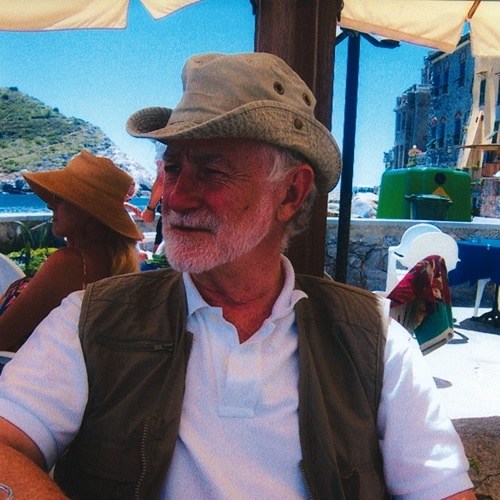 Clay taking it slow, as always, at a local ristorante by the sea in Italy—his home away from home, where he owned a rustic watchtower with a garden along with his wife and son in a remote Tuscan village for 40 years.
Clayton Allen Hubbs, Ph.D. (1936-2007) was a journalist, professor, and International Studies advisor (Hampshire College, Amherst, MA, 1971-1998), who founded Transitions Abroad magazine in 1977 to promote immersion travel — real interaction with other cultures — rather than the mass tourism recently leading to overtourism in some parts of the world that can have unintended consequences, and is a problem for many locals who wish to sustain and respect their traditions, identity, and homelands in relative peace. Transitions Abroad Publishing and its founding editor Clay Hubbs was to become the foremost authority on immersive and creative "alternative" travel and a trailblazing advocate for responsible travel, as well as for diversity and inclusion in study abroad, with the invaluable contributions of other thought leaders in the international education field. In Clay's vision, there are no absolutes in travel; instead, there is the desire to be as sensitive a guest in host countries and communities as possible. In sum, he sought to convey his view of a "Golden Rule" of travel, where learning, physical and aesthetic pleasure, responsibility, sustainability, and community go hand-in-hand.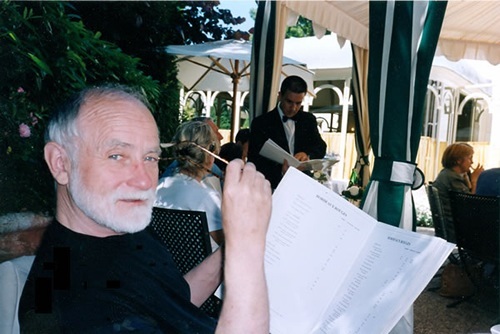 Studying the menu at a restaurant in Paris on this 65th birthday.
Hubbs' numerous academic degrees included a Ph.D. in English Literature from the University of Washington and an MA in Journalism from the prestigious Missouri School of Journalism housed under the University of Missouri.
Clay's career seamlessly combined his love of educational travel with his insatiable curiosity and passion for literature and journalism. Clay worked as a journalist and studied literature in Europe, traveling long-term through Western, Central, and Eastern Europe, the Middle East, and Africa in the early 1960s with his wife and children. In 1968-69 he studied for his doctorate with his family while traveling through the Soviet Union and living outside Paris, by chance next to the first hippie commune in France, where journalists mistakenly assumed he was the leader! He returned to the US in 1970 to complete his thesis and accepted a faculty position in Modern European Literature at Hampshire College, where he combined teaching with creating a study abroad office to encourage the expansion of students' educational experience. Clay and his wife, Dr. Joanna Hubbs—a European-born retired professor of Russian cultural history and literature at Hampshire College and now owner and senior editor of Transitions Abroad—continued their travels to Europe and elsewhere each summer, on extended sabbaticals, leaves of absence, and any chance or excuse they could find. Since 1960, travel, study, volunteering, work, and living abroad were often a multi-generational family experience for the Hubbs family.
Clay, age 28, with his family in 1964 after returning from his first four years of adventures in North Africa, the Middle East, and Europe after serving in the U.S. Air Force, as a jet pilot and officer via ROTC.
Clay and Joanna's many recent journeys abroad spanned the globe from Ecuador to Italy to Ethiopia, where they wrote articles about their discoveries. Most summers, and many years, since 1980 were spent, as much as possible, in a restored 12th-century watchtower in Tuscany built upon a foundation of Etruscan walls. Following his example as a fearless, endlessly curious, pleasure-seeking yet deeply respectful traveler, his wife, children, and perhaps his grandchildren—with whom he shared many adventures overseas—are determined to carry on his legacy.
In 1977, Hubbs founded Transitions Abroad—the magazine's first purpose was to inform students and teachers about the low-cost opportunities for travel and living abroad. The magazine was quickly discovered by many people who were neither students nor teachers but wanted to learn how to travel overseas independently and cheaply—and to meet the locals, not just other tourists. Transitions Abroad continues to provide readers with the ideas and details on the ethical and pleasurable alternatives to mass tourism while advocating proper respect for host communities. Clay was among the first to emphasize the type of responsible travel and ecotourism which now motivates many conscientious travelers, while also espousing the pleasures of slow travel and the exploration of less touristed areas. In recent years the magazine and website have also been increasing emphasis on working, living, and volunteering abroad to respond to a growing interest in the programs which enable a transition to life-changing overseas jobs which span the spectrum from volunteer service and internships to student work to freelancing as digital nomads to international business careers.
Clay was awarded two of NAFSA's (Association of International Educators) highest awards, the Homer Higbee Award and the Education Abroad Leadership Award, for his originality and steadfast work since the founding of Transitions Abroad Publishing, Inc.
Clay Hubbs edited two book series published by Transitions Abroad Publishing, Inc.: the widely praised and cited Work Abroad: The Complete Guide to Finding a Job Overseas, and the unique Alternative Travel Directory, the first comprehensive directory of alternatives to mass tourism—from volunteering in Tibet to working in Africa to rafting in Costa Rica.
In 2003, after 26 years, Clay turned over the magazine's publication to Sherry Schwarz. Clay continued his association with Transitions Abroad as senior editor for the magazine and the website. Hubbs delighted in the tremendous growth of TransitionsAbroad.com, which many had told him was an impossibly colossal project.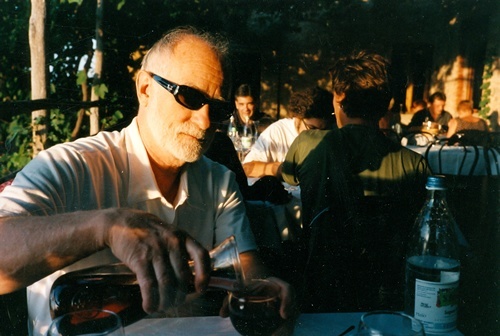 Enjoying local wine in a grapevine-covered café in his adopted hilltop village in Tuscany.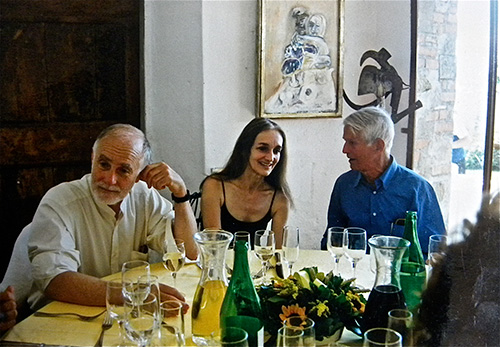 Deep in thought, dining in Italy with his wife.
In 2004, his son, Gregory Hubbs, whose life experience is a living example of the underlying mission, began consulting work on the TransitionsAbroad.com website to honor his father's creation and vision by extending the original scope of the core material into a premier no-nonsense web guide and source of ideas for work, study, travel, volunteering, and living abroad. Gregory assumed the role of editor-in-chief in 2010. TransitionsAbroad.com currently reaches a highly sophisticated, varied, and educated audience worldwide with millions of visitors yearly—an audience that continues to grow even as we have witnessed and been told it has influenced and still influences the editorial direction of generations of other educational travel websites, as well as the content of much other work, living, and travel abroad content and editorial.
As a guest, Clay shed light on all kinds of educational travel: responsible travel; family, teen, and senior travel; eco-travel; adventure travel; and studying, living, working, and retiring abroad. Clay was a warm, serene, witty expert guest and was interviewed and quoted in the The New York Times, BBC, Time, and by many other travel and educational media elsewhere in print and online.
Clay Hubbs passed away after a typically graceful and quietly heroic battle against multiple myeloma on March 29, 2007, planning future travels while editing copy for the magazine and website. Clay was reading world literature voraciously until the very end, as he was intensely aware that the correspondence between physical and imaginative travel transcends space and time.