Traveling with Your College-Aged Granddaughter
A Successful and Memorable Trip to Europe Together
Article and photos by John Dwyer
4/14/2019
John Dwyer with his granddaugher, Sutton, in Oslo during their trip together in Europe.
I have a tip for how to bond with your college-aged grandchildren: travel to Europe together.
In the summer of 2017, I took such a journey with my granddaughter, a college sophomore. I must admit that I had some apprehensions before the trip. Would we get along? Would we enjoy the same interests? Should we stay in hotels or hostels, in the same or separate rooms? These questions, among others, kept popping up in my mind. But my apprehensions turned out to be entirely baseless. We had an enjoyable time together during the entire voyage.
Our Planning
My granddaughter, Sutton, lives in California, while I reside in Washington State, so we planned our trip via email, text messages, and an occasional phone call. To accommodate Sutton's college schedule, we chose to travel in August. When planning our itinerary, we decided to combine traveling to cities — which Sutton wanted to visit on her first trip to Europe — with visits to friends of mine with whom I had worked or volunteered internationally. Our final travel itinerary included Amsterdam, Brussels/Ghent/Bruges, Warsaw, Tallinn, Oslo, and Copenhagen. Except for one night in a hostel in Copenhagen, we shared rooms in hotels.
A priority for Sutton was to be able to communicate easily with family and friends back home while we were traveling. To ensure she had proper connectivity we searched the web and found a UK-based company that rented Wi-Fi equipment. The company shipped the Wi-Fi equipment to the first hotel we stayed at in Europe, which happened to be in Amsterdam. On our way back to the U.S., we were then able to drop the portable hardware off at a location at Heathrow Airport, London. We had some problems with the worn equipment, but Sutton figured out how to make it work. The rental company gave us a partial refund when we returned home.
Sutton in Amsterdam.
After choosing our itinerary, and satisfying all communications needs, our thoughts turned to what and how to pack. I don't know about you, but I always seem to overpack when I travel. I've read many articles by seasoned travel writers who stress that less is better when it comes to possessions, but I somehow seem to ignore part or all of their advice. For this trip, Sutton and I decided to follow the writers' suggestions. We chose to use carry-on luggage and a small shoulder bag for our nearly 3-week trip. To provide precise guidance for what to pack, I visited travel writer and tour guide Rick Steves' website and read up on his great packing tips. Sutton did the same. Following Rick's list — adding just a couple of small personal items — worked out very well. We never once needed anything more than we packed. The planning made it so much easier to board trains, trams, ferries, and planes. We could walk through airports without the burden of having to lug along heavy bags. We are now both firm believers in packing light.
Our Adventures in Europe
Our transportation was varied and interesting. I booked most of it online before the trip, including city tours, boat tours, flights, hotels, and even the ferry from Oslo to Copenhagen. Trains I booked at points of departure. One particular train ride proved serendipitous. We boarded the train at Central Station in Amsterdam on our way to Brussels. Unknowingly, we boarded a first-class car but had coach tickets. The car wasn't crowded, and we sat near a middle-aged Dutch couple who, it turned out, were traveling with a niece who was Sutton's age. When the conductors came by to check our tickets, they told us we were in the wrong car. The couple overheard the conversation and kindly helped us out. Because of their intervention, we were able to remain in the first-class section. We then began chatting. The couple's niece, who was attending university in Amsterdam, ended up exchanging contact information with Sutton. Fortunately, we had another day in Amsterdam at the end of our trip. Sutton and the niece spent that day together on a jovial and entertaining tour of the city.
One thing that this naïve grandfather didn't expect on the trip was the attention men gave to my pretty granddaughter. Most of the attention was gentlemanly and in good taste. But on a couple of occasions, a line was crossed with excessive hugging or unwanted persistence. I am pleased to say that Sutton defused the unwanted attention with grace and wit.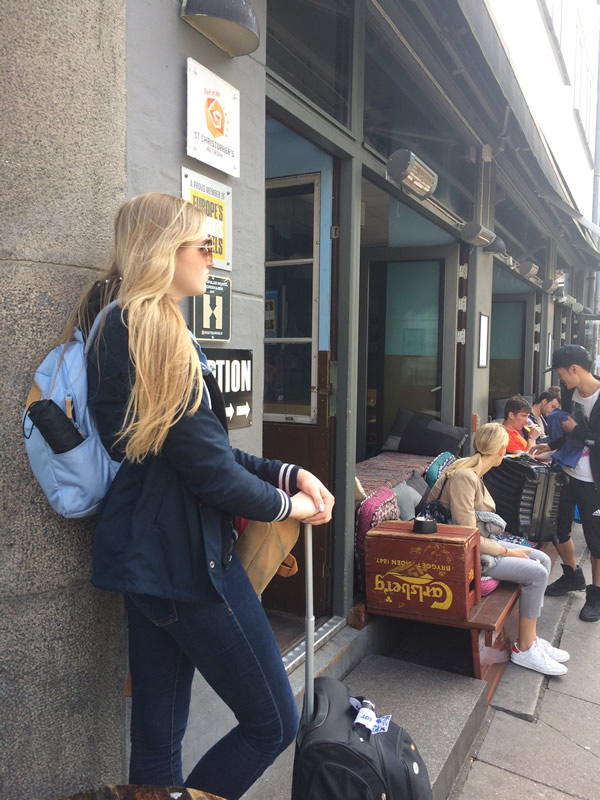 Sutton in Copenhagen.
Trips are not trips if we don't have a glitch or two to talk about after returning home. One such glitch occurred in Bruges, Belgium. On a pleasant and bright day, we took a tour bus from our hotel in Brussels to Bruges. At the end of the organized tour in Bruges, Sutton and I stopped to have Belgium waffles at an appealing outdoor restaurant located on a sunny plaza. We were unhurriedly enjoying our snack and conversation when we suddenly realized that it was time to catch the bus for the return trip to Brussels. Truthfully, it was past the time to meet at the bus. We rushed back to the scheduled meeting place, but there was no one there. The bus had left. Besides the inconvenience of having to find transportation back to Brussels, I had left my shoulder bag with some important documents on the bus we had missed. We remembered passing a train station near where the bus was parked and headed there. After a short wait, we were able to catch a train back to Brussels and then walk to our hotel. Due to the late hour of the day, the bus tour office was closed. I couldn't retrieve my bag until the next day. And we had tickets for an early flight to Warsaw the next morning. What to do? We ended up changing my flight to later the next day. Sutton flew on the flight we originally booked. She was met at the Warsaw Airport by my friend with whom we were staying in the city. Although they'd never met before, they managed to find each other. After my arrival in Warsaw, I took a taxi to my friend's apartment.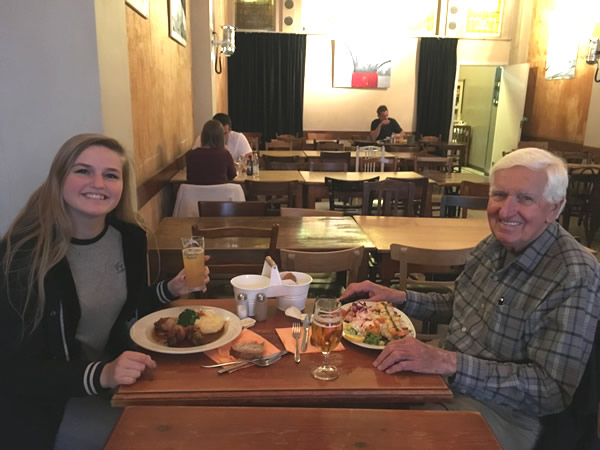 John with Sutton enjoying dinner in Brussels.
Lessons learned? If you are going to leave your shoulder bag on the tour bus, don't miss the bus. Also, pleasant conversation with your granddaughter and delicious Belgian waffles can be very distracting.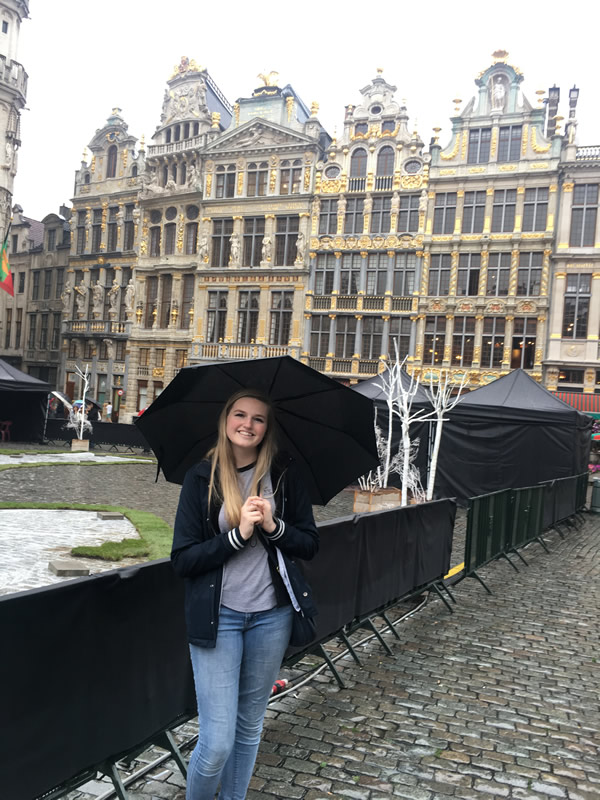 Sutton in Brussels.
Our Successful Trip
The rest of our trip went without incident, and we had a delightful time. We had some great conversations and humorous exchanges. We got to know each other better and bonded. Now, when we meet at family events, we excitedly talk about our travels and re-live the interesting and fun times. We will now always have wonderful memories of a gratifying and pleasurable time together.
I strongly suggest that if you have an opportunity to travel with your college-aged grandchildren, go for it!
Travel Resources for Our Trip
City Discovery  —  City and boat tours.
Skyscanner — Flights within Europe.
Booking.com —  Hotels.
Hostel World —  Hostel we stayed at in Copenhagen.
Rick Steves  —  Packing ideas from an expert on all things travel, especially to Europe.
Direct Ferries —  Ferry from Oslo to Copenhagen.
John Dwyer, Contributing Editor on Senior Volunteer Service for TransitionsAbroad.com, joined the Peace Corps at age 56, a decision that has led to international service in 14 countries and travel to 54 countries. After Peace Corps service in Guatemala, John served as a United Nations volunteer in the first elections in Bosnia and Herzegovina after the Bosnian War. He has subsequently worked on elections in over 10 countries. He managed camps for internally displaced persons (IDPs) in Herat, Afghanistan and did development work in Kandahar, Afghanistan. He continues to work internationally.
John hosts a website, Over50andOverseas.com, which is a resource for individuals over 50 who wish to volunteer internationally.