Snapshots from a Visit to Colombia
Article and photos by Lies Ouwerkerk
Senior Contributing Editor
7/3/2018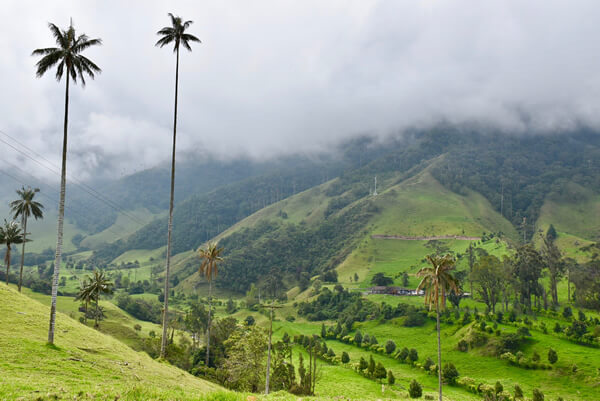 The Cocora valley with Quindío wax palms, the tallest palms in the world and Colombia's national tree.
Colombia is a country blessed with abundant natural and cultural riches. Verdant valleys, pristine beaches, tropical forests, snow-capped mountains, charming colonial towns, archaeological sites, coffee plantations and haciendas are just a few of the magnets for foreign travelers. Culturally, the country has a fascinating heritage thanks to the coexistence and mingling through history of Spanish colonizers, native Indians, and African slaves.
The rich culture has also nurtured creations such as the gripping sounds of Colombian music (with their own take on salsa and merengue, cumbia, and the folkloric bambuco originating from the Andes), the compelling novels and short stories of Gabriel García Márquez, and the well-known paintings and statues of Fernando Botero's voluptuous figures. Not to overlook are Colombia's typical foods and drinks such as bandeja paisa (a mix of rice, red beans, ground beef, plantain, avocado, and chorizo), ajiaco (a chicken, potato, guascas [Gallant Soldier] and corn soup served in a clay pot), and the strong aguardiente ("firewater" made of anis and sugar cane).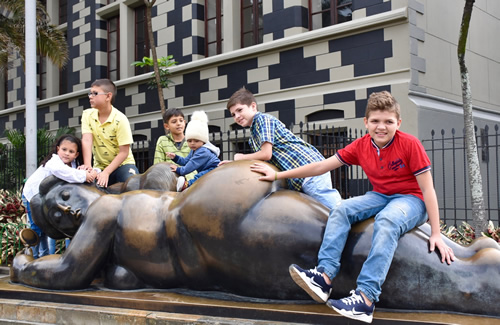 One of the full-figured statues of renowned Colombian artist Fernando Botero in the downtown area of Medellín.
Safety
Given the many perks, why had Colombia never been on my travel wish list before?
The country's civil war, economic instability, corruption, and fights between government and leftist guerrilla groups, right-wing paramilitaries, drug cartels and crime organizations had for long kept foreign travelers from venturing into the country. The famous Netflix series "Narcos," which chronicles the real-life story of Colombian drug lord Pablo Escobar — a notorious criminal who became a billionaire through the production and distribution of cocaine — only adds to Colombia's bad reputation, even now that the country has slowly emerged from that troubled past and has become a much safer place.
Colombia's 52-year armed conflict symbolically ended last year with a historic "farewell to arms" by more than 7.000 guerrillas, supervised by UN monitors, and the signing of a peace accord between the government and FARC, the largest rebel faction. A year prior, Juan Manuel Santos, president of Colombia, had been the sole recipient of the 2016 Nobel Peace Prize for his painstaking efforts to achieve the peace accord.
Finally, a lot of smoke has lifted, and tourism has started to infiltrate many areas once deemed too dangerous to set foot. All these factors led to my decision to explore Colombia before tourists may overrun the country.
Because of time constraints, I joined a 9-day guided "Colombia Express" tour along some of the major highlights of the Bogotá-Cartagena trail: the coffee region around Armenia, the Cocora Valley, the colonial town of Salento, the "reborn" city of Medellín, and the old walled town of Cartagena.
The Quindio Coffee Region
Largely bypassing anything Bogotá has to offer, other than a visit to the iconic Paloquemao Market — a foodies' haven where we sample various exotic fruits and a serving of lechona (an oven-roasted pig stuffed with rice, potatoes, peas, onions, and spices) — we leave the capital far too soon to fly to Armenia. The city is situated in the picturesque Quindío region, El Eje Cafetero — inscribed on Unesco's World Heritage list as the "Coffee Culture Landscape of Colombia" in 2011.
The forest, rivers, mountain streams, and rolling hills of Quindío amid the surrounding Andes Mountains, and the excellent climate year-round are very conducive to adventure sports such as hiking, climbing, mountain biking, fishing, rafting, hot air ballooning, and horse riding. But on this express tour, we are here mainly to learn about Colombia's coffee culture, an absolute must when you are in a region that produces most of the annual 15 million bags of Colombian export coffee, promoted all over the world by the fictional coffee grower Juan Valdes.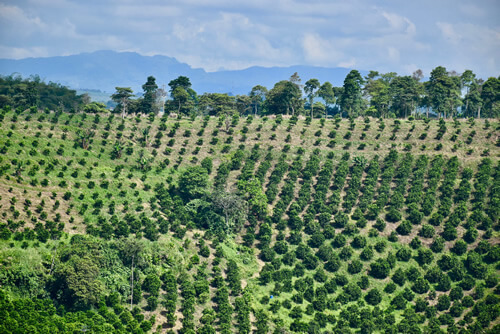 Landscape in the Quindío coffee region, "El Eje Cafetero."
At coffee farm "Recuca" in the Calarcá area, we join a highly informative tour on how this crop (Colombia's third export product after petroleum and coal), evolves from planting stage to the coffee cup.
We also learn that the coffee bean is not native to Colombia, but most likely has its origin in Ethiopia, imported to Yemen, and then introduced to the rest of the Arab world as well as to Europe.
The story goes, that a French naval officer brought a seedling to Martinique, where the plant quickly rooted and multiplied, and became the mother of all coffee trees in Central and South America. The tree grows at high altitude in the shade of banana and rubber trees on rich volcanic soil. Together with the moderate climate of this region, these conditions are perfect for producing some of the finest beans in the world.
While walking through Recuca's beautiful grounds and enjoying the lovely vistas of the surrounding coffee fields and the Andes Mountains, we learn about seeding, cultivating, selecting and harvesting (by hand, one by one, to make sure the berry is at its perfect ripeness' level), processing (removing the skin by machine, then drying/ roasting in an oven), and brewing. Not only do we taste the excellent Arabica variety, but we also get to try a chaqueta, a typical Colombian drink made from coffee and aguapanela (sugar cane with lime juice).
The coffee farm also offers an optional 1-hour cupping (catación) class with an experienced barista to learn about the characteristics of aroma, acidity, sweetness, bitterness, fragrance, body, and aftertaste. Cuppers follow a strict set of tasting protocols to assess the quality of coffee beans and their brew, much like wine tasting, and often partake in national and international catación competitions.
Smelling is an important part of this class ("I know this smell, but what is it?"), followed by identifying the smell with the help of Jean Lenoir's Le Nez du Café, a famous reference collection of 36 coffee aromas (almond, earth, rubber, cooked beef, to mention just a few) collected in a small wooden box, and accompanied by an illustrated book describing the coffee aromas and their presence in certain parts of the world. Highly recommended for those serious about their coffee!
Cupper with box of Jean Lenoir's 36 coffee aromas.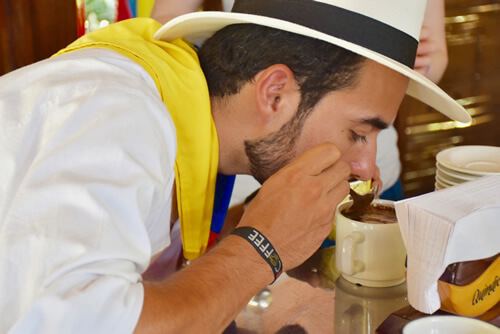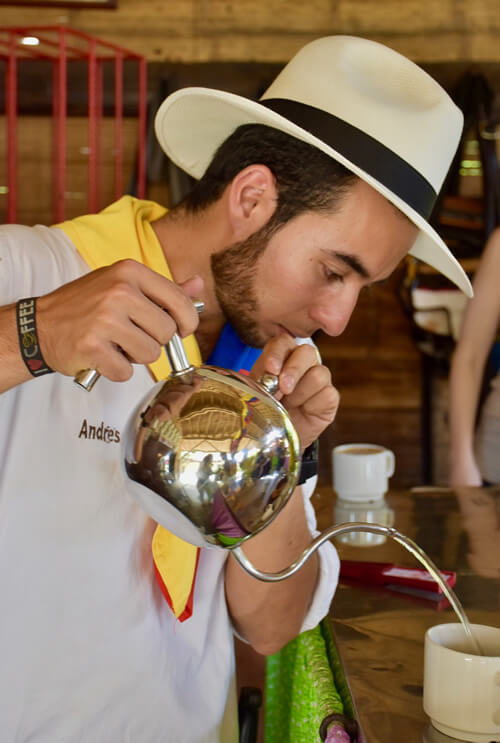 Cupper smelling and pouring Arabica coffee.
If you understand Spanish, the less touristy tour offered by eco-farm "Caficultur" in Buenavista is a great alternative. The guide, don Leo, an organic coffee farmer, will also speak about the trials and tribulations of coffee farmers in the area, and how they are organized.
From Buenavista, it's only a 12 kilometer (7 miles) drive to the charming colonial town of Pijao, chosen as a model for "cittaslow" small towns in Latin America. Inspired by the slow food movement that originated in Italy, Cittaslow is now a global organization that promotes a good quality of life for inhabitants of towns with less than 50,000 people. The organization promotes the benefits of slowing down the pace of life in such small cities, preserving their unique character, supporting local produce, crafts, hospitality traditions (through non-mass tourism), while advancing sustainable development and helping to improve the community infrastructure.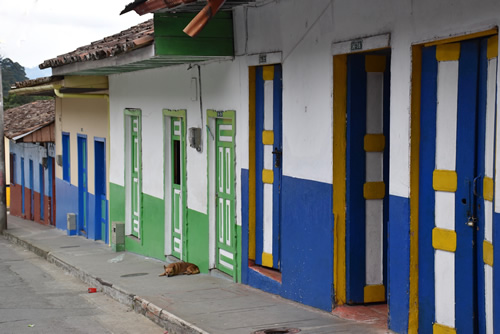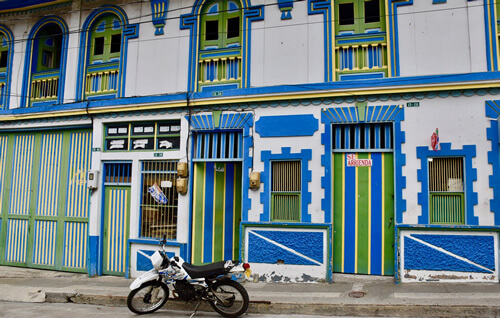 Houses of Pijao, the model cittaslow town of South America.
The Spanish Colonial Town of Salento
Salento is in the middle of Colombia's coffee-growing region. Our guide tells us that the place was still quite unknown some decades ago. But today it is a quaint and vibrant colonial town with brightly colored, barrel tile-roofed houses along neatly paved streets. A wedding cake of a church dominates the town square and is surrounded by many restaurants, bars, and terraces offering specialties of the region such as trucha (trout, often served with a cheese and garlic sauce) and patacones (fried plantain).
Many houses have the cutest doors and balconies painted in all colors of the rainbow and are usually built around an open courtyard, filled with lush trees and plants. The typical architecture of the houses is a fusion of Spanish and indigenous cultures, called bahareque, because of the ancient use of cob and pleated cane for walls.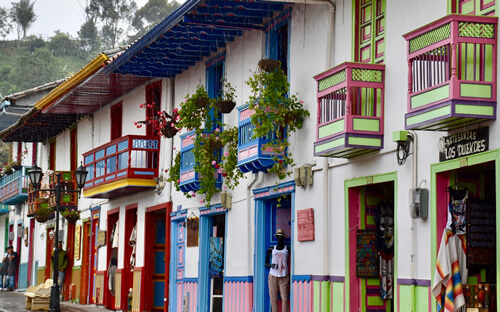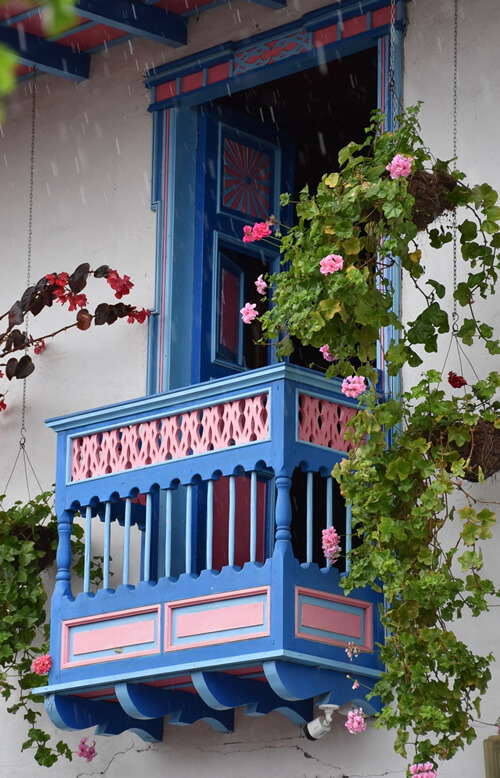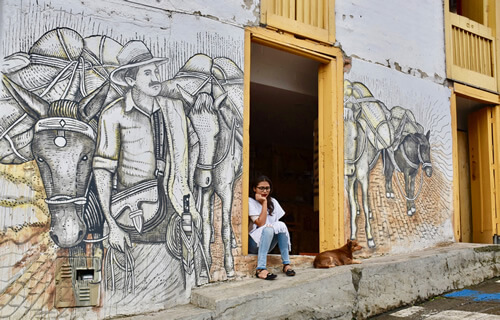 The colonial town of Salento.
Alto de la Cruz, a lookout point at the end of the main drag Calle Real, offers spectacular views of the mountains of the Los Nevados Natural Park and the nearby Cocora Valley.
Classic Willy jeeps depart regularly from Salento's main square for an exhilarating 30-minute drive into the Cocora Valley, filled with magical wax palms — the tallest palm variety in the world and today considered an endangered species. From the trail head, you can rent a horse or hike along a variety of paths, from easy, through green valleys with here and there a suspension bridge, to more difficult trails through mountainous areas. There are some steep ascents, but it's absolutely worth sweating them once you reach Finca La Montana at the top and take in the magnificent panorama.
Travel by Willy jeep to the Cocora Valley.
View from Cocora valley with Quindío wax palms.
Medellin: from "Most Dangerous City in the World" to the "Most Innovative City in the World"
In Medellín, the second largest city in Colombia and once the "drug capital of the world," we settle in a cozy hotel in El Poblado, a leafy neighborhood south of downtown. With its many restaurants, cocktail bars, terraces, and designer boutiques, and a strong police presence to guarantee safety, this is a very popular area with foreigners for shopping, dining al fresco, and nightlife.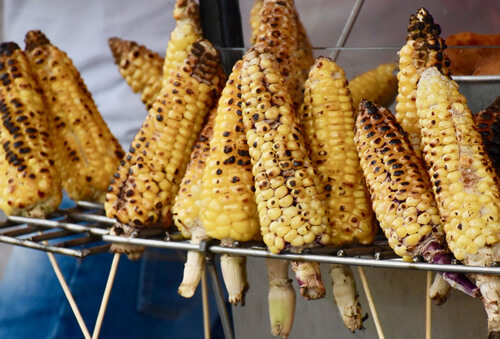 Roasted corn: National street food.
Comuna 13 looks nothing like upscale El Poblado. We join a tour in this neighborhood situated high up the western hillside of the city, offered by one of the locals born and raised here, and learn how a marginalized community has been able to reinvent itself. Comuna 13 has been transformed from an infamous and dangerous stronghold of violent guerrillas and drug traffickers to a safe and flourishing community, with the help of government initiatives. With giant outdoor escalators in six different sections, you can now easily reach the top of the hill. Not far away, a metro cable system and gondolas connect other hillside communities — formerly completely isolated — with the city below.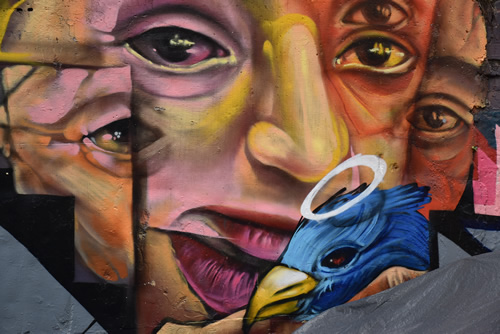 Street art in Medellin's Comuna 13.
The free and worthwhile museum "Casa de la Memoria" pays a moving tribute to the victims of terrorism and narco-traffic over the last 50 years, through exhibitions, photos, videos, old newspaper clips, and interactive shows.
A 4-stop metro-ride brings us from there to the city center to watch the giant figures created by renowned Colombian artist Fernando Botero on Plaza Botero. We call it a day and surrender to people-watching and sipping Coco Locos, back in El Poblado's bustling Parque Lleras.
Statue by Colombian artist Fernando Botero, in downtown Medellín.
Cartagena: A Living Museum
The last stop on our whirlwind tour is the walled colonial town of Cartagena, a major port on the historic West Indies route, and located in a sheltered bay in the Caribbean Sea. Since 1984, it is on the Unesco World Heritage list for its port, extensive fortifications, Andalusian-style palaces, churches, and monuments.
Although the city is quite touristy, Cartagena's appeal is undeniable: beautiful narrow streets full of amazing architecture, shady parks, picturesque squares, trendy boutiques, and fine restaurants. Some recommended places: Carmen, Calle 38 #8-19; Trattoria di Silvio, just off Plaza de Trinidad in Getsemani; Crepes & Waffles, Plaza de San Pedro; La Cevichería, Calle 39 #7-14; and La Mulata, Calle Quero 9 58 San Diego.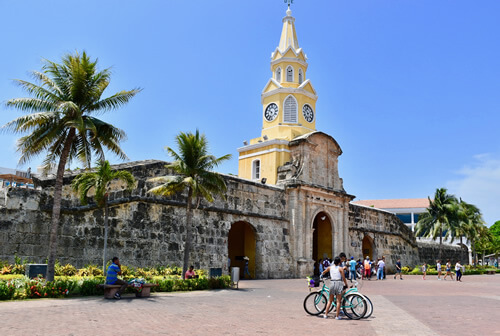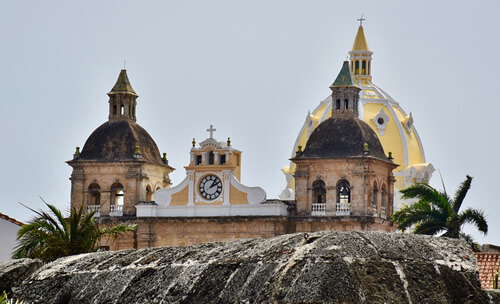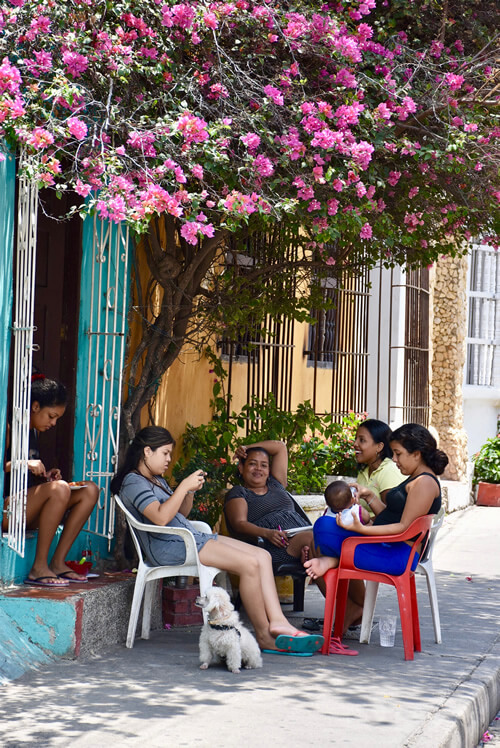 Architecture, churches, street, and neighborhood scenes in colonial Cartagena.
Instead of joining my group for a beach and snorkel day on the tiny Rosario Islands off Cartagena, I opt for a guided tour to the town of San Basilio de Palenque, site of the first successful slave rebellion in the Americas, and with its now 4,000 inhabitants, the only surviving community of descendants of escaped slaves. The town, described by Unesco as a "Masterpiece of the Oral and Intangible Heritage of Humanity," often ignored by tourists, was founded in 1603 by the former African king Benkos Biohó. After being captured and shipped to the Americas in the late 1500's he escaped his fate together with some 40 other slaves and continued living secretly in the mountain hills south of Cartagena.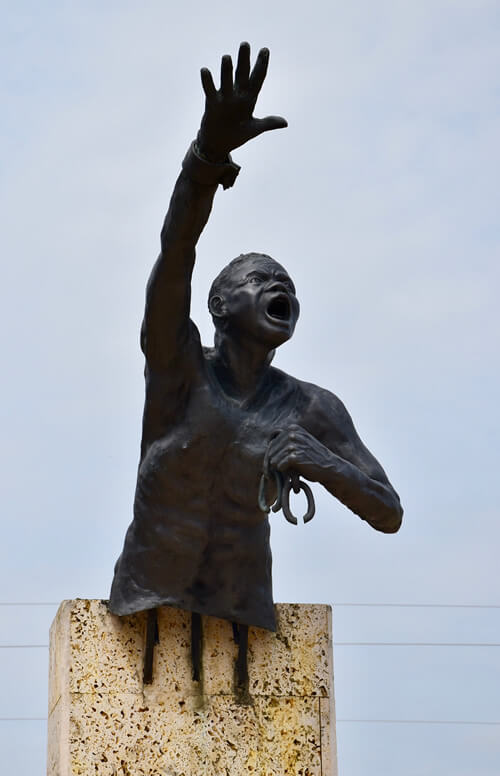 Statue of Benkos Biohó, leader of a slave rebellion in 1603.
Many Palenque residents still speak Palenquero, a Spanish based language influenced by the kikongo language of Congo and Angola, and it is still taught today in the town's local schools. Palenqueros also adhere to African-based traditional medicine, funeral practices, and musical traditions, especially a genre called champeta. Notable residents include the famous light welterweight fighter Antonio Cervantes, aka Kid Pambelé (Colombia's "Fighter of the Century") and the musician Maestro Rafael Cassiani of the Tabalá Sextet, whom you can meet on the patio of his residence in the midst of his many traditional instruments.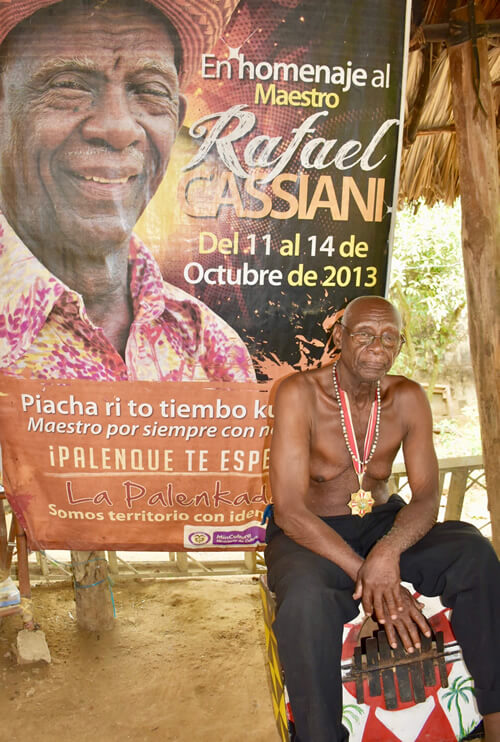 S.B. de Palenque's famous musician, maestro Rafael Cassiani.
More Travel Options in Colombia
The 9-day "Colombia Express," is offered by G Adventures for $1415 US, including two internal flights.
An 8-day "Caribbean Colombia Express" to the famous Tayrona National Park and along some coastal islands can be added at the end of this trip for an additional $1100 US. (N.B.: Check the website for current tour costs.)
For travel to more off-the-beaten-path destinations, my Colombian guide Felipe highly recommends the following regions:
Putumayo, San Agustín, and Tierradentro.

The jungle and Pacific Coast of Choco, the National Park of Ensenada de Utria, and the Embero Katio people.

The Northern desert region of La Guajira, populated by the indigenous Wayúu people. For those interested in a custom-made trip to one or more of these areas, contact fortiz@gceos.com.
For other adventurous ideas beyond the obligatory tourist trail see: 11 Amazing Alternatives to Colombia's Tourist Traps, 5 Off-The-Beaten-Path Destinations in Colombia, and Slow Travel in Colombia.
Lies Ouwerkerk is originally from Amsterdam, The Netherlands, and currently lives in Montreal, Canada. Previously a columnist for The Sherbrooke Record, she is presently a freelance writer and photographer for various travel magazines.