Why Move and Live in China?
The Country is Seeking English Teachers and Skilled Foreigners
By Volker Poelzl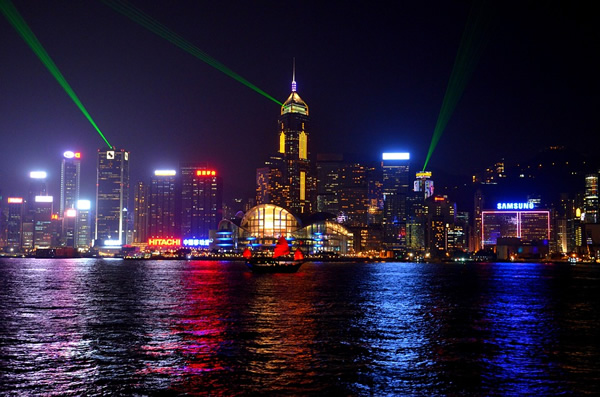 Hong Kong is a one of many very popular places to live for expats in China.
China is home to not only the world's largest population at 1.3 billion, but it is also quickly becoming an economic and political powerhouse. China's influence is growing everywhere around the world, and more and more people are recognizing that China is a new global player that is here to stay. Increasing trade and globalization have made China an important business partner for many Western countries. In turn, this has created a high demand for foreign-educated, English-speaking employees. With jobs scarce in the U.S. and the Chinese economy still booming, a growing number of American professionals are moving to China for employment. But there are also other reasons why China is rapidly becoming the latest frontier for studying and working abroad. The Olympic games in 2008 not only established China as a formidable athletic power, but the impressive cultural and artistic performances during the games left their impact and have contributed to the growing popularity of Chinese culture and language around the world. The Chinese government is actively promoting Chinese culture and language. The Confucius Institute, founded in 2004, now has over 300 centers in 82 countries worldwide. Its official goal is to enhance understanding of Chinese language and culture, and to strengthen educational and cultural exchanges and cooperation between China and other countries. According to official estimates, there are now over 40 million people around the world who are currently studying Chinese. The number of foreigners studying in China is also on the rise.
A growing number of Americans are seeking their professional fortunes in the Middle Kingdom, and there are currently over 110,000 Americans who live, work, or study in China. While the global recession is easing, and economic growth in the U.S. is relatively stagnant for some coming out of school, China's booming economy is expected to still grow an average of over 5-6% in the forseeable future, in part due to the massive stimulus package by the Chinese government. Working opportunities in China are manifold, not only due to rapid economic growth but also due to the increasing diversification of the Chinese economy. While the majority of jobs are related to English teaching or internships, there are also professional and management jobs available in a large variety of fields. China has a large need for qualified managers and experts in the fields of finance and high-tech, especially those with knowledge of English and experience in the global marketplace and with international business practices. Although there are many recent university graduates in China looking for work, foreign job applicants often have the advantage in that they more closely meet the demands of Chinese employers than Chinese candidates.
A growing number of Americans are seeking jobs in China not only because of the tight job market in U.S. for professional jobs, but also because they can often advance their careers more rapidly and find better jobs than at home. China is increasingly seen as a great place for young professionals to jump-start their careers and gain international work experience. But China is not only attractive for recent college graduates, but also for established professionals seeking to advance their careers. While advancement opportunities for many professionals are scarce in the U.S. due to the sluggish economy, China's economy is booming, and the demand for skilled professionals is high in a large number of fields. Unemployment in urban areas is a low 4.3%, and the local work force cannot meet the demand for skilled employees with international business or management experience. The demand for skilled foreign professionals is not expected to abate any time soon.
The most popular job for foreigners in China is teaching English. A growing number of Chinese students, employees, and business people are studying English, and there is a high demand for native English-speaking teachers. The market for English teachers is becoming somewhat saturated in large cities and popular destinations such as Beijing and Shanghai, but if you are willing to live and work in a smaller city in the interior of the country, you should not have any problems finding a job. Many foreigners come to China to look for an English teaching position in the hopes of changing their tourist visa to a work permit. However, this practice is becoming more difficult, and the Chinese authorities are encouraging foreigners to apply for a work visa from their home country. For more information about teaching jobs in China, check out our Teaching English in China section. The U.S. embassy in China also provides useful information for those interested in Teaching English in China.
According to the Institute of International Education (in its Open Doors Report 2016), the number of American students in China has increased to just over 13,000 students during the 2014-2015 academic year. China is also becoming a popular study destination for students from all over the world. It is now the world's fifth most popular destination for study abroad. In the 2015 academic year there were nearly 350,000 foreign students enrolled in Chinese universities. But people do not only go to China to study at universities. Dance, martial arts, and language courses are also popular with foreigners seeking to learn more about Chinese culture and the Chinese way of life. For more information, check out our Study Abroad in China listings and Chinese Language school listings.
In addition to paid employment there are also volunteer and even more internship positions in China. Knowledge of Chinese is usually not required but is usually offered as an option. For more information check out our directory of Internships in Asia. For information about volunteering in China, check out our Volunteer in China section.
The large majority of jobs for foreigners are in Beijing and Shanghai, which also have the largest expatriate communities in China. Foreigners will find many amenities and entertainment venues that cater to them, such as restaurants, bars, etc. Elsewhere in China, foreigners need to be more prepared for culture shock, since they will find little in terms of culture, food, or the same types of entertainment they have available remind them of home.
Immigration laws are strictly enforced in China, and you need to make sure that you have the appropriate visa for your intended activity. Foreigners breaking immigration laws will most likely be fined and may even be detained.
The Chinese government has recently issued new rules aimed at attracting high-tech professionals, individual or corporate investors, senior management personnel, professors and researchers from abroad. If you fall into this category you can easily change your tourist or business visa to a work visa after receiving a job offer. The government has called on all relevant departments to cut red tape, streamline procedures, and improve the efficiency of the visa application process. For this category of professionals in high demand the resident permit is valid from 2-5 years.
For all other foreign job applicants, the process of obtaining a valid work visa (known as "Z visa") has become more difficult. A "Z visa" is dependent on a job offer from a company and on approval by the Chinese labor authority, but foreigners are no longer allowed to change their visa status while in China. This means that if you arrive in China as a tourist and are offered a teaching position, you will have to return to your home country first to apply for a work visa. Visa applications now have to be made in person or by a representative designated by you (such as a visa service). Similarly, if you work in China and receive a job offer from another company at the end of your previous work contract, you may have to return to your home country first to apply for another work visa with the new company.
After obtaining a work or student visa, foreigners need to register with the Chinese authorities and obtain a residency permit within the first 30 days after their arrival in China. Resident permits are usually issued for one year, but can be extended for the duration of your work contract. Students are usually issued a resident permit for the length of their studies in China.
For volunteers, interns, and participants in cultural exchange programs, China issues an F visa, which allows foreigners to stay in China for up to six months. To obtain an F visa, foreigners need to submit a letter of invitation from a Chinese company or organization together with their visa application. Holders of an F visa do not usually require a residence permit, but they still need to register with Chinese authorities after their arrival.
Although China is popular with employees and students, who intend to stay in China for a number of years, it is not a destination for long-term expatriates. Permanent residence status is only granted to those with Chinese spouses, high-level executives or senior managers, high-tech professionals, and academics, who have worked in China for at least four years, as well as for foreign investors with a presence in China for at least three years. There is no provision that allows other types of foreign employees, students, visitors, or retirees, to obtain permanent residence in China.
For many jobs in China, it is not necessary to speak Mandarin fluently. English teachers can easily get by without speaking Mandarin or any other local language. Although learning Chinese is a challenge for most Westerners (due to the fact that it is a tonal language, which is quite different from European languages), your experience in China will be greatly enhanced if you speak some Chinese or take Chinese lessons during your stay. Even just basic conversational skills will help you break the cultural barrier and make it easier for you to meet the locals and have meaningful interactions. As mentioned above, there are large expatriate communities in Beijing and Shanghai, where you can live and work for years without the need to speak Chinese. But by living in such an expatriate bubble, you will deprive yourself of making contacts with the locals and learning about their way of life, customs, and culture.
To find out more about living and working in China and to read our articles published online, check out the Living Abroad in China section.
Volker Poelzl is a Living Abroad Contributing Editor for TransitionsAbroad.com. He has traveled in over thirty countries worldwide and has lived in ten of them in order to study, research, and work.