Why You Should Choose a Program with a House Share Option
A Semester of Language Study Abroad in Japan
Article and photos by Amber Bunnell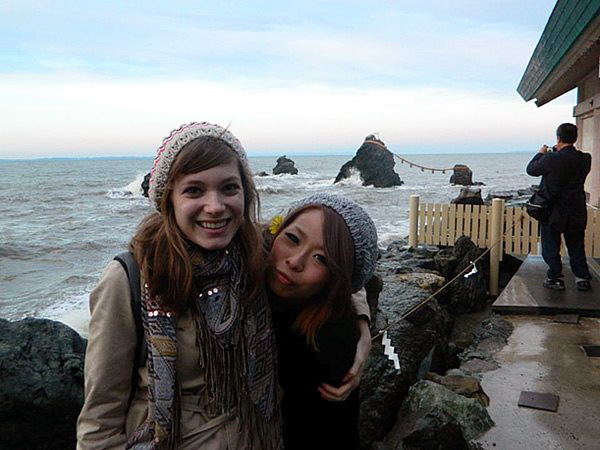 Iyo and author on a trip to Mie-ken.
Choosing a study abroad program can be overwhelming. Anyone who has started the process can testify that there are never-ending factors to take into consideration: location, academic rigor, cost, and language requirements only scratch the surface. Even though everyone has unique priorities regarding what they want out of an experience abroad, I would like to share why housing was a critical factor in my decision—and why I think it should be on the top of your list, as well.
When I decided to go abroad, I had two important criteria at the top of my list:
I wanted to go to Japan, where I could continue my two years of Japanese language study
I needed a program that offered courses that would fulfil my International Studies major
Even with those two factors in mind, there were still countless programs in Japan from which to choose. However, when I learned about CET's Intensive Japanese Language and Culture program in Osaka, I had a gut feeling that it was the right program for me, and it was their house share option that sealed the deal.  
Instead of offering a dorm or homestay option like most programs, CET pairs each of its participants with a local roommate in a house share. I was thrilled by the idea of living with a Japanese girl my age, who attended the same university where I would be taking classes, and who had applied specifically to CET to live with an American. Besides the promise of friendship, living with a roommate also seemed like an important safety net… as well as a chance to practice Japanese.
When I was accepted into the fall semester of CET Osaka, I learned there would be nine American students and nine Japanese counterparts participating. I received my roommate's information in August. I would be living in a house (called Sofia) with two other pairs of American-Japanese roommates. My roommate was 20 and her name was Iyo. I wondered if I had made the right choice, thinking about my friends who had taken the more traditional route and would have a host mother to watch out for them.
It turned out to be one of the best decisions I have ever made. When I arrived in Osaka, Iyo met me at a train station. It was a hot September night as she helped me roll my suitcase through the Aikawa neighborhood, toward the house we would be sharing. "What do you want to do in Japan?" she asked as we walked past dark homes and brightly lit convenience stores. "Your Japanese is so good. Can you read that sign? We're almost there! Here, have some ice cream."
Over the semester, we became close friends. She immersed me in Japanese culture, taking me out for roommate dates to eat yaki niku, and to visit Osaka tower. I helped her with English, explaining phrasal verbs and contractions at the kitchen table in the evenings. When I needed help filling out government residency forms, she was there for me. And when I'd start to get homesick or overwhelmed, she'd be there for me too, with some Japanese snacks and advice.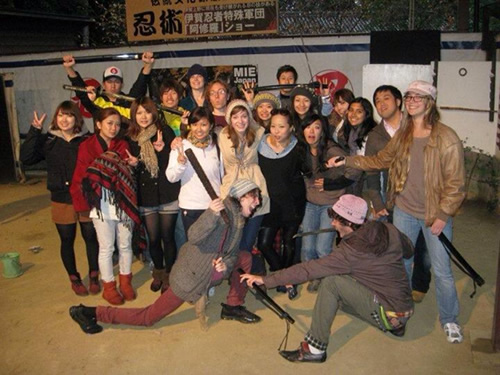 There were 18 people total on the language study program in Japan — nine participants were American and nine Japanese.
My relationship with Iyo validated my hunch that a house share was a fantastic yet under-explored housing option for students looking to go abroad. Of course, it's impossible to guarantee a good house share experience, but it is possible to guarantee an opportunity for one.
A roommate system like CET's offers fantastic possibilities for growth, friendship, and cultural exchange, more so than many of the more conventional dorm or homestay programs. What I found is that the house share option is actually a great middle ground between a homestay and a dorm; I had the independence of a dorm, with the cultural value of a homestay.
In Sofia, we each had our own private bedroom (so "roommate" was not a literal term) and kitchenette, plus a shared living room and bathroom. I experienced a high level of independence. I could cook for myself (which turned out to be a fabulous crash course in Japanese cuisine), invite friends over, and didn't have to follow a curfew, like some of my friends living in homestays. At the same time, I had more opportunities for cultural exchange than my friends in dorms who lived with other Americans and felt cut off from the local community. Living with three Japanese girls was a remarkable cultural experience! I absorbed lessons daily, ranging from where to leave my shoes in a Japanese house, and how to read the kanji on our washing machine, to the type of slang used by young people in Osaka.
Unlike a host family situation, my roommates were my age. It was easy to get along and have fun together. Every night there would be something new to do—Iyo made okonomiyaki for dinner, we took shopping trips downtown to Shinsaibashi, watched Japanese horror movies, and had long conversations over plum wine late at night. Most of the CET Japanese roommates had never lived with an American, which meant the semester was a meaningful experience for them, as well.
Through the house share program, both the Japanese and American CET participants fostered deep and lasting relationships with each other. Intercultural friendships are life changing, and most of my CET friends consider it the best part of their study abroad experience.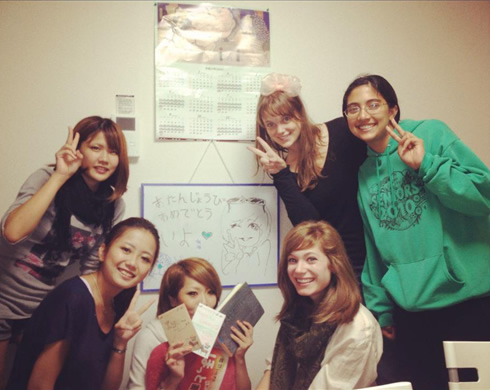 Our house members celebrating Iyo's birthday.
I am particularly interested in intercultural dialogue, but a roommate house share can benefit you no matter what your specific goals are. Living with Japanese roommates became the linchpin of my entire study abroad experience. The experience was beneficial both socially and academically. My Japanese language skills improved exponentially. I wasn't just using Japanese in class—I was also using it to communicate with my roommates through total language immersion. It's much easier to feel motivated to nail that grammar point or memorize that vocabulary list when the result isn't just a grade, but the ability to express more to your new Japanese friends. CET requires an interview-based research project, and my roommates were instrumental in my success there. I bounced topics off them, eventually settling on changing U.S.-Japanese relations. My roommates connected me with people to interview and helped edit my final presentation.
I also was able to see more of Japan, from a more inside perspective, thanks to my roommates. When I decided to spend Thanksgiving in Tokyo, it was my Japanese roommates who helped me purchase a night bus ticket. We often took Saturday sightseeing trips to Kyoto, exploring ancient temples and ramen shops together. They had local restaurant recommendations, advice on where to buy the cheapest chu-hai cocktails, and train routes memorized. Whether your goals are academic, linguistic, travel-based, or relationship-oriented, a roommate house share is very beneficial in many respects.
There is one final reason why I strongly recommend finding a program with a local roommate option. Unfortunately, study abroad ends. Unpacking your bags back home can make the entire experience seem like a distant dream. I remember my Resident Director in Osaka warning us not to let our experience slip away—to try to avoid "compartmentalizing" the semester. As I quickly discovered, having friends abroad is the best way to stay connected even after returning home. Two years later, I still send Iyo postcards and meet up on Skype. Several of my CET Japanese and American friends have visited me in Minnesota. I'm planning a trip back to Japan later this year. I know that I will have plenty of friends who will take me in, and many reunions to plan.
Each situation is different, but I encourage everyone out there to consider a house share if such an option is available when on program abroad. At the very least, your language skills will improve. At the very most, it might just change your life.
Amber Bunnell graduated from Macalester College in St. Paul, Minnesota in May 2014, where she double-majored in English and International Studies, and minored in Japanese. Her hometown is Savage, Minnesota, and she takes pride in being a first-generation college student. Amber traveled abroad to Osaka, Japan through CET Academic Programs where she took classes and interned at Osaka Gakuin University. She was deeply inspired by the program, returning home to found a Macalester organization dedicated to American-Japanese cultural and linguistic exchange.