Study Abroad in Germany: The Green Lifestyle of Eco-Capital Freiburg
Article and photos by Caroline Ludwig
View down on the Münster square in the Altstadt (old town) from a trail to Schlossberg in Freiburg, Germany.
On a warm September night, we're drinking a Rothaus brew at Augustinerplatz. Our feet are wading in the Bächle. The five of us pitched in for two 5-liter Flächen that guarantee free refills at the Biergarten, so long as we remember to bring the Fläche next time we go out. However, for now, we're five American students who've just arrived in Germany to study German and we're out for a drink in the largest Hausbrauerei near the student hangout city square. We introduce ourselves to a group of students neighboring us along the city's iconic sewer and chat with them for a while before meeting the rest of the program's group at Schlappen, in the city's Bermudadreieck street triangle of nightlife and watering holes.
Why Germany? 
Truth be told, I've always loved the sound of German. It's the official language of the European Union's economic powerhouse and of the Swiss bank trade. Not only is German the most widely spoken first language in Europe of over 100 million, its legacy is also scattered among other European countries, such as Hungary, Slovakia, Belgium, and Northern Italy. Germany the geographical center of Europe, and it's a leading player in modern world affairs.
Germany boasts a diverse role in Europe that spans from finance and engineering to suave Berlin fashion and design. It is a land of opportunity for many—thousands of Europeans from the Mediterranean and Slavic regions, along with Turkish and African groups, have found new homes in Germany. Since the 1970s, Germany has reawakened socially and reformed politically into one of the world's most transparent democracies. Its modern, forward-thinking cities balance its timber-framed villages and lush forested wilderness.
Where is Freiburg?
I once told a local friend that Freiburg has everything you could want and nothing in excess. It's a perfectly balanced concentration of charming historic neighborhoods stretching from the medieval Altstadt, the Albert-Ludwigs-Universität as the city's nucleus, and the Black Forest woodlands lining the urban outskirts.
While Freiburg is one of Germany's smaller and lesser-known cities, it has a distinct vibrant character. The city is now notorious as a leader for clean energy infrastructure. Nestled in the valley of the legendary Schwarzwald, Freiburg claims the throne as being the geographical center of continental Europe and holds the title for the sunniest city in Germany.
The Black Forest base has revamped itself as an eco-progressive "Green City" whose mission is to power the city entirely by renewable clean energy. And it's working. Freiburg's tram system pairs with bike lanes that match those of Amsterdam and Copenhagen. Solar panels glitter on the rooftops of residencies, office buildings, and even the football stadium. Recycling doesn't stop at paper and plastic—even the glass bins are color-coded. Bio shops and outdoor markets are plentiful, and a day in the Vauban quarters could provide your playlist a fresh jolt of reggae and tribal house.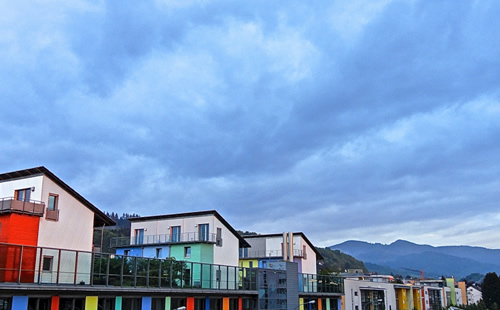 View of the "Sonnenschiff" building complex in Vauban from my bedroom window.
But the city is not just for hippies—the job production and economic profit resulting from the eco-industry and energy sector is remarkable. Case in point: Freiburg even has a luxurious GreenHotel and an "ecological" bank.
Freiburg is a place where 24/7 backpackers are people of all ages, where you can drop by the farmer's market in the main Münster square between classes for a fresh-grilled Bratwurst lunch, and some Black Forest cheeses and honey for breakfast. The Markthalle in the city's old newspaper publisher offers günstig world cuisine, and there is never a shortage of student clubs and pubs—even in your own student housing.
Stumbling upon Germany's wine region is also a delightful surprise when landing in Baden-Württemberg. The nearby Kaiserstuhl area provides Baden's domestic supply of Pinot. The old volcanic hill system makes for a scenic weekend hiking trip with some wine tasting splashed along the way. I even passed by a vineyard within the city on my daily route to class.
Selecting a Study Program
I researched two main organizations in order to select a German-speaking location: IES and CIEE. These are two very reputable names in study abroad and a safe guarantee for academic credit approval. While most of the activity is appropriately in Berlin, I was drawn to Freiburg for its active role in environmental innovation and the unique harmony of urban and ecological landscapes. Despite the region's role in German politics (the only state to have a Green Party minister-president), the collective mentality in the city is not as politically acerbic as in Berlin. Overall, there is an optimistic character about the city. The program's cultural focus is more future- than past-oriented. Freiburg's smaller size also offers opportunities to integrate more readily with German students.
While the city itself may be small, it is headquarters to three IES programs in Freiburg, along with hundreds of international students going to the Goethe-Institut and the Erasmus program. With IES, you can concentrate your studies on the European Union, Environmental Science & Sustainability, or Language & Area. I enrolled in the language program since the goal was to improve my German. The program offered quality German-level courses in contemporary German and EU politics and economics. I also managed to complete an internship with a major ecological institution. I even took a painting class with a local artist for academic credit.
With the Language program, we were placed into 3-week intensive language courses. The material also provided substantial background about Freiburg and Baden-Württemberg's historical development as a city. Context was offered for the contemporary political scene in which the Green Party thrives. The coursework assigned is immersive in nature, and is a head start for sampling local life by exploring neighborhoods, public art, and leisure areas (cafés, cinema, parks) of cultural significance.
As a Political Science double major, I could also have opted for the EU program. The main advantage to that program is the cross-continental travel, as the case studies take you to over 15 European countries, and concludes with the creation of a Model EU. But it was a priority to utilize my German skills and make a home of Freiburg. I was able to travel plenty during the weekends (IES includes Friday as part of the weekend, thereby allowing for weekend travel), long German holidays like Osterferien and Pflingspause—not to mention the week between intensive language courses and the University semester.
Location and Transportation
Cycling is the cornerstone of the Freiburger lifestyle. People of all classes, vocations, and ages get around by bike; the streets are lined with bike lanes and they often have the right of way. Bikes are found cheaply and easily, and can even be sold for profit at the end of your studies.
When it comes to traveling, it is wise to take advantage of your proximity to Euroairport and Switzerland while you have a home base in Freiburg. The Basel airport is centrally located, and therefore is the only other airport from London that flies essentially anywhere in Europe. AirportBus even provides regular shuttles directly to the airport from the central station—you just must remember the limit to carry-on luggage.
Switzerland is an expensive place, in itself, but offers some of the most majestic hiking and mountain trails as well as world class culture in nearby Basel. Arrange your lodging by couchsurfing and transport via car share or by bus to enjoy an optimal way to make the Swiss landscape your weekend getaway. Bicycle routes, maps, and travel guides for Baden-Württemberg are all available in the IES library.
Student Life and Immersion
Freiburg's university and eco-sensibility keep the city young. There is no hiding that the university is  the centerpiece. As an IES student, you are automatically subscribed to the University's International Student email list. It is also easy to find available activities on posters tagged around the university and student Wohngemeinschaft (WG) hallways.
As with hiking and drinking, Freiburg students are also big on visiting the Kino. There is a Cinemax for your Hollywood fill, but all the university students gather at Friedrichsbau Lichtspiele, Harmonie Arthaus, or Kommunales Kino in the old train station in the Wiehre neighborhood to view films. The Mensa cafeteria on campus also hosts outdoor film nights in the summer seasons and viewing parties for the Fußballspielen—you will return with an SC Freiburg fan scarf for sure!
The best ways I have found to break into a German community is to join a sports team (there are always up-to-date pamphlets in your IES student lounge), partake in your residency community, or find a language exchange with a tandem partner. Most of the residency areas have pub nights. Friendly brunches are available all the time. If you find that your Mitbewohners (roommates) aren't an ideal fit, speak to your program coordinators and they will help you.
I shared residency with largely international students from Bosnia, Turkey, Kazahkstan, and France; my housing on the terrace made it easy to meet German neighbors, as well. Having a tandem partner is an easy way to make a local friend and practice your German. You may also have more than one tandem partner—some students even have four!
You also have the opportunity for internships and part-time jobs—the Studentenwerk portal has a setup for international students. The Irish pub is always a good option for a job when you aren't fluent in German. With the help of my program, I found an internship with one of the city's major ecological education institutions.
What I Wish I Had Known Before Arriving
Despite what you may have heard, not everyone in Germany speaks English. You may have to acclimate yourself to this reality. While it's certainly not impossible to get around, don't expect to pick up the language with a pocket dictionary. Instead, just familiarize yourself as much as possible with basic everyday phrases by observing others when you arrive. Learn how to use a simplified form of English for others, if need be. Obviously, it never hurts to work on your German before and after you arrive!
Although I was thrilled to meet new students from across the country who shared similar academic and cultural interests, I found the intimate size of the program to be a bit socially isolating the first few weeks. Use this as impetus to expand your host country circles through extracurricular activities, student housing, tandem partners, or student jobs to keep your social life in a proper balance.
You might have been told that Americans are seen in some parts of the world as being uninformed and having poor taste. Whatever your perspective, if you are from the U.S., I believe that you should avoid being the "Anti-American American." You may wish to also use your time in Germany as a diplomatic opportunity to express your own views to locals and fellow students regarding the diverse culture and subcultures as well as the complexities of the American people.
I noticed that many American students didn't drink alcohol. Nothing wrong with that, and it is a matter of personal choice, but the drinking culture in Germany is far more sensible than that in the U.S.—where even a beer is a "forbidden fruit." It's normal to enjoy a couple hours in the Biergarten on a nice afternoon, and then go about your way. You won't find drunken aggression on the streets even in the later-than-late hours, and there is even a night bus system for the weekends (the times are 1:11, 2:22, 3:33, and 4:44—easy to remember after a fun night). Similarly, Americans are often thought of as silly for going so overboard with alcohol. Particularly in a city with a large local brewery and a plethora of regional wines, you might take this chance to open up to a cultural, geographical, and historical outlook that differs from your own traditions.
Caroline Ludwig is a student of Political Science and German at Texas Christian University. Originally from Fort Worth, Texas, she took her final year overseas to Germany's revered eco-capital nestled in Baden-Württemberg near Switzerland and the French Alsace. Life in Freiburg meant many a weekend scouting the trails of the Black Forest while blazing the city's bike lanes and bohemian sensibility. As a result of her experiences in Freiburg, and various other travels, she plans to pursue a master's program in urban design.