Falling in Love with Study Abroad in Italy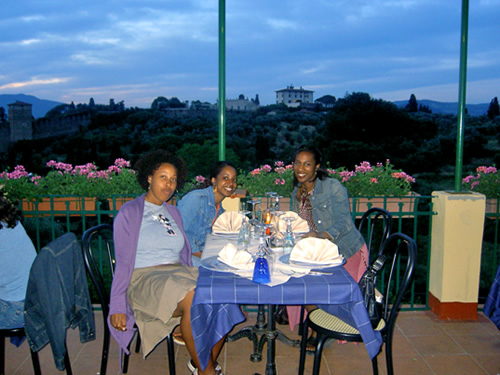 Enjoying dinner with friends in Fiesole, just outside of Florence.
I have always had a somewhat adventurous nature. Late in my final semester at college, I realized that I was still one credit shy of obtaining my degree. Instead of attending summer school I started looking into overseas opportunities. Although I considered programs in England, South Africa, the United Arab Emirates, France, and Taiwan—all places where I had traveled previously—my heart was truly set on exploring Italy once again. I had been to the country a number of times and had long since fallen in love with the people, the culture, and most importantly the gelato. Little did I know at the time, it would be a place where I would have three vastly different opportunities to study.
Searching for the Best Programs in Italy
After I decided Italy was where I wanted to study and that photography would be my focus. I scoured the Web for programs that met these criteria. Sites like studyabroad.com and iiepassport.org, as well as others, were invaluable in my initial searches.
If a transferable credit is your ultimate goal, and you do not enroll in a program affiliated with your university, it is imperative that you receive approval from your school for the course you wish to enroll in beforehand.
Once I knew which programs and courses my school would approve, I needed to decide which city would be home for a semester. All of Italy is rich in culture and history, but Florence quickly stood out as the city for me. Walking the streets where Dante, Michelangelo, Botticelli and Leonardo da Vinci worked and roamed seemed an ideal place to learn. In Florence, you can encounter the hustle and bustle of an animated city as well as charming backstreets and picturesque views along the River Arno. Its beauty and its past, and the added comfort in knowing there were more than 14,000 international students living and studying there each year rendered the Tuscan city an ideal place for my first true study abroad experience.
With over 40 study abroad programs to choose from, featuring courses like art history, printmaking, architecture, jewelry, fashion or interior design, cooking, performing and graphic arts, and language there is something for everyone there. After whittling down my list of possible choices from schools such as Lorenzo de Medici, Florence University of the Arts, and SACI (Studio Art Centers International), I selected a small art school called, Santa Reparata International School of Art to gain that one elusive credit.
Lessons Learned Even Before the First Day of Classes
With two monogrammed L.L. Bean duffle bags, my passport, a plane ticket, my enthusiasm, about 7 years of Chinese, and no Italian language study under my belt, I headed for a place I thought I knew at least a little about.
But guidebooks, organized tours, and articles can never completely prepare you for the "unexpected tensions" of travel abroad. Although I consider myself to be well-traveled and flexible in most situations, I found I was tested when I arrived in Italy. I quickly learned not to panic and to embrace every experience that came my way, good, bad or ugly, even when I wanted to pull my hair out or test some of the hand gestures used by local angry soccer fans or taxi drivers.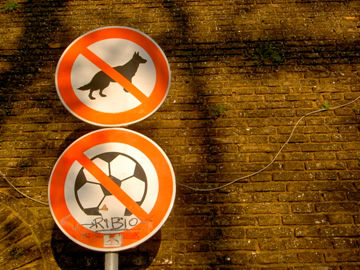 A couple of the many interesting signs in Italy.
First, Alitalia lost my luggage. Then an agent with a noncommittal shrug and pursed lips told me I might receive it within a week. Then I found that my penny-pinching plan of taking the local ATAF bus into the city was impossible due to a sciopero (strike). A word I came to see posted almost as much as I heard "ciao bella." So, after locating an ATM with a cirrus or star logo, I withdrew the necessary funds to take a taxi into the city.
Getting Settled in a New City
Thankfully I had arrived a few days early, an approach I recommend to allow yourself plenty of rest before your classes commence with time to become accustomed to new surroundings. In my case, early arrival provided valuable time to locate the necessary stores to buy toiletries and a few changes of clothes.
Because there are so many students in Florence, there are a number of ways to check out what is happening in the city:
Check messages boards at your school.
Read the free, bi-weekly English newspaper, The Florentine.
Browse the www.studentsville.it website, which provides information on all things relevant to you as a student—whether it be restaurants, clubs, upcoming events, hostels, hotels, and apartments.
Florence is an expensive city, so be prepared to watch money fly out of your wallet. Since the city is has a number of English speakers, don't rely solely on your English skills to get you employment. It is very competitive and positions that require English do not become available very often. You will find that once a position is filled a person usually holds onto it, often sacrificing more pay and advancement to remain in the city. If you are strapped for cash, the best bets are trying to find a job helping out with club or restaurant promotions, by checking out the postings at Internet cafes or at your school bulletin boards.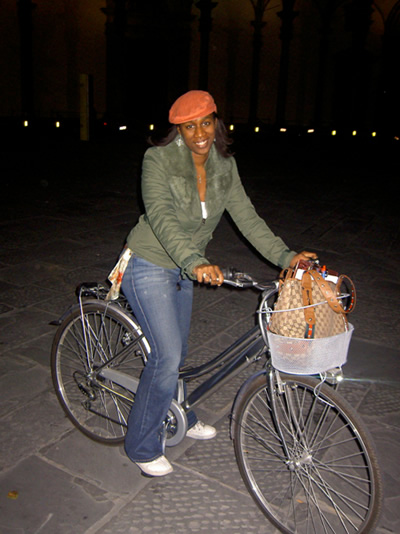 The author on her bike in Florence.
Managing Your Time in Florence
Because Florence is known as a party city among its student population, it is easy to get sucked into the nightlife, leaving little time for anything else, including classes. Always make sure to find a balance. A semester and even a year can go by quickly. Create a list of all the sites you would like to visit, locally and beyond, and make sure to see them! You would be surprised how many times I passed the Baptistery and the Duomo before I took a tour inside.
| | |
| --- | --- |
| | |
| With friends near the Piazza del Duomo, Florence. | The Palazzo Vecchio in Piazza della Signoria, Florence. |
Trapped in a Bubble
Since most of the historic center of Florence has been taken over by tourists and students, many Florentines live outside the city center. So it is easy to stay in a bubble of Americans, only experiencing the local flavor when you walk between your apartment and the classroom, or when you need to deal with the bureaucracy to get your permisso di sorggiorno within 8 days of your arrival in Florence (it is your permit to stay in the country for more than 90 days).
By the time my course in photography was complete, I found I still knew little about the place I called home for months. I had spent most of my time around other English speakers doing things we often did at home or traveling outside of the city or country on weekends to other European cities (using Trenitalia or low-cost airlines such as Ryan Air and EasyJet).
In the end, I only had myself to blame for not popping the bubble and attempting to speak the language, try new dishes, or simply to enjoy the "live for the moment" attitude of most Italians. I greatly enjoyed my time studying in Florence, but I did not really explore all its treasures.
The Second Time Around in Italy
After my first study abroad experience in Italy, I was already in love with the country but wanted to gain a more intimate understanding of the place I was now calling home. I longed for a deeper connection. I thought about a cultural exchange I had participated in on a Lakota Indian Reservation in South Dakota, and recalled that some of my fondest memories involved situations something entirely new was encountered. Whether it was watching preparations for the sun dance ceremony, making fry-bread with the women of the tribe or cow tipping in the dark with the local kids, I was learning about the richness of that community and more about myself through each experience.
Wishing for full immersion in Italy this time, I attended a language school that I had heard about in central Italy's Le Marche region. Even though I had stayed with host families twice before, once on the reservation in the states and during my time in China, I was apprehensive, because unlike my other experiences, my grasp of the language was less than basic and my host family spoke no English. However, my worries were unwarranted. My host family was used to having beginning Italian level students in their home. Through a mixture of hand signals, a dictionary, and broken Italian phrases we were able to carry on conversations and share many laughs along the way. Day or night, it didn't matter, my host family always smiled and sometimes giggled at my attempts to speak Italian. But my warm and hospitable hosts always made every possible attempt to help me find the words I sought without making me feel foolish.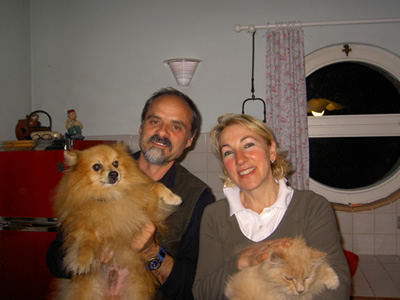 My host family.
When learning a new language you must leave your pride at home and travel with patience and good humor. You will undoubtedly stumble and say ridiculous things along the way, but ultimately you will leave knowing more than "ciao" and "buona notte."
Language Programs
There are so many language programs to choose from, and after my time in Florence surrounded by other Americans and English speakers, I thought it would be best to find a more quiet setting away from tourists, partying, and masses of students.
At Centro Studi Italiani's language program, situated in the medieval town of Urbania, about 17 km from the region's capital of Urbino and about a 2-hour train ride from Florence (with a change in Bologna), I found what I was looking for.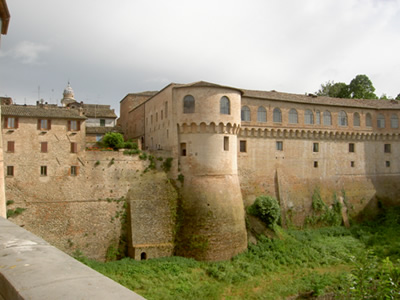 Urbania city walls.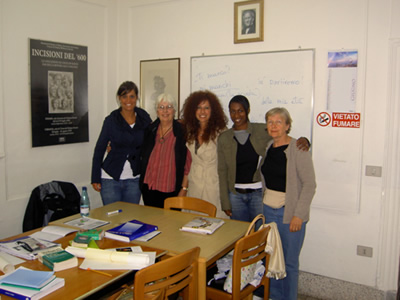 Language class in Urbania.
Besides practicing my language skills in a small class of six and with my host family, I enrolled in a cooking course provided through the school. Twice a week, during my month-long stay, a group of students would make the long walk up to a small family-run bed and breakfast where our cooking classes were held in Italian. It was a great way to not only hear the language spoken outside of the classroom, but it allowed me the opportunity to try my hand at some of the Italian dishes I had grown to crave.
Cooking school in Urbania.
And Here I Go Again
When I decided to go back to school to obtain a master's degree in Creative Writing, I knew I wanted to incorporate an international component to my learning, but I wasn't sure if I wanted to move abroad or complete a program in the U.S. I looked at traditional programs in England such as Bath Spa University, and the University of East Anglia, as well as low residency-based programs featuring an overseas option such as the University of New Orleans, Chatham, and Spalding University.
I was instantly drawn in by the idea of trying to maintain a writer's schedule at home, where life's hurdles can undoubtedly get in the way, with the idea of having a few intense weeks at an international residency in London, Bath, or Buenos Aires where my writing could be enhanced by the change in scenery.
Now that I am in my final semester and heading to Rome, the Eternal City, as well as an isolated farmhouse in Tuscany this July for my graduate residency, I feel I am coming full circle in pursuit of study in Italia. Along the way, I have learned that once you open yourself up to the possibility of learning you will always learn and in some cases fall in amore.