An American Student Intern in Athens
Exploring a Great City
Article and photos by Stephanie Ferrarie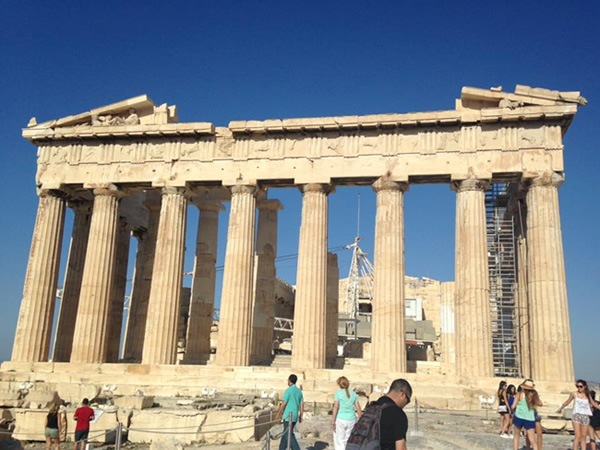 The Parthenon at the Acropolis.
I found my internship at the Hellenic American University (HAU) in Athens, Greece, during a frantic yet serendipitous last minute search for internships in Harvard's database. It was a position in HAU's academic affairs department, unpaid because I wasn't eligible to work in Greece, but the university provided housing. When I received the offer to come to Athens, I had to figure out whether I could swing the expenses—flight, food, transportation—living there for nearly seven weeks. I applied for a summer stipend from the Institute of Politics, and I received $2,000 for my expenses, allowing me to accept.
Settling In
I had never left the United States before, and even though I had traveled by myself to places where I didn't know anyone, going to Greece was nerve-wracking for both my parents and me. I was in communication with the two directors of the internship, and they provided little information about those with whom I would be living in the apartment, and what I would be doing day-to-day. Aside from being Americans who are used to receiving all information up front, it was frustrating for the type-A people that my parents and I are to have so little information, and for such important information to be inaccessible. The internship program, like the University, was small and there was little research that could be done on the University's sparse website. After an exchange of nearly 20 emails, we were satisfied that I would be in good hands. In retrospect, the lack of forthcoming information wouldn't turn out to be very surprising; Greeks are very casual (though hardworking) about deadlines. The change in approach was quite an adjustment for me to make while living and working in Athens since everything started at least 15 minutes after the stated start time.
I lived in an apartment with six other Americans and one year-round student at the University from HAU. I didn't speak Greek, so my flat-mates were the easiest people with whom to make friends. Like most of the apartments in Athens, ours looked like it belonged in the 90s, with outdated appliances and air conditioning units, which were necessary when the temperature was 95 degrees every day (I brought sweatshirts and pants, and I never needed them). I cooked most of my meals, and groceries were very cheap, especially when you're cooking for one. I spent an average of 20 euro a week for groceries and meals. We had a grocery store down the road, but there was a farmers' market every Saturday where you could buy fresh produce at an even lower price! The fruit and vegetables were always very fresh, and the market was so lively with vendors that I made sure to go when I could.
The Neighborhood
The apartment was situated in a neighborhood called Exarcheia, where the walls were covered in graffiti created by the artists, anarchists, and politically-active students who live there. On my last day, I strolled around to take pictures of all the street art—most was very impressive, though there were also simply words spray-painted on a wall. Perhaps, if I knew Greek, I would also think those words were art. Exarcheia was safe from what I could tell, but I knew that there was a reason that riot police lined main streets nearby. The younger generation, who typically populated Exarcheia, would riot against the government because they felt that it was poorly mismanaged and could not find jobs. There's certainly a degree of "brain drain" of the younger generation of Greeks as a result of the financial crisis. Many of the young Greeks that I knew were interested in studying or living and working in the United States because they were so frustrated by their job prospects in their home country.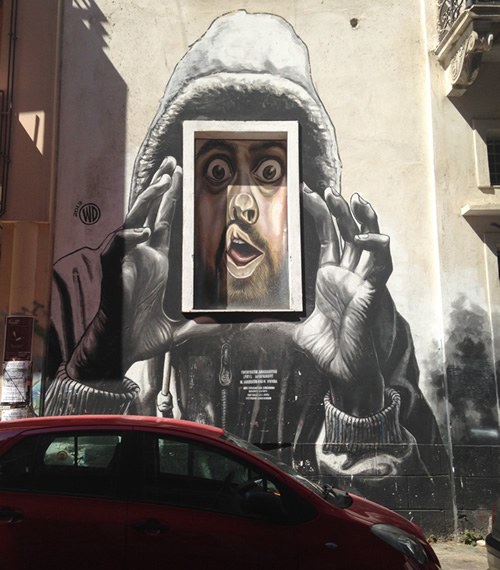 Street art in Exarcheia.
The Atmosphere in Athens
I got the feeling that Greeks were very self-conscious about the financial crisis. Many times during my stay in Greece someone would ask me whether I could tell that they were in troubled times, or if I felt safe in Athens. Given that tourism is their most important industry, I would understand why they would care about how an American tourist sees Greece. Many things I saw in the city were put into context by my knowledge of the financial crisis, including the attitudes of the youth and certain existing political movements. Sometimes, while I was riding the metro, people would walk through the cars selling bags or tissues to the passengers for extra money. Rarely would I see homeless people in Athens—there were much fewer than I would see in New York or Boston, and they would never be living in the subways. Athenians were generally very well-dressed and appeared still able to afford nice clothes and expensive meals. The streets were swept and there was never trash left on the side of the road due to the omnipresence of municipal trash disposal bins. On a superficial level, Greece didn't seem like a country unable to support itself. I felt very safe and comfortable while in Athens, knowing that crime in Greece wasn't usually violent—pickpocketing would be the worst crime that could happen, and you usually wouldn't even be aware of its occurrence until after the fact. Knowing this, I kept my wallet in my hand whenever I was in public, and I never had any trouble.
Exploring Athens
The flexibility of my internship allowed me a lot of time to explore the city and travel in the country. I used the metro often, the most beautiful subway system I've ever taken, a result of improvements made in time for the 2004 Olympics. In Athens, the metros were kept pristine, and inside some of the main stations there were displays of Greece's abundant archaeological treasures, much like a museum. Additionally, it was incredibly easy to navigate the subway since all signs were in both Greek and English. Athens' public transportation system could take you nearly anywhere in the city, and most sites and monuments were within walking distance of each other. Cabs are available, but they often take advantage of people (including Greek speakers) and charge extra by either not turning on the meter, or making up extra charges for things like picking people up from the bus station. I learned during the last week of my stay that cabbies are legally obligated to take you to the police station if you want to get the police involved about an unfair fare. To avoid getting scammed, my roommates and I used an app called TaxiBeat, which is similar to Uber because it calls only TaxiBeat cabs and charges you within the app, so you always get the correct fare.
Many afternoons were spent walking around the city to see some of the typical tourist locations, like Monastiraki, the shopping district with many competing souvenir shops, or the Plaka, the quaint pastel-colored neighborhood beneath the Acropolis full of restaurants, jewelry stores, and stray cats. I saw the Acropolis, the Ancient Agora, and the Acropolis Museum—three "must-sees" in Athens. But, after living there for seven weeks, I began to find that there are more "must-sees." For example, Lykavettos Hill, the highest point in Athens, can be hiked in a mere 15 minutes. There you can see the entire city—the Acropolis, the port to the Aegean Sea, and the urban sprawl of white apartment buildings spreading into the hills. There's a pretty white church up there as well, and I witnessed a wedding, by chance, during my visit.
Most museums and monuments offer generous discounts to students—usually 40-50%—which saved me a fair bit of money. I went to the Benaki Museum of Greek Art and Culture, which is free on Thursdays, and offers an excellent chronological display of Greek history through 36 rooms representing different rulers and regimes. The National Archaeological Museum also houses an immense collection of sculptures, reliefs, and artifacts from Ancient Greece and the Roman period. Since I had so much time on my hands while in Athens, I planned my activities around museum hours and free admission days. I also considered the temperature—I couldn't bear to walk very far during the height of the day's heat. Even so, I did a lot of walking around Athens, at least four miles a day, and yet there remained many places that I had never seen before.  
The metro connects to the tram at multiple points on the lines, and the tram goes south and runs along the shoreline to all the beaches. I went to the beach at least once a week, and I thought that Athenian beaches were overrated. It was a talking point if the beaches had sand since most were instead composed of stones on the shore, which are uncomfortable to walk and lounge upon for the obvious reasons. Many beaches, public or private, provide beach chairs and umbrellas, sometimes for rent or with the cost of admission. Along the tram line you can find at least 20 beaches of varying crowdedness, quality, and cost. I usually went to the free beaches, but they seldom offer restaurants where you can enjoy lunch. What's worth raving about is the water—it's so clear and blue and refreshing. The best Athenian beach I went to was on the Kalamaki stop at a beach bar called Costa del Sol, where the four or five euro admission covered amenities like beach chairs, umbrellas, facilities, and access to the bar that included wifi.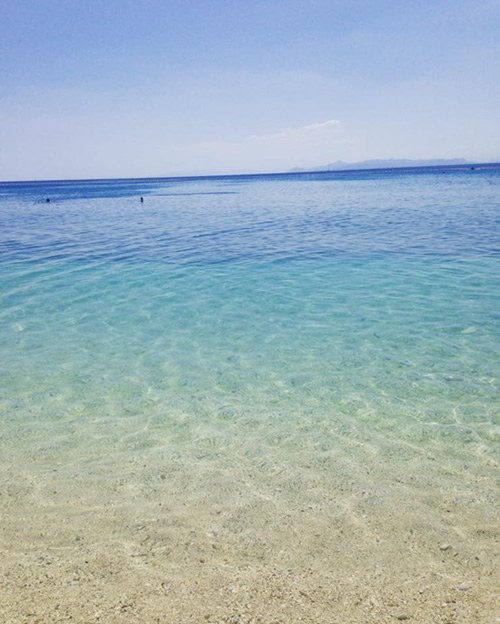 The water at the Athenian beach at Costa del Sol.
Excursions Outside the City
I went on many excursions by myself, so I got quite used to being alone and making friends with strangers, usually other tourists. When I went to the Temple of Poseidon, about a 2-hour bus ride from the center of Athens, I met a German, a Spaniard, and an American on the bus and spent most of my time in their company exploring the Temple. I found that I liked European tourists much more than the American tourists that I had met over the course of living in Greece. Europeans, in general, were more likely to use Greek words and make an effort to learn some Greek to communicate, whereas I observed American tourists plunging forward with English unabashedly, using more complicated words than most Greeks are used to hearing. The Greek shopkeepers and waiters that I met were always much friendlier if I started the conversation in Greek, even if we had to switch to English to continue. Those conversations, though short, gave me a fuller picture of life in Greece for the average citizen, and I felt much more connected to Greeks as a result—since I already spent a fair amount of time with Americans.
Because I was living in Greece, simple words like thank you and hello were easy to pick up, but because everyone speaks English it wasn't necessary for my survival to learn Greek fluently. I learned the alphabet and the sounds each letter made, so I was able to read the words even if I didn't know what they meant. There were plenty of times I wish I knew Greek to read menus or eavesdrop on a local conversation. Sometimes I'm glad I didn't know Greek, as when men my father's age would catcall me on the street when I was wearing a dress.
After my summer internship, I decided that I was glad that I didn't go to Greece with a summer abroad program. Summer abroad was expensive, and an internship allowed me to live for free in Athens. I thought that living without my friends or family, only roommates I had never met before, gave me much more independence and empowered me to explore the city, meet new people, and truly engage in the culture. I considered myself more than a tourist—I actually lived in Athens, creating a life with a routine, an apartment, and a favorite bakery. While sometimes it was lonely, in retrospect I wouldn't give up the opportunity I had to immerse myself completely in Greek culture.
Resources for Navigating Athens
Before coming to Greece, it was hard to find information about where I was living, the university at which I was working, or other perspectives from people who live in Greece. Greek websites (which end in .gr) seem not to work as well when accessing them from the United States, so the breadth of information on the Internet that could be found from Greece is quite hard to uncover. However, once in Greece, there are a plethora of Greek websites that I used to stay informed, as well as guidebooks to help me find and explore new places.
Some handy Greek websites are odyssey.gr and www.ekathimerini.com. The first is a tourist website that connects you to other helpful websites about where you migh wish to go in Greece. It is a blog first and foremost, but it is still helpful for getting the most information about an attraction before you go, and from multiple sources. Ekathimerini is a news source, in both Greek and English, which allows the non-Greek speaking tourist keep up with what is going on in the country, find events nearby, and stay informed about the world from a Greek perspective.
Matt Barrett's Athensguide.com and greecetravel.com were tremendous resources when I realized how much, or how relatively little, time I had to explore the country. The countless articles about places to see, eat, and visit, along with anecdotes and recommendations helped plan my time in Athens and Greece according to what sounded most interesting. In addition, Barrett included directions from the center of Athens to nearby attractions using public transportation. Barrett, obviously living in Greece and Athens for extended periods of time, completes the online guide with links, references, and pictures to provide you with the full experience before you actually go.
Rick Steves' Greece: Athens and the Peloponnese served as a Bible to me during my stay in Athens. I had another guide book that could not compare to its organization, facility, and value. It was easy to navigate. There are sections where you are in Greece, then further split into area orientations, "must see" destinations and excursions, where to stay, and where to eat. Instead of simply listing hotels and restaurants that go along with key attractions, Steves lays out the "must see" destinations with anecdotes, history, and whatever else is interesting about the location. There are separate sections about embellishments such as where to stay or eat, ordered according to price, type, or cuisine.  Additionally, there are multiple written walking tours of main attractions suggested, including the Acropolis, the Acropolis Museum, or Monastiraki. The walking tours are valuable in more ways than one: they offere important history about the sites like having a personal tour guide, but without the exorbitant price (you could pay about 40 or 50 euro for a tour guide at either the Acropolis or the Acropolis museum, whereas this book can tell you the same information). I took the book everywhere I went—Santorini, Nafplio, the Acropolis. It got to the point where my roommates began predicting that every fact I've read about Greece came from a guide book (it usually did). For someone who stayed as long as I did, this book is immensely valuable and accessible to a long-term traveler, perhaps even more so than to a short-term tourist, because most tourists cannot visit all that is covered in this book while on vacation in Greece.
Stephanie Ferrarie is a junior at Harvard University studying psychology and history. At school she is involved in theater production, mental health advocacy, and dance. She grew up in Brookfield, Connecticut, and attended Brookfield High School, where she was a competitive swimmer and valedictorian of the class of 2014. After college, she hopes to travel to France and pursue a career in theater production, event planning, or management.