Living in Switzerland
The Reality is More Complex than the Image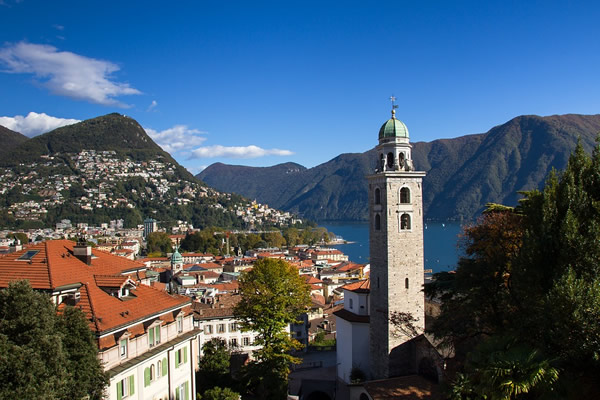 Monte Bre, above Lugano in Ticino, Switzerland.
The image of Switzerland abroad—of purity, punctuality, precision—is entirely different from the reality within its borders. After four years, I am beginning to see that Switzerland is a far more complex country than first meets the eye. It's a country that takes a long time to get to know, and it's a country that takes even longer to get to know you, the stranger. It's not a place to expect instant bonding and bear hugs.
Life for an expat in Switzerland can vary considerably from one place to another. There is a big difference between the German-speaking cantons, in the north, east, and center of the country, and the French- and Italian-speaking cantons in the east and the south respectively. Apart from the obvious language differences, there are differences in the economy, cultural history, cuisine, political persuasions, climate, architecture, and the educational system.
Whatever its complexities and contradictions, Switzerland offers a lifestyle that most of us dream of, and it remains deservedly popular not only with the 10 million tourists who visit every year but with the 100,000+ of non-Swiss who make it their home.
Health
Switzerland has a reputation for high-quality and efficient healthcare. Relative to the U.S. it is affordable, though residents of countries where healthcare is free or heavily subsidized will find the monthly cost of the obligatory health insurance quite shocking. A family of four could easily spend more than $800 a month for fairly standard insurance, dental care not included. All residents must have medical coverage, and you are given the first three months of your stay to sort this out.
Shopping
Urbanites looking for a calmer existence will welcome the smaller shops, the communities with butchers, bakers, and shoe-menders. Although there are plenty of supermarkets in Switzerland, the choices and hours may take a while to get used to. Closing times are 12:15 and 2 p.m., like many other shops and the post-office. Swiss farmers are among the most highly protected and subsidized groups of producers in the world—over 50% of Swiss agriculture is subsidized. In addition, the cost of food is very high, both in the supermarkets and when eating out. This can have serious implications for lifestyle, particular for North Americans who may be accustomed to take-outs and dining in restaurants.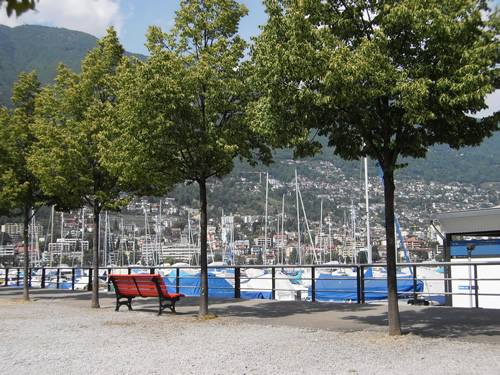 A port in Ticino.
Education
The standard of education in Switzerland is high, though it is difficult to generalize since the cantons are responsible for education. Kindergartens exist in all but the most rural areas and are free (operated by the local council). But there is no state-run nursery or schooling for younger children; lack of affordable childcare for pre-school children is a common complaint. Expats often remark upon the "streaming" of kids: children are divided based on their perceived abilities. While streaming is nothing new—in some cantons this can take place as young as 10 or 11—it can be quite a shock for expat parents. The notion that junior can float toward his future, finding his way later in life, is not a notion that finds much favor here. University education is for a minority. More than 70% of Swiss kids are trained in vocational schools of some sort. Switzerland offers a good choice of private schools, many offering an international, British, or American-based education. Expensive, yes, but many lucky expats have this as part of their relocation package.
Socializing
In general, the Swiss are as reserved as the British. They probably won't approach you or invite you out until you have invited them. Acquaintances will respond favorably if you invite them over for coffee, pizza, or a grilled dinner if you want to get to know them better. You can also take evening classes or join a sports club, and—most importantly—learn the language. When you see how many job vacancies are filled through the "who we know network," you will understand the importance of social networking in Swiss society. Don't underestimate it. Attend local community functions and those tedious meetings at the kids' school, even if you don't understand what is being said. Your absence will most certainly be noted. Probably the most important piece of advice with regards to socializing is punctuality. You will be expected no later than five minutes after the arranged time.
Money and Banking
A Swiss bank account has always been synonymous with fame and fortune. As a resident in Switzerland, you too can have a Swiss bank account. Banks charge for the bank account and for a credit or debit card. Mortgage interest rates are comparatively low. In spite of all the plastic options available to them—Internet technology, direct debit, and telephone banking—many Swiss seem to prefer cash. At the end of each month post offices will be full of people paying bills in cash.
Accommodations
The majority of Swiss rent rather than buy, and tenants are protected by excellent rights. A 100-square-meter apartment in a major city like Zurich or Geneva will start at around $1,500; expect to pay much more for something bigger or centrally located. Subletting is common—good news for expats who may not want to be tied to a long contract. Apartment blocks have communal laundry rooms, which you have access to only on designated days, and communal heating systems. In general, tenants behave in the most considerate of ways: no noise before or after certain hours, garbage to be put out at certain times, and all separated for recycling. Recycling is a way of life in Switzerland.
Transport
There's an excellent train system throughout the country and reliable public transport within the cities. Though the trains represent good value, especially with a half-price card, the buses and trams are quite expensive for single tickets. In many cantons kids under the age of 12 travel free.
The Icing on the Cake
The Swiss eat more than 10 kilos of chocolate (around 22 pounds) every year. There is a greater selection of chocolate in my supermarket than fruit and vegetables. Everything that anyone says about the beauty of Switzerland is only half the story: waterfalls, glacier-fed creeks, rivers, lakes, pastures, breathtaking mountain vistas. Switzerland is safe. The crime rate is low (particularly for violent crimes) and it is a good place to raise your family. My daughter has walked alone to school since her second week here, at the age of eight. Life in Switzerland motivates people to do something they might not do at home: hiking, cycling, water-sports, skiing, and snowboarding are all common, easily-accessible weekend pursuits. Switzerland has a comfortable climate without extremes of temperature. It frequently snows in winter, but in the south the climate is almost sub-tropical: palm trees thrive and sunshine is the norm. Though it reveals itself slowly and is cautious and protective, at its core Switzerland promotes harmony and peace. In this day and age, ideals such as these seem almost quaint...but terribly attractive.
Resources for Living in Switzerland
Books on Switzerland
Living and Working in Switzerland, Tenth Edition: A Survival Handbook by David Hampshire contains good advice and makes murky red tape clearer.
Why Switzerland? (3rd edition) by Jonathan Steinberg. Perceptive, and well-written for those who want to understand more about the country.
Useful Sites on Switzerland
Justlanded Switzerland Guide: Information for expats in Switzerland, including a list of embassies and information on visas and work permits.
XpatXchange.ch: This one-stop shop for English-speaking expats is full of advice, businesses, addresses. Most useful once you've arrived in Switzerland.
Expats-in-Switzerland. A yahoo groups discussion forum full of good advice about many practical issues from moving to Switzerland to finding peanut butter and maple syrup. From here you can find a large list of more specific newsgroups and online communities for Switzerland.
Swissinfo.ch: A wealth of current news stories, culture, travel, weather, politics. All you need to know about Switzerland today.