Teaching English in Thailand: A Day in a Teacher's Life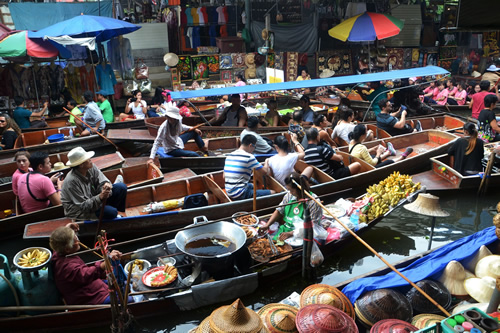 A floating market in Bangkok.
Hands tighten as the 110cc motorbike speeds towards oncoming traffic. We weave left to avoid a car, then cut right to the curb—jump it at a low point, walk the bike over the median, and hop onto the main highway. I clench the bar behind the seat and try to relax, but my chest feels tight.
Twenty minutes later, the driver slams the brakes in front of my school. Shaking my hands, I dismount and hand him 80 baht (about $2)—then wobble into the building.
I dash to the cafeteria for Khai Jeaw (omelette) and douse it in chili powder, chili oil, and ketchup. My tastes are turning Thai.
I finish the meal just as the bell rings...off to teach.
I've been living, studying, and teaching in Thailand for almost two years. I came here as part of a distance learning TESOL program. After finishing the Masters I tried a brief stint in Japan, but Thailand called me back.
Teaching jobs in Thailand, and especially Bangkok, are everywhere.
A wide variety of positions exist for a full range of qualifications. In fact, it is possible to work in Thailand without a college degree, although many such jobs pay under the table and require frequent visa runs to neighboring countries.
Most schools, however, require a Bachelors degree, in any subject. A degree opens the door to most private language schools. Many have branches throughout Thailand—with a particularly large concentration in Bangkok. These range from tiny, family-owned businesses to large corporate chains. Many do not require teaching experience.
The quality of language schools varies considerably. Sleazy operators sit side by side with reputable corporate organizations. It pays to ask questions, visit the school, and talk to other teachers.
A 1-month TESOL certificate opens access to higher quality jobs, particularly at the more reputable chain schools such as AUA, ECC, Inlingua, and the like. Though the work is not easy, these schools have reputations for reliability. Most pay in the 300 to 500 baht per hour ($US10-US$15) range. Some, such as ECC, offer their own 1-month certification course.
Community colleges, some universities, and small international schools offer another option for those with a teaching certificate and some experience. Todd Huey, a friend of mine, has taught at both. His current job is at Mehta International School, about 35 minutes outside of Bangkok. He notes, "I teach small children in a nice environment, and make about 42,000 baht a month." Ajarn.com provides an excellent starting point for such jobs, as do The Bangkok Post and The Nation (Thailand's English language papers).
Next up the qualifications ladder: a Masters in TESOL. This opens opportunities in universities and some larger international schools. Pay varies from university to university, but these positions generally offer easier teaching loads and a more relaxed schedule. For example, Thammasat University pays a base salary of 25,000 baht a month for 12 teaching hours per week. Chulalongkorn University's Continuing Education Department pays 32,000 baht a month for the same 12-hour teaching load. Other reputable universities include Bangkok University, Chang Mai University, and Mahidol University. Most hire regularly during semester breaks in May, October, and February. Check their websites, and the classified section of the newspapers during these times.
For more information about finding a teaching job in Thailand, see "The 10 Day Job Search: Thailand" on this site.
Class Over
After class I stroll to Lumpini Park for dinner. An array of food tents line the parking lot. I hustle to my favorite—which makes the best Som Tam (spicy papaya salad) in the city. Making the dish is an art form... even in Bangkok its hard to find great Som Tam. A little too much sugar, or oil, or tamarind, or lime, or chili and the balance of flavors is lost. But properly made, it's divine.
I sputter in sparse Thai, but the owners know me and have already started my order.
Sipping water under the setting sun, I wait, kick back, and watch people stroll through the park. When the order comes, it exceeds expectation. Eyes and nose water from the chilies. I inhale the salad, gulp a liter of water, wipe my nose, pat my belly, and smile as I try to imagine the bland food I favored at home. I can't.
Charge for the meal: 50 baht; just over a dollar.
When I first arrived, I thought often of home. But 19 months later I rarely think of the States. Thailand's rhythms, flavors, sounds, and colors have captured me. I feel no nostalgia or homesickness. I can't imagine returning to the hectic grind. I don't miss the bland food or the dulling routine.
Life in Thailand hums with the exhilaration of new smells, colorful sights, clashing sounds, burning tastes, and intense sensations. I love the stimulation. I love learning something new everyday.
But while Thailand stimulates some, it overwhelms others. Simple tasks—finding a restaurant, ordering a meal, taking a taxi,renting a movie, getting a phone, commuting to work—regularly challenge and provoke.
For example, during the first five months in Bangkok I could not pronounce the name of my neighborhood. Every time I said, "Bangyikan" taxi drivers stared blankly or waved me away. I spoke slowly; I tried every possible variation of pronunciation, I gestured. Nothing worked.
For five months I suppressed frustration and settled for "Khao San Road" (a backpackers spot every driver knew)—then walked 25 minutes from there to my home.
Then one day, inexplicably and with no change I could discern, I succeeded—the driver waved me in. Grinning from my small victory, I slid into the car.
Cultural Adjustments
Bangkok churns with people and machinery. Pollution, traffic, and noise contend for the title "worst in the world." Noise, in particular, maddens the most tranquil of souls. Motorcycles, tuk tuks (3-wheeled rickshaws), cars, buses, construction machines, outdoor loudspeakers, karaoke bars, and stray dogs contribute to the constant racket.
Noise assaults the ears everywhere and at every point in the day. The constant clatter takes its toll- leading to irritability and tension.
As therapy, I leave the city every three months and head to a quiet island to snorkel, dive, and lounge on the beach. This heals frayed nerves so that, rested and relaxed, I can return to enjoy the city's more positive features: tremendous diversity, an incredible variety of food, good music, great nightlife, cheap movies, and beautiful temples.
A Thai mentality, however, offers the best prevention for frayed nerves. The Thai's favorite expression is mai pen rai, which translates roughly as "no worries." Stuck in traffic: mai pen rai. Late for class: mai pen rai. Irritable from noise: mai pen rai. Broke, desperate, and hungry: mai pen rai. Thais value a cool heart and a laid-back attitude. Imitating them presents the surest guarantee of an enjoyable life in Thailand.
Adopt mai pen rai as a motto and everything will work out fine.
Evening with Friends and the Ride Home
From Lumpini park I flag a taxi and zip to the Baghdad Cafe. Crowded between small wooden tables, grimy walls, tattered tapestries, and a mix of tattooed Thais, I find my friends. We smoke flavored tobacco from 4-foot water pipes. Blue haze fills the narrow room—a hint of debauchery hangs in the air. We lean against the wall, smoke, and lounge.
Two hours later, I leave the cafe, walk to a motorcycle taxi stand, hop on a bike, and grip the bar behind the seat. "Bangyikan," I say. Hands tighten as the driver punches the accelerator, weaves into the street, then cuts left towards the main road.
I clench the bar as he speeds into traffic. As we cross Pinklao bridge, the Rama VIII suspension bridge rises to my right burning bright in the night sky. Turning left, I glimpse the stone spires of Wat Arun Temple bathed in floodlights.
We speed off the bridge, whip a u-turn, and cruise into Bangyikan. Hands relax as the bike glides to a stop in front of my apartment. I hand 40 baht ($1) to the driver, shake my hands, and wobble to my room.
Exhausted, I fall on the bed.
ESL Jobs in Thailand
Ajarn.com: The best all-purpose ESL job board dedicated to Thailand.
ESL Cafe: The international job board, which often carries Thailand job postings.
ESLJobfeed: Tons of ESL Job postings in Thailand.
AUA Language Center: A reputable school with several branches.
The British Council (Thailand): Located at the fringes of Siam Square. The Chulalongkorn Continuing Education institute is located in the same building, upstairs (only open on Saturdays and Sundays).
The Bangkok Post: Check the jobs section for postings.
The Nation: Another good source for teaching jobs.
Thammasat University: One of the top universities in Thailand. Two campuses, one in Banglumpoo (on the river) and the other at Rangsit (north of the airport).
Bangkok University: Another reputable university in Bangkok.
Mahidol University: Located about 40 minutes outside of Bangkok.
Chang Mai University: Chang Mai's biggest university has a large scenic campus.
A.J. Hoge currently has a Masters degree and over 10 years of English teaching experience. He lived and taught in Bangkok, Thailand.