Leading Student Groups Abroad
Rewards Make the Summer Work Worthwhile
By Slawka G. Scarso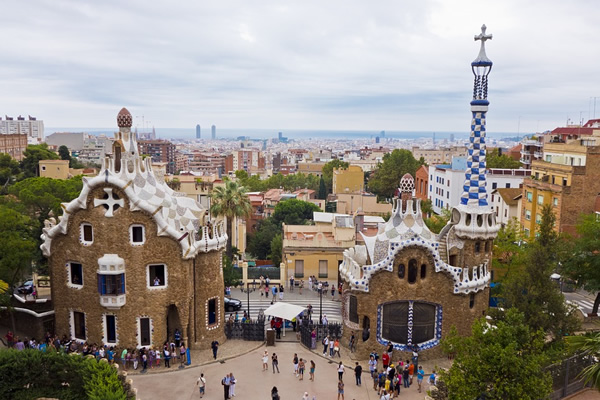 Leading student tours can often involve visits to places such as Parc Guell, designed by Antonia Gaudi, in Barcelona.
Teenage and children programs are offered around the world, most with the objective of creating a fun environment where students can learn a foreign language. You can find links to many of these organizations on this website (see below). The programs vary widely.
For example, Abbey Road Overseas Programs looks for group leaders for its summer language vacations in locations ranging across Europe; group leaders in this case are required to organize leisure time activities or take the group of teenage students they are responsible for on sightseeing tours after their language classes. Another organization, LEAPNow, seeks trip leaders for groups of teenagers spending a whole semester in Central America, as well as Australia, New Zealand, Fiji, or India. In addition, many other organizations offer such summer employment opportunities.
Group leaders are often required to be 25 or older. Previous experience with teenagers or children is very important. A strong knowledge of the country leaders are traveling to and of its language is also relevant and in some cases a must.
Application forms for summer programs need to be sent by January-February of the same year, and six months prior to departure for semester programs. If the candidate passes the first screening, an interview will follow. Before the work starts, compulsory weekend or week-long training sessions are offered, to give group leaders all the information they need to work properly. Companies usually provide accommodation along with the students, and pay for travel to the country.
The best thing about such jobs is that you travel and experience life in a new country at low cost. Some tour companies, though requiring candidates to be available for the duration of summer, give weekends free so leaders have time to do some sightseeing on their own. As foreign leaders work side by side with local ones, it is an excellent chance to get to know the country of destination even better by meeting locals.
I've slept very few hours each night during those weeks, and there were times when the kids really got on my nerves. Still, when we eventually got back home, I couldn't help but to be moved as I saw all the students crying while they said goodbye. Even thinking about it now, makes me want do it all again.
For More Info