Teaching English in Paris
Where There is a Will, There is Always a Way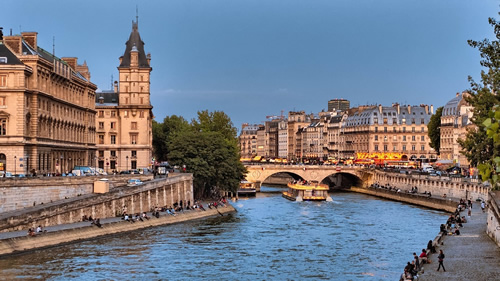 A view of the river Seine in Paris.
Finding employment in Paris can at first glance seem like an impossible task. Unemployment figures remain stubbornly high. You may only have a smattering of French to start you off, and, depending on your country of origin, obtaining a visa can prove to be a nightmare. Add all of these factors together and it is easy to see why people become discouraged. But do not lose heart. There is a way!
With English as your mother tongue you already posses a major asset that will enable you to find gainful employment. Does this count for anything in Paris? In short, the answer is "Yes."
English is the European Union's official first language and demand for English teachers in Paris is high. Also businesses in France are expected to spend a percentage of their budget on education for employees , and failure to do this can lead to a higher tax bill. As a result, many people are enrolled in English language courses.
Even better news is it is possible to find work without any formal teaching experience or teaching qualifications. After all, who better to teach English than native English speakers themselves?
Starting the Job Search Process
So where do you start? Before we go on, there are a couple of things to keep in mind. First, if you are American or a non-European Union citizen you must get your working papers in order and consider any legal constraints your visa may put on you. Secondly, most of the universities and schools will expect all candidates to be educated to degree level.
This said, the fact still remains that if English is your mother tongue you shouldn't have too many problems finding work in Paris. If you are motivated, have a lot of patience, and have the right information you can find employment quickly.
There are a number of ways to find work teaching English as a foreign language in Paris. You can offer private tuition, work for one of the many English language schools that are thriving in the city, find a supply-teaching post at a university, or become a teacher's assistant at a college (children aged 11 to 14) or lycée (children aged 15 to 18).
Private tuition is probably the most financially rewarding of all these teaching opportunities, provided you build up your clientele that is. Teachers can charge 15-20 euros an hour and sometimes more depending on the student and their status. It is up to you to use your discretion.
The important thing is to get yourself out there. Put your details in the windows of local tabacs and pharmacies and talk to the people who work in them. Word of mouth is a powerful tool in landing you private clients. Often you will find they know of people looking for somebody to teach their children English, for example. Putting out ads in all media can also be a fruitful exercise; try FUSAC.
Another possibility is to apply to one of the private English language schools in the city. The beauty of this is many offer their own in-house training programs, so you do not need to be armed with a TEFL (Teaching English as a Foreign Language) certificate or any other formal teaching qualifications.
It is important to be aware, however, that many of these training courses are unpaid and can last up to ten days. There are those that offer paid training but you are tied in to work for the company for up to 12 months or more. If you finish working for them within a specified timeframe you may be expected to pay them back for the training. So make sure you read contracts carefully.
Some language schools also send teachers out to businesses, which can take up to an hour in travel time. Find out if you will be paid for this.
Be aware that many of these private schools will also present the brute (gross) figure, as the monthly wage. You need to deduct around 20 percent, sometimes more (for social security etc), to calculate your actual monthly take-home salary. Income tax isn't taken at source in France and you will have to save money each month to be able to meet payments. In short, salaries at private language schools aren't great and many teachers offer private tuition to bump up their monthly pay packets.
The quality of work varies among language schools. Teachers are expected to work evenings and weekends, usually with one day off in the week. On the plus side, however, working for a private language school guarantees you a set income every month and you can work overtime. Either that or you can supplement your wage by teaching part-time at one of the many colleges, lycées, or universities in Paris.
For this kind for work you need to look for vacataire positions. A vacataire is a supply teacher, and many schools will use vacataires if they are short of permanent staff. To be considered for one of these posts you must be educated to degree level, although formal teaching experience isn't always required. While the hourly rate seems appealing, you can earn up to €35 an hour, vacataires are normally only able to work 200 hours a year, hence the need for another job.
Parisian Students
Do not be put off by the Parisian reputation of hostility towards foreigners. On the contrary, you will often find students eager to learn and extremely hospitable. Adult students in particular love to practice their English, asking you about your country and your impression of theirs.
Adult learners may resist the communicative approach and less structured techniques of teaching. A lot of your students will want to write down everything with little emphasis on speaking, but persevere and soon you will not be able to stop your students talking.
In short, teaching English in Paris is not going to make you a fortune overnight, but it is a decent way to eek out a living while enjoying the numerous delights of the city. Even James Joyce taught English in Paris while writing Ulysses!
The hours are flexible, you can work as little or as much as you want (taking into consideration any visa requirements), and you will meet some fantastic people along the way. The important thing is to read all contracts carefully and be sure you have knowledge of working terms and conditions before you sign anything.
Teaching English can be a lot of fun as well as very rewarding. Hey, if James Joyce did it, then why not you?
Tips on Finding English Teaching Jobs in Paris
Be prepared to put yourself out there — send or email CVs on spec to colleges, lycées, universities, and English language schools.
Put advertisements in tabacs, pharmacies, on university notice boards, or in the classifieds.
Talk to people — word of mouth is a vital tool in finding employment, particularly private tuition
Don't be put off by rumored Parisian inhospitality. Students are often warm, eager, and willing to learn.
Remember formal teaching qualifications are not always required.
Do not be put off if you don't speak the language. French is not always required.
Keep your wits about you with private language schools. Ask lots of questions about working terms and conditions.
Ask private language schools if they pay for travel time to businesses.
Remember you are usually given the gross salary figure. Make the necessary tax deductions to calculate what you will actually take home.
Read contracts carefully.
Useful Links
International TEFL and TESOL Training (ITTT) in Paris
English Tutoring of Teaching Assistant
The Teaching Assistant Program in France (The primary employer of English teachers in Paris and in France).
Natalie Faulkner has been a journalist for several years, working in London, New York, Hong Kong and Australia. Natalie writes that she has encountered many resourceful Americans, Australians and plenty of British currently residing in Paris and teaching English.