Studying and Living in Malta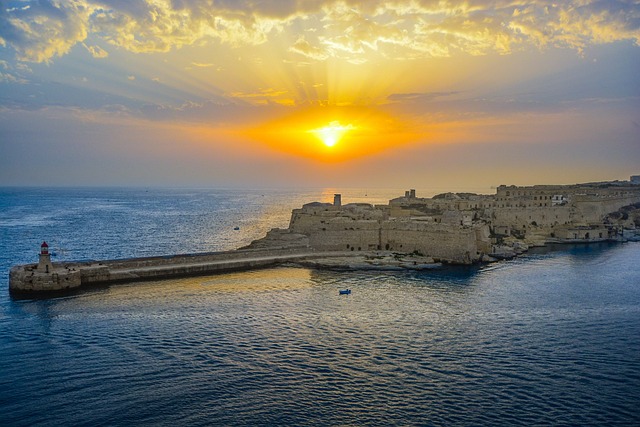 Malta has always packed more into its tiny coastline than any other island. Situated in the very center of the Mediterranean, it boasts an enviable combination of beautiful scenery, frenetic nightlife, rich history and a people noted by St. Paul as "unusually friendly." Malta is a cross between an open air museum and a hedonistic Mediterranean resort and remains one of the safest English speaking countries in the world. As a result, its popularity amongst students and travelers has been growing steadily, but what can one expect from studying or working on this wonderful island?
Studying in Malta
In contrast with the work possibilities, studying in Malta offers a plethora of choice whether you are considering a language course, or undergraduate study. Courses are cheap by comparison with the rest of the EEC, while educational standards are exceptionally high, especially at the University of Malta, which is one of the oldest educational establishments in the world. Learning, European languages or Arabic are the most popular choices, but there are courses available on everything from medicine to traditional lace making and handicrafts. Places at the university are limited, so apply early. Courses are always in English and, with the exception of law, all courses are recognized internationally.
There are almost 60 language schools on the island. There are schools in all the major towns. St. Julian's, the nightlife hub, and Valetta, the UNESCO protected capital city, are the most popular choices. There are also courses available on the smaller island of Gozo, which offers a more rustic, sleepy lifestyle by contrast with the bustle of Malta. Regular ferries connect the two islands. Course quality is generally high, but some smaller schools in isolated villages lack the facilities and the buzz of the larger institutions. It is wise to spend a couple of days assessing schools in person.
English is spoken by the Maltese tutors with a quirky accent. It is based firmly on old fashioned, BBC-style English and learning here offers an alternative to U.S. style courses and pronunciation. For those traveling or studying, visas are usually not necessary if you are from a Commonwealth country, the EEC, the U.S. or Japan. There is a full table of visa exemptions below along with a link to the Maltese government website for further information.
Working and Living in Malta
Without being unduly negative it is important to stress that finding both legal permission to work and a suitable job is not an easy matter due to the island's size. Since its accession to the European Union it is now possible for any European citizen to live and work on the island. Australian citizens under 30 can also work on Malta for a year as part of the "Working Holiday Visa" program. Unfortunately, for those from other countries it is almost impossible to find the necessary permits as the government tightly controls labor markets. Unless you are lucky enough to be sponsored by a local company or a multinational and can prove that a local person cannot perform your job it is unlikely you will a permit. Exceptions are usually made for high technology projects or for companies who need language work done in non-European languages.
For those eligible to work in Malta there are some specific types of jobs that are easiest to obtain. Anything involving computers, technology, sales or translation work promises the highest salaries, which are low by European standards (expect a maximum of 800 Euros per month). Check the Times of Malta or The Independent for vacancies and contact the local recruitment agents well in advance of any visit. Seasonal jobs in bars and restaurants are available but are usually advertised only in the venues themselves, so be prepared for a hard slog. Acting as a tour rep or English teacher is a possibility but most jobs in these areas go to Maltese citizens. Vacancies in any field are not currently plentiful, and almost all are filled by word of mouth. Most foreign workers on Malta have spent a few weeks getting to know the locals and have found jobs by networking. Do not be put off completely! There are thousands of companies who do need qualified, hard working staff and while searching isn't as easy as other possible destinations persistence will pay off.
Despite all the difficulty, spending time living in Malta is very rewarding and offers the chance for total immersion in a unique melting pot of cultures. The ancients, the Moors, the Knights of St. John, the British Empire, and WW2 have produced a sophisticated, open, English-speaking population steeped in history. Malta's small size means the traveler can find himself caught up in the magical local atmosphere without difficulty. With the exception of the purpose-built resort of Bugibba, the island retains a unique, antiquated Maltese flavor throughout. There is a very lively social scene (some might say wild!) all year round. While the summer months are most popular, most veterans will tell you that spring, autumn, and winter are the best time to enjoy a more Maltese experience and a more verdant backdrop. The weather is always pleasant, and temperatures vary from mild to roasting hot, even in the depths of winter.