How to Find Work Crewing a Yacht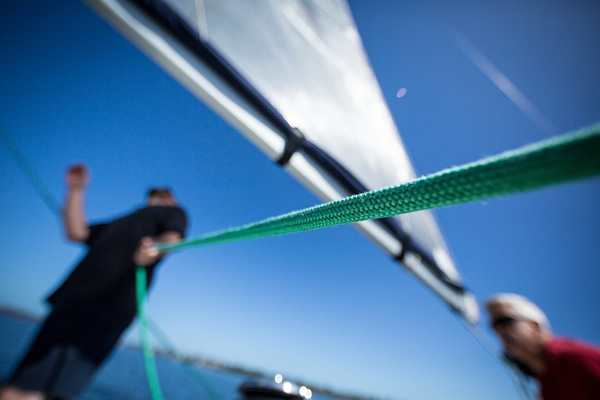 Work crewing a yacht.
There are some good reasons why more world travelers don't jump into crewing positions. For starters, it's hard work. Plan to spend a good bit of time on your knees, and expect some cuts, bruises, and wrenchings as part of your pay. The rest of the pay comes in beautiful sunsets, creative cooking with fresh fish and local fruits and vegetables, and exotic places you might not see any other way.
Experience in sailing is not always a prerequisite to becoming a deck hand; in fact, the captain may not care to hear how you did it on another boat. But it doesn't hurt to at least be familiar with nautical terms and safety procedures.
Skills that are most useful on a yacht include cooking and provisioning, heavy-duty sewing, VHF/HF radio and computer knowledge, foreign languages, plumbing, diesel mechanics, and general resourcefulness. Try a short commitment first to see if you like it. A flexible, dependable, conscientious person will do well and learn much along the way.
If you are a woman, you have an advantage. Women's strengths complement the skills of a male skipper. All expectations should be discussed upfront. If you are traveling as a couple looking to crew, don't despair; some skippers are looking for two people.
Start Your Crewing Work Search Online:
Bluewater Yacht Crew Job Board
Find regattas and cruising events through websites. Contact the organizers and let them know you're available as crew.
Being in the right place at the right time always helps. Flying to a popular cruising spot will land you in a good position to help with a return passage, and a skipper may be more likely to take you on after meeting you in person. If you're willing to take a gamble, here are some places you could plan to be at the beginning or end of the cruising season:
Cruisers head south to the Caribbean in the fall and may look for crew in the Miami area for the passage.
In the spring try getting to St. Thomas, St. Martin, St. Croix, San Juan, or Guadeloupe to be available for the northward trip.
If you're looking to crew for the whole season, check out the sailing clubs along the Intracoastal Waterway. Skippers may want to get to know you better before they reach Miami.
Most world cruisers go through the Panama Canal. Check out the Panama Canal Yacht Club on the Caribbean Coast, the Pedro Miguel Boat Club on the canal, or the Balboa Yacht Club on the Pacific Coast.
You could station yourself in La Paz, Cabo San Lucas, or Mazatlán in the spring to be ready for a Panama Canal cruise or a South Pacific cruise.
During October, yachties will start moving away from Fiji, Vanuatu, and New Caledonia towards Australia and New Zealand to avoid the cyclone season (December through March). Try flying into Nadi, Port Vila, or Noumea.
Look for the small marinas, check out bulletin boards in internet cafes and laundry rooms, ask a cruiser to announce your availability on one of the regular radio nets, post a note at the marina bulletin board, and hang out at the favorite watering hole (where all the dinghies are tied up).
Costs can vary from just the cost of travel to get to and from the starting and ending points, to sharing expenses such as food, grog, fuel, and mooring/marina fees, to sharing costs plus contributing to upkeep of the boat (this varies widely and is usually negotiated as a daily, weekly, or monthly rate.) If something seems fishy, keep on walking down the dock.