Student Participant Report
An Internship Program for Young Professionals in Germany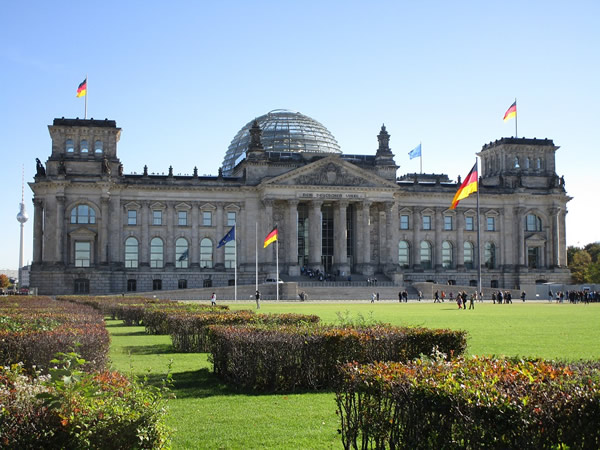 The famous Budenstag building in Berlin.
During college I worked as a peer adviser in a well-equipped overseas opportunities office. When students searching for personalized international experience came through our door we'd usually ask if they wanted to work, study, or travel abroad. Their interests varied but were often specific: "This guy at a party told me you can get a job working at ski resorts in Chile. . . . Sign me up!"
Occasionally, however, someone wants everything: to study a foreign language, enroll at an institution of higher education, work or intern with a foreign organization, and travel on the side with little or no personal cost. The Congress-Bundestag Youth Exchange for Young Professionals (CBYX) program is one exceptional program that offers it all.
The CBYX program, or Parlamentarisches Patenschafts-Programm (PPP) as it is known auf Deutsch, was founded 18 years ago to commemorate the 300th anniversary of the first German emigrants arriving in America. This multifaceted exchange of young professionals between Germany and the U.S. is administered on the U.S. side by Cultural Vistas and on the German side by the Carl Duisberg Gesellschaft (CDG). Currently, about 75 Americans and 75 Germans participate annually.
Program participants from the U.S. range in age from 18.5-24 at the time of departure. While a high school degree is the minimum educational requirement for U.S. outbounds, a high proportion of the participants are either presently enrolled in or recent graduates of U.S. universities, community colleges, or technical schools. No prior language experience is necessary. Applicants do, however, need to be able to express their career objectives, exhibit flexibility, and have an outgoing personality. They must also demonstrate a curiosity and desire for learning German language and engaging directly in the culture.When I discovered this synergistic program I knew it would allow me to discover modern Germany in ways impossible as a participant in a study abroad program or as a short-term employee or a vagabond traveler. I applied, and two months later I interviewed for the scholarship.
Much of the beauty of the CBYX program is its individual nature. After an intensive language instruction phase, each CBYX scholar moves to an assigned Bundesland (state) where they enroll for a semester of study within a German institution of higher education. From that point on CBYXers generally have limited contact with the other American participants. Participants encounter German culture head-on and learn about the subtle and the stark differences between American and German academic systems, public and private institutions, language, and everyday life.
A monthly stipend covers basic living and study expenses. Although it is recommended that participants have access to $300-$350 per month for discretionary purchases and travel, a few frugal participants have come home without having spent an additional dollar or Deutschmark.
For me, one of the greatest fringe benefits of studying German in Saarbrücken (August through September) was the chance to meet over 100 scholars and professionals from all over the world. The scholarship holders study in Germany for periods of three months to two years and are sponsored primarily by the German Ministry of Economic Cooperation. Because of these connections, CBYXers enjoy an international experience within a German context.
After the 2-month German course, CBYXers study at a German university, technical college, or training school (mid-October through January). Housing arrangements depend upon the participant's preference and local availability of housing options. Transferable academic credit may in some cases be arranged.
I studied in the city of Erfurt at the satellite campus for Horticulture and Landscape Architecture of the Fachhochschule Erfurt. My housing was in an externally drab but lively cooperative apartment.
The CBYX program allows each participant to engage in one or more internships (February through June). The practical workplace training can take the form of pure or applied research or the application of hands-on skills. Financial compensation varies. My American colleagues and I studied and carried out Praktika all over Germany in fields ranging from forestry to marketing, culinary arts to auto body painting and repair, chemistry to music, computer science to wine making, engineering to beer brewing, industrial welding to law.
Although not officially a traveling program, there is enough built-in travel time in the form of obligation-free weekends and required seminars throughout the year to satisfy almost everyone. The last few weeks of the program are free for reisen und wandern.
I spent my weekends touring by rail, bike, and thumb. I enjoyed bike trips throughout Germany and to neighboring France, The Czech Republic, and Poland. I particularly enjoyed attending the earthy medieval and Renaissance gatherings and folk music festivals.
For More Info
View information on the CBYX program.
MATTHEW M. PIERLE, a graduate of the Univ. of Michigan, was a participant in the The Congress-Bundestag Youth Exchange for Young Professionals (CBYX) program.