Volunteer in Portugal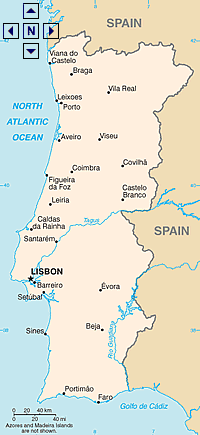 Volunteer in Portugal
GoEco offers a diverse selection of wildlife, humanitarian and environmental projects in Europe. You have the opportunity to work in a Lisbon Hospitality Internship in Portugal and you can expect the experience of a lifetime!
Dates: 4 weeks – 12 weeks
Costs: $350 USD
Contact: GoEco Volunteering
Tel.: US: +1 646 240 4545 AU: +61 2 8014 9393
Email: goeco@goeco.org
Website: www.goeco.org

Featured
Canadian Alliance for Development Initiatives and Projects (CADIP)
Short-Term Volunteer Projects in Portugal
Participating in an international short-term volunteer project (so called Workcamp ) can be an exciting prospect. It is an interesting and meaningful way to travel with purpose and spend 2-3 weeks in a foreign environment. Working and living together with other young people from around the world provides an excellent opportunity to make many new friends, learn about unknown places and culture, gain new skills and experience. Your time, energy, and enthusiasm can make a difference in areas where help is really needed.
Global Volunteers in Portugal
Volunteer to teach conversational English to youth and adults.
International Volunteer HQ (IVHQ)
Affordable Volunteering in Portugal
International Volunteer HQ (IVHQ) offers affordable volunteer abroad programs in Portugal from US$375 for one week. Volunteers can participate in a variety of projects including Construction and Renovation, Environmental Scuba Diving, Food Rescue Project, Wolf Conservation and Youth Support. IVHQ sends thousands of volunteer travelers worldwide annually—you will not find a more affordable, high quality and trustworthy volunteer travel company.
Contact: info@volunteerhq.org, www.volunteerhq.org
Quinta das Abelhas
Volunteering on Organic Smallholding
Organic smallholding in Central Portugal. We welcome volunteers on working holidays and provide free camping and meals in return for your work. This is a great way to travel cheaply around Europe, ideal for back packers, gap year students, or anyone who'd like to sample an alternative way of life and/or learn more about organic farming and low-impact living.
Contact: www.portugalsmallholding.org.
Volunteers for Peace
VFP offers over 3000 projects in more than 90 countries every year, including Portugal! Project cost starts at $500, which includes food and accommodation. Types of project include construction, environmental, agricultural, social, work with kids, renovation, art & culture and more! Since 1982, VFP has exchanged over 31,000 volunteers worldwide. Start planning your volunteer adventure or learn how to get involved at VFP.org!
Contact: 7 Kilburn St. STE 316, Burlington, VT 05401; tel. 1 (802) 540-3060; info@vfp.org, vfp.org
WWOOF Portugal
125+ Organic Farms Are Waiting for You in Portugal
WWOOF is an exchange program. In return for volunteer help, WWOOF hosts offer food, accommodation and opportunities to learn about organic lifestyles.
Vollunteers will have the opportunity of getting first hand experiences in diverse philosophies of organic farming, permaculture, ecological building and other environment friendly techniques.
Contact: info@wwoof.pt, www.wwoof.pt