Crocodile Love: Travel Tales from an Extended Honeymoon
An Interview of author Joshua Berman by Wandering Educator editor Dr. Jessie Voigts for Transitions Abroad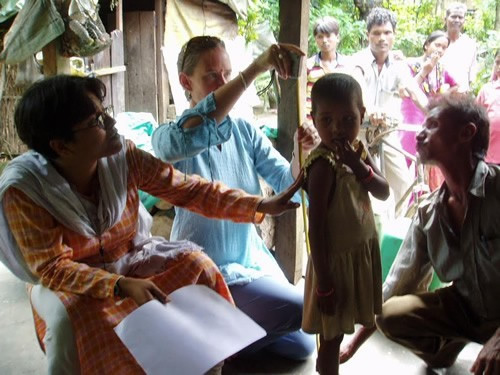 The author's wife, Sutay Berman, RN, measures a child as part of a malnutrition survey of unemployed tea workers.
Spanish teacher, RCPV, and author Joshua Berman's new book, Crocodile Love: Travel Tales from an Extended Honeymoon, is a must-read. And while you often hear that, especially on Amazon, it's true. For this book is an interesting, intriguing account of a journey many of us long to take—and few of us actually do. 
In this age of stories by digital nomads about extended travel, what is different about this book? Many things, including the premise (a year+-long honeymoon), the depth of intercultural understanding (both Joshua and his wife, Sutay, are returned Peace Corps volunteers with extensive global and travel experience), the commitment to volunteering, the wide-range of locations they journeyed to, and the thoughtfulness of his writing.
What impresses me most of all is the way that Berman incorporates all of the above with a very personal story of learning about his partner through deep, slow travel. He notes, "Watching Sutay don her African skin as we moved through the continent was a high point that I'll never forget. Long-unspoken words, grunts, expressions, and body language flowed from her mouth, hands, eyes, and poise. I'm not sure who was more surprised—Sutay as she rediscovered behavior from her past, The Gambians, who were not used to toubab foreigners knowing their language, or me, seeing this whole new part of my wife come alive."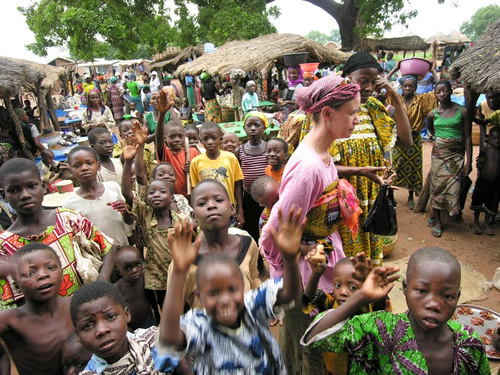 And, it is his honest description of volunteering for three months in India, and wanting to make a long-term difference in the lives of impoverished workers on shut-down tea plantations, that made a lasting impact on me. Many volunteers (including myself) want to go and see a project done. Berman knows that meaningful change can take time, and that contributing to long-term change will benefit the people we're helping more, over the course of their lives.
I caught up with Berman in between his classes, and asked him about the book, their journey, volunteering tips, and more. Here's what he had to say…
TA: Your book, Crocodile Love: Travel Tales from an Extended Honeymoon, shares a unique way to start a marriage. What led you to create this journey?
JB: When Sutay and I met, things happened fairly quickly. We got married eight months after our first date, so we still needed to get to know each other in many ways. We knew from experience that deep, immersive, slow travel to intense places was one way to speed up the process. Something about all those cramped quarters and tropical temperatures.
TA: Volunteering is an important part of your extended honeymoon—what resources did you use to find appropriate opportunities? What tips do you have for travelers that wish to volunteer?
JB: My biggest tip to travelers who want to volunteer is to take the research seriously. There are plenty of programs out there. TransitionsAbroad.com is a fantastic resource to begin your search. There are regional guidebooks out there as well for volunteer opportunities, including Amy E. Robertson's Moon Volunteer Vacations in Latin America.
Most people don't, but if you've got two-and-a-half years to spare, consider a stint in the U.S. Peace Corps. My wife and I both served in the Peace Corps before we met, but separately, on different continents. We liked the idea of volunteering as a couple, so we signed up with American Jewish World Service Volunteer Corps. We ended up serving three assignments: in India, Sri Lanka, and Ghana.
TA: Most people don't have an opportunity for long journeys — but they can be really important. Do you have tips for creating time and space for this?
JB: If you hear the call to journey, don't ignore it. If you have a hunch that an extended time (whatever that means to you) abroad would do you good, maybe even change your life or lead you to your soulmate … then you'll make it happen. You'll save the money, do the research, and buy the tickets—and you'll never regret it.
TA: What might people be surprised to learn, about your journey?
JB: Maybe that we didn't originally plan to travel for 16 months. We'd originally bought one of those round-the-world package trips, but after traveling for about six months, at an Internet café in Bangkok, we canceled our planned return loop through Bali and Australia and instead accepted new volunteer assignments in Sri Lanka and Africa. It changed everything. Our route swung wildly back across the globe, to the west and south this time, and we told our families we weren't coming home. Yet.
TA: What's up next for you?
JB: My next book, Colorado Camping, is a guidebook to nearly 500 campgrounds across the Centennial State, including four national parks, eight national monuments, and 42 state parks. The book is being released in April as part of Avalon Travel's Moon Outdoors Travel Guides series.
TA: Is there anything else you'd like to share?
JB: Get out. Go slow. Hire a guide.
Learn more about Joshua Berman's Crocodile Love on his website.