Professional Services Volunteering Over 50
How to Volunteer for Non-Medical or Teaching Professionals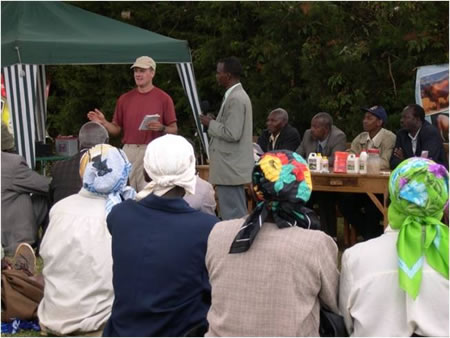 Volunteer training dairy producers in Kenya (photo courtesy of ACDI/VOCA)
When we use the term professional services in volunteering we often think about organizations devoted to medical work and teaching. We tend to forget that there are other opportunities available in professional volunteering. Law, accounting, finance, business, agriculture and engineering are just a few of the areas of expertise being sought by volunteer organizations. These organizations provide an excellent opportunity for professionals to use their experience and training to contribute to important and worthwhile international projects.
In many cases the professional volunteer service organizations concentrate their efforts on projects that require experience in a particular career or specialty. There are, however, organizations whose projects utilize a combination of professional experiences. The prospective volunteer should study the needs, requirements, and projects of each organization to determine which one will provide the best match for his or her experience and interests.
While researching this article I contacted seven organizations that have professional volunteer programs. They are: International Senior Lawyers Project (ISLP), Financial Services Volunteer Corps (FSVC), ACDI/VOCA, CNFA, The International Executive Service Corps (IESC), Engineers Without Borders (EWB), and Global Communities. All of the organizations were enthusiastic about recruiting qualified volunteers.
There are guidelines and parameters that each of the organizations use to choose volunteers. Diana Roach, Director of Volunteer Programs at ACDI/VOCA said that her organization develops their volunteer needs within existing field projects. The volunteer must have the technical experience that has been requested by the field project. ACDI/VOCA also likes the volunteer candidate to have at least ten years of experience in their specialty. Scott Clark who heads-up the CNFA Farmer to Farmer Program said, "We seek out highly qualified and experienced professionals with a solid basis in their given specialty area. In many cases, these are late-career professionals or retirees who have had many decades of experience. In other cases, our volunteers are in their early to mid-career stage, but have highly specific technical skills, excellent agricultural education skills, or both."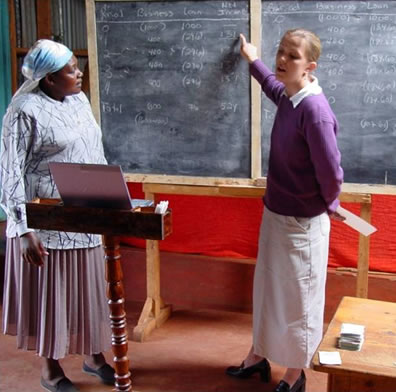 Volunteer training in Tanzania (photo courtesy of ACDI/VOCA).
Edward Sia, Program Advisor with Financial Services Volunteer Corps (FSVC), said that his organization prefers mid-to-late career professionals. The International Senior Lawyers Project (ISLP) recruits highly skilled, experienced lawyers according to Andra Moss, Director, Communications and Volunteer Development at ISLP. Moss also said that independence and curiosity are important characteristics for a volunteer.
The websites of the organizations contacted all have important information about their programs and areas of focus. There are volunteer applications on some of the sites. Most of the organizations provide transportation and accommodations for their volunteers but it is best to determine each organization's policy by studying their website information or contacting them directly. Previous international development experience and language skills are a plus for the intended volunteer. It is also important to check on insurance and security arrangements provided by each individual organization. If an organization's website has a Frequently Asked Questions (FAQ) section, that is usually an excellent place to find answers to one's basic questions. William Cundiff, who served with FSVC in Albania and Cambodia, advises prospective volunteers to "Make sure you know who you are working with and what is their agenda." He further advises a volunteer to "Take a lot of time to study the customs and culture before the visit, and adds, "the internet is a marvelous tool."
| | |
| --- | --- |
| | |
| William Cundiff volunteering for an insurance training session in Albania (photo courtesy of FSVC). | Cynthia Rollings volunteering in an anti-discrimination case in Nigeria (photo courtesy of ISLP). |
For More Info
International Senior Lawyers Project (ISLP)
A non-profit organization, ISLP was founded by a group of senior partners in global law firms. ISLP literature states that the founding partners believed that highly experienced attorneys at or near retirement age would like to voluntarily serve the world community. Since its founding ISLP has worked in nearly 50 countries. In 2010 ISLP deployed 81 lawyers to 19 countries to work on over 100 projects. The core thematic areas of ISLP include advancing the rule of law, protecting human rights, and promoting equitable economic development.
Financial Services Volunteer Corps (FSVC)
A not-for-profit, public-private partnership whose mission is to help build the sound financial systems needed to support robust market economies in transitional and developing countries. Sound financial infrastructure is essential to support private entrepreneurship, promote job creation, mobilize domestic savings, attract foreign investment, and create conditions that promote lasting economic opportunity.
FSVC's core work concentrates on strengthening commercial banking systems, developing central bank capabilities, and building capital markets. Major additional areas of work include improving access to financial services for small and medium-sized enterprises (SMEs), financial inclusion, and strengthening financial sector capacity to combat money laundering and corruption.
ACDI/VOCA
A private, non-profit organization that promotes broad-based economic growth and the development of civil society in emerging democracies and developing countries. The ACDI/VOCA mission is to promote economic opportunities for cooperatives, enterprises, and communities through the innovative application of sound business practice. ACDI/VOCA has worked in 145 countries since it was founded in 1963. Practice areas are agribusiness, food security, enterprise development, financial services, and community development. ACDI/VOCA currently has 97 active projects in 41 countries.
CNFA
A non-partisan, not-for-profit organization. Founded in 1985, their mission is to stimulate economic growth and improve rural livelihoods in the developing world by empowering the private sector. CNFA's Farmer-to-Farmer Program, funded by USAID, provides opportunities for U.S. farmers, agribusiness professionals and other agriculturists to contribute to democracy-building and the development of market economies by sharing their expertise with aspiring agricultural entrepreneurs across the globe. CNFA has worked in over 25 countries throughout Africa, Eastern Europe, Latin America, and Central and South Asia. The Farmer-to-Farmer Program is open to U.S. citizens and green card holders only.
The International Executives Service Corps (IESC)
A not-for-profit economic development firm that uses volunteers, paid consultants, and professional staff in engagements that promote prosperity and stability through private enterprise. IESC strives to provide the most respected, most responsive, most innovative, and best-resourced services in their corner of the development world.
Since its founding in 1964, the world of international development has undergone seismic changes. But today, the IESC mission continues to resonate and inspire, providing a better future for both our country and our global neighbors.
For further information and the opportunity to register in our "10,000 Strong" Skills Bank, please visit the IESC website.
Engineers Without Borders USA, EWB-USA
A national, non-profit membership organization whose mission is to support community-driven development programs worldwide by collaborating with local partners to design and implement sustainable engineering projects, while creating transformative experiences and responsible leaders. EWB-USA employs the skills and expertise of over 12,000 members/volunteers to address the most significant issues affecting world health and poverty, including water purification and delivery, sanitation, and sustainable energy systems. EWB-USA has over 350+projects and you don't have to be an engineer to be involved.
Global Communities: Visiting International Professionals Program
Founded in 1952 Global Communities is a non-profit organization that works in conflict-affected and developing countries around the world. Global Communities has active programs in the Middle East, the Caribbean, Africa, Asia, and Central and Eastern Europe. In the Visiting International Professionals program, The organization recruits experienced subject-area experts for a variety of short volunteer assignments. In the Visiting International Professionals program, they are looking for technically skilled volunteers who have a minimum of five years experience in the requested area.
Many organizations that are listed in the volunteer section of Transitions Abroad also have need for professional volunteer services. I also encourage international readers to conduct an online search to find organizations in their individual countries that use experienced professionals in their international volunteer programs.