5 Tips for Volunteering Abroad as a Family
What is your idea of a family getaway? Two weeks on a beach in Costa del Sol, a week in Disney World, or a fortnight of voluntary work building houses in the Cambodian jungle? Most families have never even considered replacing their annual holiday with a volunteer placement in a developing country. But an ever-increasing minority of families are beginning to give the option some serious thought, and upon closer inspection, it really is not a bad idea at all.
Volunteering as a group is an excellent way to grow close together as a family.

What could be better for developing family intimacy then clubbing together on a community development project and building something together, perhaps a house, a sanitation facility, or even a new school? Top business leaders would agree that working together as a team to achieve a common goal helps groups of people to bond, and there is no reason why this should be any different for families.


Most people who have ever participated in an international volunteer placement will agree that it is one of—if not the best—experiences of their lives.

Living and working abroad allows you to develop a greater understanding of local people, their way of life and culture, and enables you to get to know what that country is really like in a way that even the most well-traveled can only dream of. Many travelers wish to volunteer on their own, but for others, it is an experience they wish to share with those closest to them: their family.


For those families with children, a volunteer placement abroad is an excellent way of teaching them a sense of social responsibility while increasing their knowledge of the world outside their backyard.

Most parents have told their kids, at some point, that they should make more of the opportunities offered them because there is some kid on the other side of the world in a much less fortunate position who would love to swap places. My parents certainly told me this when I was younger, and I have to admit that it went in one ear and out the other! But if a child or teenager has actually been to another country and worked with a particular child, it really does make them see just how fortunate they are. I am certainly not saying your child will return home and transform into an angel, but I am saying that experiencing other cultures first hand and working on a development project will be more likely to help them on their way to being a good global citizen, especially when compared to the alternatives of a beachside holiday or a pass at Disney World.


Many family volunteer placements combine volunteering with some of the most sought-after tourist activities, so a volunteer placement in Kenya might include a safari, and a placement in Peru might include a trip to the Inca temples.

Volunteer coordinators generally have good local contacts, and they can help you get discounts while telling you about all the hidden gems that most tourists will never discover. For example, volunteer coordinators may know the best places to eat and the nicest beaches which only the locals know about.


Volunteering abroad is an ethical way to spend your money.

There are many charities running family volunteer programs that use a part of your placement fee to pay for the project that you are working on. So you get the satisfaction of working on a charitable project which you have paid for, and seeing it through to completion.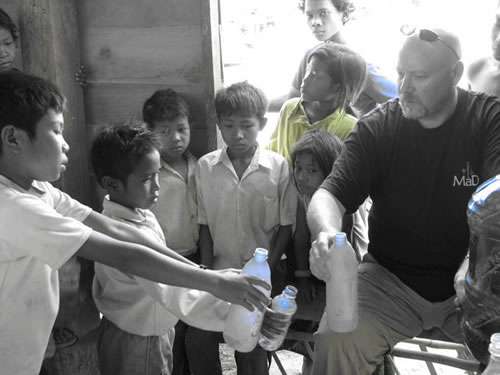 The inspiration for this article comes from a recent visit to Cambodia. I spent six months volunteering with a small charity. It was founded by a British family who had settled in Cambodia after two years of voluntary work in Africa and Australia with their teenage daughter (who was 14 when they first left for Australia). While they are a somewhat extreme example, they have excellent things to say about volunteering as a family. Through the charity, they have made a special package available for families wishing to volunteer with them. For example, there is shared accommodation available at their family home, babysitting available for young dependents, and significant discounts for children.
Gone are the days when volunteering abroad was the preserve of backpackers, young professionals, and gap year students. Increasingly families are choosing volunteer work abroad over package holidays, and volunteer placement organizations are offering placements specifically designed for families.
For a list of family volunteering organizations, visit the family volunteer section of the Transitions Abroad website.