After the Peace Corps: The Success of Returned Volunteers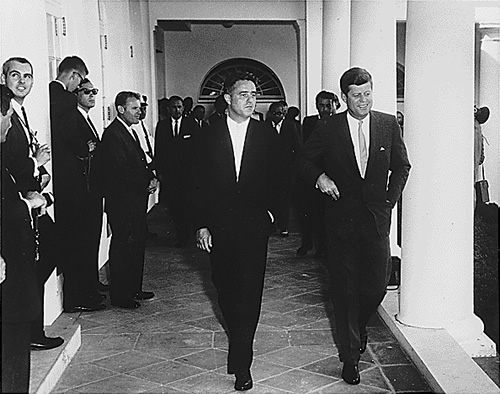 President John F. Kennedy and Sargent Shriver greeting Peace Corps volunteers, August 9, 1962. Abbie Rowe, photographer, U.S. National Park Service
Writer, professor, and blogger John Coyne wrote:
"Kennedy liked to talk about his vision of what these young Americans were giving and giving up, but most volunteers remember what they were given."
Consider just a short list of successful returned Peace Corps volunteers (RPCVs as they are known within the community): former senators Christopher Dodd and Paul Tsongas, Wisconsin Governor Jim Doyle, MSNBC Hardball's Chris Mathews, Taylor Hackford, movie producer of An Officer and a Gentleman and The Devil's Advocate, Reed Hastings Founder & CEO of Netflix, Michael McCasky Chairman of The Bears; Carl Pope Executive Director of the Sierra Club; Todd Satterthwaithe Mayor of Urbana IL; Donna Shalala President of University of Miami, hundreds of notable authors including Paul Theroux, Kent Haruf, and Richard Wiley, so many writers, in fact, that a 2001 Washington Post reported that the Peace Corps community is "churning out enough works — thousands of memoirs, novels, and books of poetry — to warrant a whole new genre: Peace Corps Literature." It is reported that about a third of the employees at USAID, several hundred staff members on Capitol Hill, and numerous college professors, presidents, administrators, and media professionals along with thousands of other successful and influential professionals working in the U.S. and abroad right now were former members. In fact, 220,000 former members are now inspiring around 7,000 more to join up every year.
We could argue that if the Peace Corps hadn't existed they all would have found other ways to have similar experiences. And certainly, though numbers make an impact, it is the longevity of the Peace Corps that is extraordinary in ever-changing political climates. Despite a relatively insignificant number of volunteers over the last nearly 50 years, it is an organization that has a pervasive influence on American society.
The Peace Corps experience gives you a link to so many successful people, as well as to a country, language, friends, acquaintances, connections to literature, references to culture, and art — it opens up a world and teaches you how to interact in that world. But the other important link is that neighborly connection when a young person today first says out loud "Mom, I'm thinking of joining the Peace Corps." And Mom says, "Oh, we'll go ask Aunt Jennie about that." There is the feeling of belonging to a successful "club," something which I have all my life shied away from, but to which I have chosen to attach myself.
Personal Experience with the Peace Corps
Sociologist's notion of the quest for upward affiliation aside, I can honestly say that when I lost my job and brand new car in New Orleans in the wake of Hurricane Katrina it was my Peace Corps experience that inspired my resilience. Three days after the worst had passed in New Orleans, it made me say: "You know right across the street at Audubon Park are all those ducks; the Czechs would definitely be grilling those over a campfire pod sirakem (under the heavens), instead of starving and suffocating under the Superdome just a few hours walk away. For while a volunteer in the Czech Republic I witnessed self-sufficiency on just such a scale. It astounded me then and it still affects my life: my husband and I bought 50 rural acres where our self-built cabin will be an American chata: simple—like the ones I remember in the Czech Republic—tiny, without running water, certainly without phone, TV, or related annoying modern amenities, and smelling of mold and pine, I hope.
Our host family in the Czech Republic kept ducks and bees and chickens in their suburban backyard; they used a trash can the size of our average bathroom can and composted what little else was left. There existed almost no packaging of any kind. In building their chata themselves, they boasted that they were inspired by Swiss Family Robinson and Grizzly Adams on TV. Nearly every family kept little camps (chatas) for gardening and lounging and they were free outside the cities. And this very lifestyle was influenced by Americans—by necessity combined with our television programming!
I learned from them; and I learned that they had actually learned from us. I cannot imagine a sweeter success than that kind of connection, or the realization that even when the best intentions go awry there is still buried within a potential success story: though as a country we may have learned little then from Grizzly Adams about self-sufficiency and respect for nature, some folks somewhere did.
I imagine and hear of even more measurable successes—like the Rwandan-made "peace" baskets—sold out at Christmas in Manhattan! Or in Burkina Faso where recycled plastic bags that littered the city streets were now collected by women and woven into dolls sold at high-end U.S. boutiques. These successes may not directly be due to the Peace Corps, but I say they have Peace Corps written all over them, whether in distribution, marketing, public campaigning, technical expertise, translation, or contacts.
My own inspiration for joining the Peace Corps was a professor and my thesis chair and most challenging teacher, now Divisional Dean of Humanities at Arizona State University, Dr. Deborah Losse, who says:
"I learned that I had led a very privileged life. I became aware of the need to listen and learn from those around me. I learned to take nothing for granted—especially hot water. The importance of looking around to find clues for how to respond was brought home to me again and again. As a result of my experience, I have never felt that money was important—having enough to get by on is important, having more is not important."
One of the star volunteers of our little group was Tony Southard, now Hershey's National Director of Sales Latin America Division, and just for the record, my ex-husband. He went from English teaching to chocolate sales in a matter of weeks upon returning from the Czech Republic and found himself in a career that would appear to be a distinct turnabout from the Peace Corps image: sales. It has paid off as his numerous and consistent promotions demonstrate. Now living the expat lifestyle we once could only dream of in an equestrian community in Guadalajara, he like so many others, is still impacted over a decade later.
"The Peace Corps experience taught me to navigate all types of unique situations, social and professional. I learned to be prepared, but adaptable; cautious and aware of my surroundings, yet open and receptive to spontaneous events; to convert the most challenging and difficult situations into exciting new opportunities. Most importantly, my time there taught me to appreciate the cross-cultural differences and embrace the traditions and values of my host country. What I learned from the Peace Corps translated into my being accepted as one in their communities."
Peace Corps success is undoubtedly reflected in volunteers' success. As Southard says: "When else are you going to get the government to pay to teach you a language and send you around the world and still not expect you to fight?" A flippant remark but made expressly, because anyone that knows him has no doubt he cultivates good will, and is a model of decent American behavior abroad, inspired no doubt by his parents, and the Peace Corps.
John F. Kennedy, former U.S. President:
"Life in the Peace Corps will not be easy. There will be no salary and allowances will be at a level sufficient only to maintain health and meet basic needs. Men and women will be expected to work and live alongside the nationals of the country in which they are stationed—doing the same work, eating the same food, talking the same language.
But if the life will not be easy, it will be rich and satisfying. For every young American who participates in the Peace Corps—who works in a foreign land—will know that he or she is sharing in the great common task of bringing to man that decent way of life which is the foundation of freedom and a condition of peace."
For More Information
There are so many Peace Corps blogs, over 200,000+ references to the Peace Corps on Google, but to read about and see volunteers' experiences in real time is unknown to volunteers of my generation and those that preceded me.
Read many stories by Peace Corps volunteers in the field and alumni for realistic accounts.