5 Tips for Interns Going to India
Story and photos by Carly Vandergriendt
I spent nearly all of 2012 living and working as an online marketing intern in the city of Jaipur in the northwestern state of Rajasthan, India. I miss the vibrancy of life in India, especially in my unlikely home in the Pink City. Looking back, the time I spent there was a once-in-a-lifetime experience that I wouldn't give up for the world, but that's not to say that living in India didn't come with some very extreme ups and downs. There was the drudgery of having to wash all of my clothes by hand in a tiny bucket of hot water, the frustration of always being treated like an outsider by locals even when I adopted Indian customs, and the joy of living in a city awash with every colour of the rainbow. I think it is safe to say that in that year, I experienced my very own rainbow of emotions.
I did my exchange through AIESEC, a well-known international non-profit organization for youth leadership development. I chose them over a number of other organizations because local students run their 113 chapters around the world, so that there is someone to help you both before you leave your own country and when you arrive in the host country for your exchange. I also gravitated towards AIESEC because they're well established and their fees for exchange participants (EPs) are lower than most work abroad organizations, since many of their members are volunteers.
When I joined my local chapter as an EP, I was given access to a database of literally thousands of internship opportunities around the world. Initially, I was skeptical that I would actually be able to find the right job for me because I wanted very specific experience in a field that was different from that which I had studied. I decided that I would be open to going anywhere in the world in order to get the experience I wanted — and that's how I landed in Jaipur. After a year of living in the Pink City, here are my tips for anyone who has their sights set on India for a work exchange destination.
1. Find "Your" City
I fell in love with Jaipur the moment that I saw pictures on the internet of its salmon-pink street facades and read about its royal heritage. Jaipur is a medium-sized city by Indian standards, straddling a future of urban development and a highly traditional past but many people asked me why I chose to live there over more modern, cosmopolitan cities such as New Delhi or Mumbai. For me, the answer was clear. Delhi and Mumbai overwhelmed me with their added populations nearly equalling that of Canada, my home country. Although I enjoyed visiting both Mumbai and Delhi, in the end I was happy that I chose Jaipur because it felt more like home.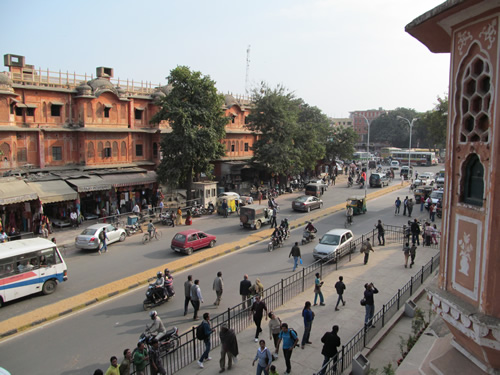 Jaipur City street scene.
2. Establish Someone Local Who You Can Trust
AIESEC India, to be honest, receives some complaints from visiting exchange participants, perhaps because their primary focus is on the quantity of exchange participants that they host as opposed to the quality of participants' experience. I was actually warned by my home chapter that AIESEC Jaipur hadn't had many positive reviews from participants. Knowing that, I chose to go anyway because I trusted my employer. He had been abroad before on numerous occasions and understood my reservations in coming to India. After a few discussions with him, I felt comfortable going even though I didn't have high expectations for support from the local AIESEC members.
3. Travel as Much as Possible
I decided that a long exchange would help me get the most out of the opportunity. Nevertheless, as the months passed, from time to time I noticed myself feeling "stuck." Granted, I was coping with huge cultural changes, trying to make friends and establish myself in the city, and adjusting to a new routine. Not to mention that it was the first time I ever had a full-time job for longer than four months at a stretch. Travel was my escape. I would take a weekend trip or book a week away from work, and coming back to my home in Jaipur felt good again. It was really exhilarating to be able to hop on a train Friday night and wake up in a totally new environment. There is so much to see in India and so much variation between regions that there was always something to explore.
4. Befriend the Locals and Foreigners
When I first arrived in India, I lived with three Indian girls. For a long time, I had one or two foreign friends whom I saw irregularly. All of my friends were locals that were around my age. After a while, I recognized a need to be around other foreigners who were going through similar things. Even though my Indian friends and roommates were nice, I ended up much happier in a house for other AIESEC exchange participants. In the end, I learned how to balance my desire to connect with the local people and my need for support from other internationals.
5. Take the Good with the Bad (and the Ugly)
An open mind can be the difference between an incredible cultural awakening and an exchange you wish you never took. While I was in India, I had the benefit of seeing a lot of work exchange participants come and go — and not all of them enjoyed their time in Jaipur. Those who had a positive experience generally had an open mind towards the local people, culture, laws, and food, while those who didn't have such positive experiences always found some reason to complain. Before you go to India, open your mind to the fact that the way of life will be very different and it may be a long adjustment process. If you give yourself time to immerse yourself in the culture and try to respectfully understand local rituals, you'll be better off in the long run.