Returning Home After Teaching ESL Abroad
How to Start a New Career
Some jaded ESL vets think erroneously that teaching overseas provides a hazy future.
Anyone who has taught in ESL (English as a Second Language) knows that there are certain negativities within teaching expat circles. There always seems to be the one (or more) grizzled veteran, who probably stayed in their current country a bit too long, and then laments teaching abroad.
"Teaching won't help your career when you go home." "Everyone knows this job is a joke." "This is a waste of your life."
Aside from these statements from jaded vets, you might have sensed a certain apprehension that comes from the local population while teaching in a foreign country.
"Why did you come here?" "I guess you could not find a job." "Were you a loser in your home country?"
For many, these are familiar questions that come from locals when teaching abroad. An answer that expresses the idea of traveling and exploring a new country and culture does not always go over well. Culturally, this excuse does not actually make sense to some. 
Luckily, these negative stereotypes do not follow former ESL teachers back to the States.
Teaching can help with your career. People do not actually view your ESL job as a joke. Your extraordinary experience was certainly not a waste of your life. Now you are back, so it does not matter why you left in the first place.
In all actuality, your stories, experiences, and growth from your days abroad will bring wonderment and respect from most Americans, especially those who lack a passport. A significant portion of Americans lack any kind of international exposure, meaning your expertise in this category will be quite impressive. 
Bigger Cities, More Opportunities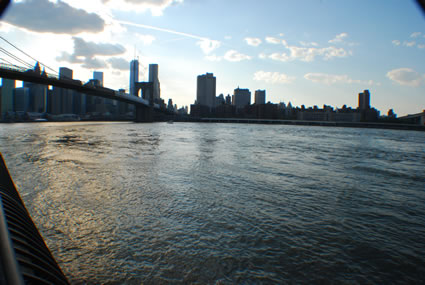 NYC and other large cities offer more opportunities upon return.
People who live in major cities are almost inherently more cosmopolitan than in other parts of the country. As the largest American metropolis, this is especially true of New York City. Because the city is so international, many people can relate to your tales from abroad. In addition, there are large diasporas of foreign students with whom you can reminisce about your days spent overseas.
As unique as your teaching abroad experience was to you, there also seems to be a high rate of former ESL teachers who moved to the city when they returned. This is again an advantage because you may share some common international experience.
One of the loudest complaints extolled by more jaded ESL expats is that experience abroad does not translate; unless you seek a career in ESL, you are wasting your life. This cannot be further from the truth. In fact, the international experiences derived from teaching abroad can be precisely what separates you from other candidates during a job hunt, or during the graduate school admission process.
As previously mentioned, there are many others who share international experience, especially in major cities. Even if they are not former ESL'ers, past expats will find a certain kinship no matter the field. The stories, the adventure, the excitement—a connection is there to be made.
Your field does not have to be in education either. Today the world is ever more connected, and this gives you an advantage over people who have never been outside of the U.S., who have only vacationed in Mexico during Spring Break, or even those who may have studied abroad in Italy one summer.
With plenty of past ESL teachers, various diasporas, and the internationally experienced, there will be many opportunities to connect your teaching experiences to a new domestic career. Moreover, this is certainly not limited to positions in education.               
The move back home is still going to be daunting, but it should be no less daunting than moving from Oklahoma to Los Angeles. The difference is that the international experience you have gained while teaching abroad is a major advantage, if represented wisely.    
So, if you are reading this as you nervously await your placement and adventure before leaving for a foreign country, rest assured that when you return, an opportunity will be waiting. Good luck on your journey. It should change your life!  
Concurrently, if you are frantically scouring Craigslist or LinkedIn for your post-ESL life, know that many back home have done the same. You will be fine, and there is a career for you.
Spin Tips — Do's and Don'ts
Do find past ESL'ers who have already returned home and network with them.
Do not scrub your teaching experience out of your resume because your future career is not in education
Do connect your various tasks or activities abroad to your future career aspirations, especially for non-educational sectors. Get creative!
Do not carry over any negative sentiments you may have of your ESL teaching life.
Do carry your international experience around like a badge of honor.
Do reach out to students or young professionals from the country from which you just returned. Your former students or professional friends from abroad may now reside in your home country.
Do consider relocating to a metropolitan area once you return. Your international experience will likely be more respected in a big city.
Ryan Allen works for the American International Education Development (AIED) Council. His organization helps US students, teachers, and administrators connect with their counterparts abroad, mostly in the Chinese system. The organization is also helping their partner schools place educators in foreign classrooms.