Living and Working in France With or Without a Work Visa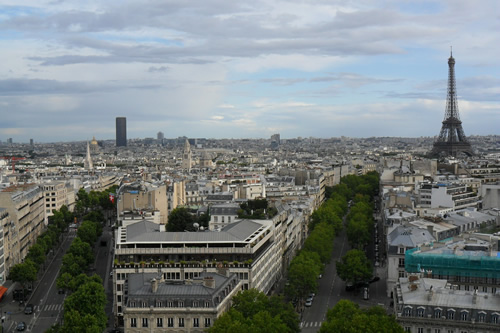 One of many Paris panoramas.
Suppose you dream of an adventure-filled new life kicking about Europe before booking that open-ended return ticket to glamorous Paris. In that case, there are some things you should know unless you want to wind up back home, broke and disappointed a few short months later.
Most of the Americans, Australians, Canadians, and New Zealanders living and working in France fall into one of three categories:
They are married to a French (or another national of the European Union) citizen.
They inherited dual citizenship from their parents.
They are highly-skilled professionals sent to their company's French office to achieve a specific task.
France currently has working holiday agreements whereby Canadian, Australian, and New Zealander citizens aged between 18 and 30 can undertake paid employment for up to one year.
The options for American citizens, however, are a bit more complicated.
The options for American citizens, however, are a bit more complicated. Logically, your first option should be to apply for a work visa. But is this the best way to go? According to the French Embassy, Americans can stay in France (without working) for up to three months on a tourist visa. If you want to stay longer than that, you need to apply for a work visa. The problem is you must have secured a job before you can apply for a work visa.
Tony Perla, an American who has worked in the south of France for the past three years as a self-employed builder, says:
"The first challenge is to find a job, not the work permit — hiring someone legally is prohibitive from the point of view of employer commitments (salary, pension, health care, etc.)"

"This leaves very highly specialized people who have a particular talent (programmers, systems analysts, etc.)," says Tony, who is also a board member of the association Americans in Toulouse, "for these jobs, the person must find a company that will sponsor them. That company must then justify that they really need this person because they cannot find an EU-alternative national."

Note that digital nomads, remote workers, whether employed or self-employed, may work up to 90 days until their tourist visa expires.
Self Employment
An American who works in France in whichever field, without being married to a French person, is, as Tony puts it, "a very rare animal indeed and is likely here on his/her own means."
"It is virtually impossible for them obtain a job with an existing French or American company any longer. The French authorities will require justification that the person has skills that simply do not exist in France, which is quite rare." he says.

"It is possible for them to start a company and employ themselves — that's about all. This will require the usual minimum amounts financially that must be justified as well as payments of all local taxes from which they will not be exonerated (as any resident starting a company would be.)" says Tony.

"There are few restrictions in place if you plan to come over and employ yourself without asking the French government for anything. Some people come over and buy a vineyard for example, and pay taxes etc." Tony adds.
Student Visas
The popular alternative to the work visa is to apply for a student visa. If you are a student at an official university (and not a language school), you can work up 964 hours, which corresponds to 60% of normal working hours in France, not enough to support yourself, but a nice supplement. Quite a few foreigners enroll in a university program to get the right to work in France. Once they're in and have their official papers to work, they never return to classes.
The downside of this is that this approach has long been used and abused, which means that a student visa is becoming a difficult thing to come by as the French government clamps down on the number of visas issued.
If the official hoops return no rewards, and you've still got the travel bug, some people come over as a tourist for three months and hop back and forth from France to England for a week to reset their 3-month tourist visa back in France.
Teaching English
To support themselves, they find that under-the-table work as a private English tutor is available to resourceful and hard-working native-English speakers. You can do quite well with an email address and a good grammar book.
The best places to advertise this type of work are on university notice boards, English bookshops in the city center of Paris, for example, and on the internet. Those who mention they are native-English speakers get a lot of inquiries.
On the other hand, if you are lucky enough to get a visa that entitles you to work and you want to teach English, you will find that most often, the jobs given to native-English speakers are in teaching technical English.
It's important to note that employers hiring you to teach English don't necessarily speak English themselves, so your interview will be in French. You'll be required to be at least able to speak enough French for negotiations with secretarial staff, to read and respond to important faculty notices and to read and understand your work contract.
Once you've got your visa and your mind is made up to teach English, then you'll need a degree in anything, preferably be a native speaker of English, and will have a TEFL/CELTA certificate. The Cambridge CELTA website can provide you details about your local approved center, though many online and other schools worldwide now teach this methodology.
You can apply to teach at language schools, international schools, private primary and high schools, and universities.
Still, there are advantages if you are okay with being underpaid at a language school, the quickest and easiest way to get a job. The three main benefits are:
1. You don't need to pay into the social safety net




2. Language schools can be your primary employer, unlike universities




3. It's a good way to get your foot in the door and develop a network
James, a Scotsman who has written his own French/English dictionary for land surveyors, offers a word of warning to would-be English teachers, however:
"Teaching English is a saturated market [in France]. If you can, you're better off targeting areas like marketing." says James, who now works as a marketing and sales manager at the CNES (Centre Nationale des Etudes Spatiales), Europe's space research program.
Jennifer, a French native with a British degree in business studies, teaches English at some universities in Toulouse. She agrees with James that teaching English is a saturated market. However, she says that some attractive options are available if you still want to teach and have the right qualifications and experience.
"Freelancers and professionals should try approaching business schools to teach subjects in English such as marketing, accountancy, engineering, etc, to final-year students," she says. You should also try international schools where you can teach other subjects such as mathematics, history, and geography."
Jennifer also says that having a specialty means you have less competition and earn more money.
"Connections are the key to getting a good job," Jennifer adds, "get in with one school and become friendly with the teachers — that way you'll find out who's looking for more teachers. Personal recommendations work well."
Whichever path you take, be prepared for the mountain of administrative paperwork, read up on France, and soak up all the strength you can muster for the exciting and life-altering challenge ahead!
Narelle Lewis is an Australian who writes from Toulouse, France.