Living and Working as a Tour Leader Abroad
The Pros and Cons
Article and photos by Lies Ouwerkerk
Senior Contributing Editor
10/2014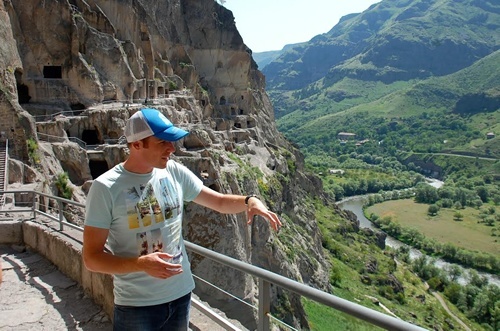 Tour leader Sergei at a centuries-old cave town.
In the wee hours of a still very dark morning, our travel group, tired and sleepy after a long journey, is met in the Tel Aviv airport by a welcoming and vivacious Dutch woman with the name Nienke, who will guide us, together with a local driver, along the many treasures of Israel and Jordan.
Once in our hotel, there is some commotion. A backpack seems missing, but after having given it a good thought, the owner realizes it is still standing on the sidewalk; the air conditioning of one room is not functioning; two single travelers, completely unknown to each other, have been assigned to a room with one double bed; someone protests the meeting time of 9:00 a.m., preferring to catch up with lost sleep; others want to know where the breakfast lounge is located and if bread will be fresh. Nienke remains patient, reassuring, and all smiles, quickly resolving the room issues with the night clerk of the hotel and wishing us some hours of restful sleep.
Her gregarious, positive and flexible nature is never wavering during our 3-week long trip, not even when we each have pitched in money to cover for a dinner and a considerable amount is still mysteriously missing, when there are complaints about the quality of the simple accommodations in a little village where no hotels exist, or when some are grumbling because we have arrived at a monastery with locked gates. Does she not want to let out a long sigh or roll her eyes occasionally?
Perks of Being an Overseas Guide
One day, after Nienke has told me a bit more about her background, which includes psychiatric nursing, journalism, and teaching communication, I ask her about her motivation to become a tour leader. "I am an adventurous soul and have a broad range of interests," she responds, "my whole life I have been traveling the globe, even when I was working regular jobs. But in those times, my outlook on the world always remained limited to the book cover. Now, I finally have the opportunity to read the actual book: by establishing and maintaining contact with locals, immersing myself in the culture as much as I can, studying Arabic, and writing articles on social issues in the Middle East. In periods between two tours, I have also participated in activities such as running a hostel in Amman, hiking along the Israel National Trail, and combining an Arabic language course with a homestay."
Nienke and driver.
"I also have a lot of energy, am a real people person, and love to transmit knowledge, three really important requirements for this job," she adds. Indeed, Nienke shows genuine interest every time she engages in a conversation during our long bus rides or meals together, whether it is with someone who explains in detail the medical procedures of a recent operation, with people who want to show their every picture, or with our driver disclosing his complicated family situation.
She is also a fun-loving animator, and thinks nothing of brainstorming, organizing, and collecting money. "Who would like to go to the hammam (steam bath)? Anybody interested in a local dance troupe? How many want to order a lunch box?" And not only does she have an excellent knowledge of the population, climate, geography, and culture of the areas we pass, but she can also recommend that little restaurant with the best kanafeh (cheese pastry in thick sweet syrup) in town, ask the driver to stop at a Bedouin tent along the Kings Road for the most magnificent views of the Wadi Rum, or tell us anecdotes such as the one about a totally unexpected snowfall in Jordan that prompted locals to drive around with snowmen on top of their hoods.
Drawbacks to Being a Tour Guide
But how about drawbacks? For Nienke, there aren't many, at least not at this moment. Sure, it is more difficult to stay in touch with friends and family, and close relationships are indeed hard to maintain, but these days there is internet connection in nearly every hotel: you can Skype, call, email, text, and even send and receive pictures. When she is pressed to list at least one dislike, it is this one: having to deal with demanding and self-centered travelers who have unrealistic expectations, are inflexible, or have no idea of the huge amount of work behind the scenes to make sure everything will happen according to plan. While you always need to be sensitive towards your clientele, you definitely have to have a thick skin when it comes to your own feelings, she concludes.
Sergei, who together with tour leader Dario from Great Britain guides a small group of seven people through his home country Georgia, echoes a similar concern. As a teenager, Sergei spent two months of a barren winter in the famous Gergeti church, high in the Great Caucasus Mountains, and learned a lot from priests about the meaning of relics and icons in Georgian Orthodox churches and monasteries. To support his geology studies in Germany, he uses this knowledge while operating as a tour guide each summer, until he will have obtained his Ph.D. and flies out to the Canadian Rockies where a firm job in his field is already awaiting him. For now, however, he proudly and gladly transmits knowledge about his land, culture, and religion to people from all over the world. But he finds it extremely difficult to tolerate rude and disrespectful people. He mentions, as examples, those who take pictures of icons after repeatedly having been asked to refrain from any photography in churches; or women who choose to ignore the rules (wearing a skirt and covering their heads) when entering religious sites.
For Sergei, there is yet another less attractive component to guiding tours: hardly ever finding time for himself and feeling totally exhausted by the end of the day. Without any doubt a people person, but with a somewhat introverted streak, he finds it hard to be "on" the entire day—to continuously give while receiving little. Always being on the road makes it also difficult to maintain friendships and contact with his family members who are very dear to him but unfortunately don't communicate by internet. A love relationship was cut short recently because he was always on the go and had hardly any opportunity to stay in touch.
Adds his colleague Dario, an affable, caring, and well-organized tour leader in his early 30's who studied tourism at a London university: "when you have this kind of job, the stakes of meeting someone are quite low, and even if that does happen, there is little chance of nurturing a serious, long-distance relationship." For him, being a tour leader is also a steppingstone to a bigger goal: having his own tour company one day. Therefore, he embraces any opportunity to learn the ropes of his trade by leading tours all over the world, with people from all walks of life, character, and culture. One day, he hopes to return with all that wealth of information to Ethiopia, his country of origin, to start his own business and have a family there.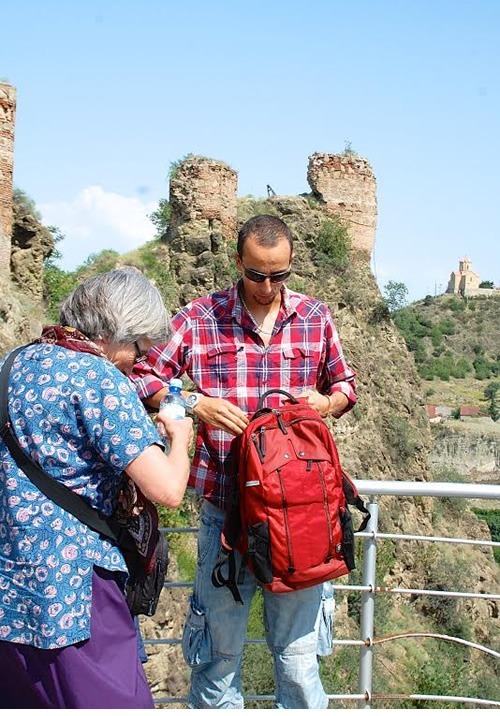 Dario handing out water bottles.
Dealing with the Unexpected
Being a successful tour leader does not only mean having good organizational and managerial skills, getting along well with a group of keen travelers and local service providers, being knowledgeable enough about the visiting countries, and possess fundamental qualities such as being positive, dynamic, and service-oriented. There is always a chance that the "unexpected"  is just around the corner: a natural disaster, political unrest, a canceled plane or delayed train, an accident, or a sudden death. A tour leader carries the responsibility of staying in command under all circumstances and has to be able to deal with whatever may go wrong.
On the first night of a long-anticipated journey through Tajikistan and Afghanistan, our British tour leader Max has the unpleasant task to inform our group of eight adventure travelers that the three participants who are still without a permit for the southern province of Gorno-Badakhshan — gateway to the Afghan Wakhan Corridor — will have to stay behind in the Tajik capital Dushanbe until the suddenly imposed ban on permits will be lifted. For the other five, who could obtain permits through the Tajik embassies in their home countries, the show must go on.
For a week, Max is on intense double-duty: not only guiding his five travelers through the most remote areas of Tajikistan and crossing the border into Afghanistan, with all the challenges and stress that come with that territory, but also trying to stay in touch with those left behind in Dushanbe, making sure they are fed, lodged, and inspired with hope of still catching up in a few days. After a week of waiting in vain, the gap has unfortunately widened too much, and he eventually has to resort to the inevitable: advise the stranded three to book their return flight to Europe, all the while conferring with his head office in London about the "if and how" of compensation.
Tour Guide Pay
According to all interviewees, they are not in it for the money. Considering that you are on call 24/7 for days on end, the job is certainly not well paid. "But I don't need very much either" says Jan, a Dutch tour leader in Myanmar, who was sold for good to the country since his first trip there. 'While on tour, my hotel, food, and transportation are paid for. I don't have to spend any money in escaping the dreary winter months of my own country, and in the free periods in between trips, Burmese beach life is extremely cheap and chill."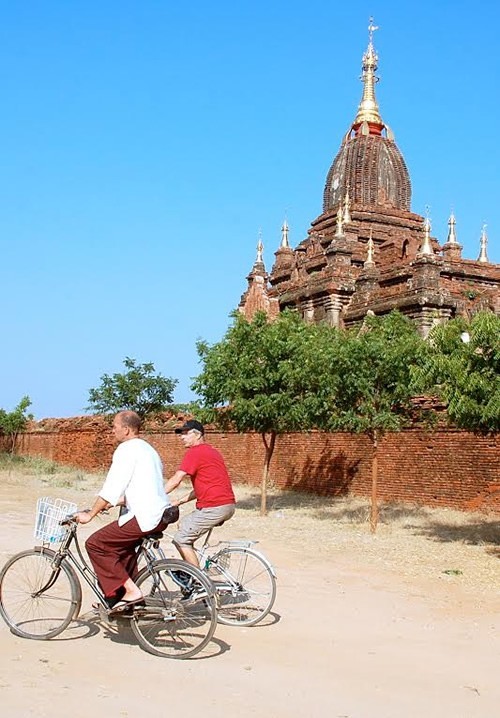 Jan joining our group on bike in Bagan.
For most others, however, being a tour leader is a means to an end, and has a temporary character. Says Nienke, "I just see what comes on my path, and reassess each year whether I still feel I'm on the right track: Am I still learning? May the job get too much in the way of other activities, new horizons, or relationships with significant others? Can I still let go of nasty comments or are they starting to bug me more often? Do I still have what it takes: energy, motivation, and genuine care? And most importantly: are the reviews of travelers still positive?"
For More Info on Working as a Tour Guide
Some example organizations, though there are also other big and smaller travel tour organizations with a periodic need for tour leaders.
G Adventures offers trips to destinations worldwide from its base in Canada.
Intrepid offers a variety of small trips and adventure tours around the world and is based in Australia.
Imaginative Traveller is a U.K. organization and provides adventure tours worldwide.
Lindblad Expeditions, which partners with National Geographic on responsible small cruise ship adventures to exotic destinations worldwide, has a variety of jobs available for qualified applicants.
Lies Ouwerkerk is originally from Amsterdam, The Netherlands, and currently lives in Montreal, Canada. Previously a columnist for The Sherbrooke Record, she is presently a freelance writer and photographer for various travel magazines.