Cultural Travel and Alternative Tours in Europe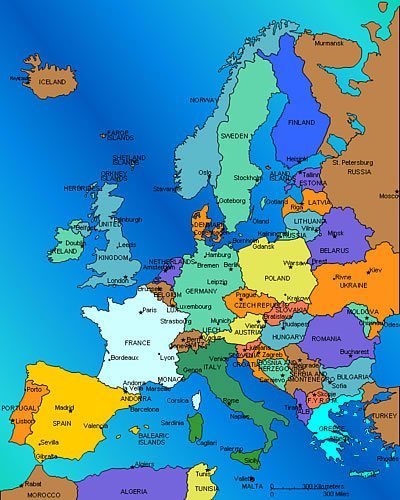 artbreak™ Arts Immersion Vacations in Prague
artbreak™ is a unique, total arts immersion experience for adults who love the arts. artbreak™ provides intimate access to Prague's artistic world via hands-on morning workshops with local artists, afternoon gallery visits and wine tasting, plus evenings at the opera, symphony, ballet, plus Prague's renowned jazz clubs. Our unparalleled six-day vacations renew the heart, mind, and spirit – and the wonders of Prague come included.
Visit: www.artbreak.org
Biblical Archaeology Society
Adventure in Aegean Archaeology (with cruise). Whether your interest is in the lost civilization of the Minoans, the splendor of classical Athens, the political turmoil of the Hellenistic period, the rise and rule of Roman Empire, the early development of the Jesus movement and the New Testament, or the stunning success of Byzantine Christianity, this tour's for you!
Visit: www.biblicalarchaeology.org
Bliss Travels
Food & WineTours in France and Spain
We host small groups in France and Spain. We provide a personal chef and guide, a private maison with breathtaking views; sight-see in places only the locals know, chauffeured cars and attend private wine tastings.
Visit: blisstravels.com
Ciao Bella Tours, LLC
Experts in Travel in Europe
A unique and experienced tour operator offering complete customized itineraries throughout Europe, including France, Italy, Croatia, Spain, Switzerland, U.K., and more.
Visit: www.ciaobellatours.com
Cook Italy
Cooking classes and gourmet tours in Bologna, Tuscany, Lucca, Umbira, Venice and Sicily.
Visit: www.cookitaly.com
Cookinfrance
On your cooking course in France fresh seasonal produce, united with good clear flavours, will shine with very little fiddling. All the great chefs share the same cooking philosophy: keep it simple!
Visit: www.cookinfrance.com
Crete's Culinary Sanctuaries
Cultural and Culinary Seminars
Discover the secrets of Crete's wild nature, culture and cuisine during botanic hikes in majestic mountains, visits to historic sites, organic farms and villages off the map. Journeys change with the seasons and include organic olive oil production, beekeeping, winemaking, cheesemaking and always eating well. Our all-local network of chefs, sustainable organic farmers, botanists, archaeologists work together to present an invaluable experience for our visiting friends.
Visit: www.cookingincrete.com
Dante Alighieri
School, that offers language courses, high school and college study abroad programs for credit, Italian university preparation courses, and culinary classes.
Visit: www.dantealighieri.com
Divina Cucina
Cooking classes in Florence with which begins with full immersion into Tuscan life by shopping at the Central Market.
Visit: www.divinacucina.com
Faith Willinger
The noted author offers cooking classes in Florence. "I teach market-to-table sessions in my 18th century kitchen in the center of Florence. Classes are limited to 6 participants, held on Wednesdays and begin at 9:30 with an espresso and an Italian coffee lesson. We adjourn to the nearby Santo Spirito market, to visit the Innocenti family's stand and purchase their organic, just-picked produce and eggs. Back in the kitchen everyone works together, pairing vegetables with superior extra virgin olive oils, real (not supermarket) balsamic vinegar, single wheat cultivar pasta. Each session prepares 8-10 dishes. Appropriately fantastic wines are served, during the class and at lunch, followed by fruit distillates and grappa for the intrepid. Participants receive a gift bag packed with special ingredients that we've worked with."
Visit: www.faithwillinger.com
Fiddlers Retreat, Ireland's Irish Fiddle and Culture School
Experience Ireland through its music and culture. Enjoy excellent Irish fiddle tuition, afternoon sightseeing tours to The Rock of Cashel, Kilkenny City, Lough Derg on The River Shannon and many Traditional Irish music sessions during your vacation. All meals are home cooked and prepared using the finest local ingredients. You will stay in the comfort of a real home. This promises to be an authentic Irish experience.
Irish Music, Culture and Cookery Appreciation.
Experience a wide variety of activities during your visit. The holiday is specifically designed for guests with no prior musical training, giving you the opportunity to learn simple tunes on the tin whistle, afternoon outings take in the scenic and cultural sights of the region. You will enjoy Irish cookery demonstrations, outings to sporting events, horse racing/hurling/greyhound racing. Irish language classes can be arranged. All meals are home cooked and prepared using the finest ingredients available locally. Accommodation will be in the family home of your host. This promises to be an authentic Irish holiday experience.
Visit: www.fiddlersretreat.com
Gastronomicom
International French Language, French Cooking and French Wine Study
We organize one month or three month programs. Also 7 month to 2 year internship programs, with intensive French lessons and cooking courses or French wine courses. Programs in France and Miami.
Visit: gastronomicom.fr
Irish Theater Summer School in Ireland
Gaiety School of Acting Summer Program. Study Irish Theater in Ireland, 1 month program (July). Practical acting classes. Beckett, O'Casey, Friel, and Synge. Academic and extensive social program. Ireland's premier drama school. Founder Joe Dowling AD Guthrie Theater.
Kerry Fiddles
Irish Fiddle Holidays for Adults
Introductory courses for complete beginners as well as intermediate courses for the more advanced. Individual or group tuition. Kerry Fiddles specialise in fiddle virgins. By the end of the week you'll be playing your first tune! Morning classes are a hoot, there's no music theory, no pressure and no rush. Afternoons are free to explore the most beautiful part of Ireland.
Visit: www.kerryfiddles.com
Music and Markets
Cultural tours in small groups which combine enjoyment of the great musical tradition and festivals along with the local markets in Prague, Provence, Amsterdam, Bordeaux and Orvieto.
Visit: musicandmarkets.com
Painting Holidays au Chateau de Lanquais in Dordogne, France
Come & paint in a renaissance chateau in the Dordogne, Southwest of France. Warm welcome for all levels. The program focuses mostly on plein -air, colour & light. Learn to see in a way that helps your painting. Help in developing your personal style. Experienced, qualified workshop leader with established success in painting workshops. Equipped atelier; possibility of renting a paint kit. Convivial banquets & french cuisine. Friendly holiday atmosphere. " A truly beautiful place."
Visit: www.artists-atelier.com
Peter Sommer Travels
Archaeological Tours and Cruises in Turkey, Greece and Italy
Specialists in small group tours that explore the rich and extraordinary heritage of Turkey, Greece and Italy. Our trips focus on particular regions, sailing in gulets along sections of the turquoise coast, or between islands, or on key characters from history such as Alexander the Great. Several trips are personally led by Peter Sommer, an archaeologist and film-maker, who has worked on many acclaimed BBC/PBS/CNN series, including In the Footsteps of Alexander the Great and Tales from the Green Valley.
Visit: www.petersommer.com
Sail Croatia
7-Day sailing adventures in the Croatian Islands suitable for independent travelers.
Visit: www.sail-croatia.com
Tenuta di Capezzana
Sample Program: A five day program exploring the foods and wines of Tuscany. Faith Heller Willinger, Director of the Capezzana Wine & Culinary Center, has designed a program to meet the needs of the food professional as well as those interested in exploring wines and foods of Tuscany.
Visit: www.capezzana.it
Toscana Mia Cooking Program
Toscana Mia offers a variety of programs about Italian cooking, wine, food and language in Florence and Chianti region, Tuscany's countryside, with an Italian family to experience real Italian life.
Visit: www.welcometuscany.com
Touching Nature
The website provides detailed information on walking in Austria, Switzerland, Germany and parts of Northern Italy – including hiking tips, best places to stay, things to see and do, and even information on nature, wildlife, history, and culture. The content is highly detailed and original – based on the host's own personal experiences of walking and exploring these hand-picked regions.
Visit: www.touchingnature.com
Tuscan Women Cook
A cooking school run by American expatriates. Learn to cook Tuscan style from the source—the local women using recipes and techniques passed down over the generations, cooking with what they find fresh each day at the market and in the garden.
Visit: www.tuscanwomencook.com
Tuscany Cooking Class
Gastronomical Adventure in Tuscany, Italy
Tuscany Cooking Class offers beginning and advanced cooking classes in Tuscany and wine tours in Chianti, Tuscany.