Cultural Travel in Thailand
Thai Village Economy Increased with Silky Smoothness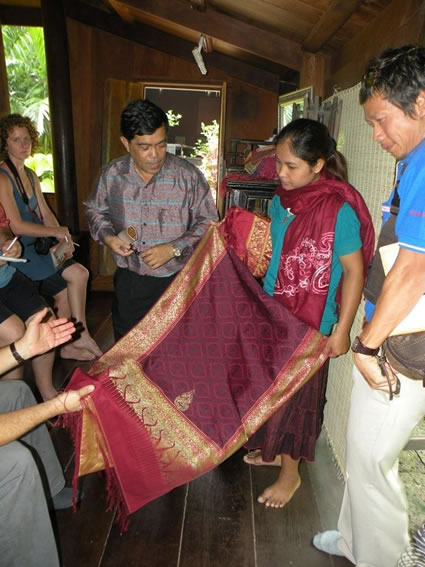 Silk for a King.
My hand grazed the elaborate design of miniscule leaves, winding vines, swirling spirals in ruby red and glittering gold, as soft as an angel's wing, as strong as tinsel steel, as regal as an ancient Khmer ruler. I behold a fabric so fine; it is rightfully destined to be fashioned into ceremonial garments for Thailand's King Rama IX and the royal family who were instrumental in resurrecting cottage industry silk weaving.
After the East Asian economic crisis of 1997-98 which greatly affected Thailand, many unemployed city workers moved back to their villages. (The crux of this collapse was imprudent lending by financial institutions, which we North Americans can now readily relate to.) His Majesty and "Mother to all Thais" Queen Sirikit funded rural development with training programs and necessary equipment to revive cottage industries, and thereby increase village income.
Isan (EE-san), the colossal region composed of 19 provinces in the northeast of the country, is dotted with villages that have been aided in reviving the area's indigenous silk weaving craft. The least frequented region by tourists, life in Isan is lived as it has been for centuries, at a slow steady pace steeped in tradition.
The exquisite fabric that touched my hand was created in Ban Tha Sawang. I travelled with Yui (U-ey) my guide, north of Bangkok and crossed several of the most southerly provinces of Isan to get to this village in Surin province. Lime green rice paddies stretched to the horizon and water buffalo wading in muddy pools conjured up images of traversing the Silk Road of old, except being modern day explorers, we rode in a comfortable air-conditioned bus.
Our stop at Phanom Rung Historical Park was dual-purposed. It was good to stretch our legs along the long promenade flanked by naga (5 headed mythical serpents), and up a lengthy stairway to the pink sandstone Khmer temple. Erected during the Khmer rule between the 11th and 13th century, their architecture and art is displayed in the carved lintels and decorative friezes - of which Yui said, "Isan has profound respect for heritage and history. Watch for these same designs in the silk fabric."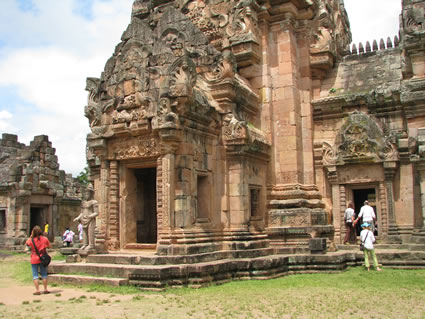 Khmer Temple.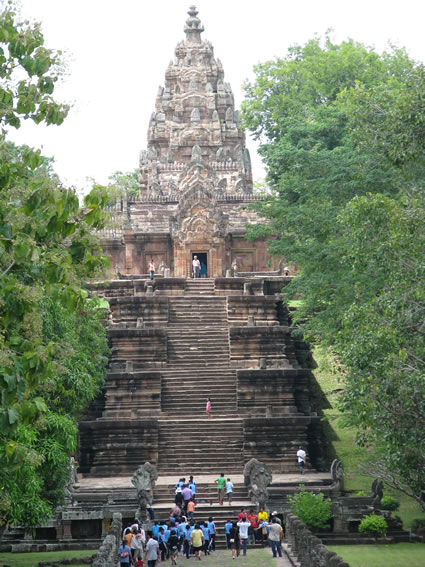 Khmer ruins.
I did not have to wait long to make the comparisons; by mid-afternoon we arrived at Ban Tha Sawang. We were lead into a small reception area to indulge our senses in samples of exquisite brocades; sapphire blue and emerald green with silver threads entwined; and lastly the ruby red fabric of superlative complexity saturated with golden threads and bearing the royal crest.
Yui and I then walked the village paths sided by tethered water buffalo munching grass, and men folk busy with chores outside their shanties.
We came to a stop at the humble beginnings of the outstanding textile. An elderly lady sat on a mat. As we approached she gently pulled back a cloth covering a large flat basket. Plump translucent squirming silkworms were feeding on a thick layer of mulberry leaves. The lady waved a fan over her brood in an attempt to stave off the sweltering heat.
Further down the path another lady sat stirring the worms' pupae stage of yellow cocoons in a cast iron pot of boiling water. As each cocoon burst she adeptly caught hold of the silk thread and wound an unbelievable 250m from each pod around a hand-cranked reel attached to the edge of the pot. She occasionally scooped another handful of cocoons from a basket and tossed them into the bubbling water.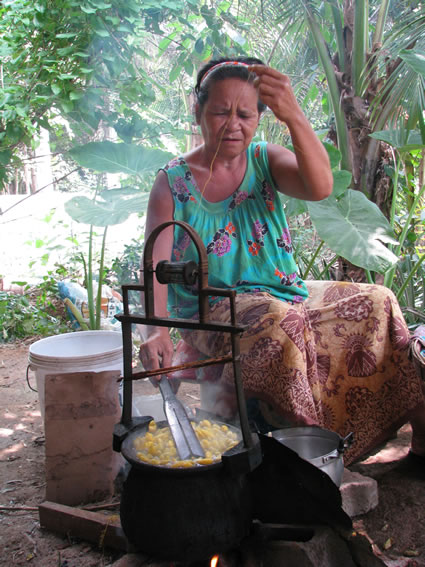 Cocoons.
Next we came to where vats of indigo dye were being produced. Banana plant leaves smouldered in a pit, the resulting ash was mixed with water and indigo leaves. On alternate days red is made from insect nests, and green from tree bark, and other vivid colours from natural sources.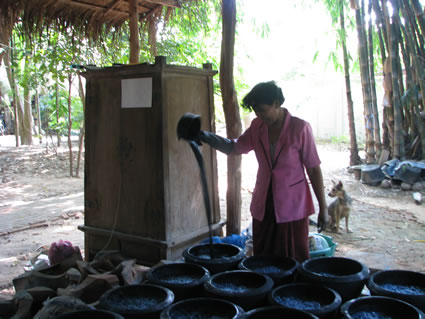 Indigo dye.
In a nearby building a large loom clacked away as four women, including one sitting on the floor below the others, worked simultaneously to weave the silk threads into beautiful designs at a rate of 5 to 7cm a day. The fabric cannot be purchased here, it is all by special order and sells for up to 70,000 Bhat per metre (approx. $2,400 Can).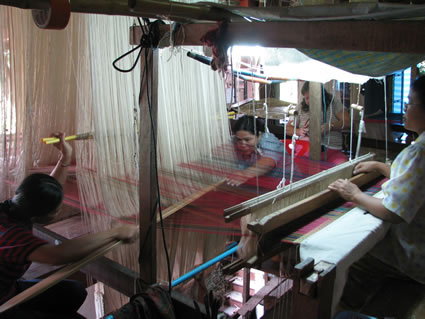 Silk weaving looms.
More in line with my personal coffers, dozens of small shops along the roadside sell factory made silk scarves, purses, and shawls; easily activating my shopper-mode.
Years of enthusiastic effort has brought this almost forgotten art form to this new pinnacle of production. A certain pride that comes with self-sufficiency permeates the village. We left warmly imprinted by the gracious hospitality of the villagers and inspired by how methods and design of the ancient past and present day village life are as intricately woven as their masterpieces in cloth.
For More Information
For more information on Isan, including accommodations, transportation, and sites contact the Tourism Authority of Thailand.