Cycling the Laurentians in Quebec, Canada
Article and photos by Cherie Thiessen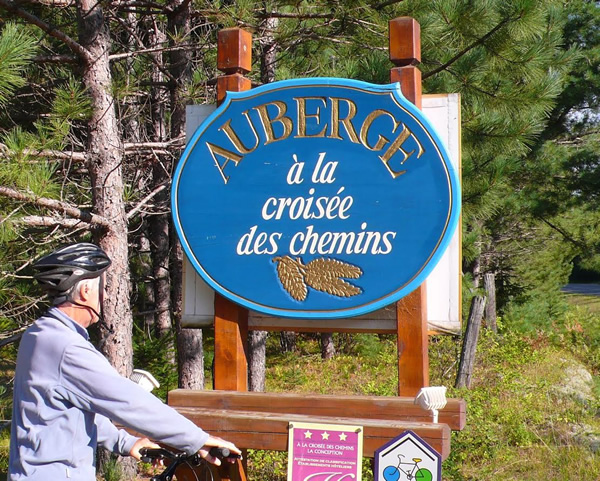 Arriving at another of our auberges.
Take away the rails and the tracks, cover the route over with fine gravel or even pavement, border it with lakes and sylvan hills, dot it with restored stations and services, restrict travel to two legs or two wheels, and you have cycling paradise.
Cycle touring on old railway beds has always been one of our passions. Such routes always curve away from the populated areas, ever deeper into the backcountry. Best yet, the winding is handled gently because trains can't climb steep grades. Now in our late 60s, we can't either.
So having cycled every western route over the years, we turned our handlebars to the east, discovering the Cadillac of bike trails in Canada's Quebec province. Le P'tit Train Du Nord Linear Park is a 124-mile playground undulating northwest from Saint-Jérôme through the Laurentians to Mont-Laurier, the longest such park in Canada. Converted from a railway bed in 1996, the route boasts of stunning scenery and a gentle grade. Another plus was its restored railway stations, now cafés, tourist information booths, craft shops, museums and stores. This meant in addition to exercise, great scenery, and a slow-motion acquaintance with the passing locals, we would also be able to immerse ourselves in local culture and history as well. A cold beer or washroom on the route wasn't to be pedaled past either.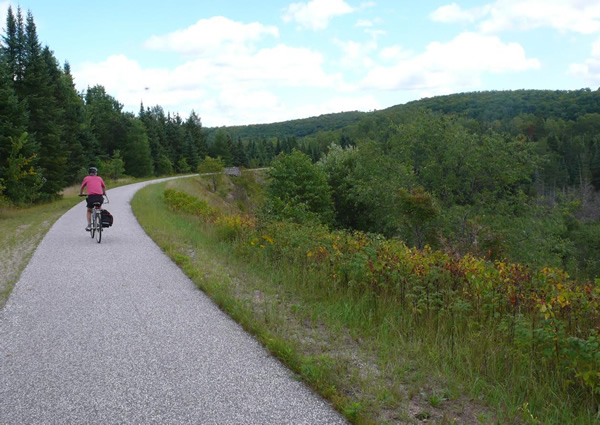 Cycling through sylvan landscapes.
The Company. Finding a local company to supply bikes and transport was crucial and we lucked out with Autobus Le Petit Train Du Nord, providing a full service shuttle and bike rental service since 1997. Located at the spiffy, renovated station of La Place de la Gare in Saint-Jérôme, the company transports cyclists to the end of the route at Mont-Laurier, a 3-hour trip with stops en route for day-trippers. In addition, it offers daily luggage transport and works with B&B le Voyageur Inn to book nightly accommodation, breakfasts and dinners, based on whether cyclists want a 3, 5 or 6-day trip. Aline Raymond, who operates the company along with her husband and son, says that 80% of the cyclists request the luggage shuttle service. Check their site for departures from Montreal as well.
The Route. Saint-Jérôme is Km. 0. A pretty town of over 68,000 only 25 miles northwest of Montreal, it offers the best services. The Comfort Inn & Suites was a perfect place to overnight, and judging from the bicycles stored there, a lot of others felt the same way. From there it's a 5-minute taxi ride to the station and the shuttle company's old red caboose, where bikes, transport, and a warm welcome awaited us. The service has grown considerably and now has 2 luggage vans and two buses. It's great to see a local business thriving, especially one that brings sustainable, revenue-generating travel to the area.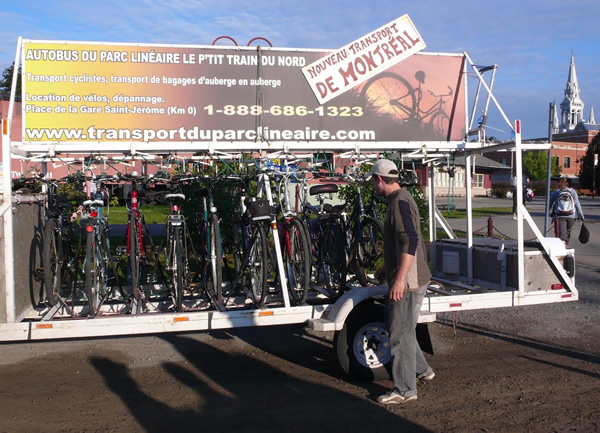 The shuttle and bike rental company at Saint-Jérome station.
We were soon kitted out with gleaming Opus hybrid bikes and panniers and climbed aboard for the 124-mile journey that would take us to the northern terminus at Mont-Laurier. At 724', it's 400' higher than Saint-Jérôme. As the highest summit on the return was still only an elevation of 1,400', the whole route promised to be fairly effortless. Interspersed with towns, including the winter playground of the rich and famous, Mont Tremblant, it also meant we could dawdle, and dawdle, we intended. We had booked the 6-day tour, Le Baladeur.
Mont-Laurier to Lac-Saguay was only 23 miles on our first day, but quite enough given the later start. While lunching at Mont Laurier station, we chatted to a bilingual member of the volunteer patrol and learned that a reassuring 40 of them oversee the trail.
It was a soft way to begin our cycling, a gentle uphill on pavement, with several lakes licking the shores, many rest stops with caboose-shaped shelters, toilets, and information signs, and hanging over all this a benevolent sun that could have been brutal in mid August. As a result of the perfect weather, combined with the perfect activity in the perfect place, we lingered longer — stopping at every rest spot, checking out wine in a small village shop, filling up with water from a spring marked by a blue ribbon by the side of the trail, and picking wild apples. Finally we rolled into our night's accommodation in late afternoon, Motel Ours Bleu on the banks of Lac-Saguay. The homey motel offered a perfect way to refresh ourselves; within a half hour I slipped into the lake, only lured out by the glass of wine my cycling buddy was holding up to me.
Lac Saguay to Nominingue was a mere 15 miles on, which meant serious dawdle time, and the number of interesting signs and stops along the way made that easy. We read about maple sugar harvesting, and the birth of Loranger as a canton in 1896, took photos of the Norwegian Pine planted in 1899 to celebrate colonization, and discovered that trailside wild raspberry shrubs were fruiting. Then we rolled into the Nominingue Station, a grand old beauty made young again. Built in 1904, it's now divided into a tourist information area, a sliver of a museum, and a craft boutique. A friendly bilingual volunteer explained that the station had actually been moved twice and that this little museum had been its original telegraph office. We listened to a young guitar-strumming busker, lapped up the sunshine at a picnic table, and then cycled into the town for lunch at an outdoor café before returning to the trail and traveling the final mile to our hotel for the night, Auberge Chez Ignace.
Were we in Europe? Built in 1891, the building was operating as a general store when the Belgium couple first saw it. Under Ignace and Yolande Denutte's capable hands, it was adeptly transformed into 4-star accommodation, offering gourmet meals in spacious dining rooms, a lounge, an outdoor hot tub, and well-appointed rooms. It being another perfect day, we soon took advantage of the inn's wharf on Lake-Nominingue, lazing on its chairs between swimming and kayaking.
Come evening, we had another treat. We hadn't expected a gastronomic experience this far north of Montreal, but then we hadn't known the proprietor's long family history in the hospitality business, 35 years of operating a thriving large resort in Belgium's Ardennes region. The table d'hôte menu offered several gourmet choices, and the Belgium beers met with approval.
The next morning, aromas of homemade croissants and fresh coffee soon lured us downstairs for breakfast at the start of another sunny day.
Lake-Nominingue to La Conception. We're off to a haven in the forest, 29 miles distant as the tires rolled. But first, more station houses, a trestle bridge, views of an old covered bridge, and the village of Rivière-Rouge, passing a bird interpretation center, and many of the village amenities. The old station house here, L'Annonciation, also offered all facilities including showers, telephone, tourist information, picnic tables, drinking water, and toilets. With a nearby Tim Hortons Coffee shop, a liquor store, large supermarket and several shops, it proved a perfect provisioning and lunch stop.
The L'Annonciation railway house at Riviere-Rouge.
It was Labelle station, however, ten miles further on, that really took the cake – strawberry cake. Its café served up tea and strawberry shortcake on the deck, where we munched, sipped, and watched children playing on the old caboose while we awaited the museum's opening. Staffed by another knowledgeable volunteer, the expansive venue graphically outlined the history of the trail and the work of one intrepid man in particular, Herman Smith-Johannsen, an avid cross country skier nicknamed Jack Rabbit, who developed many of the trails.
From here on, the pavement became packed dirt, still very easy cycling as it wound through fields and pastures, and alongside riding stables. A 1-mile detour took us down to the Auberge à la Croisée des Chemins and into the shade of majestic pines sheltering the large country home. We were met by its genial host and shown around the well-appointed 8-bedroom inn. Later, as we sat on the front deck enjoying glasses of fruity young Shiraz and watching the birds, we agreed it had been a fine day.
La Conception to Mont-Tremblant was the shortest day yet at a mere 10 miles, but that turned out to be a good thing as there was so much to see and do in the tourist village and the ski resort. The trail sliced alongside Lac-Mercier under the pines and maples before entering the tourist village of Mont-Tremblant. Besides offering the usual comforts of toilets, drinking water, and picnic tables, this station had an exciting new life as a premier art gallery. Cafés, boutiques, and gift shops all lined the warren of roads, while bathers and sun worshippers dotted the sand and grass alongside Lac-Mercier.
When, in spite of coffee stops and gallery browsing, we found ourselves at our lodgings before lunch, we were fortunate enough to find our room ready for us at the popular Le Voyageur B & B. After walking into town and checking out our restaurant for dinner, we caught a bus up to the ski village and felt we had entered a Swiss wonderland.
Mont-Tremblant to Sainte-Adèle, contained the steepest part of the journey. Half of its 30-mile stretch wound up to the summit, but powered as we were by Le Voyageur B & B's delicious French Canadian breakfast of creton – a spicy pork pate that's one of Quebec's culinary gifts to the world, along with a frittata with cheese and spinach, fresh fruit and coffee, we didn't notice the grade. There was also too much to distract us and too many stations to lure us in. With ice cream at the Saint-Agathe-des-Monts station, its old photo and camera display, and stops at Gare Val-David and La Petite Gare, we found the morning quickly receding. Now closer to Montreal, we noticed the trails were filling with families and couples out for the day. Chatting with them at the picnic tables and stations was a pleasant diversion.
We arrived at our final inn, the 120-year old original station house, Hotel de la Gare, at an ideal time for happy hour. Soon, sitting on the shaded deck, we were sampling beer dégustations: small glasses of delicious summer beers, with fruit flavors like peach, strawberry, and my favorite, maple syrup, while chatting with cyclists from Ontario. The 5-bedroom auberge dripped history, and hosts Linda and Yvon were warm and welcoming.
Our last night at Auberge de la Gare.
Saint-Adèle to Saint-Jérôme was a mere 16 miles. Breakfast on our last day included a coconut cake with banana and nuts, yogurt with granola, and fruit, and to ensure we had enough protein to get back to Km. 0, some ham as well.
The station at Saint-Adèle, a short distance along the trail, offered bike rentals and clothing, as well as a restaurant, but it was Piedmont Station, popping up a mere 3 miles further along that really snagged my interest. It being Sunday, a large Farmers Market had sprung up. Although traveling light, I couldn't resist buying a small bottle of local blackcurrant port, some local honey, and a delicious artisan loaf of twisted poppy bread that we soon devoured for lunch, along with hunks of local Brie and olives. The outdoor gym here looked fun so we tried it out before heading to Prevost. The station here lured us in with its advertisement of everything for $1: soup, muffins, coffee, and other goodies. Who can resist a bargain? Never us.
Ten miles further on, and we're back to the starting line, rolling under the arch and spying an outdoor restaurant where we celebrate the end of our halcyon cycle tour by raising a cold glass to a perfect trip.
To Sum up. Our Baladeur cycle tour offered everything we were after: small individually owned inns that gave us an opportunity to sample French Canadian dishes, try out our French, meet up with locals who were also enjoying the trail, and learn more about the region's history. And all this came wrapped up in wonderful exercise and an overload of our senses with the sounds, smells, textures, and sights of the Laurentians. Trust me, this sliver of Canada is a slice of cycling bliss.    
When to go: Mid-August to mid-September is good, when there are fewer insects and more good weather. In September the fall colors are brilliant. The trail is open to cyclists after the Canadian May holiday and closes after Thanksgiving in October.
Good to know: Because the trail is paved for three quarters of the route and even the unpaved section is in good shape, thin-tired bikes can do the trip. Mountain bikes are great but not necessary.
Knowing some French will come in handy but cyclists will be fine even without it. As more and more English-speaking Canadians and Americans are discovering the trail, English is becoming more widespread, especially the closer one gets to Montreal.
Want to travel greener or cheaper? Campsites are available all along the route. Scan or download the tourist guide at the official site below. Campsites and their websites are in the brochure.