The Trouble with Travel
How to Handle the Unexpected with Good Humor and Grace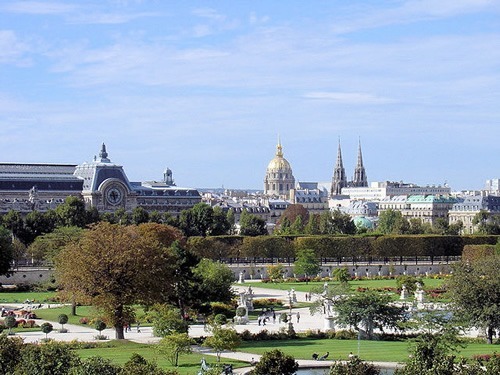 A view of the Tuileries gardens in Paris with the Musée D'Orsay in the background.
"Oh my God," shrieked the woman on the toilet in the train's bathroom. "What am I going to do?"
or
Before I knew it, I was surrounded by the most beautiful French women—all of whom smelled as sweet as lavender in Provence. "Where am I?"
New and experienced travelers alike, even when confident and well-prepared for adventures overseas, are undoubtedly in for many surprises as well. I still remember vividly my excitement and overwhelming sense of anticipation when booking my first trip. However, what I didn't know was that my journey would provide just as many jolts and consequent revelations as well. Events that seemed at the time to be embarrassing or downright exasperating are now very fond and often hilarious memories.
I am talking about those happy accidents and missteps along the way of our travels. How did we get there? A technical glitch? A case of mistaken identity? Poor recommendations from the hotel's staff? It's funny how trusting many of us are of people when we travel, forgetting to don our skeptical hats because we're so caught up in the moment. Carpe diem, right? Well, many times I wanted to throw that often-naive leap of faith right out the window, especially when I found myself in a "moment" and wished it had ended the very "moment" it began. So based on accumulated wisdom gained on the road to date, I humbly offer a few bits of travel advice for unsuspecting travelers.
An Episode in Venice: Always Trust the Advice of the Hotel Concierge
We had just checked in at the Hotel Palazzo Priuli in the Costello sestiere of Venice, a delightful boutique hotel along the Fondamenta de l'Osmarin. Within this splendid 14th-century palazzo, we had our own private balcony overlooking the canal with a Venetian café on the other side. The sights and sounds of Venice surrounded us—church bells pealed from afar, gondolas cruised below as the song of their gondoliers wooed and enchanted: we were living in rapture! After we unpacked, we stopped by the lobby for a lunch recommendation from our concierge. As were leaving, he told us to come back after we finished eating for a private excursion to Murano. "Was all of this really happening," we thought to ourselves, "how positively wonderful the hotel and its staff!"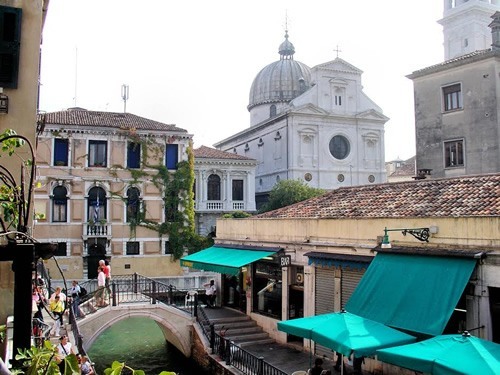 View from the Palazzo Priuli balcony in Venice.
After a delicious lunch beneath a canopy of grape vines, we boarded our water taxi and cruised along the Venetian lagoon to Murano, renowned for the traditional art of glassmaking. We disembarked at a dock owned by the glass factory and were escorted into a medieval furnace chamber ablaze in light. The Venetian master dazzled us with his glassblowing craft work, demonstrating to us how he transformed molten sand into stunning creations. Awe-struck and jazzed by the experience, we were then escorted into the "factory showroom,"  which was brimming with exquisite works. Vases, lamps, baubles, and trinkets filled the shelves from floor to ceiling. Magnifico! However, upon closer inspection of these treasures, we found exorbitant prices to match. And with that came the jarring realization why we had been brought to his workshop.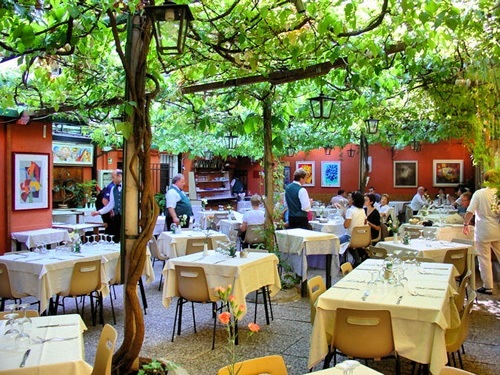 Lunch in Venice on the first day.
Our concierge had an ulterior motive, the time-share gambit, and every hard-selling tactic aimed at visitors with the intention of making them cave under pressure. No worry if you can't afford the prices at hand, we were assured that there was an "affordable" room that should accommodate most purse strings—not! As our anger surged after interminable polite refusals, we made it perfectly clear that we were not interested in spending €5,000 for a Murano vase and made our way to the exit. Needless to say, the smile on our cool and suave Venetian showroom guide had quickly evaporated.
At this point, we knew our taxi would not be waiting, so instead we enjoyed a walk along Murano's Grand Canal, purchased two pieces from Stefano's (at very reasonable prices), and hopped into the vaporetto back to Venice.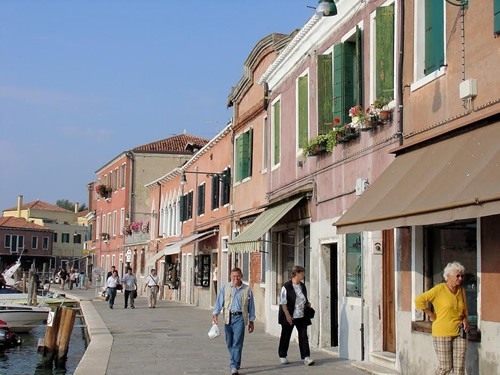 Shops along the Grand Murano Canal in Venice.
Fool Me Once, Shame on You. Fool Me Twice, Shame on Me!
Somewhat reluctant, even downright opposed to accept any more advice from our trusted concierge after our ill-fated trip to Murano, we agreed to purchase tickets to a Venetian concert later that night because it was something we had wished to do from the moment we arrived. With tickets in hand and directions to the venue on the other side of town, we arrived at our destination with an hour to spare. The concert hall was alight and the red carpet stretched to the door to welcome us in. After looking around, we noticed the only people inside were a few vendors selling concert CDs near the door. At the time, we didn't think much about the absence of a live audience since it was still early.
We walked outside and across the campo to the gelateria and indulged. "When in Rome—or Venice" as they say. When we returned, the hall was still empty save the vendors in the back. It was only 20 minutes to the start of the concert so we asked about the lack of an audience. As it turned out, we were at the wrong location! I had to fight back images of our concierge roasting on a spit.
The vendors explained that tonight's concert was at the Scuola Grande di San Rocco, a 20-minute walk away! With sketchy directions and a mounting fear of getting lost along the way, we ran and we ran, asking for some form of confirmation from shop owners and residents as we zipped by. Finally we arrived and flew up the stairs to the Sala Superiore. With moments to go, we found two seats near each other—sitting next to each other at this late hour was not an option—and collapsed into our chairs completely exhausted and dripping in sweat. But not long after the hallowed halls filled with the sounds of Vivaldi, Mozart, Paganini, and our troubles faded.
Suddenly, I looked up, and staring back down at me was Tintoretto's masterpiece ceiling. "Oh what luck!" Seeing Tintoretto's "Sistine ceiling," as some art historians refer to the work, has always been high on my list of art to see in Venice, and here we were—enjoying the art, the concert, the moment—all was right in the world!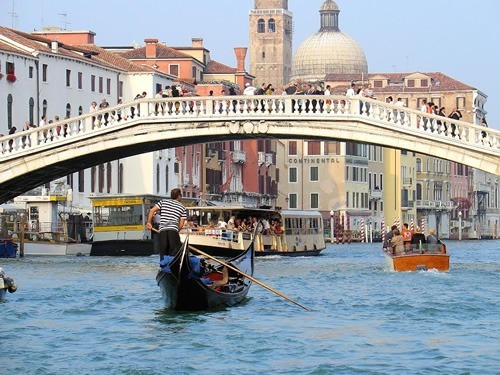 A view of a Venice canal.
Paris: Establishments Without Signs? Chances Are You Don't Belong
Our first night in the City of Light began with a stroll around Champs-Élysées. In search for a place to have dinner, we needed to buy cigarettes as well, so we hoped we would stumble upon a small tobacco shop or bar along the way. I don't remember precisely where we were, but we happened upon one place that had no sign whatsoever, but we could see a bar through the front glass doors so my partner walked inside. Directly ahead of him was a beautifully carved wooden bar with a woman standing behind the counter. After she explained that they didn't sell cigarettes, he turned to leave when he noticed a table of the most beautiful women he had ever seen—every inch of them haute couture from their beautiful coiffures, to the sparkling jewelry, to their elegant dresses and shoes. But above all, the women exuded the sweetest of fragrances. Flushed with embarrassment, it was only then that my partner realized this must be some sort of "gentlemen's club." As he dashed for the door, they exchanged au revoirs!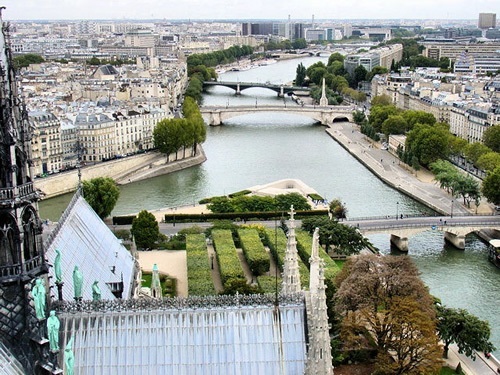 A view of the river Seine from Notre Dame in Paris.
Rome: Beware of Taxi Drivers Requesting Autographs
Probably one of the most hilarious moments in all of our travels happened to us in Rome during a taxi ride to the other side of the city to meet up with our Angels and Demons tour guide. While we were stopped at an intersection, the driver turned to me and asked me for an autograph. The expression of utter confusion on my face must have translated well because he shook his pen and notepad at my partner Matthew.
"Elton John, Elton John, right?"
Did he just ask for Elton John's autograph? I turned to Matthew and with hearty laugh, I explained that the driver thinks he's escorting Elton John and David Furnish to the Piazza del Popolo. We laughed. "Scusi," I responded offering up the truth.
Elton John and David Furnish sighting in Rome.
Roman Forum: Seek Out an OCD Tour Guide
A funny thing happened on the way to the Roman Forum. It was our first afternoon in Rome and we were heading to the Colosseum and Forum before they closed at 7 p.m. After an audio-guided tour of the gladiator arena, we walked past the Arch of Constantine and entered the Roman Forum's via Sacra, the main road through the ancient ruins. We did so before they started charging admission, so the ancient road was open to those from all walks of life.
"Who needs a tour guide anyway," I thought to myself. With my trusted Rick Steves guide in hand, I knew I would be able to identify many of the ruins based on Rick's detailed walking tour. Alas, it lacked the human factor, a guide who would regale us with the historical perspectives we so craved, and who would be able to answer our many questions as well. The desperation must have been obvious in our faces, because no sooner did we wish for a guide than she appeared. She found us? Well, that's how she put it when she explained to us that after having to suffer the empty-headed tourists who traversed the ancient road day after day, she sought us out because she thought we would truly appreciate a deeper understanding that her intimate knowledge would offer. I laughed to myself, because until this point in our travels that was by far the best sales pitch I had yet heard. So we agreed to her price and off we went on our journey back in time, 2,000 years ago to the age of Caesar.
The temple of Vesta in the Roman forum.
Our illustrious guide's name was Antoinette. Despite her somewhat disheveled appearance and disorganized manner, this woman spoke like a scholar. She imparted historical fact after historical fact about every artifact, column, relic and rock we examined—from its origin to its demise—and the circumstances surrounding each point in its genesis. With every breath, she spewed out facts so quickly that it was almost impossible to keep pace. Nonetheless, she was as entertaining as she was knowledgeable. As history unfolded before our eyes, Antoinette reached into her briefcase—a plastic bag stuffed with notes, copies, torn pages from guide books, assorted scribbling—to illustrate her points. Her method was crude but informative. Without a doubt, this was the most unusual tour we had ever taken, yet still one of the best. I have no doubt that the Forum is in fact Antoinette's passion, and central to her obsession for all things Roman. Whoever she is, wherever she came from, we are truly grateful! 
As fate would have it, we returned to the Roman Forum the following year, and prayed we would find her again. Sure enough we did. "Tutta La Vita!" Antoinette was a transformed woman and looked fabulous. Needless to say, we were extremely happy to  hire her again and even presented her with a new guidebook so she could ditch the scraps of paper. 
InterRail 101: Remember to Lock the Bathroom Door on the Train
Saving the best and most important tip for last, our little mishap in the bathroom onboard our train to Venice still elicits a burst of laughter every time I think about it, although quite harrowing at the time for my partner and the poor woman sitting on the toilet.
Matthew approached the bathroom and pushed the button to open the sliding door. What happened next was unexpected to say the least. The bathroom was occupied, and not only was it occupied but the occupant was still sitting on the toilet when she received the shock of her lifetime. Completely horrified by the presence of someone standing in the doorway (who wouldn't be?), she screamed, but when Matthew pushed the button to close the door, it didn't budge.
"Oh my God! What am I going to do?" the flustered woman blared.
Completely flushed, pardon the pun, with utter embarrassment, Matthew answered "I am so terribly sorry, ma'am. I am doing everything I can but this blasted door won't close! I have an idea. I'll turn around and block the view." Seriously, what else could he do?  
Now facing outwards instead of at this poor victim of circumstance frozen in fear, he did his best to block the view from any passersby while he struggled with the door. After what seemed an eternity, it released and slid shut. He ran.
As we exited the train, they shared a brief encounter—eyes met, but only for a moment. No words exchanged.
As prepared for travel as you may think you may be, it is best to be ready for those moments for which there is no possible preparation. Make the best of surprises and enjoy the ride, rich in the knowledge that such events will provide hilarious or very fond memories.
Jeff Titelius is a travel writer and publisher of EuroTravelogue.com—chronicles of wondrous journeys throughout Europe. As Jeff says, ""Wherever the roads or rivers may lead, I seek out cultural connections with places and people." In addition to his own website, Jeff has appeared here on TransitionsAbroad.com, Insight Guides, NRK-Norwegian TV interview, Viking River Cruises brochures, ItalianTalks.com, and he was a guest journalist on NRK-Norwegian TV's series, "Sommeråpent."—among others. Follow Jeff on Twitter @jefftitelius or @eurotravelogue as well as Facebook.com/EuroTravelogue.