Adventure on the High Seas Aboard a Freighter
How to Travel by Cargo Ship Around the World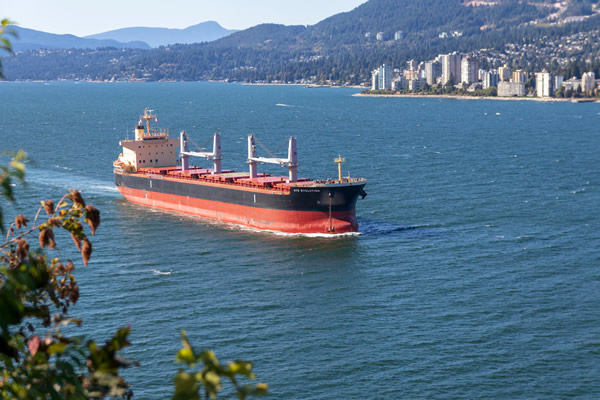 Travel through Vancouver by cargo ship.
Imagine for a moment that you are on the deck of a ship, sipping a glass of wine. You turn your head towards the water just in time to spot a pod of dolphins swimming by or flying fish, providing company in the ocean. After lingering in the sunshine for a while, it's time to head inside for a 3-course evening meal and a splash in the pool before retiring to bed.
Now, what kind of vessel are you on?
No, you are not on a standard commercial cruise ship. You are not on a packed luxury liner hopping between Caribbean islands. You are aboard a modern freighter. Hundreds of cargo ships, carrying everything from fire engines to apples, are crossing the world's oceans, and many are happy to take you along for the ride. Adventurous travelers, including the Transitions Abroad family, have been doing so for years, as have many long before us.
What Does Travel on a Cargo Ship Feel Like?
A far more intimate and relaxed experience than you might imagine! The experience on board contrasts sharply with the rough and industrial outward appearance a container ship tends to project. You will be one of a handful of passengers among a crew likely to number up to a dozen or a few more. There will be no evening cabaret shows as on a standard cruise, though you may have access to TV, video, and board games in a common area on the ship where passengers may meet the crew. You may even play cards with the crew under the night skies. You might be invited to karaoke with the sailors, and you will almost always dine alongside the captain, who is far more likely to turn up in shorts and a t-shirt than in full uniform. Some cargo ships also offer equipped exercise rooms or pools.
Here was our first taste of the wonders of sea travel. Our introduction to freighter travel was a relatively short 5-day sailing between Australia and New Zealand. We joined the French ship CMA CGM Utrillo in the busy port of Melbourne, where our luggage—including two bicycles and bags—was quickly hauled on board and into a spacious cabin by a host of cheery Filipino deckhands.
What are the Costs of Cargo Ship Travel?
Depending upon your destination (Transatlantic, Transpacific, South Seas, Worldwide, and other special combinations), your daily freighter travel costs will be about $100-$130 per day per person per day with a luggage allowance of approximately 30kg-100kg (66-220lbs) depending on the line you are taking. Generally, US dollars are the primary currency used onboard to buy soft drinks, snacks, beer, and toiletries. You can then use your credit cards at each location you disembark.
What kind of Hospitality Can You Expect on Board?
Our next surprise was how quickly we felt part of the family. Just moments after arriving, our fellow passenger (a French woman "going around the world in 80 days") hinted that the captain was sure to throw us a welcome barbecue. "He does that for every one new," she said with a wink. Sure enough, the next evening was spent on the back deck of the ship, feasting on grilled fish and chatting with the seamen as the sun went down.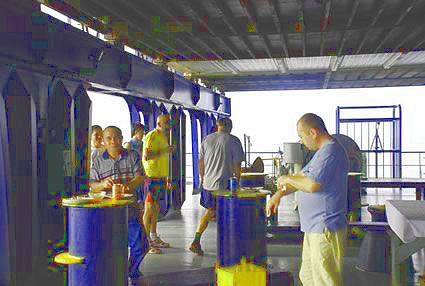 Eating barbecue with the crew of the freighter ship. Photo by Friedel Rother.
One of our concerns before sailing was that we'd find the days long. It was just the opposite. There were three square meals a day (hearty plates of meat and vegetables for workers) and our time between eating was filled with strolls around the deck and trips up to the bridge to check our position and ask questions.
Had there ever been stowaways? Yes, once a harmless passenger was allowed to board. What about pirates? Not here, but there were off the coast of Africa. And just how much fuel did a cargo ship need? In the current era of relatively low oil prices, $60,000 U.S. a day will generally cover the trip.
Why is it a Relaxing Way to Travel?
With our curiosity temporarily curbed, we would return to our cabin for reading our books or Kindle, journal writing, and a bit of table tennis if we felt especially energetic. Far away from the hustle and bustle of life on firm land, we were truly relaxed. The experience was in complete contrast to our usual hurried airplane trips.
For Hamish Jamieson, the owner of Freighter Travel NZ and one of only a handful of travel agents in the world licensed to book tickets on cargo ships, the simplicity of being at sea is the main attraction.
"When you're sitting up the front of the bow of the ship, on your own, and all you see is the sea going past and you hear the wind and waves, you're in heaven. For me, an afternoon...sitting right on the bow, watching the world go by with my binoculars, that's my heaven," he said.
What Kind of Flexibility is Needed for Freighter Travel?
Of course, nothing in life is all smooth sailing. While we didn't encounter any problems during our trip, we did struggle with the uncertain nature of freighter travel before we boarded. Our initial departure date jumped forward first by three days and then seemed to bounce around by 12-24 hours every time we called to check the latest news. Ours was not an uncommon experience and you must prepare yourself for flexibility.
Even ports of call are not guaranteed because on a cargo ship, freight comes first, not the passengers. If the demand is not there for a certain stop, the ship will go where the business is.
"Our trip from the USA to Europe changed three times after initial booking," said Rebecca Hogue and Scott Drennan, then on a journey around the world without using airplanes. Their initial trip from South Carolina to Belgium was from Florida to Italy. "Had we not been flexible with our departure times and locations, things would not have worked out."
As Mr. Jamieson is fond of telling his passengers, when you go to sea, there are two things you must pack: a sense of humor and a sense of patience.
What are the Practical Issues?
Your trip may also involve some red tape, particularly concerning U.S. stops. American citizens are not permitted, for example, to travel within their country by cargo ship, although they can make international journeys. Meanwhile, travelers to the United States must have a visa, even if they would not need one to arrive by air. Only Canadians are exempt from this rule.
Be sure to budget time and money to get vaccinations like Yellow Fever if you are going through the Suez and Panama canals. A medical certificate declaring you in generally good health is another typical requirement.
Where in the World Do You Want to Go?
The hardest part of booking your cargo ship voyage is deciding where to go. Will it be to South America and around Cape Horn? How about a 55-day round trip from California to Australia and New Zealand via Tahiti and Mexico? Mr. Jamieson offers a few more ideas and favorite voyages based on years of experience.
"For me the ultimate voyage is from Auckland, in New Zealand, to Singapore. It takes 40-45 days to sail what you can fly in just under 12 hours but it visits nearly every island in the Pacific on the way and it stops for 2-3 days. The second choice for me would be from Singapore through to Houston in Texas. It goes up through Thailand, Vietnam, half a dozen ports in China, into Japan, then straight across the Pacific and through the Panama Canal."
With enough time and money at your disposal--round-the-world trips can take 80 to 100 days or more--there are few places a cargo ship can't reach. Voyage destinations on cargo ships can change, so the many options available will often surprise you. You need to be adventurous enough to do your research, find a specialized cargo ship travel agent (see resources below), and then get on board.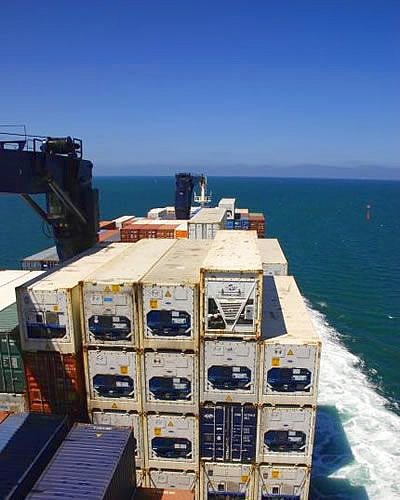 Cargo ship cruising towards New Zealand. Photo by Friedel Rother.
The Golden Rules of Cargo Ship Travel
Be prepared to make your own fun. There are seldom programmed activities aside from the odd safety drill.


Go before you're too old. An upper age limit of 77-80 years is not uncommon, as no doctor on board and there are often plenty of stairs.


Check that your travel insurance covers freighter travel.


Be flexible. Schedules can and do change frequently. You may need 2-3 ships to reach your destination.


Book in advance. Cabins are limited and the most popular routes can be sold out by ships months ahead.


Forget about working in exchange for your passage. Current union rules mean this is no longer permitted.


Take a good supply of seasickness pills. While not very common, rough weather can occur, sending tables, chairs, and your stomach flying across the room.


Wifi and other modern electronics are now often available on cargo ships for travelers. If connectivity is important to you, ask whether those options are accessible and free in advance.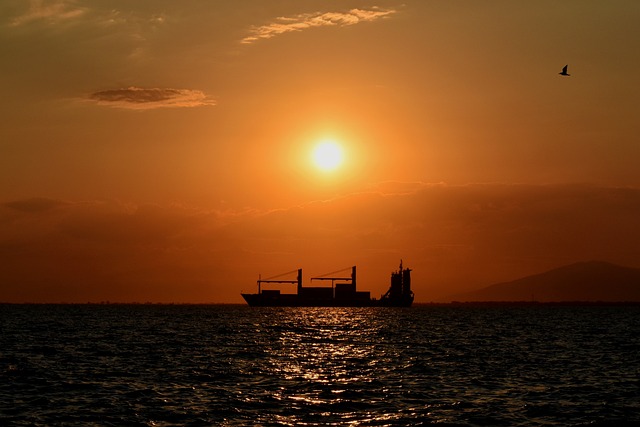 Sunset view of a cargo ship.
Freighter Travel Resources
Maris Freighter and Specialty Cruises and Maris Freighter Club Int'l offer a variety of voyages to many destinations. You can go from island to island. You may cross the ocean 1-way. You can take coastal routes stopping at major ports. You may even choose from around-the-world cargo ship cruise options.
Freighter Travel provides a general overview of freighter travel, including extensive resources.
Cargo Ship Voyages is an agent for shipping companies and offers many possible packages worldwide. Their ships offer room for no more than 12 passengers, including people from all walks of life, ranging from single travelers to families.
FreighterTrips.com is the agency we used where Hamish Jamieson makes bookings. They are specialists in cargo ship travel, providing background, Q&A, pricing examples, and assistance in planning a trip.
Slowtravel: Freighter Travel offers a slow and relaxing way to take many routes worldwide. Rest and enjoy the vastness of the world.