Slow Travel in Bucharest
Soaking up the Good Vibes in the Capital of Romania
A confluence of many architectural styles in Bucharest.
Bucharest is a city with many faces.
In the past often nicknamed "Little Paris" or "Paris of the East," Romania's capital actually features an 85 feet high "Arcul de Triumf" and impressive tree-lined boulevards that immediately bring the Champs-Elysees to mind. The city also has a charming historic center, the Lipscani district, with fascinating art-deco buildings, palaces, and mansions featuring Neo-Romanian and Moorish architecture, pretty parks, romantic cobblestone streets, narrow alleyways with cozy teahouses, and a lovely old-fashioned glass-covered passage.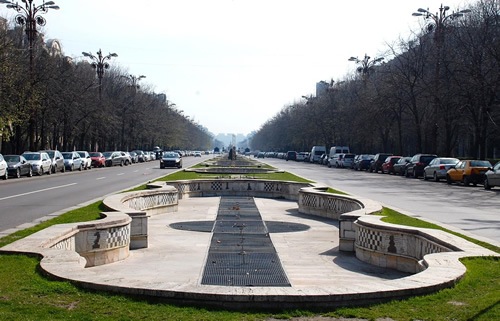 Unirii Boulevard (before 1989 called "Boulevard of the Victory of Socialism").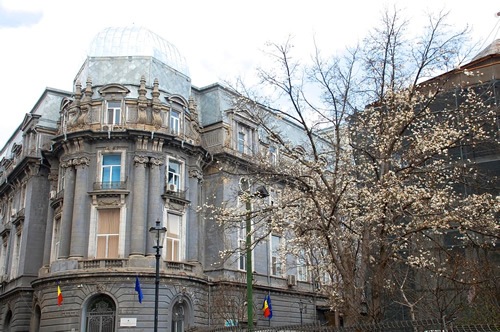 Downtown building from the early 1900's.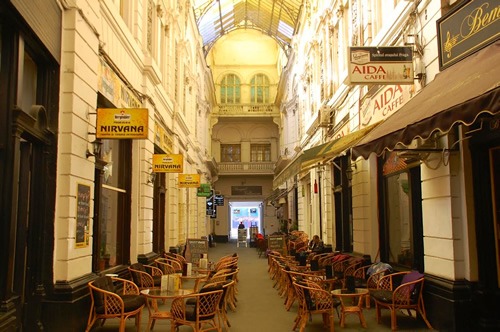 The Macca-Villacrosse covered passage in the Lipscani district.
Nevertheless, on my many wanderings through the city, I spotted very decrepit buildings, abandoned by its owners a long time ago and since "spruced up" with graffiti. I plunged into rows of gray Soviet-style apartment blocks, grim reminders of a 42-year era of communist rule characterized by repression, poverty, and food shortages.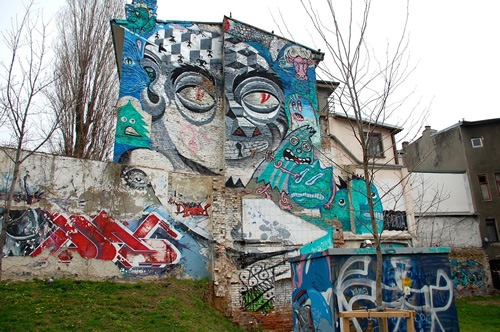 Street art.
Utilitarian apartment blocks dating from the communist era.
I found ultra modern structures as well, such as the Charles de Gaulle Plaza (entirely constructed out of steel and glass), the Bucharest Financial Plaza, and the headquarters of the National Library — all finished after 1989, the year in which the revolution took place.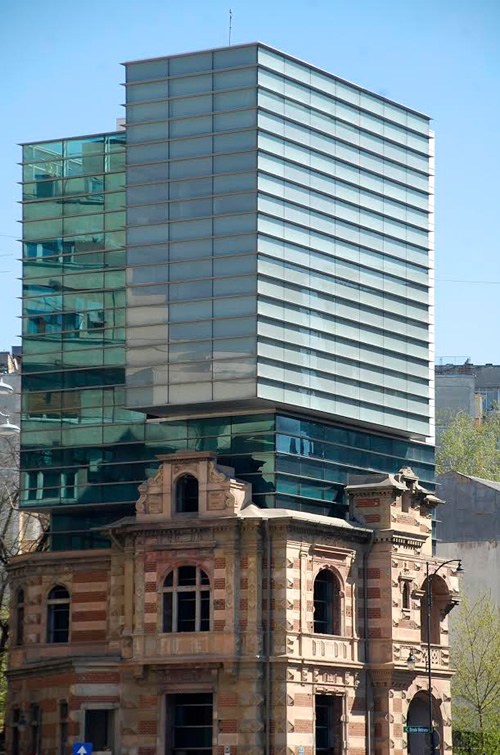 The "new" rising from the "old."
Last but not least, I discovered a relatively large number of splendid centuries-old Orthodox churches and monasteries dotting the city, practically lost amid the concrete jungle. Not only did they miraculously survive wars, fires, and earthquakes, but also the strong anti-religious regime of dictator Nicolae Ceausescu, during which many other monuments were razed to the ground to make room for his ambitious Civic Center project. If not demolished, the churches were often concealed from public sight by lifting them in one piece and relocating them to more hidden quarters.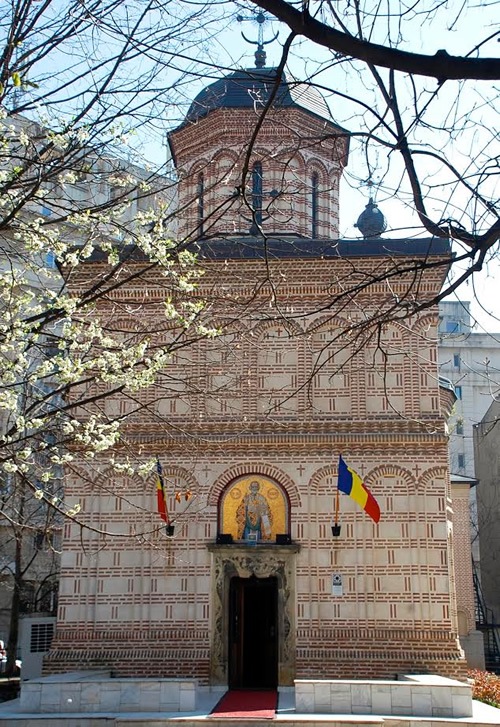 Mihai Voda church, one of the oldest preserved churches in Bucharest, and moved elsewhere in the 1980's to make room for Ceausescu's ambitious Civic Center.
Life Behind Bucharest's Facades
In order to get an idea of daily life in this enigmatic city, to "feel" the place rather than just "see" it, and to live among locals of all walks of life and ages, I decided to immerse myself by renting a studio located in a residential area not too far from the city center. On the outside, my Soviet-style building did not look very inviting, and the cheap materials of the entrance hall did not promise very much either, but the studio itself—very reasonably priced, recently renovated, and equipped with the latest gadgets—was a joy to come home to every day.
It was very interesting to experience a neighborhood I would otherwise not have visited, and to mingle with locals rushing to and from work or school, young parents with baby strollers, shoppers roaming through stores and farmers markets, or folks just relaxing on a sidewalk bench to enjoy the gentle spring weather. From the nearby subway station, the fast, reliable, and cheap metro would bring me in 10 minutes to the downtown area. I also had daily interactions with the owner of the studio, who happily provided tips on how to navigate the city and offered airport pick-up and drop-off services.
Getting to Know the Locals Through the Food they Eat
I joined Laura Genescu of Bucharest Step by Step for a city walk titled "Food 'n Culture." This 5-kilometer long stroll along major landmarks of Bucharest started at the lovely Hanul lui Manoc, one of the few remaining caravanserais (inns for traveling merchants) in Europe. The tour was not only an initiation into local foods but also a discovery of typical Romanian restaurants and bohemian cafes, including some great rooftop terraces.
We initiated the tour with a refreshing mint lemonade at our meeting point (the best in town, according to Laura), and had a perfect latte at the charming neighborhood hangout "Origo," enjoying their casual seating on the sidewalk. We also sampled cheeses and cold meats at the slow food producer "Bacania Rod," a grocery shop that uses 100% natural ingredients, together with a very tasty paste of roasted vegetables called zacusca. Then we ate a potato and goulash concoction as well as the traditional mamaliga (boiled corn meal) at a food truck, and we ended the tour by devouring both an apfelstrudel at a hole in the wall, and finger-licking eclairs from pastry shop "French Revolution."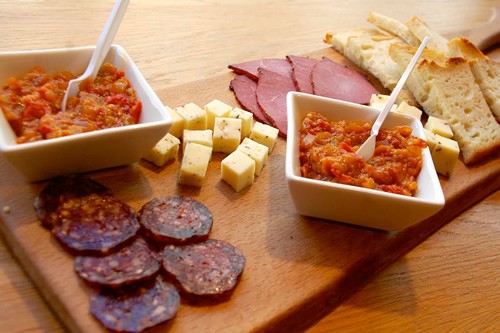 Trying out zacusca at "Bacania Rod."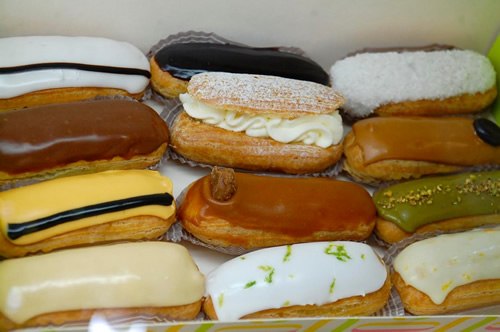 The eclairs of "French Revolution."
Using the Interesting Times website, I enjoyed an evening meal with a Romanian family at their apartment in the northern part of the city. My host Stefan, a professional chef, came to pick me up at a nearby metro station and guided me to their cozy place, where his wife, daughter, and some friends had already gathered. Over a glass of Romanian red wine, a vegetable soup with the name ciorba de loboda si stevie, and zacusca and baguette, we had highly animated conversations about Bucharest's past, present, and possible future.
I arranged a similar dining experience through the "VizEat" app at the home of a Romanian TV chef living in the countryside. Oana came to pick me up at my apartment in Bucharest, to feast at her place on a large array of foods including leurda (wild garlic) and spinach pesto, sheep cheese covered in tree bark, and mamaliga, accompanied by a typical Romanian spirit, tuica (plum brandy). "We are eating a LOT here in Romania, especially at festive occasions," confessed Oana, "and that probably stems from years of standing in long line-ups with growling stomachs each day, in the hope to secure some bread and chicken scraps."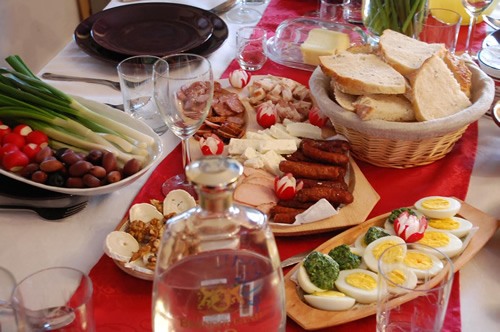 A generous welcome to Oana's kitchen.
Equally interesting was the close look at 3-generational family dynamics in action. Oana's mother lived next door and had been formed by communist ideology. Oana had adopted a reactive parenting style that resulted in hardly following any rules. Meanwhile, Oana's 11-year old daughter confidently dominated the table conversation in a flawless English she had picked up by watching youtube videos and listening to the lyrics of songs from her favorite rock bands.
For traditional Romanian fare, there are restaurants galore in Bucharest. One of the most pleasant eateries I encountered was the atmospheric and widely known Caru'Cu Bere, established in 1879. From Monday to Friday, between noon and 6:00 PM, one can have here a very affordable lunch choice of five different items. My choice, the gardener's platter, Romanian skinless sausages, hand-cut chips, white cabbage salad, and apple cake, was a steal of a deal for 23.90 lei!
Finally, I found a few fresh produce markets, already worthwhile visiting for their lively ambiance. The biggest and oldest, "Piata Obor," presented an especially good quality meat selection. Further east, "Piata Ramnicu Sarat" offered a huge variety of fruits and vegetables. From April to October, the "'Targul Taranului" Earth Market is held every weekend in the courtyard of Bucharest's old stock exchange. The completely renovated ARK-Bursa Marfurilor building now houses various IT and design companies which serve as an interesting backdrop for this weekly market, managed by Slow Food Bucuresti, among others.
Joining Alternative Tours
The amount of interesting and affordable tours available was impressive. All activities I joined were designed and guided by young, bright, educated people—the first generation to spread their wings freely in the rather uncharted territory of post-communist Romania. They were also excellent resources for a great evening out in town!
Free Walking Tours are, of course, the cheapest sightseeing option, but to delve a bit deeper and focus on particular aspects of the city I would highly recommend the following tours as well:



Parliament Palace, previously called House of the Republic, was part of Ceausescu's Civic Center project and is world's largest office building after the Pentagon.



Communist Tour. We learned an awful lot about the history, events, and daily life under the communist regime, and passed by the most important monuments and buildings erected in that era. I joined the excellent tour provided by "Open Doors Bucharest," whose guide Stefan also brought along memorabilia from that time. Similar tours are also offered by "Bucharest Step by Step"' and "Interesting Times."



Stefan, guide and brain behind "Open Doors."



Green Bucharest Bike Tour. A ride along several parks, unique mansions, and important landmarks was organized by "Slow Tours Romania" (between April and November only). Renting a bike on your own is also possible through "Cicloteque" bike rentals near Tineretului, Herastrau, and Titan parks. Beware of the traffic, though, as Bucharest is not a particularly cycling-friendly city (yet)!


Street Art and Urban Culture Tour. With Doru of "Interesting Times," we explored downtown areas where most street art is found, but not before we had shared bread and salt in the form of a covrig, a salty pretzel with poppy seeds, as an expression of hospitality—a common gesture of welcome in most East European countries.



Doru, guide and brain behind "Interesting Times."




Street art: the wall of an art house, depicting a woman painting the sky and paper planes.


We admired street art at the Ciclop multilevel parking lot, an industrial heritage site dating from the 1920's and now housing a bike shop on the ground floor, where some of Romanian best street and graffiti artists had left their mark with a fabulous wall painting depicting Adam and Eve. In Pictor Arthur Verona Street, walls were totally covered by street art created during a 3-day event taking place every year in June, called "Street Delivery." During those days, this street is closed to cars, making space for pedestrians and artists to stroll around, eat and drink together, and participate in artistic activities.



Street art in former multistory parking garage cum bike shop: Adam and Eve.



Outcast Bucharest Tour. Also organized by "Interesting Times," we received—mainly through the vivid descriptions of guide Sergiu—a rather unusual but honest take on Bucharest's underworld as lived by the homeless sleeping in parks, stairwells, stations, and abandoned houses. He also provided information on the "Parada Foundation," an NGO providing basic assistance to homeless youth and teaching them circus skills as an attractive alternative to life in the streets.


Art in Bucharest Tour. This guided walking tour of four different artist studios, offered only on Saturdays, was a great opportunity to meet a variety of top contemporary artists, and acquire a better appreciation for their works. At internationally renowned artist Florica Prevenda's studio, guide Daniela and I paused for tea and cake and had an in-depth conversation with the artist about her view on art appreciation in Romania. In this country, subsidies and artistic education are still in their infancy and artists have to organize their own exhibitions. The experience contrasts with, for instance, Western Europe and North America, where there is much more recognition of modern art, and artists can often leave networking and negotiations in the hands of agents.



The artist Florica Prevenda in her atelier.



Other tours of possible interest, reportedly in high demand but not yet tried: Jewish Bucharest and Bucharest Architecture by "Bucharest Step by Step"; Hidden Gems (quaint neighborhoods, romantic teahouses, and summer gardens), and Beautiful Decay (abandoned historical mansions, post-industrial factories, and counterculture) by "Interesting Times," and Hiking and Biking Tours to Translylvania (medieval villages, forest, countryside, castles, and mountains) by "Slow Tours Romania."
Lies Ouwerkerk is originally from Amsterdam, The Netherlands, and currently lives in Montreal, Canada. Previously a columnist for The Sherbrooke Record, she is presently a freelance writer and photographer for various travel magazines.
Related Topics
Cultural Travel