The Three Best Hot Spring Resorts in Japan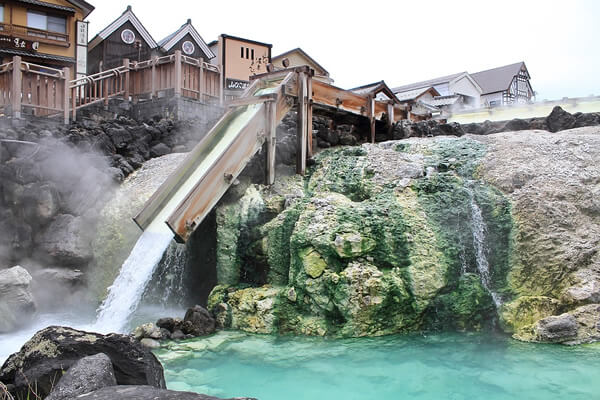 Hot springs at the Onsen in Kusatsu, Japan.
Japanese public bathing of men and women in the nude is a centuries old tradition that largely survived until the early twentieth century. However, since then such practices have been discouraged by successive governments. Today they only survive in remote areas.
However, segregated public bathing is now the norm over most of Japan and going to a hot spring resort for rest and relaxation is a popular holiday option.
Japan's geology provides geothermal hot spots scattered the length of the land. Although this puts the islands at constant risk of earthquakes and volcanic eruptions it also blesses the Japanese with 100 degree farenheit mineral waters which have been bubbling on or near the land surface for millennia.
In recent times new technology has been drawing thermal springs from a kilometer below the earth's surface. This has allowed the opening of many new hot springs. These custom built bath houses have pools of different temperatures, saunas equipped with televisions, artificial "waterfalls" to ease aching backs and shoulders, pebble filled reflexology footbaths, various massage options and air conditioned cooling off rooms.
But the old places are for the most part without such fancy facilities. These thermal springs, which have been spouting for thousands of years, are often divided into a couple of indoor pools and an outside pool with changing and cooling off rooms. Resort hotels and spa towns have grown up around these ancient springs in the last couple of centuries.
Three very old thermal springs in this category are by common consent regarded as the best in the country. They are Kusatsu, Gero and Arima, well patronized by the Japanese but not especially well known to overseas visitors.
Kusatsu Thermal Spring
The main cultural adjustment for foreigners visiting hot springs in Japan is not so much minding wandering around naked in front of strangers than it is observing a few simple rules, like being sure to soap and rinse the body before joining the other bathers in the pool. Visitors have the choice of staying overnight at these spa towns or sampling them on a day trip. One charming spa feature is the public hot spring footbaths by the streets where tired feet can be bathed, free of charge.
Kusatsu, a small town in Gunma prefecture, is reached via Naganohara Kusatsuguchi, two and a half hours by train from Tokyo, costing $40. Then there is a twenty five minute bus ride, about $6.
The town has the distinction of having the highest output of hot spring water in Japan. Over 11 million gallons a day gush from some 100 springs. They have been known since the 12th century and have the reputation of curing almost every illness. The spring water is highly acidic, giving it good anti-bacterial properties. Its sulphuric content is also said to be good for beautifying skin.
Kusatsu can also boast of its Yubatake or "hot water field" in the center of town, which gushes at 1,100 gallons a minute and 158 degrees farenheit. Around it is an elaborate wooden channeled cooling system and several baths.
A unique feature of the place is its traditional way of cooling the water without adding cold water. This, it is believed, preserves its medicinal qualities. Women at the edge of the bath stir the water with five foot paddles. At the same time they sing. This method, known as Yumomi, featuring dance movements and colorful costumes can be seen every day from March 25 to November 30 at the Netsu no Yu, five minutes from the bus terminal. There are four performances a day.
There are 18 free public hot spring baths in this town. The atmosphere among bathers is sociable since most of the houses do not have their own baths, forcing the locals to rely on the public ones.
The Sainokawara Open Air Bath is a 500 square yard pool which can hold 100 people. Nestled among rocks and trees, it has beautiful views of colorful foliage in the autumn and snow in the winter.
One traditional bathing style, known as "awase yu" where bathers soak in a set of tubs, each filled with water of different temperatures, can be sampled at the Otaki no Yu Onsen.
Places to stay in Kusatsu
The Hotel Boun is a quiet Japanese inn near the "hot water field." It has an outdoor hot spring and a rhododendron garden.
The Kusatsu Hotel with traditional exterior is at the entrance of Nishinokawara, the main hot spring source of the town.
The Kusatsu Now Hotel is set high amidst birch and larch forests. Facilities include spa baths, tennis courts and mini-golf.
The Naraya Hotel is traditional with tatami matting and futon bedding in the rooms. There are inside and outside baths and two private ones.
Gero Thermal Spring
Gero is a small town in Gifu prefecture. The nearest big city is Nagoya, the third largest in Japan and connected to Tokyo by the Shinkansen or bullet train. This takes three and a half hours and costs $117. The one hour and 37 minutes by train trip from Nagoya, via Gifu and Mino-Ota is very scenic, passing green hillsides, bamboo groves and mist shrouded rivers. It costs $20.
Gero, which dates its mineral baths since the tenth century, has a variety of hotels, many with several hot spring pools on the premises. If you stay at a hotel its springs are of course open to guests without extra charge. The room rate often includes breakfast and dinner.
Day trippers can also bathe in a variety of spas by buying a Yu-meguri Tegata pass, a wooden amulet sold all over Gero. It costs $10 and allows the wearer to try out three spring baths from a list of 20. A stamp is issued at each one and there is no time restriction on using the pass.
The whole of Gero can be covered on foot. Many people walk the streets in yukata cotton robes and wooden clogs, issued by hotels to their guests.
The town, apart from its rejuvenating spa waters, is itself of interest. Gassho village is a cluster of thatched houses, indicating how rural Japanese lived before the era of concrete. You can go into the houses and look at old household objects and agricultural implements as well as trying out traditional crafts like paper making. There several mini-museums in the complex with stone carved temple dogs, a parade of moving dolls in festival costumes and other displays.
Places to Stay in Gero
The Okudaya Hapoen has rooms that all face the large river, the Hida, that runs through the town and has a rooftop open air bath with views of the town and nearby mountains.
The Kikuhan Ryokan Inn, a traditional wooden structure, is decorated with so many pictures it looks like an art gallery.
The Suimeikan Hotel is one of the town's most venerable with three spas, including an outside one. Its large rooms have traditional tatami matting and futon beds. It stages Classic Noh theatre performances.
The Gero Royal Hotel Miyabite has rooms with individual open air baths.
The Kisoya offers its female guests baths full of floating English roses.
The Yunoshima-Kan claims it has the best scenic views from its outside spa.
Arima Onsen Thermal Spring
Arima Onsen is reached from Kobe a 38 minute train ride. Kobe is three hours from Tokyo by bullet train.
This small quiet town is in a beautiful location, surrounded by mountains. It is Japan's oldest spa, recording a visit there by Japan's 34th emperor in the sixth century.
Arima has spring waters of different colors, red, brown and clear. Kinsen red water gets its color from its salt and iron content. It has the highest concentration of salt in Japan and is very hot, coming out at 200 degrees farenheit. It is mixed with cold water to allow bathing and the colour is so strong you cannot see an inch under the water. Ginsen clear water contains carbonic acid and can be drunk as a stomach purifier.
The town has an all purpose hot spring area Taikou no Yu, called the Onsen Theme Park which contains 17 hot springs of all kinds to bathe in. Admission is $20 and facilities are of a high standard.
There are two public baths, the Kin-no-yu which admits adults for $5 and children for $3. The Gin-no-yu is $4 for adults and $2.50 for children. In addition there are eight privately run establishments which mostly charge $8 entry fees.
The Arima craft center illustrates the history and culture of the town's hot springs and stages events and exhibitions. A rest area on the first floor can be used for a break while walking around town and entrance to it is free.
Places to Stay in Arima Onsen
The Mint has Western and Japanese style rooms, a spa bath, tennis court, karaoke and mahjong room.
The Arima Grand Hotel's has four restaurants and on the ninth floor a bath of over 2,000 square feet with spectacular views of Arima.
The Nakanobo Zuien is in the center of town with gardens and a reservable family bath as well as an outdoor one. It offers various craft souvenirs.
Hyoe Koyokaku has a rooftop garden and three karaoke bars. Meals can be taken in rooms.
The Kinzan is a traditional hotel which also has some Western style rooms. It has three baths, including an outside one, offers seasonal food and has a Japanese garden.