Amsterdam Celebrates King's Day
In a City Flooded in Orange, an Annual Festival is Born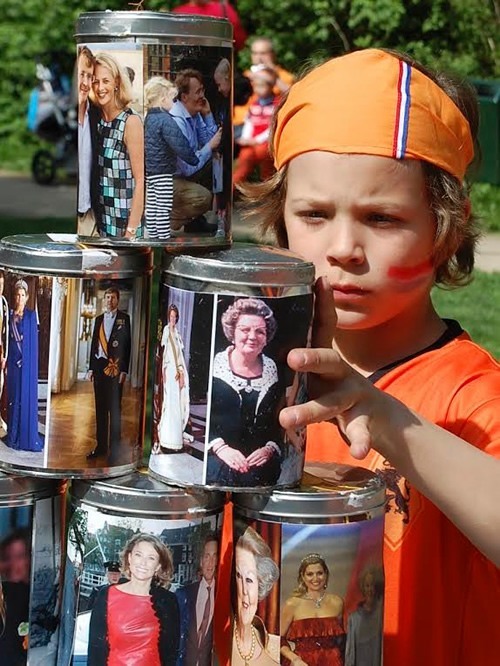 Child playing a reverential game throwing balls at royal-covered tins.
When I arrive in my native Amsterdam on the eve of Koningsdag (King's Day) in late April 2014, there is a tangible buzz of excitement and anticipation in the air. Makeshift stalls on street corners and sidewalks are selling anything orange (in honor of the House of Orange-Nassau), from scarves, hats, umbrellas and sunglasses to flowers, false eyelashes, dog leashes, and even pacifiers. People hurry through the streets and along the canals on orange-painted bikes or in cars adorned with national flags and orange guirlandes to buy their last groceries and stock up on beer before shops will close for the National Holiday. Or they head for one of the many open air concerts and parties to be held throughout the night in various parts of the city, heralding next day's birthday of His Majesty King Willem-Alexander of Orange-Nassau, head of the Kingdom of the Netherlands and its constituents island countries in the Caribbean: Aruba, Curaçao, and St. Martin.
The First King's Day in Dutch History
In the 200 year-old kingdom of the Netherlands, royal birthdays have been celebrated nationally since the fifth birthday of Wilhelmina, great-grandmother of the current king, in August 1885. At the time, celebrations mainly consisted of children's parties held on a municipal level all over the country, coinciding with the last week of summer holidays. Since Wilhelmina's only child Juliana became queen in 1948, Queens Day was celebrated with more grandeur, with an annual parade of commoners passing by the palace steps, to get a glimpse of the royals patiently waving from a distance to the passing crowd. Juliana's oldest daughter Beatrix became queen in 1980, and decided to mingle more with her subjects during her birthday celebrations. She initiated visiting two different towns each year, and actively joining in their street parties and traditional outdoor activities along with the rest of the royal family.
The current king is continuing this custom since his mother abdicated and he became king in 2013. With his 47 years, Willem-Alexander is the second-youngest monarch in Europe after Felipe VI of Spain.
The king is extremely popular for a variety of reasons, chief amongst them:
Avid sportsmanship in his informal and enthusiastic manner—especially when cheering the national football team
Queen Maxima, his Argentinean spouse, a former investment banker in NYC who has conquered the hearts of the Dutch through her innate warmth, spontaneity, and beauty.
This year, The Netherlands is celebrating its first King's Day in history since the observance of the royal birthday as a National Holiday.
Free Markets
On the first King's Day in Dutch history, not every citizen is glued to a screen to watch the royal visits to the towns of Amstelveen and De Rijp, though. Like a true trading city, Amsterdam changes for one day into world's largest flea market on the Dutch monarch's birthday. A few years ago, Queen Beatrix reportedly bought a floor lamp at such a vrijmarkt—an unregulated street market, allowed to be held everywhere in the city on this day between 9 a.m. and 8 p.m. without a permit or paying any taxes. For the capital's citizens it is a prime occasion to put out their used goods, search and haggle for second hand bargains, sell home-made foods and drinks (beware: one third of such offerings did not meet the standards of the Dutch Consumers Association in 2013!), or offer paid services such as snapshots, garden chairs, and old couches for a few minutes of rest, or toilets in holiday mobile homes.
Hotspots are the Beethovenstraat in the south, the NDSM shipyard in the north, the Vondelpark, close to the Leidseplein, and the markets in the Jordaan area.
The Vondelpark is reserved especially for children, who try to sell their cast-off toys, books, and clothes that don't fit them any longer. On my stroll through the park, I also watch kids advertising and selling their self-made orange-colored cookies, or baking the famous Dutch poffertjes (very tiny pancakes). There are budding rock stars and young musicians with violins and cellos giving live performances. I see children organizing traditional games such as throwing balls towards a pyramid of cookie tins—all covered with pictures of the royals. Finally, there are little make-up artists coloring nails, cheeks, and lips of their peers. Amused and proud parents keep a watchful eye on their little entrepreneurs, while sniffing out bargains at neighboring stalls at the same time. After all, one man's trash can be another's treasure!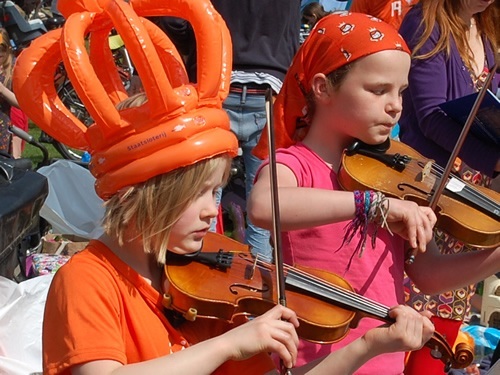 Classical music performance in the park.
Baking "poffertjes" (pancakes).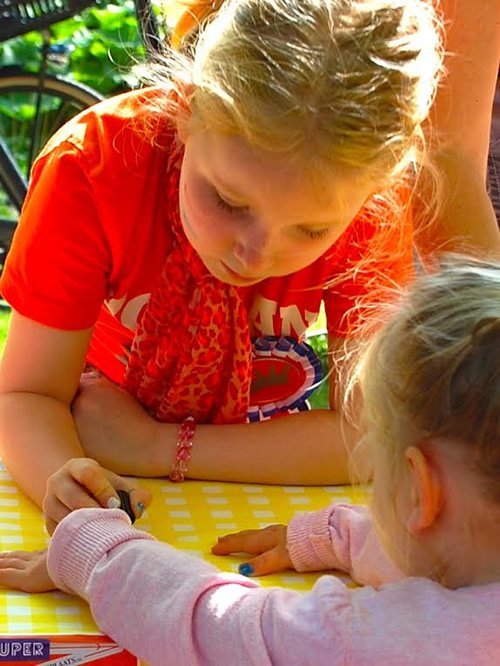 Make-up artist at work in the park.
Barges through the Canals
By midday, I decide to follow one of the main arteries towards the downtown area. No traffic is allowed in the inner city on this day, even no trams, and by noon the streets are flooded with crowds of people on foot, their hair dyed orange, dressed in matching outfits, and crowns galore. They sing and dance, congregate on street corners with a can of beer in hand (one can or small bottle per person is permitted on this day), or lean over bridge railings to watch and greet revelers on the many brightly decorated barges passing through the canals.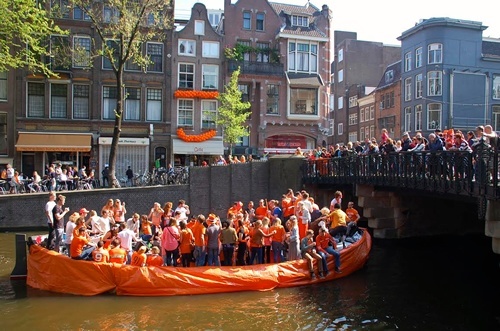 Barge with revelers.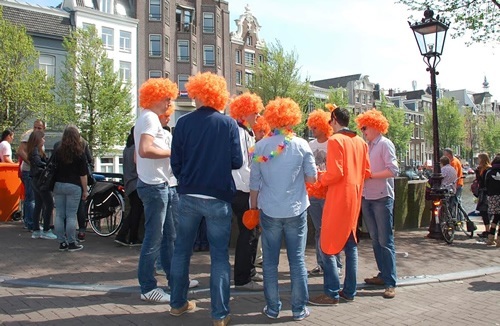 Revelers congregating on a street corner.
The millions of Dutch citizens, both Amsterdammers and those coming from other parts of the country, are joined by huge amounts of visitors from all over the world, who eagerly join in and quickly become as "orange-crazy" as the Dutch themselves.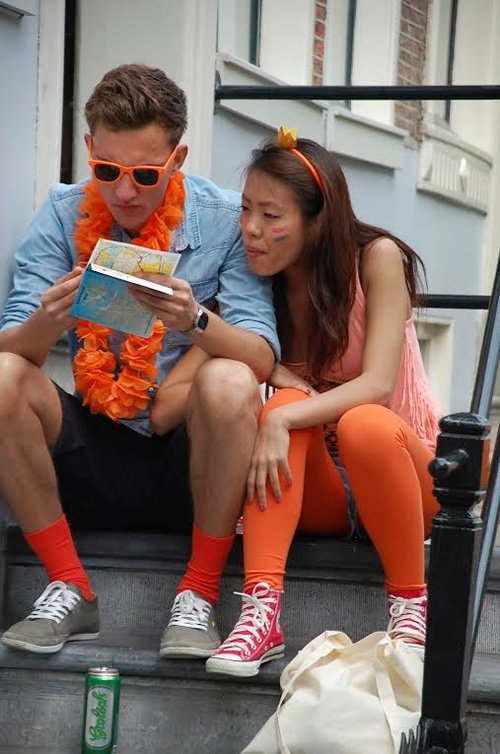 Foreigners in orange.
The Dam Square and the narrow canals and alleys in the Wallen area, Amsterdam's Red Light District, are tourists' undisputed favorites. At the National Monument on the Dam Square, orange-colored partygoers join Hare Krishnas in saffron robes, chanting and dancing on the rhythm of cymbals and tambourines, against the backdrop of a giant wheel of Fortune in front of the Royal Palace. Along the Wallen canals, women in orange bikinis smile and wave invitingly to passers-by from their window-brothels.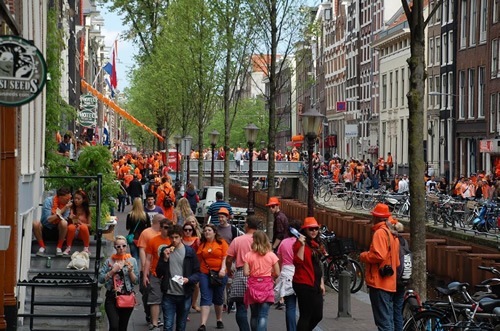 The crowds along the Wallen.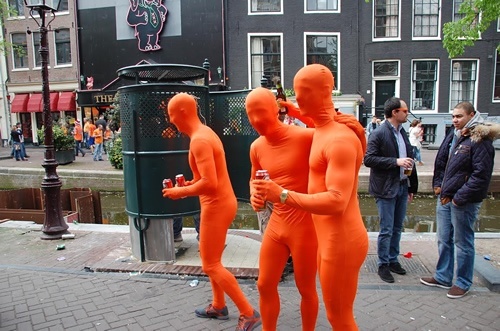 Another scene along the Wallen.
In the meantime, further down along the Rokin and Amstel canals, both lined with magnificent Golden Age houses, the traffic of more and more barges filled with jubilant celebrators is getting congested. But on King's Day, nobody seems to be bothered by a traffic jam: people from different boats simply befriend each other while their captains try to sort out the dilemma. They dance, sing, joke, raise another orange-colored drink to the king and each other, and throw tons of orange, red, white, and blue confetti in the air.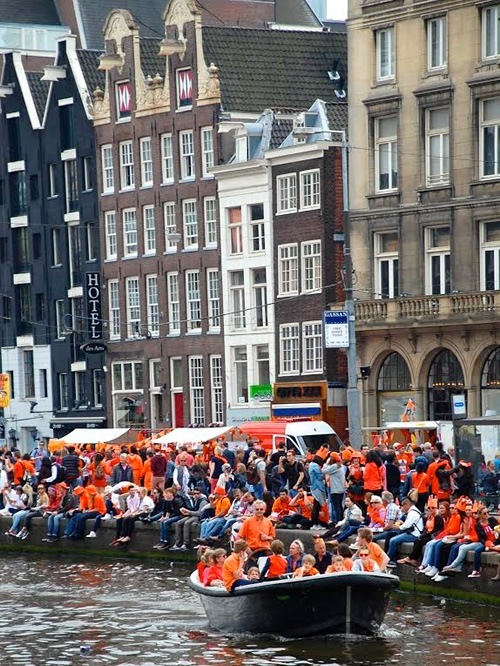 A boat in the Rokin canal with revelers.
Other Public Events
Apart from these spontaneous outbursts, there are also large-scale organized celebrations held in Amsterdam, including many pop and rock concerts, art exhibitions and other special events at in- and outdoor public spaces such as the Olympic Stadium, big parks, old shipyards, abandoned factories, discos, and platforms in cordoned-off streets. The gay and lesbian community also considers King's Day in Amsterdam as one of their major annual events, and their colorful parties and concerts with everyone dressed in pink and orange draw large crowds from all over the world.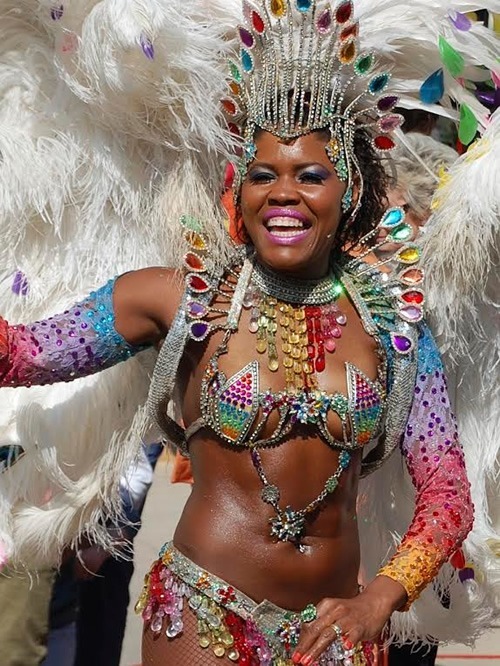 Caribbean island countries are represented in a parade.
For most of the public events, tickets have to be bought in advance, and they are often sold-out rapidly. The events usually start around noon and last until 8:00 p.m., to give out-of-towners a chance to catch a train home and return to work next day, or to be in time for the late news replay of the royal visits and other King's Day activities elsewhere in the country.
Additional Information
Lies Ouwerkerk is originally from Amsterdam, The Netherlands, and currently lives in Montreal, Canada. Previously a columnist for The Sherbrooke Record, she is presently a freelance writer and photographer for various travel magazines.