Eastern Europe on the Run
The Best Way to Get Out and Into Budapest, Prague, and Krakow
View of Budapest overlooking Danube.
Seasoned travelers will tell you that the best way to get a sense of your surroundings is by foot. But on your next trip to Eastern Europe, try bringing a pair of running shoes along with your walking ones.
When it comes to actively exploring a city — from hitting the streets and sprinting straight to the heart of hubs like Budapest, Prague, and Krakow — running may not be the first means of transport which might spring to mind. But it is one of the best, and it often leads to benefits and opportunities that you may not otherwise experience.
Why Running?
On the one hand, running has many of the same benefits as walking does. There is no better — or cheaper — way to immerse yourself in a city's sights, smells, and bustling streets, than strapping on your shoes and heading out the door.
But running opens new paths that the average pedestrian rarely finds. Running is fast; running is light. When disencumbered by the weight of daypacks and guidebooks, you can cover distances that, in other circumstances, might take you two hours or more.
This is important, especially when you first arrive in town. Running is a great excuse to get out, get lost, and find yourself again. While working out you can orient yourself in the city, and see where your accommodations lie in relation to Budapest's Castle Hill, Prague's Old Town, or Krakow's Main Market Square.
Prague — Charles Bridge.
You can also use your running time to relax and enjoy the beauty of these cities. For 30 minutes, 50 minutes, or more, your only responsibilities are to move and sweat. Other than that, you are free to take in the gentle morning light on the towering spires of Budapest's Parliament building or the majestically aged trees that line Krakow's Planty gardens.
Running often inspires one to detour off well-beaten tourist paths. On quiet side streets you may discover city treasures like an out-of-the-way museum about a regional artist, or a used-book store with towering shelves full of ancient volumes, or a quiet café that might be perfect for dinner.
Speaking of dinner — there is no better excuse for indulging in a second Pilsner or ordering that slice of Hungarian dobostorta than "I ran today." It is also great justification for lingering a bit longer on that sunny sidewalk patio, sipping coffee and enjoying conversation with a friendly local resident, or perhaps reading excerpts from your guidebook, or even just sitting quietly and watching a city's daily life unfold.
After all, there is much more to running than simply exhausting your body. The sport is also a means to awaken your mind and spirit to the vibrancy of life in a foreign place.
For that reason, there is a magic to running that enhances the beauty and profundity of travel. Out there on the road, the wind blows in your hair. Your heart pounds in your chest, and your breath goes deep into your lungs; adrenaline pumps through your veins. With each rhythmic step you work your body into a state of excitement and acceptance, open to receive the wonder of the scenery around you.
Not to mention, when passing by a fellow runner in a foreign country and exchanging that runner-ly smile of empathy, there is a special moment of connection. If people of all nationalities could share that kind of camaraderie, perhaps the world would be a better place.
So running is one of the best, and cheapest, activities to indulge in on your travels. But knowing where to run is just as important as deciding to do so. For every breathtaking loop on Budapest's Margaret Island there is a lung-clogging slog down the city's Andrássy Utca at rush hour, and it may take several knee-wrenching jaunts up and down Prague's other tourist-and-cobblestone-laden hills before finding Letna Gardens.
If you are looking to check out the capitals of Eastern Europe this summer, what follows are running routes to help maximize your experience in Budapest, Prague, and Krakow:
Running in Budapest — Margaret Island
For a run that allows you to take in the Danube and the sights on either side of it, Margit Sziget, or Margaret Island, is the place to go. This recreation oasis is located on the Danube, one bridge north of the Chain Bridge. Margaret Island abounds with gardens, swimming pools, cafes, shaded paths, and, on the weekends, plenty of Hungarian people. But early in the morning the park is the domain of runners, and the island is ringed by a running track specifically for their purposes.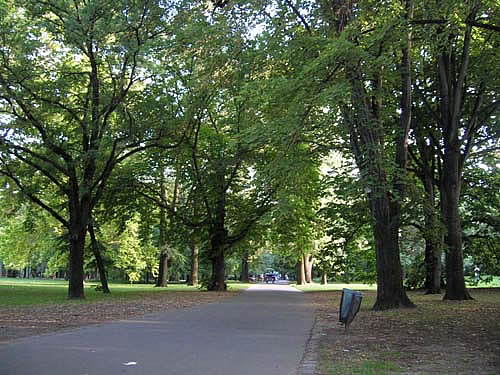 The greenery of Margaret Island in Budapest. Photo by Taylor Chase.
To get to Margaret Island, run north from the Chain Bridge, or take tram 4 or 6 to the Margit híd Budai hídfő stop in the middle of Margaret Bridge. Once at the bridge, your path is pretty evident: head into the park, and start moving.
Margaret Island is full of twisting and winding forest paths that you can explore for hours. However, when a city has taken the time and raised the taxes to ring an island with six kilometers of outdoor running track, it is probably morally wrong to pass it up.
Running the track gives you the advantage of taking in some of the best views of both Pest and Buda. For a good mile of your run you stare at the huge riverfront Parliament, and it is tough to get tired of the building's towering spires. In the morning the Buda side of the island is the shadier side, and it is pleasant to enjoy the cool temperatures and watch the sunlight grow stronger on the old churches, buildings, and hills opposite.
The loop around the island is about 5.4 kilometers, or 3.3 miles. It will deposit you right back at the Margaret Bridge entry.
Running in Prague — Letenské Sady
Prague is a city that you can wander through for days and never get bored, but it is one of the most frustrating places to run. It does not matter which side of the Vltava you choose — on either bank you will encounter cobblestones that wreck havoc with your knees and crazy drivers that make you fear for your life. Like many European cities, Prague is full of buildings whose close proximity holds the pollution close to ground level and makes it difficult to breathe, especially in the heat of the day. And if you choose to run any later than midmorning, the streets will be packed with tourists. Running through the tourist throng is about as easy as taking a jog through a crowd leaving a football game.
But just north of the Hradčany District on the west side of the Vltava River, Letenské Sady, or Letna Gardens, is a great place to run, to walk, or even just to come and spend a few hours pretending not to be a tourist.
The park is located on top of the hill just off ČechůvBridge. To get there, head north from the base of the Charles Bridge on the Staré Mĕsto side of the river. The street soon leads to a riverside path. Pass the Rudolfinum Opera House and Manesuv Bridge to cross at the next bridge, Čechův. On the other side of the bridge you find yourself at the base of some stairs. When you run up to the top of those stairs, the park begins.
Your experience of Letna Gardens will vary depending on what day, and time of day, you choose to run there. Weekday mornings the green expanse is wonderfully quiet, save for the occasional pedestrian walking their dog. On Sunday afternoons this place is full, but not of tourists — rather of everyday Prague residents. Couples stroll among the flowerbeds, old people sit on benches, kids play on the grass, and the paths are taken over by rollerbladers, bikers, and yes, numerous runners.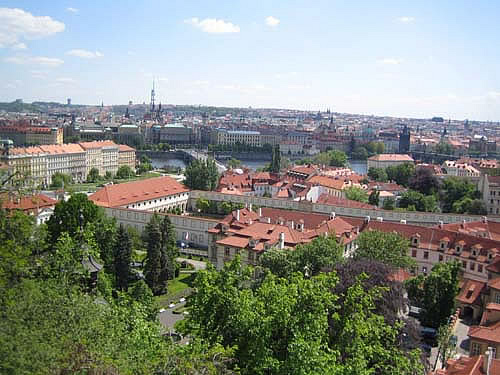 View of Prague from the hills. Photo by Taylor Chase.
Once in the confines of the gardens, you can explore the paths that crisscross it or stick to the loop on the perimeter to take in some city views. On the west side of the park there are some great views Pražsky Hrad, Prague's castle. As you come back to the south, enjoy the panoramic sweep of the Old Town and Josefov on the other side of the river.
Head back to this area by going down the stairs and back across the bridge. Take a right and continue straight along Panzka Hrida before ending back at Staromĕstské Náměstí and Charles Bridge, where you started.
A run to and from Charles Bridge combined with a couple of laps around the park will give you a 5.25 mile, or about 7.5 km run.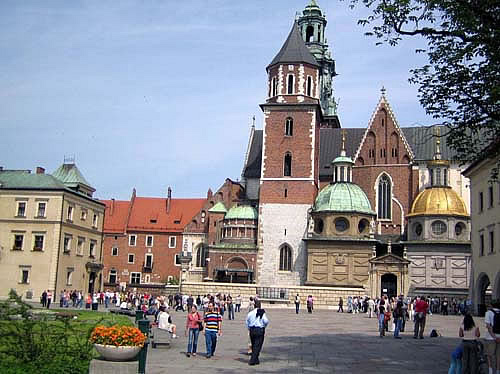 Downtown Krakow — mere footsteps from the Planty. Photo by Taylor Chase.
Running In Krakow — Planty Park
Krakow is endowed with its own scenic, joint-friendly, historically significant running route. The Old Town is encircled by an extensive garden called the Planty, and as far as places to run are concerned, there is little else a runner could ask for.
The Planty is in fact the ring where the Krakow's medieval city walls stood until the Austrians dismantled them in 1806. For about ten years the territory lay unused, and after that time it was decided that the best way to make use of the 52 acres that lined the city was to construct a park.
The Planty's paths are joint-friendly asphalt, and the paths are shaded from the summer heat by tall, leafy trees that were originally planted at the beginning of the 19th century. The park itself makes an almost-full ring around the city, and is a great way to take in the 13th century Barbican Tower and the shining cupolas of the city's old churches. The route is only interrupted at its southern end by a hill atop of which sits Wawel Castle. A great way to end your run is a thigh-burning sprint to the castle gates.
Running in Europe — Online Resources
Map My Run: An online mapping tool that allows you to map your route and track how far you ran. It also allows you to search for runs in different cities around the world, www.mapmyrun.com.


Hash Hound Harriers: International "drinking club with a running problem," with running groups in cities all around the world. They are pretty open to bringing in newcomers on their runs, Hash_House_Harriers.