Study Italian in Italy
Top Italian Language Schools, Programs and Courses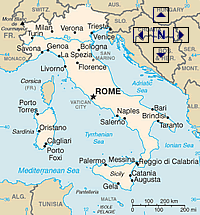 Language Immersion Vacations WORLDWIDE!
Italy (Tropea, Florence, Rome, Sicily, Siena, Milan — Italian)
We offer a variety of language courses worldwide for all ages and budgets. Immerse yourself in the local culture, pick your accommodation type and enjoy many cultural activities with international students from around the world. We enjoy what we do and that's the difference!
Cost: See website
Dates: See website
Contact: Language Vacation, 1056 Masters Lane, Minden, Ontario K0M 2K0 Canada
Tel: Toll Free 1 888 494 3974 / 705 745 4697
Email: info@languagevacation.com
Website: www.languagevacation.com
Featured
Learn Italian in Italy with Centro Puccini
Italian language school located in Tuscany, Viareggio, Italy, offers semester and summer study abroad programs. Take courses in language, arts, and humanities with transferable college credits. Learn italian while learning the italian culture. Modern teaching methods, professional organization, a specialized team of teachers and a relaxed relationship between teachers and students guarantee good progress in a short time.
Dates: The school is open all year around. Courses start every other Monday
Cost: The course duration is from 2 weeks to 36 weeks. 2 weeks Euro 300, 4 weeks Euro 530. Each supplementary week Euro 115
Contact: Centro Puccini – Italian language school, Via Vespucci 173, I-55049 Viareggio Lu, Italy. Phone: +39 0584 430253. Fax: +39 0584 961275.
Email: info@centropuccini.it
Web: www.centropuccini.it
Featured
Learn Italian in Tuscany @ Il Sasso
One of the best Italian language schools in Italy, Il Sasso is recognized by the Ministry of Education and ISO 9001:2008 certified. For over 30 years it has been offering courses in Italian language, culture, cooking, art, and wine. The school is open all year round for group and individual teaching. Il Sasso has been running courses in Montepulciano, in the heart of Tuscany, half way between Florence and Rome. It is located in a historic building in town. There is a terrace with a lovely view as well as free WiFi access for students. Il Sasso offers to its students a wide variety of afternoon activities. Students are of every age group and come from all parts of the globe.
Dates: The school is open all year around. Courses start every other Monday
Contact: Heike K. Wilms, Italian Language School Il Sasso, Via di Gracciano nel Corso, 2, 53045 Montepulciano (SI) - Italy
Tel.: +39/0578/758311
Email: info@ilsasso.com
Website: www.ilsasso.com

Featured
InClasse — School of Italian Language and Culture
Our school of Italian language and culture is located in a splendid building from the 1800's, in a peaceful street just a few meters from the Arena and Juliet's house. Studying Italian in Verona will enable you to take part in a wide range of group courses, individual courses, courses for couples: intensive standard course, intensive combined course, express intensive course, intensive course for CILS exam, individual course, duet course, special course of language and cooking, art courses and creative workshops. All of our teachers are specialized in teaching Italian to foreigners.
Dates: Year Round
Contact: InClasse, Via Orti Manara, 3, 37121 Verona, Italy.
Tel.: +39 045 8036623
Email: info@inclasse.it
Website: www.inclasse.it
Featured
A Door to Italy — Scuola di Italiano per Stranieri
Language Study Holiday in Genoa
A Door to Italy is located in the heart of Genoa on the northwest coast of Italy. We offer courses in Italian language at any level, intensive or non-intensive programs: General Language; Cultural Programs; Cooking, Adventure Programs (Italian and Diving, Italian and Sailing) and intensive training to the CELI, CILS and CIC certifications. Our students have available to them many free time activities and many options for accommodations. Genoa is a good choice both for city or sea lovers.
Accademia Europea di Firenze 
Italian Language Courses
The Accademia Europea di Firenze is one of the main Italian language, art, culture, and music schools in Italy, situated in the heart of historic Florence; founded in 2005 and located in a historical palace built in the Renaissance period of the 1500s. Our method allows students to learn and practice Italian language through their subjects of greatest interest, whether art, music, culture, or cuisine. We include short courses, long courses, academic programs, and bachelors degrees. We offer diverse cultural activities, including cultural exchanges with Italian students, a school soccer team, breakfasts with friends, walking tours, field trips to cities famous for their art, visits to museums and theaters, culinary courses with Tuscan chefs, and much more! During their activities students will practice Italian language in very spontaneous and pleasurable situations.
Centro Machiavelli
Italian Language School and Cultural School for Foreigners
This language school in Florence offers a vast range of courses which allow participants to learn or refine artistic techniques by working in direct contact with artisans in their workshops, courses for opera lovers and singers, and cooking courses and internships.
Dante Alighieri
Study Italian Language, Culture, and Cooking in Siena
Combine language learning, culture and cooking! Cooking classes for all levels in Siena at this language school.
Il Centro
Italian Language School in Milan
Italian language and culture courses, since 1986. The school is located in the artistic heart of Milan and has a great teaching staff, innovatory teaching materials as well as interesting extracurricular activities free of charge.
ILS Italian Language School in Otranto
Learn Italian in Italy
Open all year round for students of every age, level and nationality, with a friendly and informal atmosphere, in southern Italy – Otranto, the school is placed in a new building of a lovely residential area, 30 mt from the sea, 5 minutes from the city center and the railway station. The best solution for a study vacation!
inlingua Firenze
Italian Courses in Florence
Our courses are divided in individual and group courses, which can take place at our school or in virtual classroom and we teach other 15 languages in addition to Italian.
Individual courses allow for personalization of course frequency and program development. The flexible frequency program allows for maximum flexibility in your choice of scheduling and methodology most suited to your commitments. The crash intensity program is an intensive course to learn or improve a new language over the span of 1 or 2 weeks.
The group classes are created specifically to meet the needs and requirements of our customers and can begin at any week of the year. Our courses are created for small groups of students, from a minimum of 2 to a maximum of 5 participants.
We also arrange accommodation in Italian families, where the students will be able to be real Italians.
inlingua was born in 1968 in Switzerland and now our schools are located in 34 countries for a total of 300 language centers all over.
Istituto Europeo
Learn Italian in Florence
Istituto Europeo offers Italian lessons for all levels ranging from beginner to advanced in Florence. Method of teaching is based on the most innovative concepts of language instruction and gives students the opportunity to live the language on all levels and learn its spoken and written usage. Attention is placed both on correct use of grammar and syntax, and on the use of everyday language. All teachers are native speakers and fully qualified to teach Italian to foreigners.
Istituto ll David
Study at an Italian Language School in the Heart of Florence
Since 1983, courses of Italian language, business, art history, cooking, fashion, painting, art and crafts. Extracurricular activities and free accommodation service.
Istituto Italiano
Italian Language School in Florence
Istituto Italiano is a school of Italian for foreigners based in Florence. The school is officially recognized by the Ministry of Public Education of the Italian Republic.
Istituto Linguistico Mediterrano
Learn Italian in Italy
Italian language school located in Pisa and in seaside city Viareggio. Offers courses on Italian language for foreigners, semester and summer study abroad programs. Also features intensive courses, individual tutoring, and classes in cooking and art.
Italiano in Riviera
Learn Italian in Alghero, Sardinia
Lingua in Riviera has been involved in the field of language teaching for 10 years, offering courses of Italian in the beautiful and sunny island of Sardinia
Italiaidea in Rome
Italian Language School in Rome
All levels and formats of Italian language study from intensive short-term "survival Italian" to advanced, semester-long courses, business Italian, conversation, and flexible scheduling. For nearly 20 years we have been offering college credit courses at U.S. college and university programs in Italy; we now offer academic assistance and travel and study assistance to client institutions. Housing including homestays or shared apartments possible.
Koiné Italian Language Center
Learn Italian in Rome
An Italian language school in Rome specializing in Italian language courses for foreigners. We not only offer Italian and other language courses but also organize extra activities, such as language exchange events, guided tours of Rome, outdoor lessons, and much much more!
Koinè Center
Learn Italian in Florence and Lucca
One of the longest estabilished Italian language schools in Italy, founded in Florence in 1980. The school offers a unique approach to Italian language learning. The classes and afternoon cultural activities are specifically designed to teach Italian in a relaxed and enjoyable environment.
L'Italiano Porticando
Italian Language Courses and Culture in Torino and the Piedmont
L'Italiano Porticando offers high quality courses for all those who want to study the Italian Language. The school provides private lessons, courses in small groups and standard courses for all levels and is specialized in language holiday courses, which combine language tuition with extra curricular activities on the arts, the culture and the nature of this region.
Language in Italy
Learn Italian at a Language School in Rome
The Dante Alighieri Rome Italian language school founded in 1923 has only one objective: To teach and to propagate Italian language and culture throughout the world. Over the years it has become famous for its Italian language courses for foreign students. It organizes its courses in several important cities of art in Italy.
Linguaviva
Learn Italian in Italy at Language Schools
Italian language courses in Florence and Milan, summer school for juniors in Lignano. Cultural courses, vocational programs, internship program.
LINGUA IT
Italian Language School in Verona
Located in the historical city center of Verona, LINGUA IT offers a vast range of language courses, as well as cultural and extra-curricular activities.
Madrelingua
Italian Language School in Bologna
Madrelingua offers high-quality Italian courses in a beautiful setting in the historic center of Bologna. Free accommodation location service, free internet access, video library, and study center.
Omnilingua
Italian Language School in San Remo
Omnilingua Italian language school offers a variety of courses in lovely San Remo on the Italian Riviera, a region called Liguria. The main goal for the students is to learn how to speak in confidently and fluently. From the first day, lessons are held exclusively in Italian in order to focus on conversation.
Pintadera
Italian Language School and Culture Courses in Sardinia
Italian language school with courses in one of the most beautiful seaside resorts in Sardinia. Various levels of Italian taught. Can also provide accommodations in Alghero.
Porta D'Oriente
Learn Italian at a Language School in Otranta, Italy
Italian language Scuola Porta D'Oriente, is the most prestigious Italian language school for foreigners which offers Italian language courses at every level in one of the most beautiful Mediterranean seaside resorts. Otranto is a beautiful town on the seaside at 50 km from the main city Lecce the so called Florence of South of Italy for its artistic beauties.
Scuola Leonardo da Vinci
Learn Italian at Language Schools in Florence, Rome and Siena
Scuola Leonardo da Vinci offers Italian language and culture courses in Italy. Learn Italian in three of most beautiful cities in Italy: Florence, Rome and Siena. Take courses in language, arts, and humanities with transferable college credit.
Scuola Toscana
Italian Language Courses in Florence
Courses on Italian language and many a wide variety of classes relating to Italian culture, including art, fashion, cooking, and much more.
Scuola Tricolore
Study Italian at a Language School in Genoa, Italy
Scuola Tricolore offers personalized Italian language courses and continuous fun. We offer courses for every different need, study objective and every level.
Sant'Anna Institute Sorrento Lingue
Study Italian at a School in Sunny Sorrento
Recognized by the Italian Ministry of Education, Sorrento Lingue offers a variety of Italian language courses, including basic, super intensive, individual, semi-individual, 50+, and online, and last from two weeks to year round.
Tiberius International School
Italian Language Courses in Rimini
Courses in the Italian language recognized by Italian Ministry of Education. Standard course, combined course, and refresher courses for teachers. Located in Rimini, the program also offers cooking classes and music studies.
Torre di Babele
Italian Language School in Rome
Offers Italian language courses in Italy for students from all over the world as well as training courses for teachers of Italian for foreigners in Rome.